Manchester City vs. Everton: 6 Things We Learned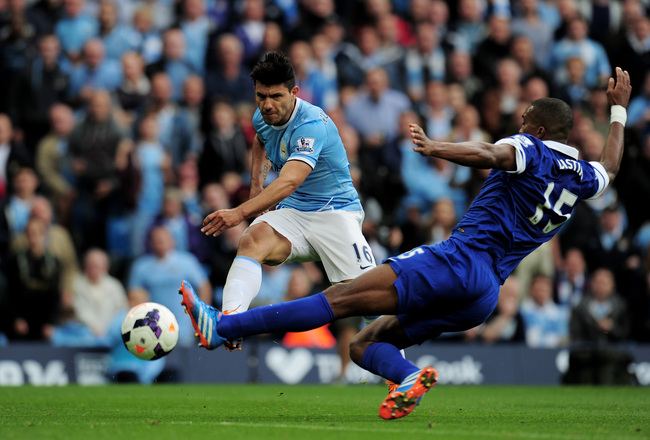 Shaun Botterill/Getty Images
Everton surrendered their unbeaten Premier League record, slipping to a 3-1 defeat away at Manchester City.
The game started well for the Toffees, who rushed into an early lead. Romelu Lukaku collected a long ball and slotted home a superb individual effort, embarrassing Joleon Lescott and Joe Hart in the process.
However, there was little time to bask in their lead. City scored an instant riposte through Alvaro Negredo and went in ahead at half-time thanks to Sergio Aguero's precise finish.
Aguero then added a penalty on 69 minutes—via Tim Howard's head—which effectively ended the visitor's resistance.
Here's a look at a few Everton-related talking points to emerge from this game.
Final-Third Failings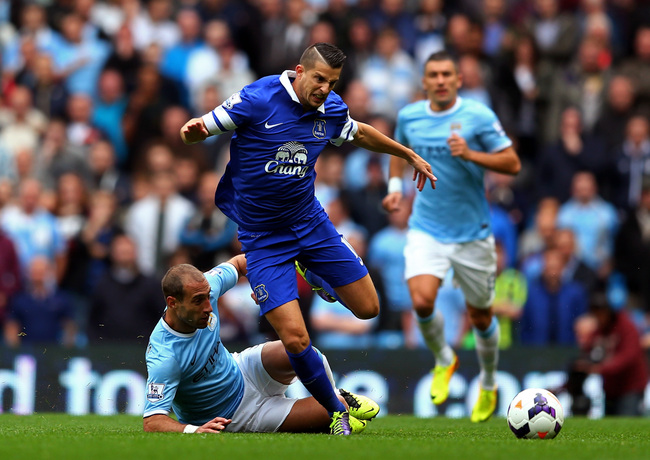 Michael Steele/Getty Images
After a bright start, Everton's performance became sloppy, and one of the main reasons for this was a lack of fluency in the final third.
First of all, the Toffees struggled to get the ball there—spending just 25 percent of the game in City's defensive third—and when they did get through, their play was often broken up by some wayward exchanges.
Roberto Martinez's side were successful with just 66 percent of their passes in the final third, averaging 74 percent before this game. They also only managed 116 passes there, averaging 159 in their previous six games.
In short, the Toffees failed to get enough play in dangerous areas and made poor choices during their brief visits.
Ross Barkley and Kevin Mirallas were subdued in this game, which contributed to this. Mirallas was typically peripheral and Barkley was often guilty of dwelling on the ball too long.
Bad Game for Coleman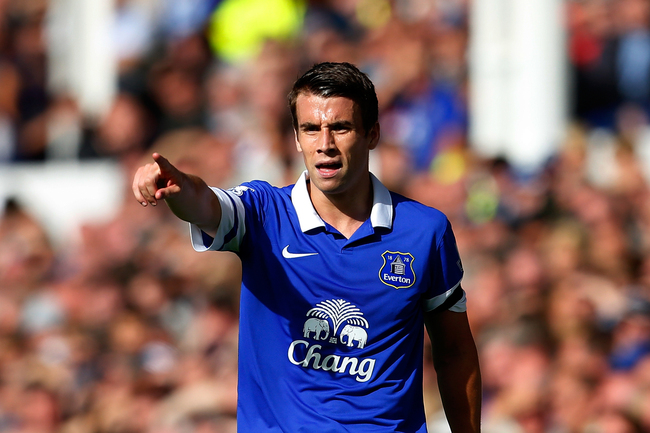 Paul Thomas/Getty Images
Seamus Coleman has been one of Everton's better performers this season, but he struggled against City and could have done more to prevent all three goals.
He didn't anticipate the ball early enough for the host's opening strike, was distracted by Negredo in the buildup to the second and gave away the penalty for the third.
The merits of the penalty are certainly contentious—surely one of the softest awarded this season—but Coleman still allowed Pablo Zabaleta to get on the wrong side of him, prompting his next move.
David Silva had an excellent game for the hosts, floating in from the left. He came out on top of most exchanges with the right-back, who seemed unsure about when to track him.
McCarthy and Osman Not Suited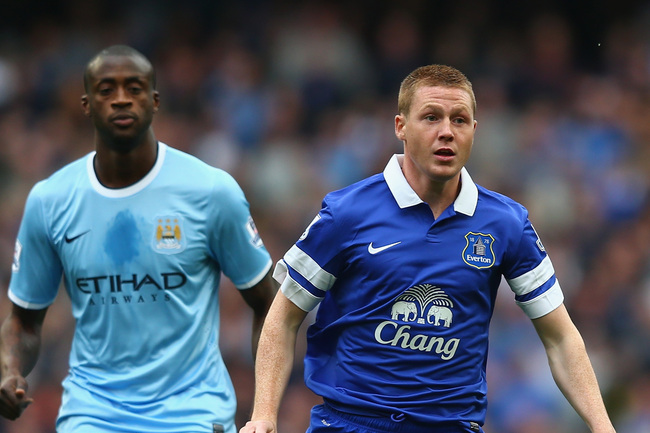 Michael Steele/Getty Images
Leon Osman and James McCarthy are very good players on the ball, capable of setting a tempo and organising their side's movement throughout a game.
However, they are a little too similar to be an effective combination and don't provide enough grit off the ball. Both players are susceptible against direct runners and are too easily dribbled past, needing a more forceful presence alongside them.
McCarthy impressed in this game, but he and Osman struggled to contain Yaya Toure, and Everton would have been far stronger had one of them partnered Darron Gibson or Gareth Barry.
Injury and Premier League rules scuppered those options, but with all four central midfielders available, this should be Martinez's last resort as a pairing.
Defensive Concerns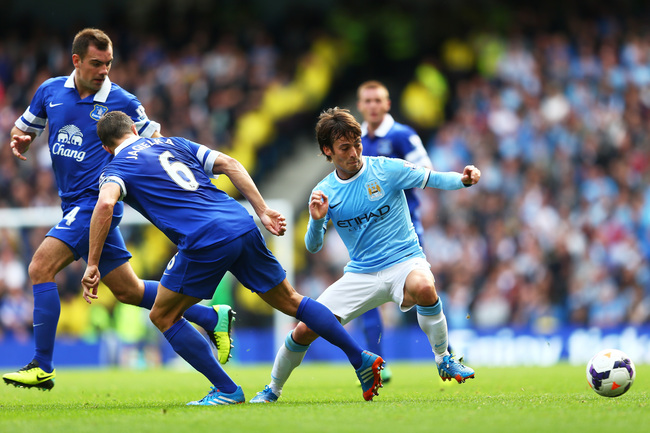 Michael Steele/Getty Images
It's perhaps surprising that, given their record at Wigan, there hasn't been much talk of any defensive issues during Everton's opening games.
Three consecutive clean sheets certainly helped that, but seven goals conceded in the last three games has changed the focus, somewhat.
As a whole, the Toffees defended poorly in this game, defending as individuals instead of a team. The line was regularly disjointed, runners weren't always tracked and the danger was rarely cleared effectively.
Only one goal could potentially be attributed to Martinez's style, as Everton were hemmed back for the other two, failing to cope with some clever movement and incisive passing.
It's more a case of the team needing to defend better, and as a unit, rather than anything else just yet.
Intensity Levels Dropping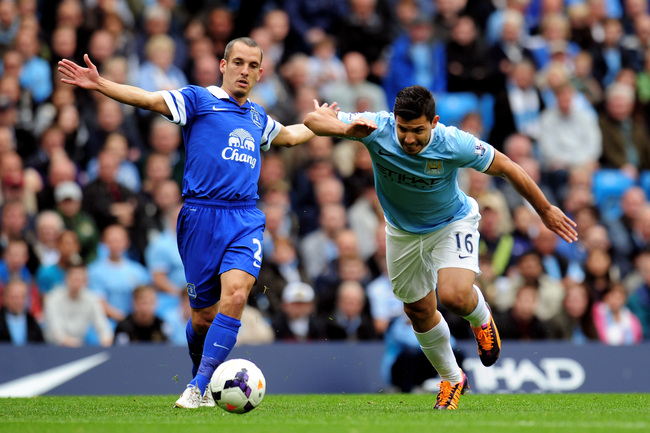 Shaun Botterill/Getty Images
Everton once again appeared a contrasting outfit either side of half-time, having initially looked promising during the opening period—at least until they reached the final third.
Their second-half performance lacked intensity. The defending was too casual, the passing was laboured and, in general, there wasn't enough high-energy movement on and off the ball. They were unlikely to find the net again playing with such a lack of exuberance.
The Toffees are yet to score in both halves of a game this season, and Martinez must spend the international break identifying exactly why the energy drops.
At their expansive best, Everton have looked exciting this season, but that won't count for much if it only lasts a half.
Still an Encouraging Start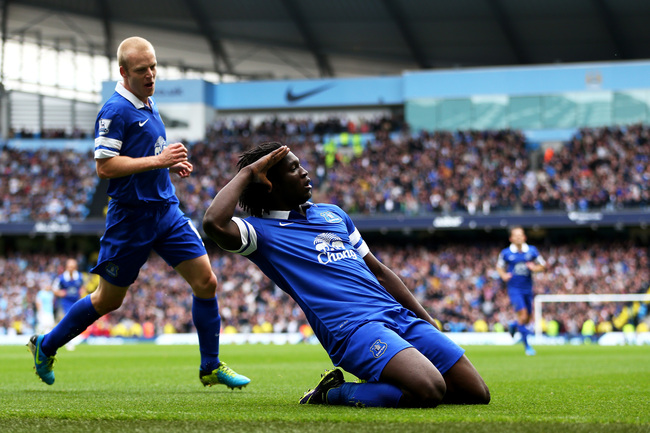 Michael Steele/Getty Images
A loss is always deflating, especially with another international break looming; however, Everton have still made a promising start under their new manager.
These slides have highlighted a few inadequacies in this game, but Manchester City must also be commended for their level of play.
Twelve points from seven games is a return every fan would have taken at this stage, and the Toffees will play their next fixture at home to Hull in a strong position in the table.
In Lukaku, they have a player capable of winning them games when they aren't at their best—something all top sides have and something Everton have lacked for several seasons.
The style is still being honed and getting used to, but the Toffees should only improve as they develop under Martinez.
Statistics via WhoScored?
Keep Reading

Everton: Like this team?