NFL Power Rankings 2013: Analyzing All 32 Teams for Week 5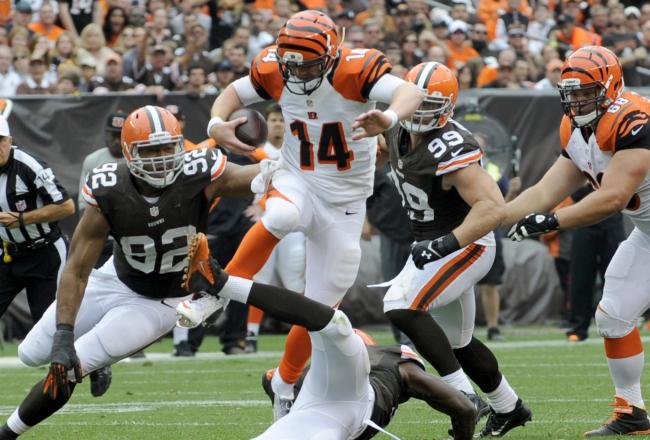 Ken Blaze-USA TODAY Sports
The quarterly reports are in for the NFL. For some teams, the stocks are up and things are looking good. For others, it's not too early to start selling off the assets and filing for bankruptcy.
Although we're just four weeks into the season, the playoff picture is starting to come into focus a bit. You couldn't name every division winner and possible wild-card team, but you're certainly getting a much better idea of the "contenders" and "pretenders."
Here's what the league power rankings look like heading into Week 5, with four teams underlined that most need a win this week to establish where they can go this season.
1. Denver Broncos (4-0)
Is anybody really going to argue this? The Broncos are rolling right now. Even against a bad defense like the Eagles, scoring 52 points is a nice accomplishment for any NFL team.
Winning in the regular season isn't the issue with Denver, though. The true test for John Fox and Peyton Manning will be whether or not they can lead the Broncos to the Super Bowl.
2. Seattle Seahawks (4-0)
Will the Seahawks ever solve their road woes? Although they walked away victorious in Week 4, their game against Houston demonstrated just how much different of a team they are away from Seattle.
If they can secure home-field advantage in the playoffs, however, they won't have a problem.
3. New Orleans Saints (4-0)
The New Orleans Saints are looking as good as they ever have since Sean Payton's arrival in 2006. The defense isn't at an elite level, but it's good enough to let the offense do the heavy lifting and not drop the ball too much.
4. New England Patriots (4-0)
Just remember, as good as the Patriots are right now, they're bound to get even better once the offense gets to full strength. New England has gotten to 4-0 without Rob Gronkowski and largely without Danny Amendola and Shane Vereen as well.
Once Gronk and Amendola return, this pass offense is going to be scary.
5. Kansas City Chiefs (4-0)
The Chiefs have done a lot right since last season. Almost every personnel move Kansas City made this offseason has been right on the money.
I also can't say enough about Alex Smith. Sure, he's the proverbial "game manager," but that's exactly what this Chiefs offense needs. They don't need a Peyton Manning to throw 300 yards every week. Smith can just limit the turnovers, make the short throws and hand the ball off to Jamaal Charles for the Chiefs to have success.
6. Miami Dolphins (3-1)
Losing to the Saints in the Superdome isn't all that bad of a loss. Sure, the Miami Dolphins didn't look very good at all, but sometimes that happens.
Sunday's game against the Baltimore Ravens will be a much better test to see if the Dolphins have made that jump to being a playoff team.
7. Indianapolis Colts (3-1)
The Indianapolis Colts can make the jump to possibly being a Super Bowl contender with a win in Week 5. They've also won 1.5 road games in a row—because honestly, beating the Jacksonville Jaguars should only count for half of a win. Sure, it's nice that the Colts won, but that's a game that they should win 100 times out of 100.
Now, they get the Seahawks in Indianapolis this weekend. As Seattle showed this past Sunday, it is a worse team when playing away from home. The Colts can lay down a marker and give the Seahawks their first loss of the season. Let's just hope Andrew Luck doesn't "Schaub away" a victory.
8. Detroit Lions (3-1)
Where has this year's version of Reggie Bush been? You'd be forgiven if you thought something was wrong with your television picture and you were just watching old clips of Bush from his USC days. He's been great and has taken a lot of pressure off Matthew Stafford in Detroit this season.
9. San Francisco 49ers (2-2)
It was good to see Frank Gore eating up yards on the ground, but perhaps even better for 49ers fans was the fact that Colin Kaepernick looked a little more steady in the passing game last Thursday night. Although he had a fumble, Kaepernick completed 15-of-23 passes for 167 yards and two touchdowns in the team's win over St. Louis.
10. Chicago Bears (3-1)
The good news is that Jay Cutler can't possibly be as bad as he was last week again. The bad news is that New Orleans is coming to town this week. That's not good for a Bears defense that has surrendered 277.8 yards a game through the air in 2013.
11. Green Bay Packers (1-2)
You'd generally want to have your bye week come later in the season in order to give your players a rest. However, with all of their injuries, the Packers needed that time off now. Green Bay was able to let some of its injured stars recuperate during their Week 4 bye, and it has also given them more time to prepare for the upstart Detroit Lions.
12. Cincinnati Bengals (2-2)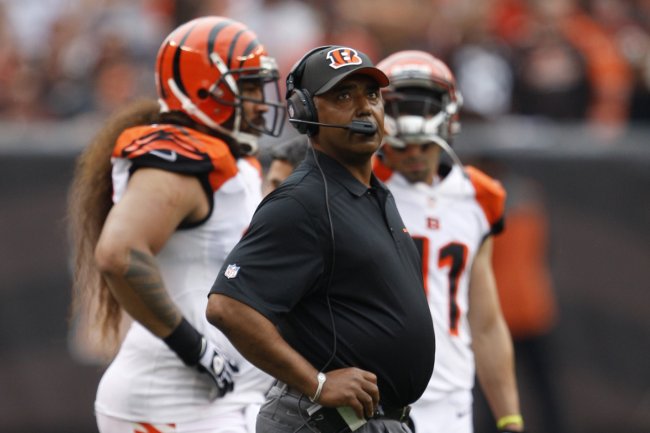 Raj Mehta-USA TODAY Sports
Will the real Cincinnati Bengals please stand up? The offense hasn't been very good this year, and the defense has been left to do all the work.
More problematic is that Andy Dalton looks stuck in full Matt Schaub mode. He's a good quarterback, but he doesn't look good enough to take the Bengals to that next level. Dalton's not even making the short to mid-range throws that were money last year.
Also, if you've seen Geno Atkins, you might want to let Marvin Lewis know where he is.
With the Patriots coming into town on Sunday, this could be a game that makes or breaks the Bengals 2013 season.
13. Baltimore Ravens (2-2)
Maybe John Harbaugh should think about running the ball more. Joe Flacco was terrible in Week 4, but he threw the ball 50 times, while Ray Rice and Bernard Pierce combined to have nine carries.
14. Atlanta Falcons (1-3)
It's been shocking to see just how bad the Atlanta Falcons have been in the red zone. They are currently ranked 29th in the league when it comes to scoring touchdowns inside the 20-yard line, via Team Rankings. With the receivers Matt Ryan has, more should be expected of this team.
15. Tennessee Titans (3-1)
With Jake Locker, this is a very good football team. Of course, right when he starts looking like a franchise quarterback, he goes down with an injury. ESPN's Ed Werder reported that the hip and knee sprains could be less serious, but they'll keep him out for at least a few games:
Titans now estimate QB Jake Locker should return in four to six weeks from hip and knee sprains. Time frame was 4 to 8 or more

— Ed Werder (@Edwerderespn) October 2, 2013
Those couple of games could be pivotal to the Titans' playoff hopes.
16. Houston Texans (2-2)
"Schaub happens."
Matt Schaub has been the most infuriating quarterback in the league this season. Just when you think he's got it together, he throws a pick-six in the fourth quarter that ended the game against Seattle.
The Texans cannot go much further in their ascension until there's somebody else under center. Houston shouldn't be expecting different results from somebody who has repeatedly shown that he's wildly inconsistent.
17. San Diego Chargers (2-2)
Not enough is being made of Philip Rivers and what he's done with almost nothing in terms of targets this season, and he has truly made the most of a bad situation in San Diego.
What's really been helping him, though, is the team's improved pass protection. Rivers is getting time in the pocket—unlike last year—and he is making much smarter decisions as a result.
18. Dallas Cowboys (2-2)
Maybe Monte Kiffin hasn't had a huge impact on the Dallas Cowboys defense this year. After all, the team's secondary was torched by Rivers last week, and things aren't getting much easier with Peyton Manning coming into town this week.
At least the Cowboys are still first place in the NFC East.
19. Cleveland Browns (2-2)
Is there anybody else who thinks the Browns are completely hindering GM Michael Lombardi's plans? He trades Trent Richardson, and then Brian Hoyer is named the starter at quarterback. Yet, somehow, Cleveland has gone 2-0 since then.
There goes that No. 1 overall pick in 2014.
20. Carolina Panthers (1-2)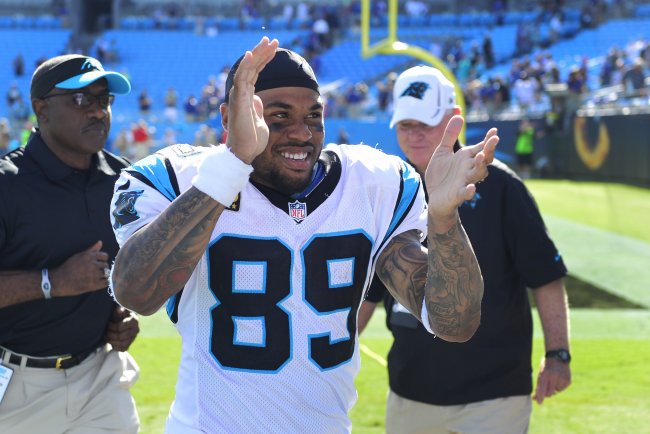 Bob Donnan-USA TODAY Sports
The Carolina Panthers had the bye week to think about how the rest of the season will go. That's probably a good thing in the grand scheme of things, as Ron Rivera had time to figure out what went right in Week 3 and what went wrong in Weeks 1 and 2.
The offense looked great against the New York Giants in their 38-0 victory two weeks ago. You don't want to read into that too much, though, because, well, it was against the Giants.
A Week 5 matchup against the Arizona Cardinals will be a good barometer for the Panthers. Either they'll build upon their positive momentum, or they'll once again prove themselves to be an inconsistent football team that is incapable of earning a postseason berth.
21. Arizona Cardinals (2-2)
Carson Palmer needs to figure out where Larry Fitzgerald has been hiding these first four games. He's one of the best receivers in the league, but he's had very little to do with the Cardinals success so far. If Fitzgerald gets going, this Arizona offense could be really dangerous.
22. Minnesota Vikings (1-3)
Maybe the Vikings are better off with Matt Cassel under center. As defenses lined up to stop Adrian Peterson, Cassel was able to beat secondaries over the top.
Minnesota might be able to salvage something this season after all.
23. New York Jets (2-2)
The defense continues to be extremely good. However, until Geno Smith becomes a more consistent quarterback, the Jets will continue to wallow in mediocrity.
One bad week shouldn't shake New York's faith in the signal-caller, though. Smith just needs time to develop into an NFL starting quarterback.
24. Buffalo Bills (2-2)
It's quite surprising that Buffalo has started 2-2. The Bills defense has been underwhelming, while the team's been forced to go with rookie EJ Manuel under center.
This isn't a playoff team, but the franchise is at least showing signs of progress.
25. St. Louis Rams (1-3)
Sam Bradford isn't good enough to make up for his defense's problems, as the Rams are giving up an average of 30 points a game and 387 yards through their first four games.
With the quality of the other teams in the NFC West, St. Louis has dug itself into a deep hole.
26. Washington Redskins (1-3)
The bye couldn't be coming at a better time for Washington, as Robert Griffin III has another week to get his knee back to full health.
Also, the Redskins offense looked really good in Week 4, so fans should be encouraged with what the rest of the season may hold.
27. Philadelphia Eagles (1-3)
It's unfair to judge Chip Kelly's offense too harshly.
Michael Vick is not the future at quarterback, and it will be interesting to see how the Eagles approach the draft. Philadelphia needs to bring in somebody like Johnny Manziel who can handle such a fast-paced, high-octane offense.
28. Pittsburgh Steelers (0-4)
The Pittsburgh Steelers are one of those teams that until they're actually that bad, you'll never believe they could be a terrible football team. They've been so good for so long that when they have their downturn, you can never really see it coming.
But as bad as Pittsburgh is, it still might have a shot at the wide-open AFC North this season.
29. Oakland Raiders (1-3)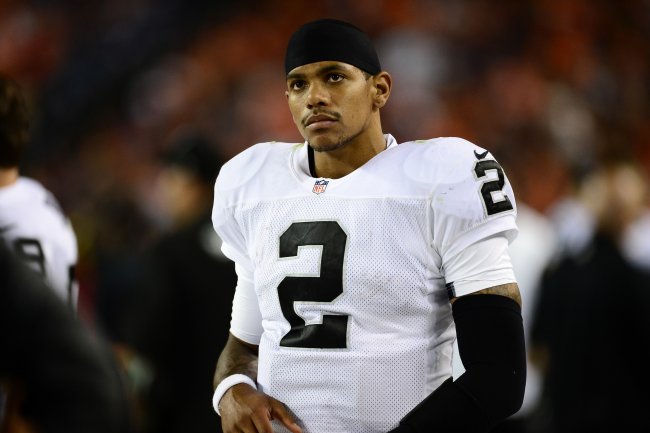 Ron Chenoy-USA TODAY Sports
Matt Flynn got sacked a whopping seven times against the Redskins on Sunday. It was a bit of a surprise, too, as Oakland had a pretty steady offensive line before that game.
Maybe with Terrelle Pryor back under center, the Raiders will continue to show some of the progress they were making before Week 4. He'll at least be able to use his feet to scramble away from the rush.
With the Chargers coming into town, this is a great chance for the Raiders to prove themselves in the AFC West. While they may not catch up with the Chiefs, they can still establish themselves as a genuine wild-card contender.
At the very least, there's reason for optimism in Oakland.
30. New York Giants (0-4)
Sooner or later, we should have expected this to happen.
In recent years, the New York Giants have been one of those teams that look awful in the regular season and then all of a sudden flip a switch and become a playoff team. They were due to just look awful sometime.
The Giants just aren't a very good team. Even in a weak NFC East, New York isn't a playoff team.
31. Tampa Bay Buccaneers (0-4)
Somebody's gotta go in Tampa, whether it's Greg Schiano or Josh Freeman.
Although Freeman hasn't been great, perhaps Schiano is the better choice. Sometimes players respond to a disciplinarian, but the Buccaneers players seem to have tuned him out, and it's only going to get worse from here.
32. Jacksonville Jaguars (0-4)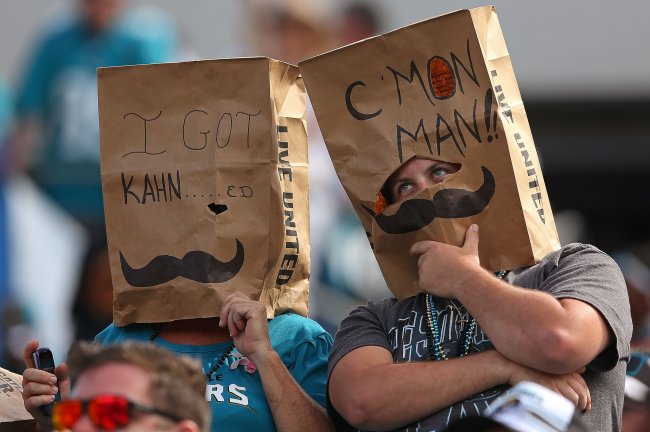 Mike Ehrmann/Getty Images
There wasn't an easier decision than putting the Jacksonville Jaguars at the bottom of these power rankings. To say they're a mess doesn't properly convey the situation. The Jags are absolutely horrendous and will be lucky to win three games this year.
This article is
What is the duplicate article?
Why is this article offensive?
Where is this article plagiarized from?
Why is this article poorly edited?