Ranking the 20 Most Intimidating Defenders in La Liga History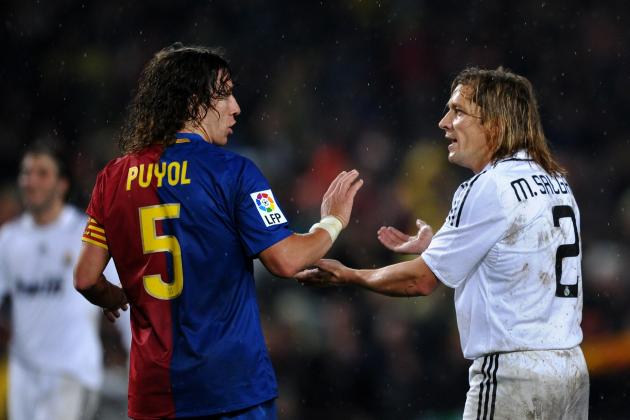 Jasper Juinen/Getty Images

When you hear Spanish football, what do you think of?
Andres Iniesta and Xavi Hernandez knocking five-yard passes between each other? Florentino Perez opening the cheque book to sign another galactico? A top-heavy league with an unfair share of television money?
All of these things do of course exist, but there's also much more variety than that.
Down the years La Liga has seen some defenders that would but the frighteners on anyone—some recent, some not so.
Over the following slides, join B/R as we count down the 20 most intimidating defenders to have plied their trade in Spain's Primera Division.
Begin Slideshow

»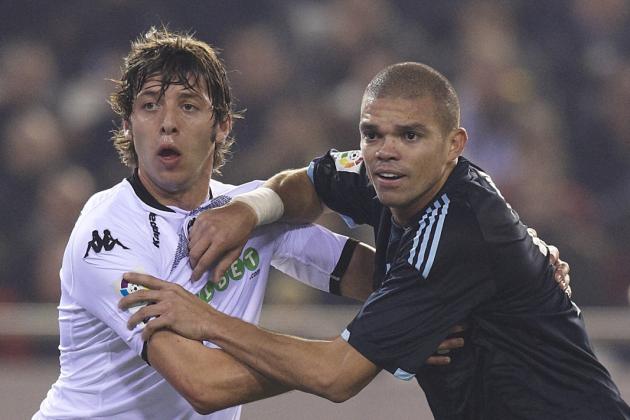 Manuel Queimadelos Alonso/Getty Images

20. Fernando Amorebieta
Recently departed for Fulham, what Fernando Amorebieta lacked in skill, he made up for in bookings at Athletic Bilbao. In La Liga alone he racked up 75 yellow cards and seven red ones throughout his spell at San Mames.
19. Pepe
When it comes to footballers most disliked in the modern game, Pepe would feature on quite a few people's lists. The Portuguese defender is rarely out the news for one reason or another—nearly always centred around his gamesmanship.
18. Ronald Koeman
Ronald Koeman had an extraordinary goal scoring record for a defender (and occasional midfielder) throughout this career thanks to his free kicks and penalties. However, he was also a lynchpin of the Barcelona dream team in the '90s due to his defensive attributes.
17. Albert Ferrer
They don't make full-backs like they used to (more to come in this list): strong, tough in the tackle and more first focused on defending. Albert Ferrer did that job for Barcelona's dream team, and there weren't many left wingers who looked forward to facing him in the '90s.
16. Miroslav Djukic
The now Valencia manager was part of the setup at Mestalla when they one the La Liga title at the beginning of the 21st century. Having established himself at Deportivo, the Serbian defender then impressed for Los Che before ending his career with Tenerife.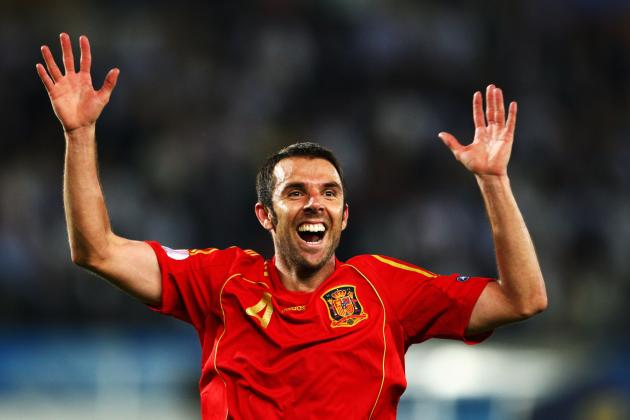 Laurence Griffiths/Getty Images

15. Carlos Marchena
The Guardian's Sid Lowe described him in a 2009 column as "the dirtiest, cheatingiest, evilest player in La Liga." Former Valencia, Villarreal and Spain defender Carlos Marchena, ladies and gentleman, what more do you need to know?
14. Jose Emilio Santamaria
Hidden beneath great beauty is often a beast doing the dirty work. In the case of the Alfredo Di Stefano led Real Madrid of the '50s and '60s, that work was done by Jose Emilio Santamaria. The Uruguayan developed a reputation for being quite the kicker.
13. Michel Salgado
Steve McManaman once described his Real Madrid colleague Michel Salgado as "a complete psychopath, even in training," so it is little surprise to see Los Blancos' former right-back in this list. He's another style of full-back sadly missing from the modern game.
12. Juan Carlos Arteche
Remembered in Spain for his impressive moustache and his fierce scowl, Juan Carlos Arteche was a popular figure at Atletico Madrid. Impressive in the air and boasting a strong physique, after over 300 appearances for Los Rojiblancos he retired at 32.
11. Javi Navarro
At the beginning of the 21st century there were few strikers who would have fancied their chances in a fight with Javi Navarro and his defensive partner Pablo Alfaro at Sevilla. He's unfortunately best remembered for a tackle (bordering assault) on Mallorca's Juan Arango.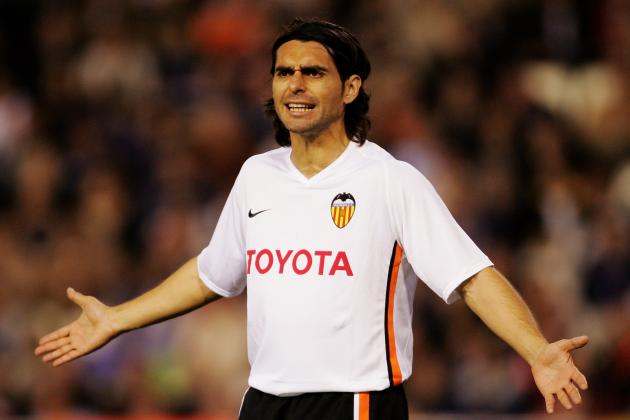 Richard Heathcote/Getty Images

Roberto Ayala represents a Valencia era which, despite being this century, seems a long time ago.
The Argentinian was the figurehead of a back four which steered Los Che to two La Liga triumphs at the beginning of the new millennium.
Not overly tall for a central defender, it was Ayala's sheer ability which intimidated the opposition—capped over 100 times for Argentina, he's remembered as one of the best of his generation.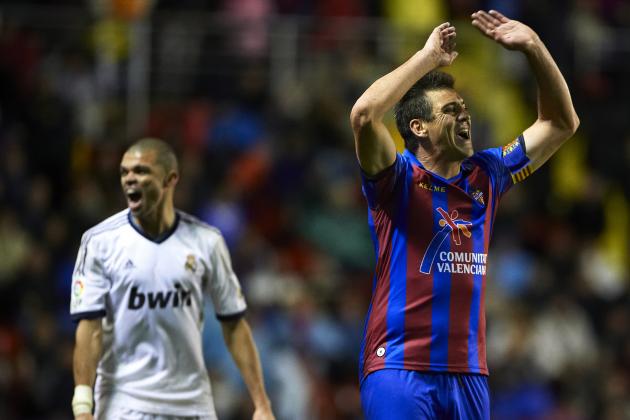 Manuel Queimadelos Alonso/Getty Images

Up until recently, Sergio Ballesteros could be found outpacing La Liga superstars like Cristiano Ronaldo in a Levante shirt.
At the end of last season he called it a day, but he certainly had a good run.
Spells at Villarreal and Mallorca eventually led to his move to Levante, and his huge, imposing figure was enough to intimidate even the most confident, arrogant strikers.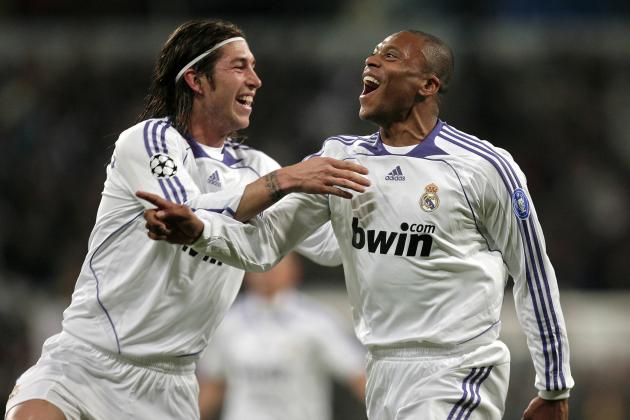 Jasper Juinen/Getty Images

You don't quite get to where Sergio Ramos has made it in your career without having a bit of bite about you.
Still only 27 and with over 300 Real Madrid appearances and more than 100 caps for Spain, Ramos has established himself as one of the world's best central defenders.
Watch out for those elbows though.
Ben Radford/Getty Images

Now having to live in the shadow of his nephew, tennis player Rafael Nadal, Miguel Angel Nadal was once the cream of the Nadal family.
Known as the Beast of Barcelona, due to his physical presence, Nadal formed part of Johan Cruyff's Barca side and was adept at playing as a defender or midfielder.
Aside from the brutality of his game, he could also play a bit.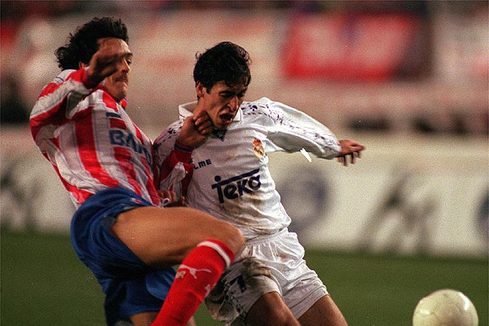 If you had to pick three words to describe former Atletico Madrid player Juanma Lopez, you might be inclined to go for arms, elbows and studs.
Because despite his young, baby-faced looks, Lopez was actually a phenomenally dirty, sly defender—his over-aggressive approach brought countless suspensions.
He was good at what he did though, perhaps demonstrated by the fact he formed part of the Atletico defence when they won La Liga in 1996—he was also capped 11 times by Spain and won a gold medal at the 1992 Olympics.
Migueli was Barcelona's ultimate hard man in the '70s and '80s.
He made over 400 appearances for the Catalans, but you'd be able to count on one hand the number of times the committed defender shirked a tackle—so they say here in Barcelona.
Nicknamed "Tarzan," he played in the 1979 European Cup Winners Cup final with a broken collar bone, just because he could.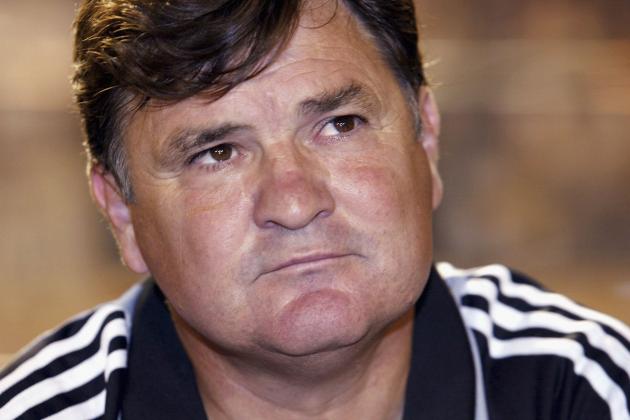 Koichi Kamoshida/Getty Images

Best known these days for his spells in charge of Spain and Real Madrid, Jose Antonio Camacho was once actually a stout, aggressive defender believe it or not.
Optimised by the fact he didn't always wear shin pads, Camacho was an ever present for Los Blancos for 16 seasons throughout the '70s and '80s.
One of his more memorable performances was when he stuck to Johan Cruyff like glue, if not by the rules.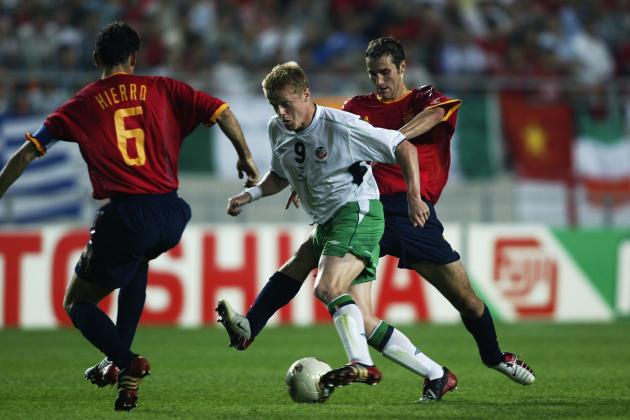 Gary M. Prior/Getty Images

For 14 years Fernando Hierro was the top dog at Real Madrid.
Arriving from Real Valladolid in 1989, what he didn't achieve in his spell with Los Blancos is probably not worth achieving.
He was a defender with craft and passing ability as much as anything, but his pure ability was enough to intimidate many a La Liga forward.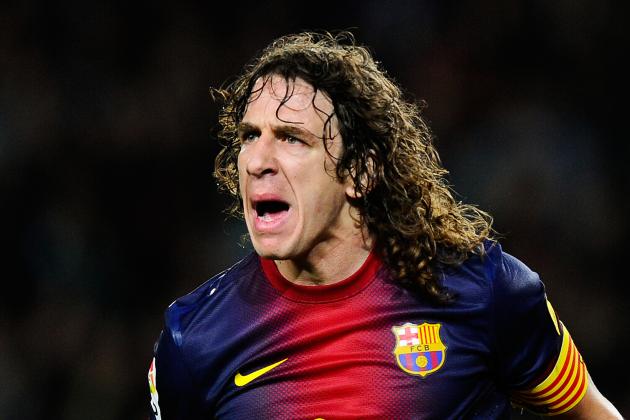 David Ramos/Getty Images

If Carles Puyol hadn't been a world-class defender for Barcelona, he would probably have been one of the bad guys on a Sega Megadrive game.
For over a decade now, first at full-back and now in the middle, Puyol's long hair and aggressive defending have been giving La Liga forwards nightmares.
Coupled with that, the Barca side he's been a part of have been pretty successful too.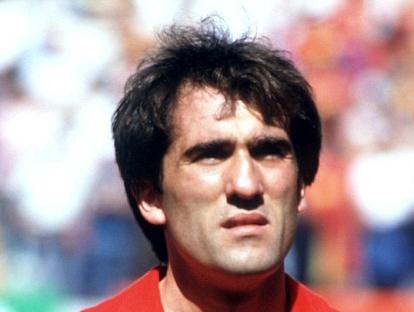 via The Daily Mail
This man is arguably the most famous dirty player ever to have existed in the world of football, so much so that it's become hard to distinguish fact from fiction.
Andoni Goikoetxea was known as the Butcher of Bilbao because he played for Athletic Club, and he is best known for his work in Javier Clemente's tough tackling side of the '80s.
His tackles on Diego Maradona—which earned him a 16-game ban—and Bernd Schuster live long in the memory of most people with an affection for European football.