TNA Impact Wrestling: Complete Preview, Rumors, News and More for October 3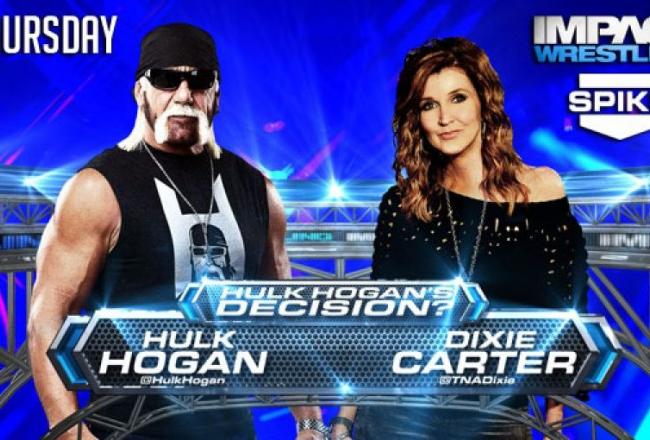 Photo via ImpactWrestling.com

There are just three episodes of Impact Wrestling left until TNA's biggest pay-per-view of the year, Bound for Glory on October 20, and the build to the huge show should be kicking into overdrive starting this week.
Will you purchase Bound for Glory?
The build should have started months ago, but besides
AJ Styles
winning the Bound for Glory Series, there has been no preparation for this event. The No. 1 contender Styles and the current TNA world champion Bully Ray have yet to go face to face, but the hope is that the two men will get involved starting Thursday and use as much time as possible to get fans to care.
Add in the necessary evil that the company must add matches to the event as soon as possible to build a card worth buying for the casual fans, and the next three weeks of Impact Wrestling should be action-packed.
Where: Verizon Arena, Little Rock, Ark.
When: Thursday, Oct. 3, 9 p.m. ET (pre-recorded)
Watch: Spike TV
Hulk Hogan's Final Impact?
Last week's Impact closed with TNA owner Dixie Carter giving Hulk Hogan an ultimatum that he would have to answer this Thursday. While it was unclear at the time because of a lackluster heel promo, the company's website claims that Hogan has to decide if he is standing with Carter or not. If you still don't understand what Hogan has to make a decision about, don't worry, it is vague and mysterious on purpose.
Question on Everybody's Mind: Is Hulk Hogan Getting Fired?
Hogan stood by Styles last week and was helping put him over with the crowd, but Carter hit the ring and tore up his new contract. After threatening Hogan, it is clear that TNA is planning an exit strategy for the veteran in case he leaves the company permanently. According to PWInsider, Hogan's contract was up on Oct. 1, and he is currently working on a new deal.
Hype Meter: 2 out of 5 Reset Buttons
While there is a huge issue for a company that is forced to deal with these contract issues just a few weeks before the biggest PPV on the calendar, this could be the opportunity TNA needs to hit the reset button.
Dropping Hogan's contract and making a few smart business decisions behind the scenes (like taking the show off the road and going back to 12 live PPVs a year) could be the fundamental changes TNA needs to make before beginning to thrive once again. Impact Wrestling has the potential to be a great show, and a few major moves could get the ball rolling for a successful 2014.
TNA Rumors: Hogan's TNA Status, per PWInsider via Wrestling Inc.
Bully Ray and AJ Styles
Bully Ray is the TNA world heavyweight champion, and AJ Styles is the No. 1 contender for the title with a guaranteed shot at the belt at Bound for Glory. If you were watching Impact Wrestling over the last several weeks, though, you would have no idea this is the biggest match of the year for the company because there is little to no promotion for BFG or its main event.
Question on Everybody's Mind: Will the Build to Bound for Glory Start Thursday?
Oct. 20 is the biggest show of the year, and the main event has been an afterthought. Instead of focusing on Styles vs. Bully Ray as soon as the No. 1 contender was named, TNA has put the storylines with Dixie Carter and the breakdown of Aces & Eights at the forefront while the main event was buried. That's not how you build a huge PPV, and Thursday must be the beginning of the formal build to BFG.
Hype Meter: 1 out of 5 John Cena vs. The Rock Matches
While TNA will give the fans what they want this week when Styles and Bully finally start feuding—at least that is the hope—there is not enough time to build true animosity between the two men. Bully Ray and the Aces & Eights couldn't look weaker, and Styles' character was broken when he turned into a loner face just a few weeks ago, and fans simply don't care right now.
Three weeks of build could help fans invest in the match, but it will be incredibly tough to save this main event or the PPV as a whole. If this truly is TNA's version of WWE's WrestleMania, the company is in serious trouble.
TNA News: Latest Ratings for Impact Drop, per PWTorch.
For more wrestling talk, listen to Ring Rust Radio for all of the hot topics or catch the latest episode in the player below (some language NSFW).
This article is
What is the duplicate article?
Why is this article offensive?
Where is this article plagiarized from?
Why is this article poorly edited?