Anzhi Makhachkala vs. Tottenham Hotspur: 6 Things We Learned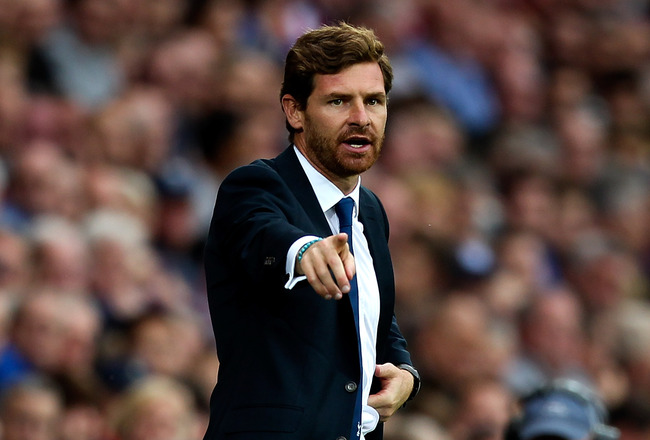 Andre Villas-Boas will be happy after his club secured another three points in Europe.
Ben Hoskins/Getty Images
Tottenham Hotspur extended their unbeaten run in the Europa League with a 2-0 win over Group K opponents Anzhi Makhachkala.
The Russian outfit held firm for half an hour before Tottenham found a way through and Jermain Defoe fired past Evgeni Pomazan.
Five minutes later Nacer Chadli made it 2-0 after Kyle Walker had squared it from the right.
Lacina Traore joined the action for Anzhi in the second half, the Ivorian striker's direct running instigating a minor turnaround that ensured Spurs did not have it all their own way.
The North London club held on, though, and will now turn their attentions to West Ham United in the Premier League this weekend.
Before that, here are six things we can take from Spurs' latest Thursday outing.
Spurs Wait and See on Europe's Influence on Premier League Performances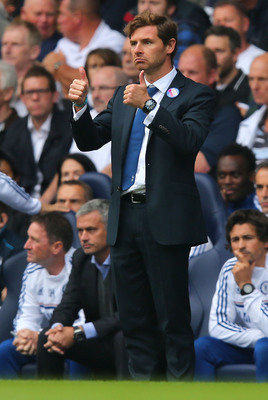 Andre Villas-Boas.
Clive Rose/Getty Images
As is his wont, Villas-Boas has taken the Europa League seriously again this season. He has done so using his squad wisely, while the efforts needed to procure wins have been judged well, too.
The cold weather and uneven playing surface at Moscow's Saturn stadium made it an evening in which Tottenham were never likely to exert themselves unnecessarily—not in the fashion they might have in the more familiar environment of White Hart Lane anyway.

In football speak, it was what you might describe as a professional job. Get in and get out with a positive result, all with minimal fuss.
As with against Dinamo Tbilisi and Tromso, Spurs did enough in the first half that they were able to relax slightly in the second.
So far this season, it is not quite clear what—if any—influence this has had on subsequent performances.
Premier League wins have come after two of their European victories so far, though a 1-0 loss to Arsenal followed the second leg playoff defeat of Tbilisi.
The nature of a London derby is a different experience to usual league games. It will be an interesting test to see how Spurs are energy-wise against West Ham on Sunday off the back of another European evening.
Defoe and Holtby Are Giving Villas-Boas Plenty to Think About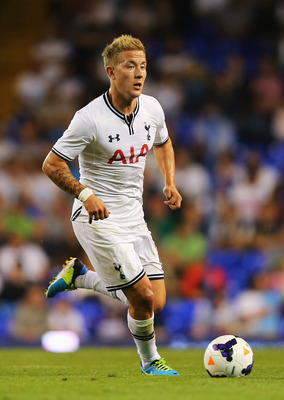 Lewis Holtby.
Clive Rose/Getty Images
Given the approach noted on the previous page, Villas-Boas will not read too much into individual performances outside of attitude and application.
Nonetheless, even in just the moment they combined for Spurs' opener, Jermain Defoe and Lewis Holtby made another claim for a more regular place in the starting lineup.
Considering his options just outside the penalty area, Holtby played a through pass into Defoe's path and the striker clinically finished.
It was not the first time either have done as much this season (separately or together). But it served as a reminder to Villas-Boas that—with their good form in these cup games right now—soon enough they may deserve their chance in the league.
Defoe Deserves His Place in the Spurs History Books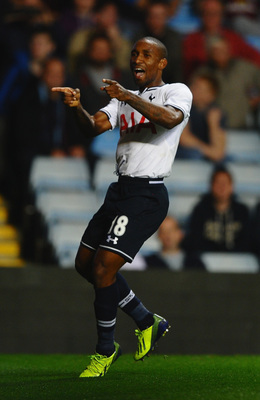 History boy: Jermain Defoe.
Laurence Griffiths/Getty Images
Defoe's goal brought him within one of Martin Chivers's Tottenham record in Europe of 22.
This season already he has earned himself another little slice of history by climbing into the club's top five scorers of all time.
Measuring the forward's overall contributions to Spurs is best left for when his days are up in North London.
As he continues to work his way through the top goalscorers list—having recently passed notable names such as Len Duquemin and Alan Gilzean—it is fair to say Defoe has made himself a substantial part of the club's modern history.
It is difficult to compare his achievements to past players. Trophies have eluded him during his Tottenham stay, but that is an issue bigger than him.
Still, Defoe's longevity and continued contributions make him more than worthy of recognition among some of the club's great players. He will surely be hopeful that this is the year he can add a winner's medal or two to that case for recognition.
Fryers Is Coming Along Nicely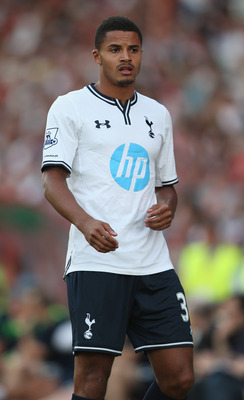 Zeki Fryers.
Mark Thompson/Getty Images
Zeki Fryers has not been majorly tested in his appearances so far this season, meaning a more comprehensive judgement on his talent is best reserved for a later date.
With that said, against Anzhi, the 21-year-old was again composed and efficient, hopeful signs of a young player developing nicely.
In one-on-one situations, he seems capable of holding his own, tackling smartly, not over-eagerly. He has been more reserved going forward but keeping it simple is not a bad idea for a player looking to prove his top-level aptitude.
Positioning is an area in which improvement certainly still could be made. Against the Russian club, on a few occasions he was not as in sync with his fellow defenders as his coaches would probably have liked.
That's not surprising, though, given how Villas-Boas has varied his defensive unit in these cup games. More matches alongside his teammates will do Fryers good here.
Chadli and Lamela Are Both Looking to Find Their Place at Spurs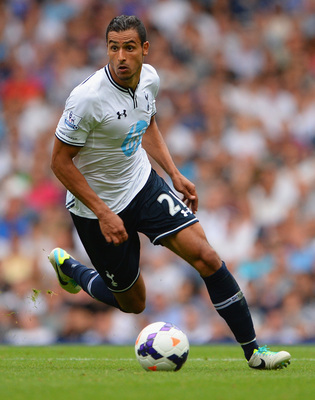 Nacer Chadli.
Michael Regan/Getty Images
Nacer Chadli and Erik Lamela are coming at it from a different position to Fryers, but like the young defender, they are also in the process of trying to find their respective places at Tottenham.
The good form of others in their positions (chiefly Gylfi Sigurdsson and Andros Townsend) complicates things.
Playing time in these cup games is certainly welcome. But knowing others are currently ahead of them in the pecking order for the league does make it difficult to build up any real rhythm.
As noted already, the trip to Moscow was even more than usual about the result, rather than the performance, too.
The duo's displays adhered to this. Chadli and Lamela were both lively and inquisitive (especially in the first half) as Spurs attempted to get through the initially stubborn Anzhi resistance, while the former's goal was nicely taken.
Both players are evidently still getting accustomed to life at their new club, though. What intrigues is what form the next parts of this progression will take.
Anzhi Fans Are Making the Best of a Strange Situation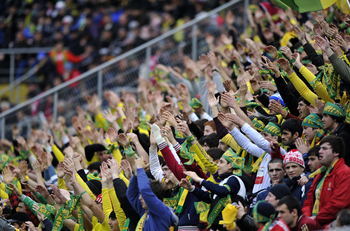 Anzhi fans are not able to play at their usual home ground in Euroe.
Epsilon/Getty Images
The Anzhi Makhachkala fans have been through a strange few months. Their club's new frugal approach saw star players and expensive signings sold off, with the team that remains now toiling at the bottom of the Russian Premier League.
It was heartening then to hear the continued support of those Anzhi fans in the Saturn stadium for the visit of Tottenham.
They were never likely to abandon their team, but it would have been understandable if their new-found situation left them dispirited.
Instead they were loud throughout the game, their support sustained even as their team fell behind.
Theirs was already a unique experience—coming from the volatile region of Dagestan, European football is largely a Moscow-based event for them.
What is next for Anzhi is unclear (though things do not look good in the league). At the very least they deserve a club that remains stable and in good health, something the budgetary changes will hopefully at least ensure.
Keep Reading

Tottenham Hotspur: Like this team?