Shakhtar Donetsk vs. Manchester United: Live Score, Highlights, Recap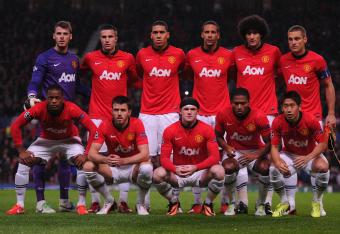 Michael Regan/Getty Images
UEFA Champions League Group A match - The Donbass Arena, Ukraine.
Shakhtar Donetsk 1-1 Manchester United

Goals: Welbeck 17' (MUFC), Taison 75' (FCSD)
Lineups
Shakhtar Donetsk: Pyatov; Srna, Kucher, Rakitsky, Shevchuk; Hubschmann, Fernando, Taison (Bernard 90'), Teixeira, Douglas; Adriano (Ferreyra 88').
Manchester United: de Gea; Rafael, Smalling, Vidic, Evra; Valencia, Carrick, Cleverley, Fellaini (Giggs 65'), Welbeck (Jones 91'); van Persie.
92 - FULL-TIME: Shakhter Donetsk 1-1 Manchester United
In the end, United have to be happy with the draw with their opponents looking far more threatening throughout the full 90 minutes. With Bayer Leverkusen winning 2-1 against Real Sociedad, tonight's result puts Moyes' men at the top of Group A if only on goal difference. Travelling to Donetsk was always likely to be the trickiest fixture of this stage however, and the team can now look forward to building a head of steam to win the group completely over the next month or so.
Man of the match would have to be Vidic, who not only dealt with everything that was thrown at him but also had to put off with an off-form Smalling and a deadly array of skilful Brazilian tricksters, aiming to use his older, physical frame against him in sight of the referee in every challenge. The captain may have been at fault for Shakhter's equaliser but one mistake should not spoil what was otherwise an exceptional performance. Cleverley takes silver for an industrious and diligent display, cleaning up the midfield between the a rather immobile pivot of Fellaini and Carrick.
For a full rundown of the game's players and match ratings, head over to Will Tidey's post-match blog here.
91 - We're into added time and Bernard is brought on for Shakhter's goalscorer Taison. Phil Jones replaces Welbeck for United to add more presence to the midfield.
88 - Evra looks for Van Persie but Rakitsky tips the ball out of play, allowing Shakhter to make a change. Ferreyra comes on for Adriano.
87 - Ferrera is being lined up to add more presence to Shakhter's forward line. The Argentine could be useful to ruffle United's feathers and take on Vidic and Smalling, the latter of whom has looked vulnerable tonight.
86 - The balance of power is resembling something of a tug of war now, as the game teeters from one half to the other. United are trying to land their own sucker punch but they could just as easily be downed by a Shakhtar counter charge. Precarious.
84 - Ilsinho already making an impact, dancing around the outside of De Gea's box to add movement and bring others into play. Some clever probing offers up a chance that's fired at United's goal, with De Gea only able to tip it over after a deflection from Smalling.
83 - Fernando comes off for Ilsinho. A Brazilian defensive midfielder for another Brazilian defensive midfielder. Makes sense. If it's not broken, why fix it?
Marouane Fellaini has committed 8 fouls so far. The entire Shakhtar side have made just 5 between them. Very clumsy. #MUFC

— Squawka Football (@Squawka) October 2, 2013
Has the substitution of Fellaini sapped the power from United's midfield? Perhaps, but his fouls were becoming a problem in themselves. Maybe the younger, more mobile Kagawa may have been a better choice than the aged Giggs however.
79 - Last ditch defending is going to be the order of the day for Moyes' team in the final ten minutes. Time for Giggs and his teammates to dig in and hope for the best.
75 - GOAL! Taison (Shaktar 1-1 United)
A rocket shot into the roof of De Gea's net from close range after mounting pressure and a skilful pass into the box from Shevchuk. It was a Vidic mistake that allowed Taison the space, but the Serbian is beginning to be overworked in central defence due to the deficiencies of Smalling, his partner. The question now is whether United can hold on for a point, let alone score again to grab all three.
75 - United look organised as they retreat back towards their box under pressure but Shakhter are in the ascendency here.
72 - Evra does well to snatch the ball back in United's left-hand corner, springing a pass to Cleverley. The Englishman is fouled giving the visitors a chance to take a breather and push on from their own restart.
70 - Almost 2-0 to United! Well, it was almost as far as Van Percie's brilliance at making the most out of nothing is concerned.
Having received the ball and shown it into the Shakhtar box, the Dutchman is knocked out of his stride before regaining his footing, but it's too late to strike home and his shot is parried away by the sliding legs of a defender.
68 - Moyes is once again on his feet, directing his team from the away team's technical area. This may not be the most glamorous night in United's storied European history but a win here would be a momentous result, making United the first English team to win at the Donbass Arena against Shakhtar.
What would victory here mean for him and his team's momentum considering the difficult start to the season they've faced?
65 - Speaking of which, the yellow carded Fellaini leaves the field for Giggs to come on, becoming the all-time appearance holder in the Champions League. Now Cleverley's impressive work rate and diligence sweeping through United's lines will be even more important as the veteran Welshman is unlikely to be able to provide too much cover of his own.
That's two yellow cards in as many minutes for United. Moyes' team must stay calm and disciplined if they're to see this game out.
63 - Another lunge towards United's box by Shakhter leads to a yellow card for Vidic, who grapples on the floor just outside of De Gea's area. The resulting freekick is rebounded by the defensive wall.
63 - United are enjoying a bit more time on the ball now, playing it amongst themselves in and around the Shakhtar half, but the home team's threat on the counter is ever-present. Luckily, Fellaini and co are able to get back in numbers and secure their lines.
61 - Yellow card for Fellaini which looks to be a harsh decision. After all, it was Valencia that did most of the work bringing the man down. Giggs looms on the touchline awaiting his record breaking arrival.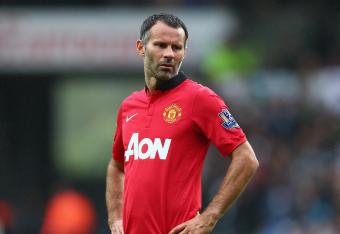 59 - Eduardo is coming on for Shakhtar as the speed of the game continues to temper. Rumours abound that Giggs may be preparing himself to come on for the visitors.
57 - Welbeck takes the ball forward but Fernando pings it out for a throw-in. Can United capitalise from the sidelines once again?
HERE'S DANNY WELBECK'S GOAL.
In .gif form.
55 - The second half, like the first, has settled down again after an intense opening ten minutes. Something tells me it's not going to stay this way however.
52 - De Gea takes a hit as he takes the ball away from an oncoming attacker. And to think the Spanish keeper was once derided as weak, inexperienced and cowardly. Is his transformation into United's number one complete?
50 - Smalling puts Rafael under pressure with an awful pass that puts the Brazilian into a desperate race with Taison to claim the loose ball. United's young centre-back needs to switch on here. That's two clumsy mistakes so far. Another one could be costly for his team. Very costly. Hopefully Vidic will have a word.
This article is
What is the duplicate article?
Why is this article offensive?
Where is this article plagiarized from?
Why is this article poorly edited?