Imagining a Chelsea Team Managed by Sir Alex Ferguson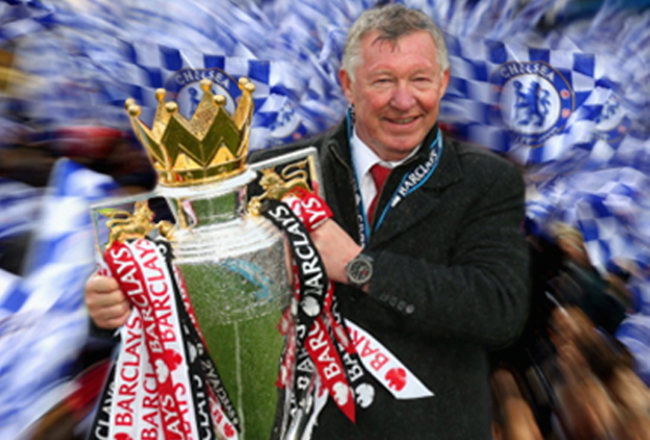 Richard Heathcote/Getty Images
He may have retired from management last season, but Sir Alex Ferguson hasn't been far from the minds of football fans given Manchester United's struggles in 2013-14.
And the Scot has hit the headlines again this week after claiming he turned down the opportunity to become Chelsea coach in 2003 in the aftermath of Roman Abramovich buying the club.
"[Chelsea] used an agent to approach me when Abramovich first took over the club," he explained to Charlie Rose in an interview with US TV network PBS (as reported in the Evening Standard). "And I said, 'no chance'. I always come back to this point — why would you leave [Manchester United]?"
Claudio Ranieri was in charge at the time, but a year later the Italian would be replaced by Jose Mourinho as Chelsea's Russian owner looked beyond the rejection of Ferguson for the man to lead his team. The rest, as they say, is history.
Fergie's revelation has got us thinking, though—had he decided to take on the Chelsea manager's job, what would the Blues' starting XI have looked like this past decade?
Picking players who have played for Chelsea and Manchester United in the intervening years up to Ferguson's retirement, we've settled for a modern 4-2-3-1 formation for the Bleacher Report Ferguson Chelsea XI.
We're confident that, in its prime, a Chelsea team containing such talent would have ensured Fergie's desire for success would have been well-served—but what do you think? Who have we missed out that deserves a place? Let us know in the comments section.
Goalkeeper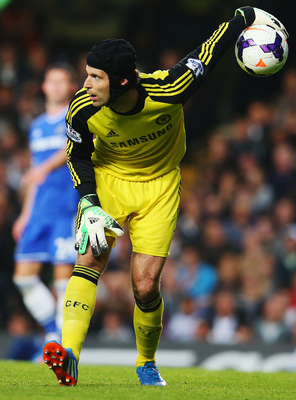 Julian Finney/Getty Images
Petr Cech
In the past decade or so, has there been a better goalkeeper in the Premier League than Petr Cech?
The current Chelsea No. 1 has endured his fair share of injuries during that time, but he has remained a consistent performer and is en route to being one of the finest stoppers to have graced English football.
He is a commanding figure at Chelsea, which has helped him claim three Premier League titles, four FA Cups, two League Cups, the Europa League and, above all else, the Champions League.
Defenders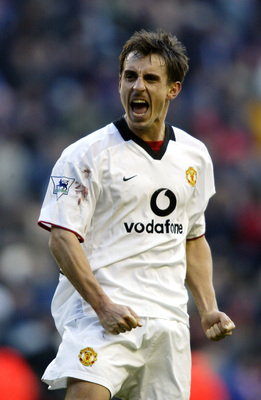 Gary M. Prior/Getty Images
Gary Neville (right-back)
Wherever he travelled with Manchester United, Gary Neville had the ability to equally rile the opposition and their supporters, but while this may have left him lagging in the popularity stakes, there can be no doubting his ability as a player.
Coming through the Manchester United academy under Sir Alex Ferguson's guidance, he flourished in the Old Trafford first team and is not only one of his former club's finest servants, but among the Premier League's greats too.
Ashley Cole (left-back)
Another defender on the flanks who has taken his fair share of abuse from the terraces, Ashley Cole's 105 England caps say enough about his ability, being a regular with Arsenal, Chelsea and England since 2001.
His move to Stamford Bridge came in 2006 and while it was Jose Mourinho who signed him for the Blues, we're confident his talents wouldn't escaped Fergie's watchful eye either is he was Chelsea's commander-in-chief.
Rio Ferdinand and John Terry (centre-backs)
For personal reasons, this is one defensive partnership that would cause plenty of issues away the pitch, but on it, Chelsea's defensive line would have been rarely breached had Ferguson paired Rio Ferdinand and John Terry together.
They're the standout defenders of their generation in England and during their spell as partners for the Three Lions, there weren't many others who could match them on the international stage.
Midfielders (Pivot)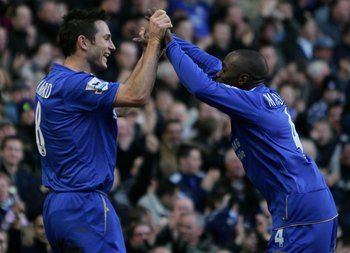 David Cannon/Getty Images
Frank Lampard and Claude Makelele
They may not have lined up together in the same way our 4-2-3-1 formation would demand, but Chelsea teammates Frank Lampard and Claude Makelele were a deadly duo.
With Lampard comes goals—and plenty of them. He already has 205 in his Chelsea career, making him the club's all-time leading goalscorer.
Where Lampard has been impressive in scoring, his former teammate Makelele has been just as ruthless in preventing them at the other end.
The Frenchman redefined the role of a defensive midfielder during his five years at Stamford Bridge and was a big part of the success Chelsea would go on to have.
Manchester United have of course had their own talented midfielders in that time, but Lampard and Makelele just shade it.
Attacking Midfielders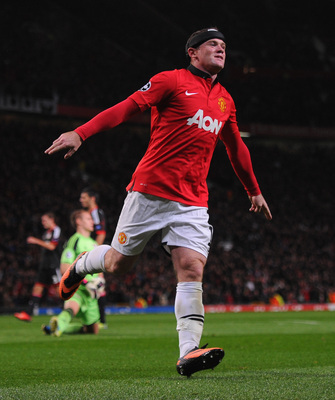 Michael Regan/Getty Images
If Jose Mourinho had his way this summer, we wouldn't be imagining the damage Wayne Rooney would cause in a Chelsea shirt. After a summer of publicly pursuing the England international, the Portuguese had to admit defeat, however, with Rooney remaining at Old Trafford.
He was one of Sir Alex Ferguson's best buys in his last decade as Manchester United manager, going on to score over 200 goals for the club.
He's not an attacking midfielder by definition, but playing in the hole behind the lead striker, Rooney has been devastating for United in the past and it would be the same in this Ferguson Chelsea XI.
A sensational player, costing just £12 million from Sporting Lisbon, it was shrewd of Ferguson to replace the departing David Beckham with the Portuguese star in 2003.
Now at Real Madrid, he has excelled even further after making a name for himself at Old Trafford in his formative years.
Tactics or not, he's one player in world football right now that would fit into any team, and with the threat he carries, he breezes into ours.
Now in his third season at Chelsea, Juan Mata just makes into Fergie's Chelsea XI where his time of arrival is concerned. But like Cristiano Ronaldo and Wayne Rooney before him, there's no question that his talents warrant a place in the starting line-up.
That he has been voted Player of the Season in the two seasons he has spent at Stamford Bridge speaks volumes for his talents and while he may have copped a hard time of it recently with Mourinho requesting more defensive input from him, he is essential to everything the Blues want to achieve.
His character is far removed from the stereotypical modern footballer, too, which would sit nicely with Ferguson.
Striker and Substitutes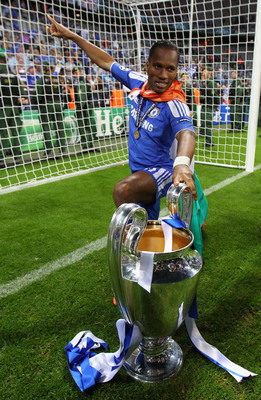 Alex Livesey/Getty Images
Didier Drogba
He may not have got off to the best of starts in Chelsea career, but Jose Mourinho persevered with Didier Drogba and he eventually got the reward his faith deserved as the Ivorian became one of the world's best frontmen.
Cliches are just that—terms being over used for pundits and fans alike lacking talents of an articulate nature—but if any player lived up to the notion to one being "unplayable," Drogba has been it this past decade.
He has tormented some of the finest defenders in his time, helping Chelsea to three Premier League titles and a host of other trophies in his time at Stamford Bridge.
In true poetic style, his last-ever game for Chelsea came in the 2012 Champions League final when he not only headed home a late equalizer, but scored the winning penalty that sealed a historic victory for the Blues.
Drogba was a winner and there's nothing that Sir Alex Ferguson likes more.
The Subs' Bench
With just 11 places up for grabs, not everyone could make the starting line-up in Bleacher Report's Ferguson Chelsea XI. It meant some talented players missed out from making an appearance on the bench, let alone a place in the team.
It's testament to the quality of both clubs that some famous names are missing, but here's our subs' bench to round things off:
Edwin van der Sar
Nemanja Vidic
Branislav Ivanovic
Damien Duff
Roy Keane
Robin van Persie
Eidur Gudjohnsen
Keep Reading

Chelsea: Like this team?