The Oakland Raiders started the season with nine new starters on defense, and that number has quickly grown to 10 with an injury to safety Tyvon Branch. Last year's defense was horrible, so the expectation was that there would be some improvement with so many new faces.
Owner Mark Davis expects to see improvement, which may or may not put head coach Dennis Allen on the hot seat. So far, the Raiders' 1-3 record puts the team exactly where they were at this time last year. More excitement and hope has not necessarily translated to a better team.
Going from a stable veteran at quarterback to Terrelle Pryor has been a smoother transition than expected, but for the Raiders to really improve they needed their revamped defense to play better. Unfortunately, Oakland's defense looks as bad or worse than last year's unit, and there aren't many signs of improvement.
The pass rush is better, but the rest of the defense is actually worse. The pass rush actually gives the illusion that the defense has improved without it actually improving. In theory, an improved pass rush should help the secondary and the entire defense, but that just hasn't happened.
Possibles for the lack of improvement are that the secondary is actually less talented than last year, the defense is worse in clutch situations, the defensive play-calling is making it harder on the secondary or a combination of those factors. Another possibility is that the run defense has been worse, which makes things easier for the opposing offense and subsequently harder on the secondary in key situations.
Pass Rush Improvement?
There have been some improvements by the Raiders, they just haven't translated to improvement as a unit. The pass rush was a huge concern headed into the season, but the Raiders seem to have calmed that concern through the first four games.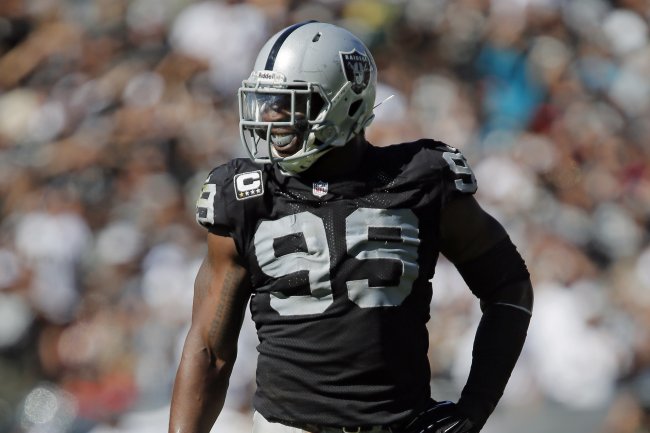 Brian Bahr/Getty Images
The Raiders won't be confused with a great pass-rushing team, but they are having more success getting to the quarterback. Through four games, the Raiders have a sack percentage of 7.9 percent, which is 12th in the league and 3.4 percent improvement over last year when the Raiders ranked 30th.
Here's the odd thing about that, it happens to correspond almost directly with how much more the Raiders are blitzing. Last year, Raiders cornerbacks, safeties and linebacker combined to rush the quarterback just 11.2 percent of the time.
Oakland's linebackers and secondary have combined to blitz 3.0 percent more in 2013 according to ProFootballFocus data (subscription required), a combined 14.2 percent of the time. That can mean that the Raiders are blitzing on more plays, the Raiders are blitzing more players when they do blitz, or both.
To determine which is the case, we have to look at Oakland's blitz percentage. This data is a little harder to find, but thanks to ProFootballFocus, we do know that the Raiders blitzed 41.4 percent of the time last year.
Improved Pass Rush?

| | | | | |
| --- | --- | --- | --- | --- |
| Year | Blitz Percentage (DB+LB) | Sack Percentage | Blitz Percentage of Plays | Average No. of Blizers |
| 2013 | 14.2 | 7.9 | ? | 2.3-2.8 |
| 2012 | 11.2 | 4.5 | 41.2 | 2 |
| Difference | 3.0 | 3.4 | - | - |
ProFootballFocus.com
Based on the number of pass attempts against Oakland's defense and the number of pass-rush attempts by the secondary and linebackers, we can arrive at the fact that the Raiders blitzed two players on average. That means in 2012 dropping five and rushing six was the average blitz.
Assuming the Raiders are blitzing at the same rate as last year, that means they are sending 2.8 blitzers on average. That means dropping four and rushing six. Even if the Raiders blitzed at the highest rate of any team in the last three years, they would still be bringing and extra rusher on average every three blitzes.
One of the reasons Al Davis despised blitzing was what happened if the defense didn't get there, and the Raiders are finding out the hard way in 2013. The improvement rushing the quarterback is having a profoundly negative impact on the secondary.
Coverage
More talent in Oakland's secondary means the team is sending an extra blitzer, but that has put their players in more difficult situations in man coverage. Press coverage becomes a risky play in blitz situations because the cornerbacks don't have as much—or any—help over the top.
Ezra Shaw/Getty Images
The result for the Raiders hasn't been pretty—they still don't have an interception. The Raiders are tied with the San Diego Chargers, Washington Redskins, Philadelphia Eagles and Jacksonville Jaguars with seven more touchdowns allowed than interceptions. Only the St. Louis Rams have a worse ratio with eight more touchdowns allowed than interceptions.
Oakland is playing Allen's classic "bend, but don't break" defense allowing 0.4 more yards per attempt this year than last, but 0.4 less per completion. More shorter completions, fewer big plays.
That also explains why the Raiders are allowing a league-worst 72.1 percent completion-percentage against but are 15th in yardage allowed. The change in style hasn't meant much, because the Raiders net yards per pass attempt is nearly identical in 2013 to what it was in 2012 (6.8 vs. 6.9).
2012 vs. 2013 Pass Defense Comparsion

| | | | | | | | |
| --- | --- | --- | --- | --- | --- | --- | --- |
| Year | CMP % | YDS/ATT | YDS/CMP | NET YDS/ATT | YDS/GAME | TD % | INT % |
| 2013 | 72.1 | 7.9 | 11 | 6.8 | 237.5 | 5.4 | 0 |
| 2012 | 66 | 7.5 | 11.4 | 6.9 | 235.9 | 5.3 | 2.1 |
| Difference | -6.1 | -0.4 | 0.4 | 0.1 | -1.6 | 0.1 | -2.1 |
pro-football-reference.com
Net yards per attempt factors in the yards lost due to sacks and basically shows that, while the Raiders are getting more pressure, it has only helped the secondary by 0.1 yards per attempt or about 13 yards this season.
Is the coverage improved? The simple answer is no, even though the talent is clearly better or they wouldn't be able to perform at the level they have with the additional blitzing.
The Raiders have clearly used the talent in the secondary and at linebacker to supplement the lack of pass rush they get from their front four, and the results have been about the same as last year. The Raiders are even allowing within 1.6 pass yards per game as last year's total.
Run Defense
The Raiders run defense faced just a shade under 28 carries per game last year and have allowed 28 carries per game in 2013. Despite new players, the stats have been virtually identical.
Yards Per Carry Allowed 2012 vs. 2013

| | |
| --- | --- |
| Year | Yard Per Carry Allowed |
| 2013 | 4.0 |
| 2012 | 4.3 |
pro-football-reference.com
Oakland has managed to improve slightly, from 4.3 yards per carry allowed last year to 4.0 yards per carry this year, but that kind of statistic can swing wildly at this time of year (as they all can). In my experience, yards per carry is one of the most volatile.
At this point, we can probably rule out that the run defense has been putting the pass defense in tougher situations than last year. If the defense isn't performing, it's not because of regression by the run defense.
We can also rule out that the run defense is significantly improved at this point.
Drive Performance and Key Situations
Through four games, the Raiders drive stats look virtually identical to last year except one very key one—average drive start. The Raiders' opponents have started at their own 24.9-yard line on average, compared with 31.6 last year. That's a field-position improvement of 6.7 yards per drive on average.
Over the course of the season, 6.7 yards per drive can add up. Chalk this improvement up to improved special teams and an offense that is moving the ball more frequently and setting up short punts that are downed inside the 20-yard line.
2012 vs. 2013 Per Drive Stats

| | | | | | | | |
| --- | --- | --- | --- | --- | --- | --- | --- |
| Year | Scoring % | Turnover % | Plays | Yards | Start | Time of Possession | Points |
| 2013 | 34.9 | 7 | 6 | 32.3 | Own 24.9 | 2:45 | 2 |
| 2012 | 41.2 | 9.1 | 5.5 | 30.3 | Own 31.6 | 2:37 | 2.2 |
| Difference | +6.3 | -2.1 | -0.5 | -2 | +6.7 | -0:08 | +0.2 |
pro-football-reference.com
Unfortunately, Oakland's defense has routinely given away that yardage. Oakland's six plays per drive and 32.3 yards per drive allowed on defense are both worse than last season, negating a lot of the gain.
The big problem is the Raiders can't get off the field. The Raiders are tied for 26th in third-down conversion percentage and tied for 23rd in red-zone defense. The Raiders were better in both situations last year (NFL Rank 20th).
The "bend, but don't break" defense really goes off the rails when the defense so frequently breaks. If there is any good news, it's that the Raiders have improved in the amount drives that result in points for their opposition. Judging from their performance on third down and in the red zone, that could be a fluke or legitimate progress.
Conclusion
It's been ugly for Oakland's revamped defense in 2013, which has been overshadowed by the excitement of Pryor at the quarterback position and the "improved" pass rush. Maybe all the veterans will start to build chemistry as the season progresses and improvement is around the corner, or maybe the Raiders simply exchanged last year's defense for an equally bad one in 2013.
Has Oakland's defense improved since last season?
Allen's specialty is supposed to be defense, so if the defense isn't improving with a group of hand-selected veterans and two of the team's top three draft picks, something is seriously wrong. Maybe the personnel department is to blame, or maybe the coaching simply hasn't been able to maximize what they have been given.
There are still 12 games to be played for the Raiders, but I seriously doubt what we've seen so far is what Mark Davis had in mind when he was looking for improvement from his team. Allen's defense needs to get better or his seat is going to start getting real warm by the end of the season.
As it turns out, having a bunch of new players on defense isn't making a difference, and the only common denominator remaining is the coaching.