Clemson Tigers vs. Syracuse Orange: Complete Game Preview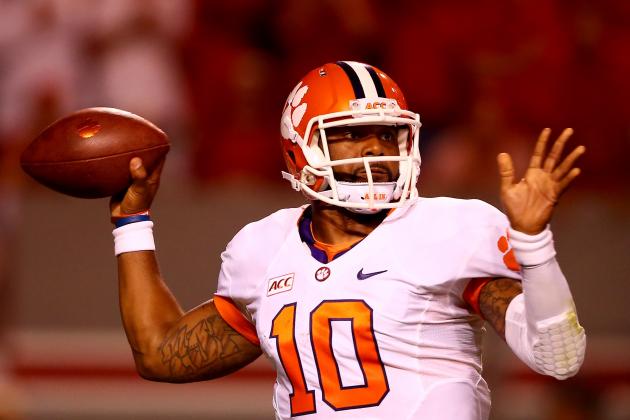 Streeter Lecka/Getty Images
Clemson and Tajh Boyd will have a serious road test this week at Syracuse.
Last week's results
No. 3 Clemson (4-0, 2-0 ACC) beat Wake Forest 56-7.
Syracuse (2-2, 0-0 ACC) beat Tulane 52-17 Sept. 21; off last week.
Can Clemson handle the Carrier Dome?
Clemson's recent forays to the ACC's northern outposts have been less than smooth. Two years ago, the Tigers trailed Maryland 35-17 in the third quarter before rallying for a 56-45 win. Last fall, they trailed Boston College 21-17 late in the first half before pulling away for a hard-fought 45-31 victory.
Together, those teams combined for four wins, two over FBS teams.
So there is reason for concern regarding the Tigers' first-ever trip to Syracuse, who plays in the 49,000-seat Carrier Dome, one of two domed stadiums in the FBS. Clemson played in the Georgia Dome twice last season, so most players on its roster are familiar with the logistics of playing indoors.
"Wherever we play, kick off, we just go play, no excuses," Clemson coach Dabo Swinney said. "We don't make any excuses or give our guys any excuses. I think our guys will be excited about it. It's a new place."
However, the Carrier Dome, with its lack of air conditioning and stands set very close to the playing surface, can be a hostile place for opposing teams. Swinney said he will take his team on a Friday walk-through of the stadium, something he doesn't normally do on road trips.
"It's just a field," Swinney said. "It's still football, all the same. The noise will be a little more compact. Defense will be very quiet for our guys. Our defense plays with tremendous noise at home. It's loud, so we don't huddle on defense, and there's no way we can practice any faster than what we practice from a defensive standpoint. Going on the road, we can actually talk to each other on defense. Offense will be the challenge."
Will Syracuse's pressure affect Clemson?
Syracuse likes to send constant pressure with full-house and zero blitzes, sending one more man than an opposing offense can block. That puts the impetus on opposing quarterbacks to get rid of the ball quickly, but can also create one-on-one matchups in the secondary. Last week, Clemson and Tajh Boyd took advantage of an early one-on-one opportunity with standout wide receiver Sammy Watkins, and Boyd found him for a 64-yard touchdown on the game's third play.
Boyd is a fifth-year senior quarterback in his third season as a starter. He is used to overcoming pressure. The opportunities to exploit the blitz will be there. Can he take advantage of them?
"With that defense, it's risk-reward," he said. "The offense has to go and make the plays that are there."
Can Syracuse's offense keep its mojo against Clemson?
Syracuse enters Saturday on a hot streak: following season-opening losses to Penn State and Northwestern, the Orange has scored a combined 106 points in its last two games. A disclaimer: those games came against FCS foe Wagner and Tulane. Sophomore quarterback Terrel Hunt will make his second career start, but the Tigers' strong defensive line led by junior end Vic Beasley (six sacks on the season) should provide a much starker test than the Seahawks or Green Wave.
Saturday will be Syracuse's first ACC game and, naturally, Hunt's first ACC start. Clemson's ferocious attacking line hopes to give him an unfriendly welcome to the league.
Time: 3:30 p.m. ET Saturday
Place: Carrier Dome, Syracuse, N.Y.
TV: ABC/ESPN2 split-national broadcast
Radio: Clemson and Syracuse radio networks (regional)
Spread: Clemson -13.5 via VegasInsider.com
Note: Unless noted, all quotes in this article were obtained directly by the author.
Connect with Greg on Twitter @gc_wallace
Begin Slideshow

»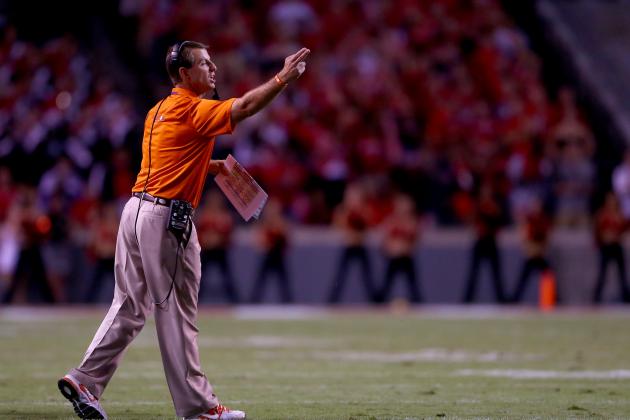 Streeter Lecka/Getty Images
Dabo Swinney knows his team must start quickly on the road at Syracuse.
Start quickly
Syracuse and the Carrier Dome will be enthusiastic for the Orange's first ACC game. It is also Clemson's first-ever trip to Syracuse. The teams have met only once, a 41-0 Syracuse whipping in the 1996 Gator Bowl. If the Orange can build momentum early against Clemson, the odds of an upset will increase, but if Clemson can score quickly and take the crowd out of the game, the Carrier Dome will seem far less intimidating.
Shore up the offensive line
Through four games, the Tigers' offensive line has been inconsistent. Last week, Wake Forest had only two sacks, but Boyd left the pocket repeatedly on non-designed runs, carrying 17 times for 69 yards and a touchdown. He felt constant pressure. This week, two of the line's starting roles are undefined. Juniors Kalon Davis and David Beasley are listed as either/or options at left guard, and the same with junior Gifford Timothy and sophomore Shaq Anthony at right tackle. Boyd said this week that Clemson will eventually need to decide on its best five linemen and stick with them. The rotation is building depth, but the line lacks continuity and consistency.
Bring the pressure
Clemson has developed an excellent pass rush: through four games, the Tigers have 15 sacks as a team, tied for fifth in the FBS. Junior Vic Beasley has six sacks, second nationally, and nine other players have one sack apiece. That means a number of players have pass-rush ability, led by ends Corey Crawford and Shaq Lawson. The Tigers' defensive tackles are also capable of getting pressure, which could make life difficult for Syracuse quarterback Terrel Hunt, who'll be making his second career start.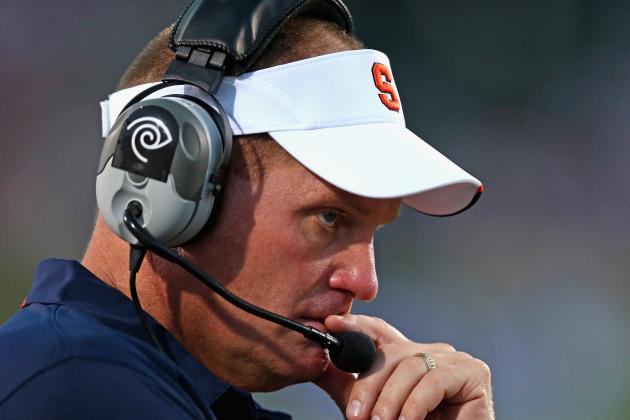 Jonathan Daniel/Getty Images
Syracuse coach Scott Shafer has a tough task in his team's first ACC game.
Bring the heat
One of the great ironies in college sports is that the Carrier Dome, which is sponsored by an air conditioning company, is not air-conditioned. That can make for an uncomfortable environment for visitors, especially if Syracuse gets off to a quick start. Clemson has won its last four ACC road games following last season's 49-37 loss at Florida State, but the Tigers could feel pressure if the Orange puts up several quick scores.
Limit mistakes
With a young quarterback, mistakes are almost inevitable. That's not good news for Syracuse since Clemson has forced nine turnovers in four games, including a pair of interception returns for touchdowns against South Carolina State. Turnovers and defensive scores can change momentum, and quarterback Terrel Hunt must play a mistake-free game to keep his team in striking distance.
Contain the run
Syracuse has a solid run defense which yields 109.3 yards per game, 24th nationally. Clemson has a quartet of talented tailbacks led by senior Rod McDowell, who has 253 yards in four games. However, McDowell is questionable for Saturday with an ankle injury sustained against Wake Forest, which would push sophomore Zac Brooks, junior D.J. Howard and sophomore C.J. Davidson into more prominent roles. If the Orange can shut down Clemson's run game and force Boyd to pass and scramble, it could tilt the odds in the home team's favor.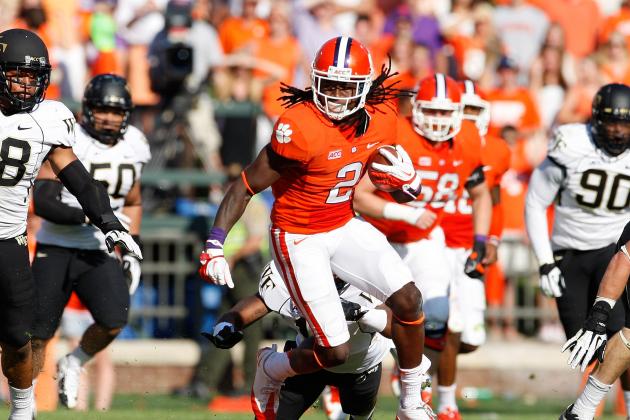 Tyler Smith/Getty Images
Clemson junior wide receiver Sammy Watkins is capable of a big play at any moment.
Junior WR Sammy Watkins
The All-American is coming off one of his best games of the season with six receptions for 113 yards and a touchdown in less than three quarters against Wake Forest, including a 64-yard score on the game's third play. With Syracuse expected to blitz, he'll have opportunities for one-on-one coverage if Tajh Boyd can get him the ball.
Junior LB Stephone Anthony
After losing his job to Spencer Shuey midway through 2012, Anthony has rebounded in a big way. He has 44 tackles, tops on Clemson's roster, and has shown a much-improved understanding of Brent Venables' defense. His leadership will be crucial in a new road environment.
Sophomore RB Zac Brooks
Brooks has developed into the Tigers' No. 2 tailback, averaging 23 rushing yards per game. He is also a capable receiver out of the backfield with a 31-yard wheel-route score against Georgia to his credit. If Rod McDowell's sore ankle prevents him from playing, Brooks will take on a much bigger role Saturday.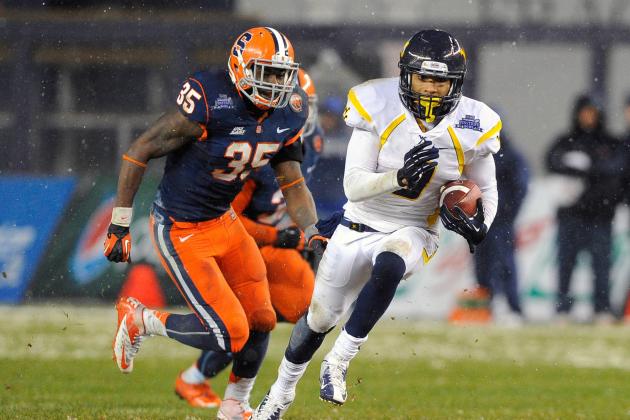 Rich Barnes-USA TODAY Sports
Syracuse linebacker Dyshawn Davis is primed to become one of the ACC's top linebackers.
Sophomore QB Terrel Hunt
Hunt was excellent in his first career start, passing for four touchdowns and running for another in his first career start, a 52-7 win over Tulane. However, he'll face a much tougher challenge in Clemson's defensive line, which is tied for fifth nationally in sacks. He must avoid mistakes and keep his poise for the Orange to have a chance.
Junior RB Jerome Smith
Smith rushed for 1,171 yards last season as a junior but had only three touchdowns. He has become a veritable touchdown machine in 2013, scoring six times on the ground and adding another receiving score. He'll need to find the end zone against Clemson's rush defense to keep the Orange in the game.
Junior LB Dyshawn Davis
Coming off a 69-tackle sophomore season, Davis is a leader of the Orange's defense. He moves quickly from sideline to sideline and has excellent speed. He'll need to be a presence in Clemson's backfield Saturday afternoon and stop the Tigers' run game.
Streeter Lecka/Getty Images
Dabo Swinney will be agitated if his Tigers don't perform well at Syracuse.
"I think sometimes it depends on whom those teams are and the maturity and experience of the team. All those factors can make a difference. The biggest thing is it¹s hard to win on the road. That is just a fact. It is hard to win on the road in any league and anything that you do. Everybody is more comfortable at home and your surroundings are what you are used to and the fans are all pulling for you." – Clemson coach Dabo Swinney, on heading to Syracuse for an ACC road game
"You have to stay sort of level. I know what happens when you get too high or too low. My job is to be the hand steering the ship. I want to have fun and make sure my guys are as relaxed, confident and comfortable as I am. That's how we need to be." – Clemson quarterback Tajh Boyd on his role as a senior quarterback and team leader.
"When he even hit the first pass, that was the right read, we've been talking about it all week long, you've got to hit it, and when he hit that third play –all he needed was a spark. That's it. He needed a play and he needed to play with some confidence, have someone make a play that sparked us. Once he hit that play, you knew it. You knew he was going to have a great day." – Clemson offensive coordinator Chad Morris on how last week's 64-yard touchdown sparked Boyd's big game against Wake Forest.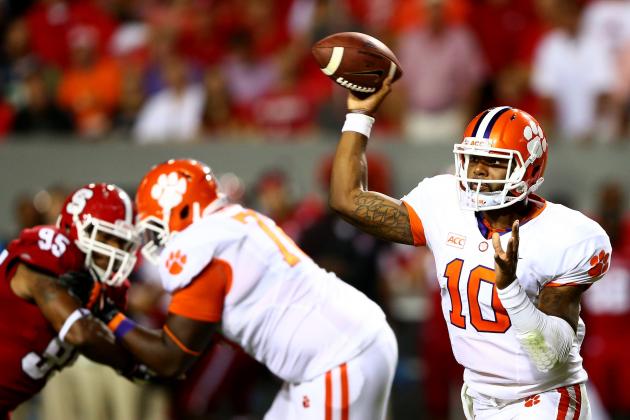 Streeter Lecka/Getty Images
If Tajh Boyd plays well Saturday, expect Clemson to cruise at Syracuse.
Clemson already owns one ACC road win, a 26-14 victory over N.C. State in a raucous Thursday night environment. This will be another special occasion: it's Syracuse's ACC debut. The Orange lost a pair of games to Big 10 foes Penn State and Northwestern but rebounded to score 106 points in a pair of wins over overmatched foes Wagner and Tulane. Dabo Swinney expects his team to be prepared for the Carrier Dome's heated environment, but it'd be imperative for the No. 3 Tigers to get off to a quick start and take control of the game. Clemson's offense broke out in a 56-7 win over Wake Forest, and expect the Tigers to build on that strong effort this week. Clemson 45, Syracuse 17