Presidents Cup Format 2013: Breaking Down Tournament Structure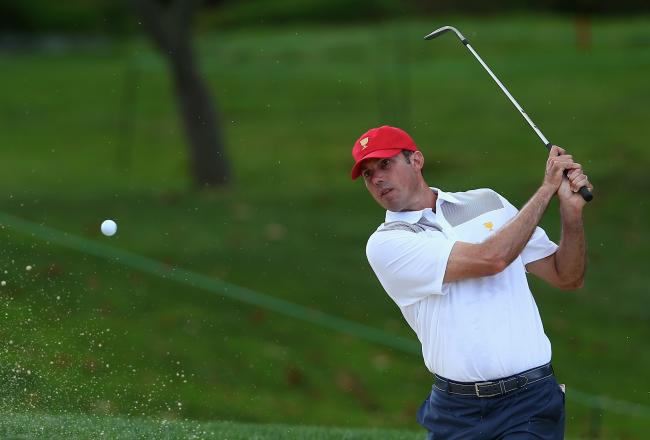 Andy Lyons/Getty Images
The Presidents Cup is far from your average golf tournament, from the tradition to the format itself. It's a structure that will require some studying up before tuning in this weekend to catch all of the action.
If you think watching last year's Ryder Cup is enough to go off of for this tournament, think again. There are some key differences between the two biennial events.
The Presidents Cup is stretched out to four days of action. This has been the case ever since 2000, when the switch was made from a three-day competition.
Let's take a look at the format for each day, and break it all down in text.
2013 Presidents Cup Format
Day 1 (Thursday): Six foursome matches (all 12 players from each side play)
Day 2 (Friday): Six fourball matches (all 12 players from each side play)
Day 3, Morning Session (Saturday): Five foursome matches (10 of 12 players)
Day 3, Afternoon Session (Saturday): Five fourball matches (10 of 12 players)
Day 4 (Sunday): 12 singles matches
Note: Each match is worth one point each
Full Breakdown of Format
Day 1 of the tournament will feature six matches between the Americans and the International Team. This means each of the 12 players from both teams will be in action Thursday, a sharp contrast to the Ryder Cup, which allows players to be saved on the early going.
Thursday's games will be played in the 'foursome' format, which means the two players on each team will hit alternating balls. Player 1 will tee off, followed by Player 2 hitting that ball, and so on until the ball is holed.
However, things get switched up for Day 2. While all of the team members still play on Friday, the format switches to a 'fourball' meaning both players on the team play their own ball and the best overall score from each hole is recorded.
Not surprisingly, Friday's format will allow for lower scores across the board.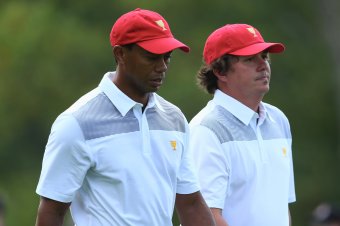 Andy Lyons/Getty Images
Players do get the opportunity to sit out on Saturday, but it comes with a price. There are five foursome matches in the morning and five fourball matches in the afternoon, meaning 10 of the 12 team players will be in action for each.
Sunday is obviously when the history will happen, and the format reflects that. On the final day of the tournament, all 12 players will be in action. But they'll be playing individually in 12 singles matches, only increasing the excitement surrounding each hole and each golfer.
One point will be awarded for each match, regardless of the format of that match or whether it's an individual or team match.
If a fourball or foursome match is all tied up after 18 holes, it's simply recorded as a tie and each team walks away with a half-point. However, individual showdowns will be decided by a traditional playoff just like in a normal tournament.
The unique format of the Presidents Cup is what makes it special, and there's no doubt that it'll produce some exciting golf yet again.
This article is
What is the duplicate article?
Why is this article offensive?
Where is this article plagiarized from?
Why is this article poorly edited?