College Football Week 6 Predictions: Picking All Top 25 Games Against the Spread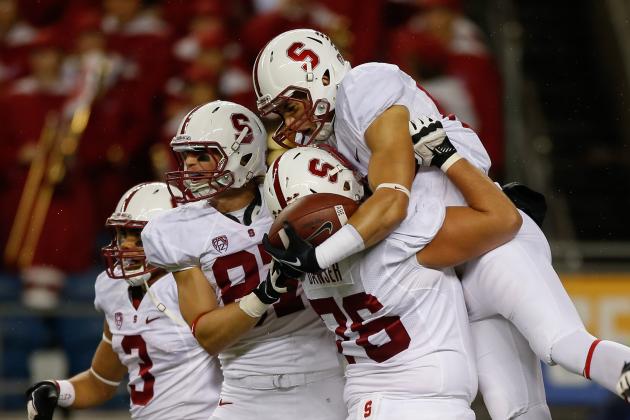 Otto Greule Jr/Getty Images

If you needed a reminder that Las Vegas has mastered the whole point spread thing, you got it in Week 5. Georgia-LSU and Ohio State-Wisconsin—the two biggest games on a docket loaded with intrigue—each ended in… pushes. Shucks, that's not nearly as much fun.
You didn't require this reminder, of course, but you got one anyway. Vegas is good.
In the land of the AP Top 25, Week 6 doesn't pack the same punch from a matchup standpoint, but there are a handful of fabulous games. On top of that, the oddsmakers have provided a handful of downright fascinating lines that look almost too good to be true.
Remember: If it looks too easy, it probably is. Well, not always, but just keep this in mind before you scroll to the Georgia-Tennessee slide.
As for how the AP Top 25 will fare against the spread, let's pick 'em and hope the solid start stays solid.
Spreads courtesy of VegasInsider.com.
Record Against the Spread Entering Week 6: 51-36-2
Begin Slideshow

»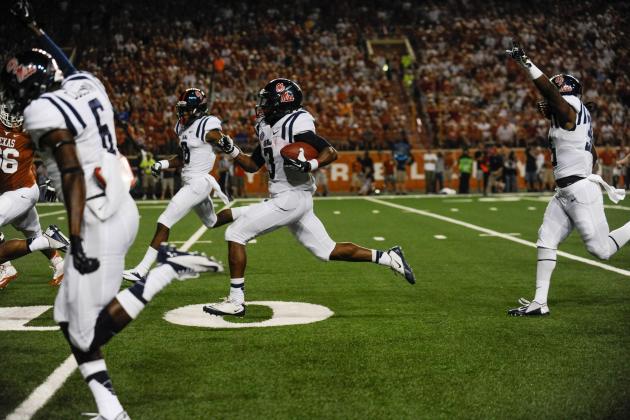 Brendan Maloney-USA TODAY Sports

The matchup between teams that will probably be really, really good in a few seasons has been given a field-goal spread. Both teams enter 2-2 against the spread, but both dealt with dramatically different Week 5s.
Auburn was at home, enjoying its bye, watching Ole Miss have to deal with Alabama—a team it too has on tap in 2013. The Rebels' defense provided a solid effort on the road, although Nick Saban's group played the role of bully it knows and loves. The timing of this is important, and it could linger into this week.
Historically, teams that have had to play Alabama under Nick Saban have not fared well the following week.
Having to go on the road against a fresh Auburn team is simply not an ideal scenario for Ole Miss, even if it is the more talented group.
The Pick: Auburn (+3)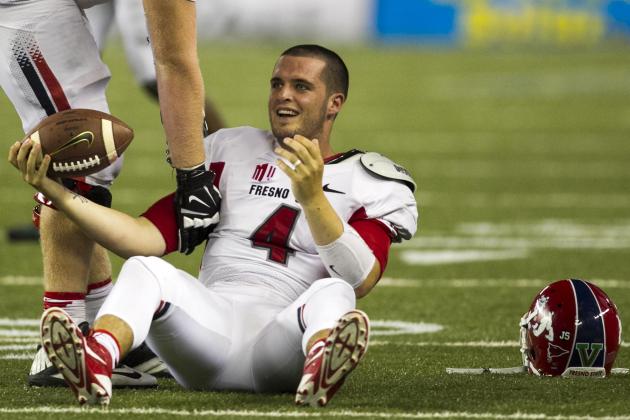 Marco Garcia-USA TODAY Sports

The Bulldogs were up 42-3 late in the third quarter, easily covering the 17-point spread, but then Hawaii surged. The Warriors covered, and Fresno State nearly lost the game outright. The letdown of beating Boise State the prior week came, but it was late to arrive.
With that, Fresno will enter its road game against Idaho 0-4 against the spread. Yet, it is still unbeaten and capable of destroying most BCS bowl projections.
Idaho just earned its first win of the season, beating a bad Temple team that is getting nearly five touchdowns against Louisville this weekend. A week before, the Vandals were blown out (and shut out) by Washington State, a team that was also just blown out.
Fresno has to cover a game at some point, yes? No? Maybe? This seems like the place to start.
The Pick: Fresno State (-25)
Matt Kartozian-USA TODAY Sports

If you've backed Notre Dame each week at the window, you have lost quite a bit. In fact, you haven't won. The Irish are 0-4-1 against the spread in 2013, and the team again looked sloppy against Oklahoma in Week 5. Tommy Rees has started to look a lot like Tommy Rees, and the defense is simply not the same unit as it was a year ago.
The Sun Devils enter with a slightly different vibe, fresh off handing Lane Kiffin the pink slip after bloodying USC 62-41. With that out of the way, Arizona State will now turn to one of USC's rivals, playing under the bright lights in Jerry's World.
Can the Irish bounce back? Absolutely. They ran the football better last week, which could go a long way against a team that has struggled mightily against the run. It's rare to say there's value in any Notre Dame point spread, but I think you get some here.
And with those famous last words…
The Pick: Notre Dame (+5.5)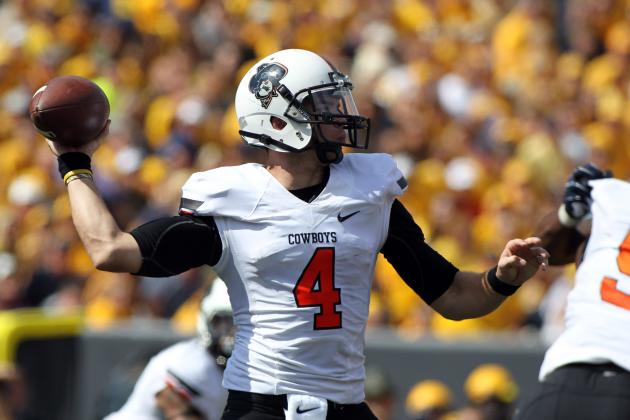 Peter Casey-USA TODAY Sports

As a near three-touchdown favorite last weekend, Oklahoma State went on the road and lost outright to West Virginia. The offense was a mess—the play calling equally messy—and Mike Gundy's offensive system finally looked broken.
Yet, a week after the disappointment, Las Vegas has again bestowed the Pokes with a line that looks larger than many believe it should be. This is clearly not the 2012 version of Kansas State, but Bill Snyder coached teams are rarely two-touchdown underdogs, especially to teams still wobbly off a loss.
That's what we're supposed to think, right?
Look for Oklahoma State to get right—enjoying a home field advantage that is matched by few—and look for Mike Gundy's group to bounce back, win and cover this number.
The Pick: Oklahoma State (-14)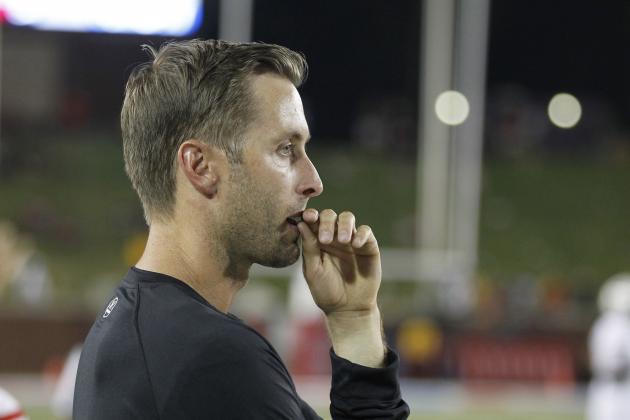 Tim Heitman-USA TODAY Sports

In three games, Kansas has thrown for just 559 yards and three passing touchdowns. In four games for Texas Tech, the quarterbacks have thrown for 1,634 yards and 12 touchdowns.
That's a significant difference—albeit featuring one team that will throw the ball far more than the other—but the Kansas offense has had its struggles. This team has also had its struggles against the spread, starting off 0-3.
Having this game at home for Jayhawks, however, is a significant boost. Texas Tech has played well, although this point spread might be overvaluing a team that remains slightly unproven. The Red Raiders beat TCU in one of the worst games I have ever watched, but I need to see more.
And so I will be backing Charlie Weis. What could possibly go wrong?
The Pick: Kansas (+14)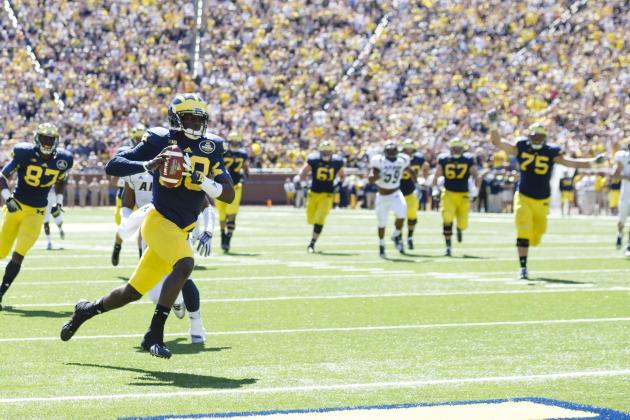 Rick Osentoski-USA TODAY Sports

Well, Las Vegas is apparently digging in.
After Michigan nearly lost two consecutive games despite being favored by a combined 56 points, the bookmakers have again made the Wolverines a significant favorite.
The good news for Michigan is that they had a much-needed bye last week. The bad news is that quarterback Devin Gardner is in a severe turnover funk.
Minnesota will head to Ann Arbor with a 4-1 record (3-2 against the spread), but the Gophers did not look good at home against Iowa last weekend. Was this a bad game, or was the competition at the start of the season the reason for the 4-0 start?
At some point the oddsmakers will back off Michigan if they play poorly, perhaps after this game. But the confidence they have in this line is telling, and if Devin Gardner can protect the football, we'll see why.
OK, Vegas. Third time's a charm?
The Pick: Michigan (-20)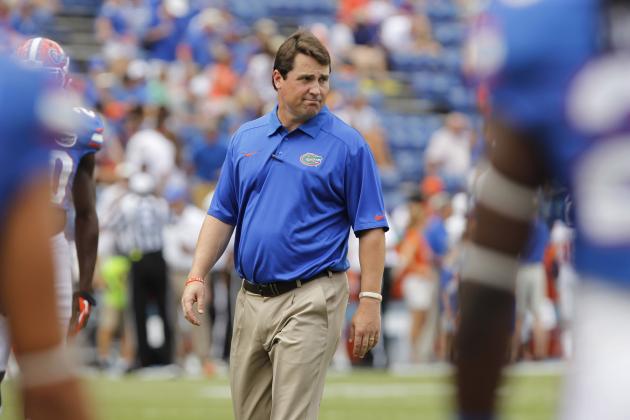 Kim Klement-USA TODAY Sports

Here's what you signed up for in the SEC, Bret Bielema.
One week you're tasked with stopping Johnny Manziel, the next you're strategizing how to move the ball on the Florida defense. Well, I'll bet you miss Illinois and Purdue right not.
Even without defensive tackle Dominique Easley, Florida might have the best defense in the country. The Gators have also found a bit of offense with quarterback Tyler Murphy, who looked solid in his first road start against Kentucky. Yes, it was Kentucky, but the experience and snaps will pay off.
Freshman running Alex Collins has been fabulous thus far for Arkansas, but yardage won't be easy to come by here.
Don't look for points and yards to come in bunches for Florida just yet, but it may not matter. This defense…
The Pick: Florida (-11)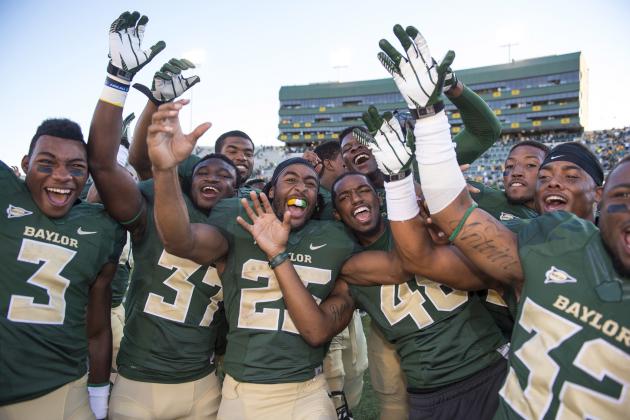 Jerome Miron-USA TODAY Sports

Through three games, Baylor has outscores its opponents 209-23. Those opponents include the likes of Wofford, Buffalo and LA-Monroe, although this kind of destruction is noteworthy regardless of the teams played.
The Bears will get a step-up in class this week with West Virginia, although the point spread doesn't exactly show it. It especially doesn't show it when you consider the Mountaineers just beat a top 15 team last weekend.
This WVU defense is light-years better than it was a year ago, although that may not help a team coming off its biggest win all season, playing the toughest offense it will see all year in a difficult road venue.
Bryce Petty and Lache Seastrunk go wild (again), and look for Baylor to crack 60 (again). If that's the case, four touchdowns won't cut it.
The Pick: Baylor (-27.5)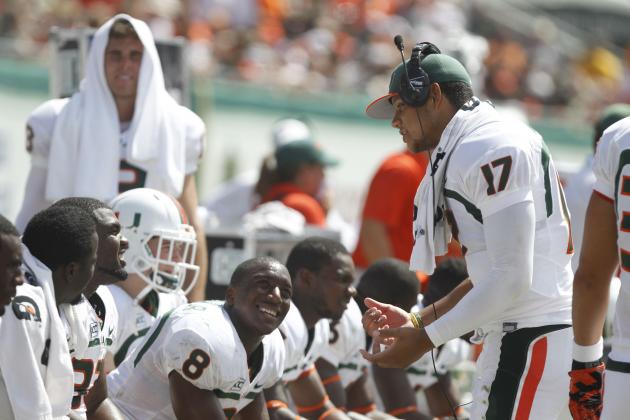 Kim Klement-USA TODAY Sports

Some sportsbooks have yet to post a spread on this game with Miami quarterback Stephen Morris still dealing with an ankle injury. He should play, but how effective will he be?
Morris last left the past two games because of the injury, which is certainly something to keep an eye on. If he he's healthy, he should find success against a defense that just made Logan Thomas look like a future Pro Bowler.
Georgia Tech hopes to bounce back on the road after fumbling the game away against Virginia Tech. The offense is more than capable, certainly, if it hangs onto the ball. And while Miami's defense appears improved, the Yellow Jacket's option offense could poise some problems against this unproven front.
Each team enters at 3-1 against the spread. But with uncertainty abound, I'll take the points.
The Pick: Georgia Tech (+5.5)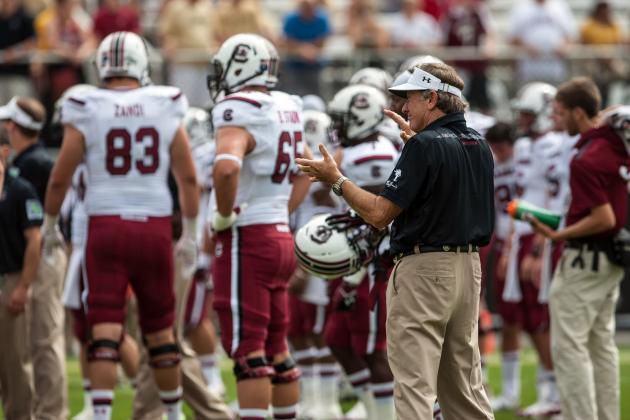 Rob Foldy-USA TODAY Sports

Steve Spurrier and his crew giftwrapped a Central Florida cover with a late fumble last week—thanks coach!—but the second half comeback and domination was on display after being down in the first half.
Still, the Gamecocks have not covered the spread since Week 1, and quarterback Connor Shaw's status is still in limbo. He could play, but what type of performance will we get?
Kentucky has also not done well by Vegas (and other) standards. The Wildcats are 1-3 against the spread and will now play its first official road game of the season.
That's not a promising proposition for a struggling team, especially one that will have to stop Mike Davis. If you haven't seen South Carolina's sophomore runner, please do so. And for the love of everything, don't get in his way.
The Pick: South Carolina (-21)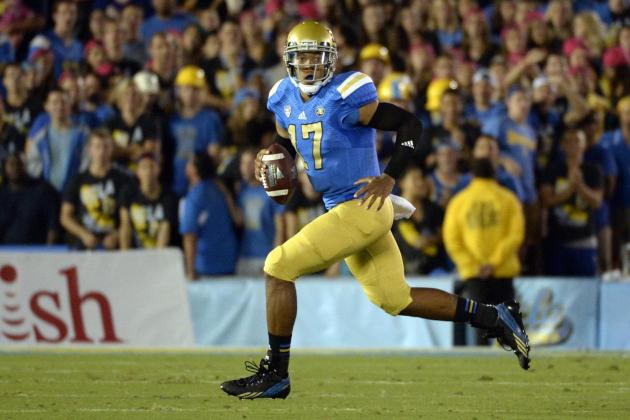 Richard Mackson-USA TODAY Sports

The Thursday night game this week is a good one, and the No. 12 team in the country—coming off a bye—is only laying five points against an unranked team.
Hello, friends.
Utah might not be ranked, but don't let that fool you. The Utes have beaten Utah State, BYU in its own building and lost a nail-bitter to Oregon State. UCLA, of course, demolished Nebraska in the second half a few weeks ago, cruising in its own true test this year. Brett Hundley has looked fabulous at quarterback, and the No. 12 ranking is certainly deserved.
However, this is a strange situation, and Utah seems like a lively dog. While Hundley will receive the quarterback spotlight in this one, sophomore Travis Wilson has been fabulous.
Upset, maybe? At the very least, points are welcome. Oh, and you can bet on the Utah students charging the field somewhere in the first quarter. (It's what they do).
The Pick: Utah (+5)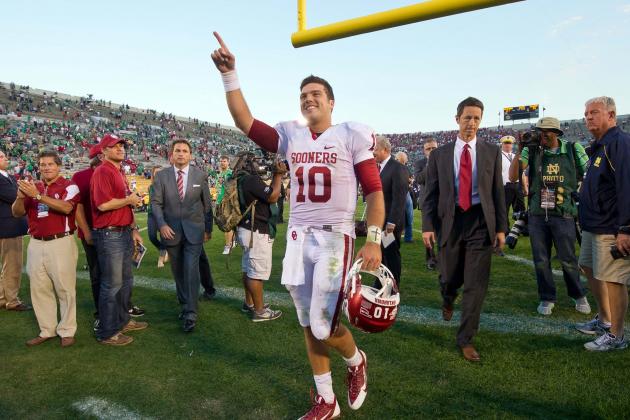 Matt Cashore-USA TODAY Sports

For me, this was perhaps the most challenging game to assess. I'm not quite sure why, either.
Oklahoma has been fabulous on both sides of the football, answering a lot of questions last week with an impressive road win at Notre Dame. It did so despite some strange play calling throughout the game, but it did not matter. The Sooners moved to 4-0 and have dropped only one game against the number.
TCU finally found some offense against SMU, putting up 48 points. I'm not quite sure what that means, but it's better than the alternative of what we've seen much of the year.
Star defensive end Devonte Fields is still questionable, which isn't good, but the defense still has plenty of firepower.
Oklahoma will likely win, but it just feels like a few too many points. If TCU can muster up anything offensively, it should keep this within double digits.
The Pick: TCU (+11)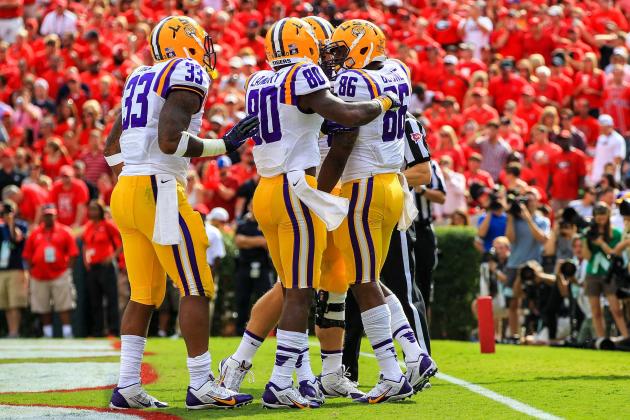 Daniel Shirey-USA TODAY Sports

How will LSU respond after a tough, hard-fought loss to Georgia? Will the Tigers bounce back quickly or feel the effects of a hangover?
The answer to this question will likely dictate which side you take, because LSU—despite dropping a game—is the superior team. Yes, the defense was carved up by the Georgia offense, but Mississippi State isn't capable of producing this kind of production.
The Bulldogs, however, dropped 62 points on Troy before getting a bye week, and they enter Week 6 with a cozy 3-1 record against the spread. Dan Mullen isn't budging on which quarterback get the start, and Dak Prescott and Tyler Russell could see action in this one.
That's not exactly a ringing endorsement, and neither is this: LSU has covered this game seven out of the past 10 years and seemingly has a stronghold on the matchup.
If the Tigers are up for this one, they should cruise.
The Pick: LSU (-9.5)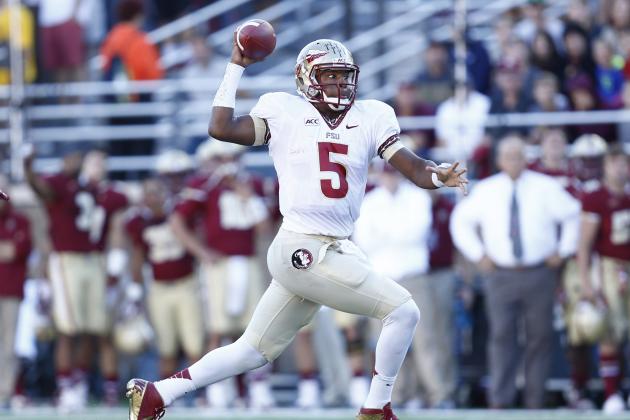 Mark L. Baer-USA TODAY Sports

If you told me before the season that this game would feature two ranked teams, I would have asked for a sip of whatever is in that bottle behind your back. But, Maryland has been on of this season's great surprises after finally getting healthy, and the Terps have balance on both sides.
Let's transition from comforting pat on the back to the realization that Florida State is an offensive machine, unbeaten, at home and just lost its first game against the spread last week at Boston College.
The Seminoles actually struggled at times in this game—especially early and on defense—but this group is proving to be difficult to stop.
This will be Maryland's first road trip since UConn in Week 3, and even though it's working off the bye, it's a "prove it" game for me. Until then…
The Pick: Florida State (-15)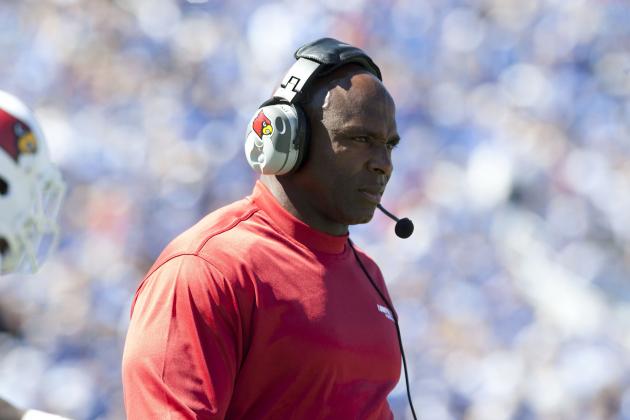 Mark Zerof-USA TODAY Sports

Back in the summer, Louisville was listed as a 17-point favorite in this game at the Golden Nugget. If you nabbed the Cardinals back then, nicely done. The line has about doubled.
This is one of two road teams that will take on spreads of at least 30 points or more (the other being Oregon), and the number is appropriate. Temple, to be frank, is a really bad football team. This isn't breaking news, but it warrants repeat mentioning.
The Owls are 0-4 and 1-3 against the spread, getting oh so close to being shutout in both departments. Louisville comes in with the exact opposite record—4-0 on the season and 3-1 against the spread—and it also just had a bye week.
If you feel like Teddy Bridgewater might struggle throwing against air, that's on you. Not me, though.
The Pick: Louisville (-33.5)
Daniel Shirey-USA TODAY Sports

[Vegas siren goes off]
Growing up, my best friend's father taught me a valuable gambling lesson. Ah, what a mentor. Sometimes you just have to trust Vegas. Don't ask questions, don't fret over depth charts, don't question why something is the way it is.
If a point spread looks too good to be true, it often is.
This brings us to this game, where Georgia is only a 10.5-point favorite over a Tennessee team that almost just lost to South Alabama. Georgia, meanwhile, just capped off a brilliant start to the season, where it beat one of the best teams in the country in its own building.
The line should be 20.5, not 10.5.
The oddsmakers clearly believe the Bulldogs will have a letdown following their critical win over LSU, and that's understandable. Running back Todd Gurley is still banged up and Georgia will have to travel for the first time since Week 1.
Tennessee still has no business keeping this game close. But since Las Vegas believes the Vols will hang in there, so will I. (I don't feel great about it, but old advice never dies).
The Pick: Tennessee (+10.5)
This point spread feels about exactly where it should be; a good number that will (and should) generate pretty equal betting on both sides. Washington is 3-1 against the spread while Stanford has covered the last two games and seems to be improving.
Just ask Mike Leach.
In a lot of ways, these teams have similar makeups. Both feature quarterbacks who are vastly underrated, playing behind offensive lines that have played spectacular this year. Both teams can run the football, and both have played tremendous defense thus far.
The only difference, however, is that Stanford is the more polished team at just about every position but running back and tight end. Bishop Sankey and Austin Seferian-Jenkins are flat-out players for Washington, but this will prove to be its toughest road game of the season. Oh, by the way, the Huskies will welcome Oregon next week. Thanks, schedule makers!
Too much Kevin Hogan, too much defense, too much Stanford and too few points to be laying.
The Pick: Stanford (-7)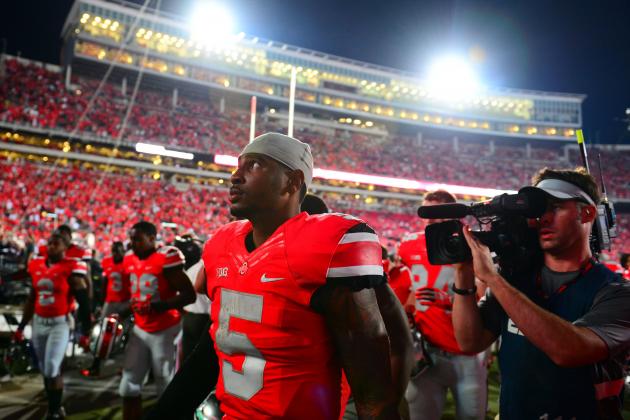 Andrew Weber-USA TODAY Sports

While first mapping out what this point spread might be before it was released, I settled on a number between seven and nine. The number actually opened at four, and it has since been bet up.
Still, the oddsmakers are taking note of Northwestern and for good reason. The Wildcats will come into this off a bye and a well-time one at that.
Northwestern did not play well against Maine two weeks ago, coming well short of covering the 28.5-point spread. Running back Venric Mark should return for this game, however, and his presence would be a significant boost.
With Braxton Miller back, Ohio State played a solid game against Wisconsin. The team is not without concerns, however, and you can expect Pat Fitzgerald to target the secondary in Saturday's primetime game after watching last weekend's game unfold.
Expect a close, well-played game. (Also, take the points).
The Pick: Northwestern (+7)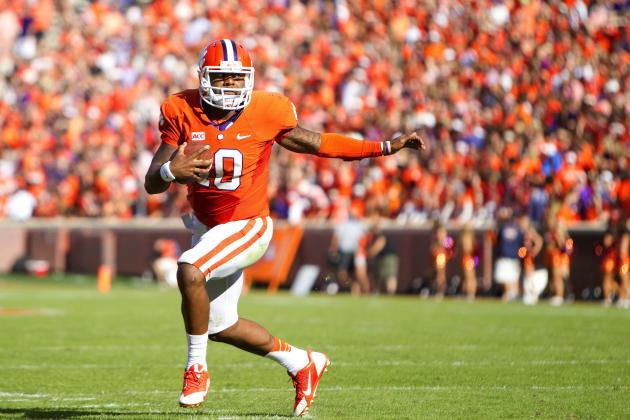 Joshua S. Kelly-USA TODAY Sports

After a sloppy performance against NC State, Clemson responded by blasting Wake Forest, easily covering the large number in the process. Quarterback Tajh Boyd was brilliant, a phrase we're writing pretty much weekly, and there's no reason to believe that the offense will struggle.
And yet, why does this point spread feel, well, slightly smaller than it should be? Is it a gift from Vegas or is there something there?
After a shaky start, Syracuse has settled in. It has done so against Wagner and Tulane, although after so many key offseason losses these games were necessary. The Orange enter this this game 3-1 against the spread, and they will be coming off a bye and welcome Clemson to the dome.
Clemson is going to win this game, but it wouldn't shock me to see the Tigers somewhat sluggish (see: NC State) on the road. I'll trust Vegas here, a theme this week, and somewhat reluctantly take the points.
The Pick: Syracuse (+13.5)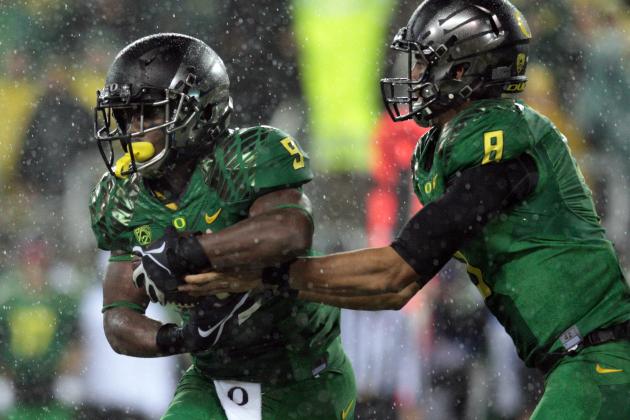 Scott Olmos-USA TODAY Sports

Through four games in 2013, Oregon has been favored by a collective 152.5 points. This is good for an average of (-38) per outing. More impressive than these gaudy numbers which have yet to reach their ceiling is the fact that the Ducks are covering them somewhat regularly.
It's pretty much expected, even.
Colorado will at least get Oregon at home, and it will also get more than six touchdowns as a cushion at the window. It also won't have to deal with De'Anthony Thomas who will be out with injury. Oregon will play Washington next week, so perhaps it will shut it down early.
While the Buffaloes are without a doubt improved from a season ago, betting against Oregon at this point feels a lot like betting against the sun rising.
The Pick: Oregon (-38.5)
John David Mercer-USA TODAY Spor

The week's biggest number (by far) is, well a bit of a mismatch.
Georgia State is 0-4 with losses to Samford, Tennessee-Chattanooga, West Virginia and Jacksonville State. On the bright side—and quite frankly, this is a stretch—Georgia State is 2-2 against the spread.
Alabama, meanwhile, just shutout the potent Ole Miss offense and covered the two-touchdown spread that many deemed to be too much.
As for this game, just how much does Nick Saban want to win by? The answer is probably not enough to cover this spread.
Expect the backups to be in at some point in the second quarter, and the backups backups backups to be featured prominently in the second half. With that blueprint in mind, I'll reluctantly take the points and hope for a 55-0 nail-bitter.
The Pick: Georgia State (+55)