The Ultimate Fighter 18, Ep. 5 Live Results: David Grant vs. Louis Fisette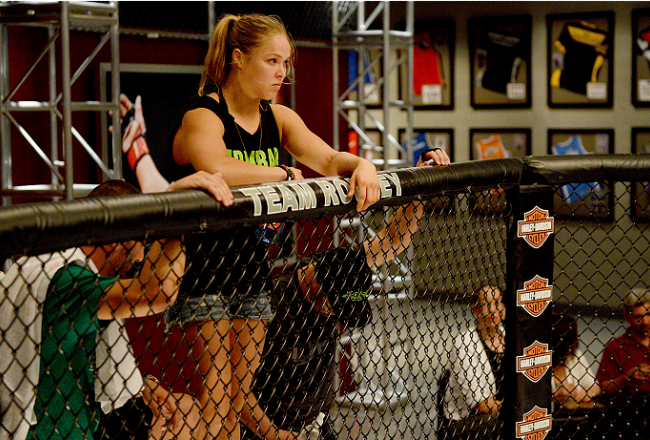 Photo by Al Powers/Zuffa LLC/Zuffa LLC via Getty Images

The Ultimate Fighter returns Wednesday at 10 p.m. ET for another installment of its 18th season.
David Grant (Team Rousey) battles Louis Fisette (Team Tate) in this week's male bantamweight matchup, but there is sure to be some in-house goings on as well. Team Rousey will try to even the score as Team Tate is up 2-1 heading into the fight.
Come back for live coverage of the next episode of The Ultimate Fighter.
That's it for this week. Come back next Wednesday as Fox Sports 1 gives us a full night of UFC action.
Next week's fight announcement is handled by Ronda Rousey, and she picks Jessamyn Duke vs. Raquel Pennington.
The promo for next Wednesday said this was the "most intense" fight thus far, and I can see why. These are two top class bantamweights. It's an interesting matchup for sure, and either lady can win.
Dr. DeMars talks to Grant after the fight about bringing a DVD back home to show his kids. They'll enjoy seeing their father totally mow through Fisette.
Miesha Tate acknowledges that Grant was "way too strong" for Fisette.
Round 2
Fisette moves Grant to the fence right away. Grant puts Fisette on his back again. Knee to the side of Fisette. Grant gets high mount, Fisette gives up his back, and Grant goes for a choke. Grant fights for the rear-naked and sinks it in. Fisette taps.
David Grant advances via submission (rear-naked choke).
That round was nearly all Grant. He manhandled Fisette on the feet and the mat. Not a great sign for Team Tate.
Round 1
Grant opens up with a outside leg kick at the beginning of the bout. Grant with a powerful combination against the fence. He landed a solid knee to the midsection in that exchange. Fisette changes position, but he couldn't take Grant to the mat. Grant fights for the underhook and reverses the position. He backs away and lands some good shots against the fence. Grant puts Fisette on the mat. Fisette is bleeding. Grant postures up. Fisette is trying to control the arms, but he has little hope of doing that in this position. Fisette closes the guard. Fisette spins for a leglock, but Grant is out of danger easily. Grant is now in side control. Grant goes for a Kimura, but he winds up going for an armbar in a scramble. Fisette is out and on top. Grant throws his legs up for a triangle, but Fisette defends. They are briefly up, but Grant slams Fisette back down. More ground and pound lands from the Brit. Fisette is getting out muscled. Grant goes for a d'arce, but then goes for more ground and pound as the round closes.
Bleacher Report scores the round 10-9 Grant.
Talk on Twitter about next week's matchup, but I won't spoil it for anyone. I'll blog it out when it is announced.
Although, I will say if something that small sets Edmond off the deep end then he may need some anger management. It wasn't that bad.
Team Tate trying some hijinx, but it is not very inventive. Just cheesy.
Totally enjoying #TUF18 on @FOXSports1. Well produced. No frills...cut to the chase. Great stories are usually straight forward.

— Jim Ross (@JRsBBQ) October 3, 2013
Totally understand @RondaRousey having a mom that was an athlete and coach adds a lot onto u as an athlete but it pays off!

— Raquel Pennington (@RockyPMMA) October 3, 2013
The stories Rousey drops on TUF about her mom makes you realize the cost of being great. It takes special dedication to reach the elite levels of any sport.
"I'm the nice one." - Ronda Rousey
Dr. De Mars suffers no fools. None.
It may be hard to stay away from the bad foods, but as a professional that is your job. One does have to wonder how many of the smaller guys will drop to 125 after the season.
Dr. De Mars is coming up next!
I think Fisette's dad is the happiest that he made the show.
Credit to Anthony Gutierrez for not backing down from his answer. Offered a legit explanation and didn't try to talk his way out of offending Fisette.
Modafferi's face when Hill uses his cheesy pick-up line is classic. Such shock.
Julianna Pena remains the most annoying cast member.
This article is
What is the duplicate article?
Why is this article offensive?
Where is this article plagiarized from?
Why is this article poorly edited?