Mark Wills sung it best, "And the crowd goes wild!"

The Pittsburgh Pirates won their first playoff game since Oct. 13, 1992, and the "10th Man" at PNC Park is a big reason why. The Pirates beat the Cincinnati Reds, 6-2, before a packed house in Pittsburgh.
Outfielder Andrew McCutchen tweeted this out to the fans before the game:
#PNCBLACKOUT ...we are all in this together!

— andrew mccutchen (@TheCUTCH22) September 30, 2013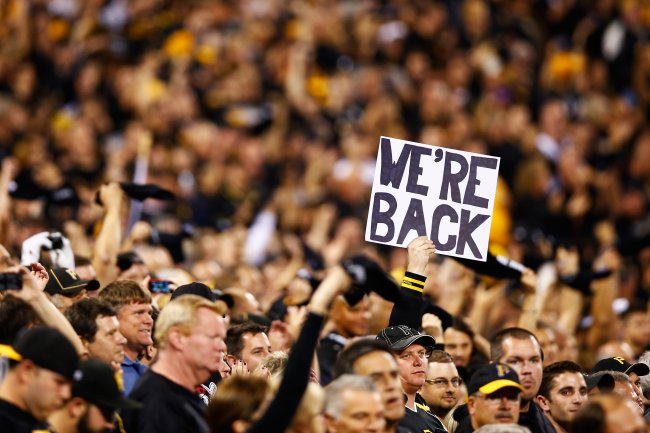 Jared Wickerham/Getty Images
And that's exactly what the fans did, providing energy throughout the night. The game saw Pirates faithful show up in mostly black T-shirts, jerseys and hats to cheer on the Bucs. And according to some in attendance, the atmosphere was electric.
For some fans, they literally waited their entire lives for this:
Loud and proud: Crowd of 40,487 for #WildCard Game is largest in PNC Park history. pic.twitter.com/9CMJscPnWb

— MLB (@MLB) October 2, 2013
If you weren't at PNC Park tonight I feel bad for you. What a game. What an atmosphere. #RaisetheJollyRoger #LetsGoBucs #Buctober

— Tommy Lutz (@TLutz28) October 2, 2013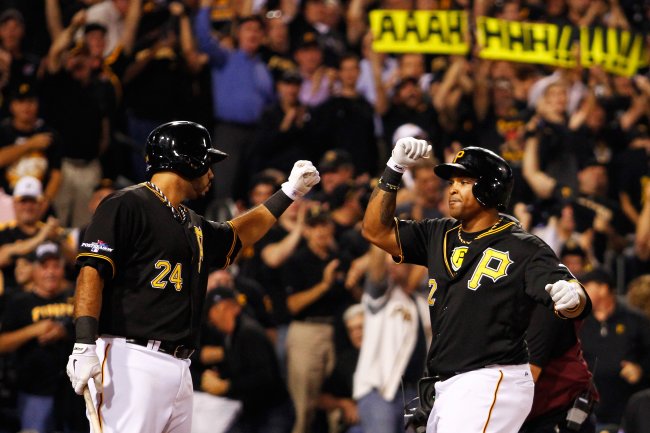 Justin K. Aller/Getty Images
The Pirates got solo home runs from Marlon Byrd and Russell Martin in the second inning, and never looked back on their way to the win. Martin would go on to get two more hits, including another solo home run.
And what kind of impact did the Pittsburgh fans have on Cincinnati starter Johnny Cueto? Check out this video:
Cueto dropped the baseball with Martin up at the plate in the second inning. With chants of "Cu-eto, Cu-eto," filling the park, the Cincinnati starter looked obviously rattled and gave up a home run to Martin on the very next pitch.
The Reds would have their chances, however, especially in the fourth inning. Todd Frazier hit a ball just foul that would have been a three-run home run if it was a little straighter. Instead of giving the Reds a 4-3 lead, however, Frazier ended up striking out, which ended Cincinnati's best opportunity of the night.
Pittsburgh added two more runs in the bottom of the fourth, and that was pretty much all she wrote. The fans kept the energy up and there was nothing the Reds could do about it.
According to Rob Biertempfel of the Pittsburgh Tribune-Review, owner Bob Nutting was excited to see how the reaction would be once things got going Tuesday:
What's been most fun for me has been seeing the reaction of this fan base and the reaction of this city, owner Bob Nutting said during pregame batting practice. To be able to bring tonight's game back to Pittsburgh…I can't wait for the first pitch, to see this ballpark erupt, welcoming this team back home. That's really what the whole point has been since day one.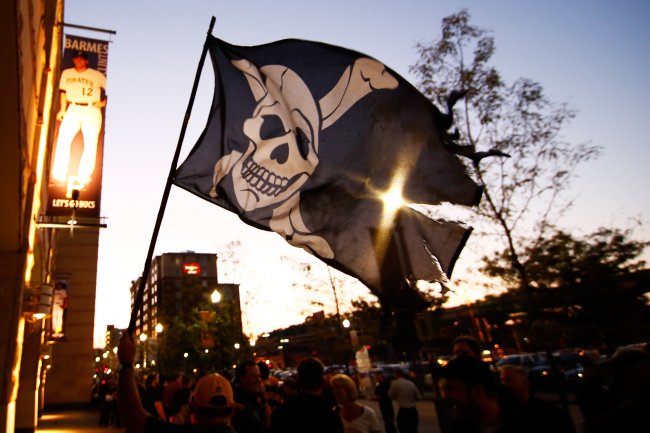 Jared Wickerham/Getty Images
I'd say Nutting got what he wanted as the fans went crazy throughout. And rightfully so...it's been 21 years since they were able to celebrate like this:
Tonight was everything I ever dreamed of or more. PNC was electrifying and the black out was sick! Nothing like this ever.. unreal @Pirates

— Johnny Abel (@jAbel46) October 2, 2013
The celebration continued outside of the park as well, as is evident by this YouTube video posted by happy Pirates fans:
Pure madness on Sixth Street. It wasn't shut down but the fans shut it down. #BUCN #Pirates pic.twitter.com/8lV7cWf78J

— Macklemore (@DatKidArod) October 2, 2013
So, take a moment Pittsburgh fans. You've set the bar high for the rest of the MLB postseason. You have let it be known this is the way fans are supposed to support their team in October—or "Buctober" in this instance.