Where Russell Westbrook Must Improve When He's Healthy for OKC Thunder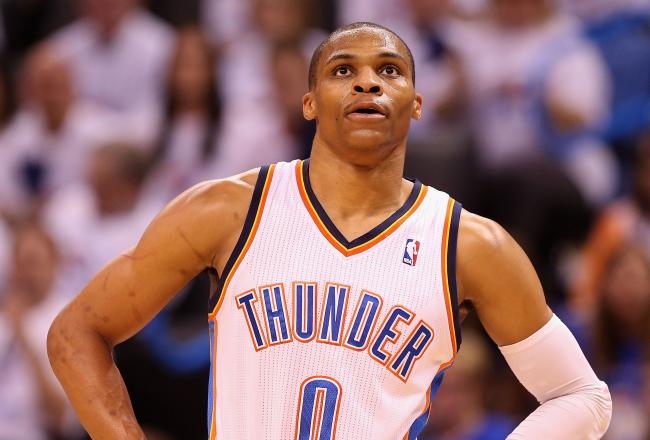 Russell Westbrook still has plenty of room to grow.
Christian Petersen/Getty Images
It was recently announced that Russell Westbrook will miss the first four to six weeks of this coming NBA season after undergoing arthroscopic knee surgery, per ESPN.com news services. That's a huge blow to the Oklahoma City Thunder.
That's not because they'll get killed without him on the court—Kevin Durant could play by himself and win a decent amount of games—but it's because it means Westbrook will be missing out on a lot of time to mesh with new pieces and improve as a player.
Many of the best teams in the Western Conference took a significant step up in terms of talent this summer, and the Thunder are going to need to see growth from a few players if they want to stay on top.
It may seem odd to call for improvement from Westbrook considering how good he already is, but he made big strides in his game last season. Westbrook still has plenty of potential, and to reach it, he'll have to improve in a few key areas.
1. Three-Point Shooting
With all due respect to Jeremy Lamb, Reggie Jackson is likely to be the top player off the Thunder bench next season. Jackson is a pick-and-roll phenom who can get to the rim at will, and Scott Brooks is going to have a lot of fun sicking a Jackson-Westbrook backcourt on the league.
However, Jackson's outside shot is poor, at best—he hit a whopping 23 percent of his threes last season—and it's hard to picture he and Westbrook meshing all that well together unless something changes on that end. This makes the evolution of Westbrook's outside shot more important than ever.
Westbrook has a reputation for being a shaky shooter from deep, but that reputation is not entirely accurate.
Sure, Westbrook's three-point percentage has never been great (or even average), but that's due more to shaky shot selection than anything else. Last season, Westbrook hit 39 percent of his spot-up attempts from three, per Synergy Sports Technology. That's not an elite percentage, but it's still very good, and it is certainly high enough to indicate that Westbrook isn't quite so bad a shooter as he's made out to be.
The problem lies in the type of threes Westbrook likes to take.
Everyone knows that the corner three is the most efficient shot in basketball. Last season, Westbrook took exactly 28 threes from the corner, compared to 269 above-the-break threes, per NBA.com. That's not a great spread, and to make matters worse, many of those were off-balance attempts that simply aren't good shots, no matter who's taking them.
To be fair, it's hard to blame Westbrook for all of that. Ball-dominant guards don't often get corner attempts, and even when he doesn't have the ball, Westbrook is usually at his best when flying to the rim as a cutter.
Still, with Jackson in the mix and Durant improving as a facilitator, Westbrook's likely to play off the ball more this season. Upping his percentages from the corner and taking fewer off-balance, top-of-the-key threes would give the Thunder offense more spacing and could make the Jackson-Westbrook pairing particularly lethal.
2. Pick-and-Roll Decision Making
Westbrook will probably never be a patient, pick-and-roll wizard in the way that James Harden or Chris Paul are—he just doesn't have that kind of temperament. But there are two specific things Westbrook can do to up his middling efficiency in that area—an area he finished 80th in the league in last season, per Synergy Sports Technology. That alone would provide a boost to the Thunder offense.
The first change comes down to the singular shot that all of Westbrook's critics rant about: that little pull-up jumper he takes from the elbow area.
Let me be the first to say that Westbrook should not stop taking that shot. Sure, it's not the most efficient shot in the game, but Westbrook hit it at a 43-percent clip from January onward last season, finishing just a fraction of a percent under Durant, per NBA.com.
Westbrook's mid-range pull-up is also unpredictable, to the point that it sometimes frees up lanes to the rim.
It's not uncommon to see opposing bigs freeze for a split-second when Westbrook comes off a pick, giving him just enough time to sneak right to the basket. And conversely, when bigs start to backpedal towards the rim (as Andrew Bynum does in the clip blow), it essentially means that Westbrook is free to take a wide-open jumper.
With all that being said, cutting down on one or two of those jumpers each game wouldn't hurt.
It's still an inefficient shot, and sometimes Westbrook seems to make up his mind about the shot a second too early, taking the shot even after defenses send help. Westbrook almost always draws extra defenders when he has a head of steam, freeing up a wing for an easy corner three or a big for an easy pick-and-pop jumper.
The other change also involves cutting out some more inefficient shots, though oddly enough, these shots come at one of the most efficient locations on the court: the rim.
Westbrook's terrifying speed and athleticism more or less means that he can get to the rim at will, and last season, only Greg Monroe and Dwight Howard had more attempts from within five feet, per NBA.com. However, Westbrook shot only 57 percent from that same area—a percentage that could have been much higher if he didn't put up so many difficult attempts.
When Westbrook gets in the paint, he often puts up twisting, acrobatic layups through multiple defenders. They look absolutely gorgeous when they go in, but they're blocked or they carom awkwardly off the backboard more often than not. He forces drives that aren't there, and it sometimes puts him in tough spots.
If Westbrook could trade a few wild attempts for dump-off passes to his bigs (something he's getting much better at) or kick outs to the corner, the already lethal Thunder offense could take yet another jump in efficiency.
In part, this is also on the coaching staff—the Thunder don't have much off-ball movement, so sometimes those passes just aren't there. But a good bit of it falls on Westbrook, and it'll be interesting to see just how he improves this season.
3. Overall Defense
It's hard to believe that Westbrook was drafted for his defense rather than his offense, but that's the truth. During Westbrook's sophomore season at UCLA, DraftExpress' Jonathan Givony wrote:
Defensively, Westbrook is nothing short of outstanding, as evidenced by the phenomenal work he did locking down the three top scoring guards in the Pac-10 this season, O.J. Mayo, Jerryd Bayless, and James Harden. He is long, strong and very fundamentally sound, getting into a terrific defensive stance on every possession, moving his feet incredibly well, and being absolutely tenacious getting after his matchup.
The physical tools are obviously still there for Westbrook, but he hasn't quite made the best of them on the defensive end to this point. Westbrook is capable of outstanding defensive games, but he's a boom-or-bust defender right now. He jumps passing lanes, goes for risky steals and/or blocks, and he also isn't afraid to roam the court when his man is off the ball.
Stuff like that can lead to a lot of exciting transition opportunities for the Thunder, but it also puts them in some bad spots at times. And to be honest, Westbrook is capable of a whole lot more; just take a look at the clip below:
That may not have a bearing on man or off-ball defense, but how many guards in the league are capable of something like that? Maybe two or three? It's all a mental thing for Westbrook—he's just got to quit going after some of the riskier steals and focus more on his off-ball defense. Many advanced stats have Westbrook as the Thunder's least effective defensive starter, and there's no reason that should be the case.
He could be a perennial All-Defensive player if he put his mind to it.
4. Post-Up Efficiency
Post-up attempts only accounted for about nine percent of Westbrook's possessions last season, so this isn't nearly as big a deal as the three points of improvement listed above, per Synergy Sports Technology. Still, Westbrook loves to bully smaller guards on the low block, so it's well worth mentioning.
HoopChalk's Jared Dubin did an excellent breakdown of Westbrook's emerging post game last season, making the point that it's become more diverse. Dubin says that Westbrook has started to fix his footwork and that he goes less to his fadeaway than ever before.
And that basically hits it on the head; Westbrook just needs to continue working on those things.
There are few guards in the league that Westbrook isn't stronger and more athletic than, and if he focuses on bullying his way closer to the paint (by backing down or facing up on his defender), he could get awfully efficient down there.
Even Westbrook's fadeaway isn't such a bad shot, so long as it's taken close to the basket. The shot he should avoid is the mid-range turnaround that only Kobe Bryant seems to make with any real regularity.
As it stands, Westbrook can only really abuse smaller defenders on post-ups, but if he continues to work, his post game could become a legitimate weapon for the Thunder. It's not totally far-fetched to imagine Westbrook attracting double teams down low someday, and if he proves to be an adept passer from the post, OKC would gain a lot of flexibility in its offensive sets.
Conclusion
Obviously, Westbrook's top priority at the moment is just to come back at 100 percent. The Thunder are still one of the three or four best teams in the league when he's healthy, and they'll compete for a championship this season, whether he improves or not.
But Westbrook still has loads of untapped potential, and whether or not he reaches it will go a long way in determining just how far the Thunder will go in the near future.
This article is
What is the duplicate article?
Why is this article offensive?
Where is this article plagiarized from?
Why is this article poorly edited?

Oklahoma City Thunder: Like this team?