How Russell Wilson's Legs Saved the Seattle Seahawks in Houston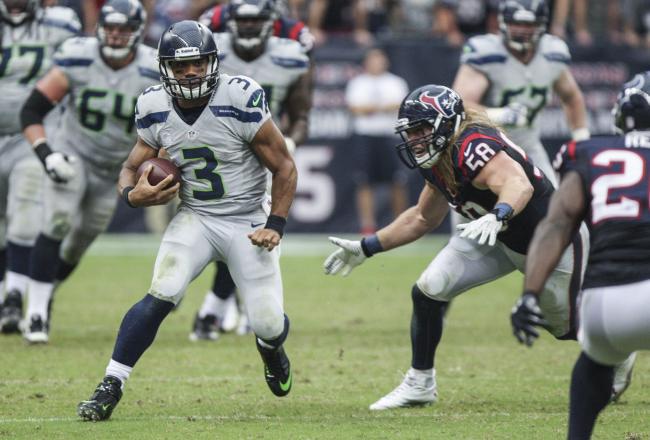 Troy Taormina-USA TODAY Sports
When the Seattle Seahawks win, quarterback Russell Wilson usually plays a big part in the victory. So when the Seahawks took on the Houston Texans last Sunday, no one should be surprised that it was Wilson who helped deliver the come-from-behind win. What might be a surprise is that it was Wilson's legs, and not his arm, that saved the Seahawks this time.
The Seahawks were down by two touchdowns and were backed up at their own 2-yard line. They hadn't been able to sustain a single drive all game, and time was running out. This was when Wilson took over.
Faced with a relentless pass rush by the Texans and getting very little help from his offensive line, Wilson matched the Seahawks' 98 yards for a touchdown that got the Seahawks back into the game. The thing is, 53 of those yards came from Wilson scrambling.
When the Seahawks absolutely had to have a scoring drive, Wilson delivered. That he did so with his legs more so than with his arm is a testament to his athleticism and determination.
Here is a breakdown of the two biggest plays that Wilson made with his legs in that all-important touchdown drive:
The Big Gain
This play comes from early in Seattle's scoring drive. The Seahawks have the ball at the 29-yard line following wide receiver Doug Baldwin's amazing sideline catch on the previous play.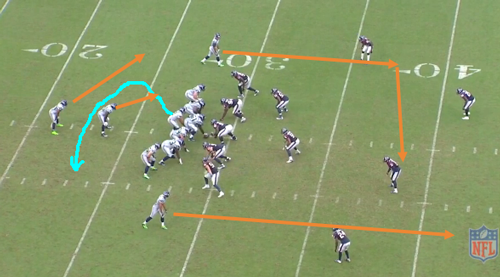 The Seahawks start out in the I-formation and run play action to the left. Wilson then rolls to his right. Tight end Zach Miller and fullback Derrick Coleman stay in to block, meaning the Seahawks only have three players out in pass patterns.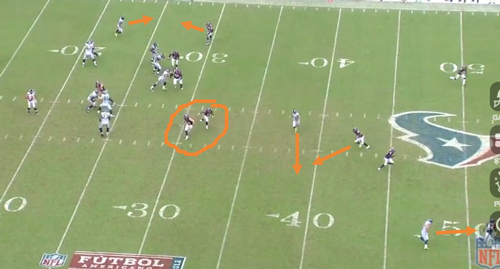 The Seahawks appear to be wanting to go deep down the right sideline, but the receiver there is well-covered. The other receiver is running an intermediate crossing route and appears to be open, but Wilson is wise not to throw the ball there.
The linebackers (circled) are in the direct path of the ball, meaning that Wilson would have had to float the ball over them to get it to the receiver. The safety is also driving on the route and would have had a clear path to the ball. At best, the receiver gets blasted. At worst, it's an interception, and the Seahawks lose this game.
Wilson is left with no viable option to throw the ball to. He'd like to wait for one of his receivers to come open, but when pressure finally arrives, Wilson pulls the ball down and runs.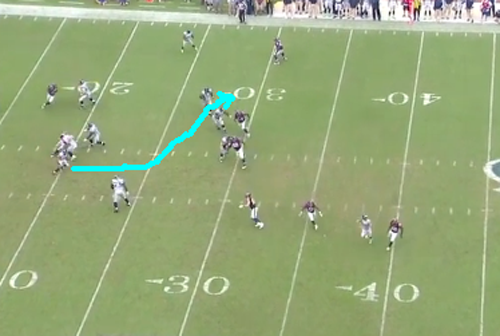 Once Wilson pulls the ball down, he's not looking downfield any more. He's seen that there's no one open, and with just two WRs in pass patterns, there isn't any hope that someone will get open with more time.
Wilson has great natural instincts as a runner. Many players would either break to their right at this point or go straight up the field. Wilson reads the momentum of the linebackers and cuts back to his left where a large hole will open up by the time he gets there.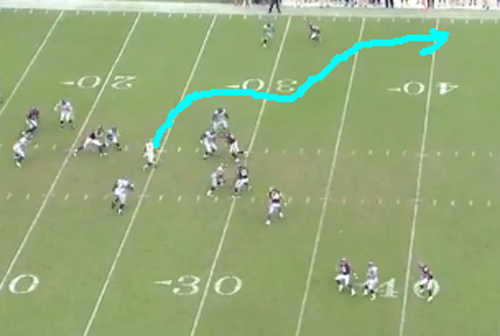 Wilson makes one more move at this point, he sells that he is breaking inside, only to cut back outside and get to the sideline. That move allows him to pick up a few more yards before finally running out of bounds.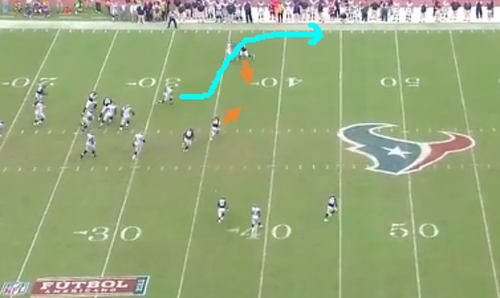 From the end-zone angle, it's easy to see how instinctual Wilson is when running the ball. Let's start from back at the beginning of the play. The play action is to Seattle's left, and Wilson rolls to his right.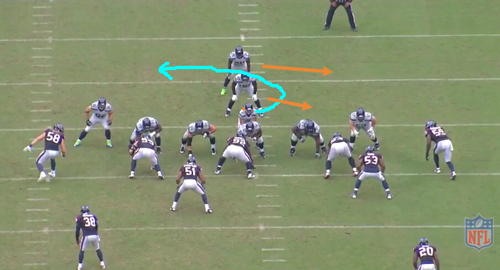 At this point, it appears that there is a big hole directly in front of Wilson. The problem is, there are a lot of defenders headed in that direction, and the hole is going to close before Wilson can get through it.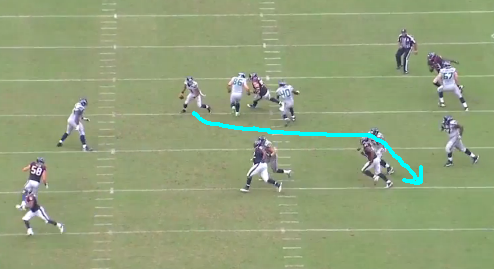 By cutting back to his left, Wilson is able use the momentum of the linebackers against them and turn this play into a big gain.
The best part of this entire run is that Wilson completely avoids all contact. With two defenders closing in from beside him, and with another just offscreen in front of him, Wilson smartly steps out of bounds and avoids taking a hit.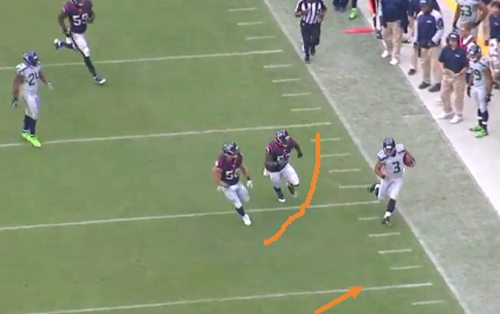 Fourth Down
Later in that same drive, the Seahawks faced a 4th-and-4 down inside the red zone. Down by two touchdowns, and with time running out, the Seahawks decided to go for it.
The play is actually very similar to the one they ran for a touchdown pass to TE Miller the week before against Jacksonville. That turned out to be a problem, though, as the Texans saw it coming and had it well-defended.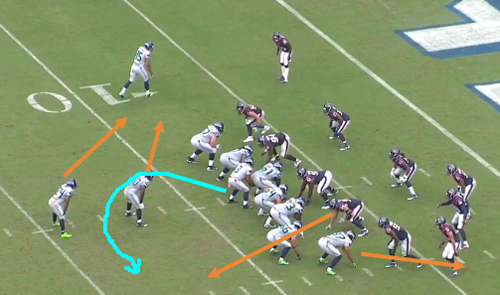 Just as with the play above, the play starts out with play action to the left and Wilson rolling back to the right side.
The defensive end on that side doesn't bite on the play-fake and attacks the point where Wilson is going to end up from the moment the ball is snapped. The Texans also have a "spy" on Wilson, meaning they have a linebacker tracking him to try and prevent him from running.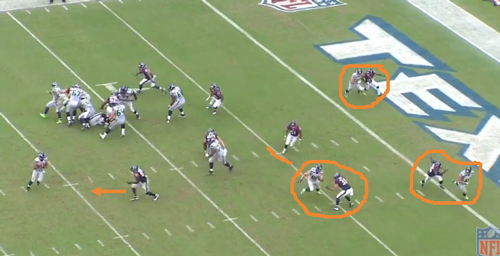 Wilson still has time to look downfield, but all three of his potential receivers (circled) are well-covered. With pressure in his face, Wilson has to make the DE miss to avoid a big sack.
Once outside, things don't get much easier for Wilson. The spy is there to try to prevent him from running, and more help is on the way. With it being fourth down, Wilson doesn't have any other choice than to try and run anyway.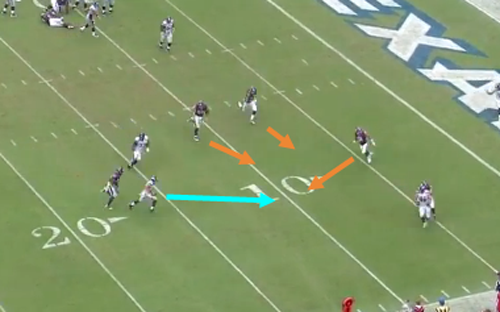 Wilson's natural instincts are obvious on this play as well. He closes the distance between himself and the defender, getting him to stop his feet. Wilson then accelerates to the outside, leaving the LB diving in vain at Wilson's feet.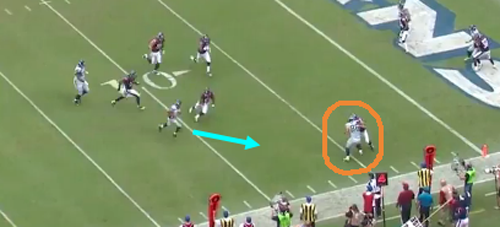 It should be noted at this point that this play doesn't happen without the sustained block by Miller (circled). Miller is able to block the defender who was originally covering him for the duration of Wilson's scramble. That is very difficult to do, and it was a huge key to the success of this play.
Wilson doesn't have the luxury of avoiding contact on this play, but he still limits the damage by choosing to go to the sideline. There's only one defender who can hit him there, and that defender isn't going to be able to deliver a big hit since they're being blocked.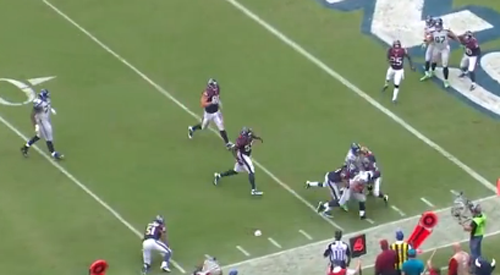 Ultimately, the Seahawks would love for Wilson not to have to run so much. They know that an injury to their franchise QB would bring their Super Bowl aspirations to an abrupt end.
The Seahawks would love for Wilson not to have to run so much, but it's nice to know that he can do so when that is what it takes to win an important football game.
This article is
What is the duplicate article?
Why is this article offensive?
Where is this article plagiarized from?
Why is this article poorly edited?

Seattle Seahawks: Like this team?