Why Blake Griffin's Evolution Will Determine LA Clippers' Ceiling in 2013-14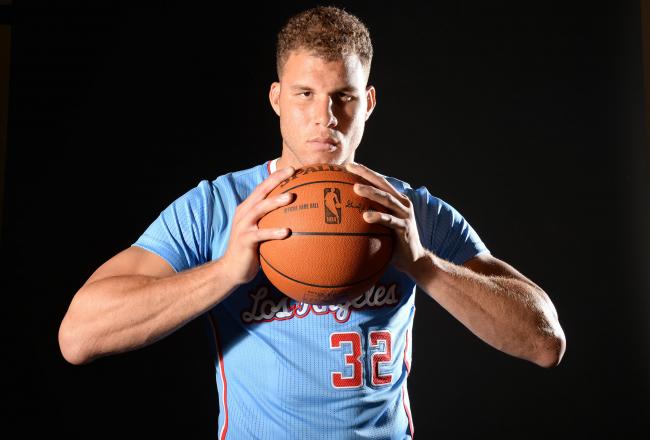 NBA Photos/Getty Images
The name Blake Griffin conjures up images of thunderous dunks, but it doesn't evoke feelings of playoff success quite yet.
For all the great numbers the former Oklahoma Sooner has piled up during his first three years in the NBA, he still hasn't been able to do anything once the regular season draws to a close. And the Los Angeles Clippers have gone as he goes.
That's why Griffin's evolution will determine the success of this squad throughout the 2013-14 season. If his development stagnates, LAC will be a regular-season team without any hope of surviving the gauntlet that is the Western Conference playoffs.
But if he blossoms during his fourth professional season, the sky is truly the limit.
Last Year's Playoffs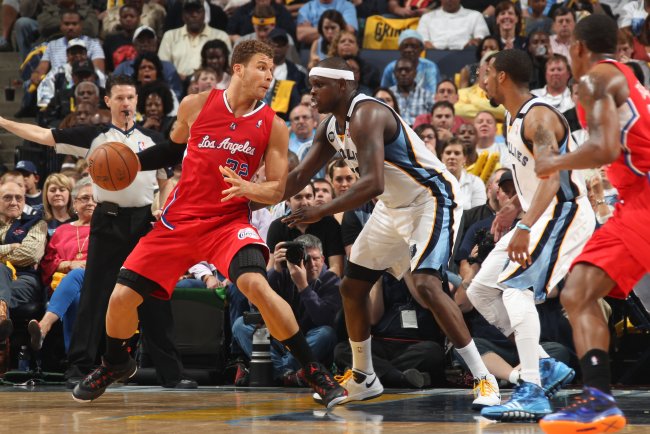 Joe Murphy/Getty Images
Not to harp on the past too much, but Griffin really didn't receive enough backlash for his complete and utter disappearance as the 2012-13 campaign wore on. He steadily worsened throughout the year, and he was a non-factor in the playoffs.
As soon as Zach Randolph got a little bit physical with him, it was all over. Quite frankly, I wouldn't be surprised if seeing Z-Bo still gives Griffin nightmares for a week.
Have a look at his All-Star splits and postseason per-game numbers, courtesy of Basketball-Reference: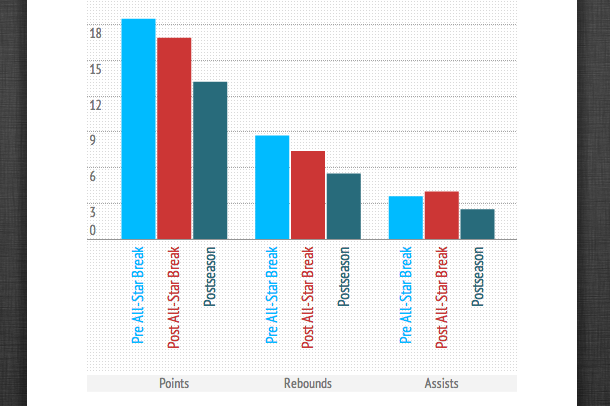 That would qualify as a disappearance.
Griffin started playing more passively. He didn't actively involve himself in the offense, and he was far too content to stand in a corner or on the weak side and let his teammates do the work.
Obviously, it didn't work, as the Memphis Grizzlies eliminated LAC from the playoffs while Chris Paul inexplicably took heat after a pretty masterful performance. It isn't easy to lead the league in PER during the postseason, you know.
That type of disappearing act, one that would make David Blaine proud, cannot happen again.
If it does, there will be some serious questions about the overall makeup of this team, and I'll go so far as to say that you could hear Griffin or DeAndre Jordan's name start to get tossed around in trade rumors and speculation.
Failure is not an option. Griffin has to improve on both ends of the court, not just upon his postseason "performance," but upon his overall set of skills.
The Need for a Second Scorer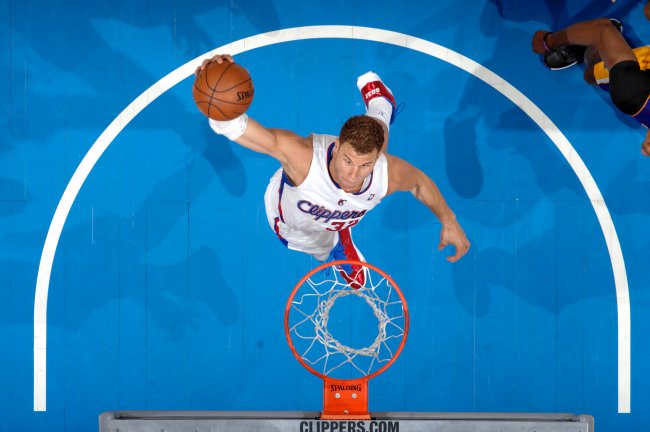 Andrew D. Bernstein/Getty Images
The Clippers don't really have any go-to scorers in the traditional sense of the term. There isn't that one player who can create his own offense while maintaining the flow of the offense.
Sure, CP3 is more than capable of changing his mentality and functioning as a No. 1 option—something that he does quite often at the end of close games—but asking him to do so consistently is a recipe for disaster. That's fundamentally altering his style of play, and it disrupts the basic principles of the offense.
Other than Paul and Griffin, no one on the Clippers averaged even 17 points per game. Jamal Crawford checked in at 16.5 per contest, and the rest of the roster struggled to break into double figures on a consistent basis.
There aren't many players just waiting to break out, either. Jared Dudley and J.J. Redick will both add offense, but the onus is on Griffin to become that guy who can drop 20 points night in and night out.
He has the tools to do it, as he's shown over the last few years. Griffin is already more than a dunker, and he's displayed flashes of both a solid arsenal of post moves and a turnaround bank shot that reminds opponents of some guy named Tim Duncan.
But he's not consistent. And I'm using that word a lot for a reason. It's the key for Griffin and thus the key for the Clippers.
Last season, Griffin scored fewer than 15 points in a quarter of his outings. To put that in perspective, the bottom quarter of Paul's scoring outputs cuts off at just about the same number, and he's counted on as the distributing point guard.
Griffin must transition into the lead role, and he can do so by shoring up a few of his weakest areas.
According to Synergy Sports (subscription required), Griffin scored 0.99 points per possession in 2012-13, good for No. 83 among all qualified NBA players. Although he was—unsurprisingly—a great scorer in transition, rolling to the basket, cutting to the hoop and following up the misses of his teammates, he still had some weaknesses.
Shockingly, post-up play wasn't one of them.
Griffin's spin has just become that devastating, and he averaged 0.88 points per possession, the No. 48 mark in the league. Now he just has to become increasingly comfortable and spend more than 35.3 percent of his time working with his back to the basket.
That's the easiest way for him to become a more reliable target.
But Griffin also wants more responsibility, and that means he'll have to become a more consistent shooter. According to Clippers.com's Eric Patten, he's been practicing exactly that over the offseason:
Griffin's offseason workouts have included plenty of time working on defense on the court, playing pickup games and studying. He's also taken hundreds of shots a day from spots on the floor Rivers expects him to operate.

"I like the idea [of facing the basket more]," Griffin said. "I also like the offense to be moving or open with a little bit more room to operate. I'm really looking forward to it because that's what I've been working on all summer. I feel like this summer's really been big for me because I've really known exactly what to work on and why I'm working on it."
When CP3 (or someone else) passes the ball to the Oklahoma product, he has to be able to hit shots. Last season, he made only 36.2 percent of his spot-up looks, and that's a low enough number that it can effectively serve as a deterrent for his teammates.
The opposite is necessary.
For the Clippers offense to continue functioning at a high level, Griffin must become a go-to scorer, not a player whom his teammates want to look off if there's another mediocre option available.
Frontcourt Defense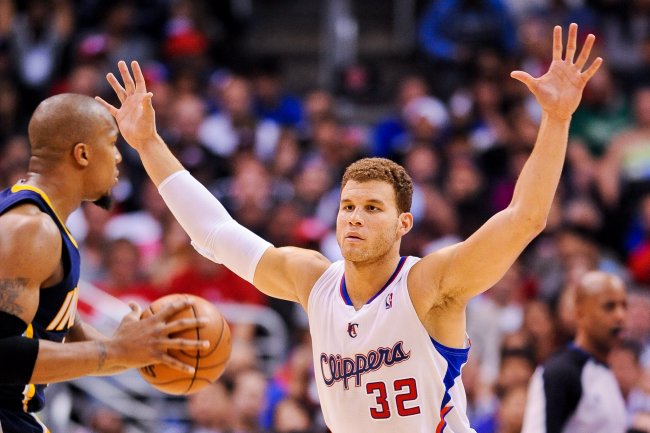 Noah Graham/Getty Images
Every team has flaws, even the contenders. The Clippers are no different, except their flaw will be a fatal one if somebody can't minimize the impact that it has throughout the season.
Who in L.A. is going to play frontcourt defense?
DeAndre Jordan has never developed into anything other than a shot-blocker who finds himself out of position with incredibly high frequency. Griffin has been improving steadily throughout his career to the point that he isn't a true liability, but he's not a standout.
And as for the bench, Antawn Jamison, Ryan Hollins and Byron Mullens are just about as porous as it gets.
Clippers fans, shield your eyes before we get to this next graphic. It'll show how each player's team fared in terms of points allowed per 100 possessions both with and without the player in question on the court, courtesy of Basketball-Reference: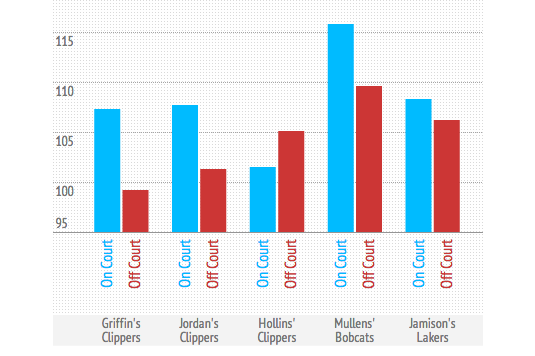 The only player in the positives is Hollins, and that's about as misleading as it gets. The Clippers allowed fewer points per possession when he played because he was often on the court along with defensive stoppers and because he usually replaced one of the starting matadors.
Synergy reveals that Hollins allowed 1.01 points per possession in 2012-13, allowing him to check in at No. 427. Yikes. That puts him in the "worst defender in the league" conversation, not the other way around.
Sorry for the cliche, but someone on the Clippers has to step up and become more of a competent interior defender. And the best bet—surprise, surprise—is Griffin.
When asked about defense, via Patten, the power forward was quite enthusiastic with his response:
I sat in his [Doc Rivers'] office and we talked about how he thought I could be much, much better defensively, especially defensively in transition. And I completely agree. That's going to be kind of a focus for me, putting in that time and that effort to relearning our defensive schemes, language, and really putting in the effort every day, every single day at practice where in games it carries over.
Just as is the case on offense, Griffin is the linchpin.
Are the Clippers true title contenders?
The Clippers need for him to become at least a competent defensive player, especially since the playoff run will inevitably force L.A. to match up against Zach Randolph, Marc Gasol, Dwight Howard, Pau Gasol, David Lee, Kevin Love, LaMarcus Aldridge or Tim Duncan. The Western Conference is littered with great offensive bigs, and having someone who can slow them down is a must.
If Griffin doesn't evolve, the Clippers will be doomed to remain the same type of team that they've been in the past: one that dominates in the regular season and quickly fizzles out after the 82nd game of the year.
This article is
What is the duplicate article?
Why is this article offensive?
Where is this article plagiarized from?
Why is this article poorly edited?

Los Angeles Clippers: Like this team?