Celtic 0-1 Barcelona: 6 Things We Learned from the Champions League Clash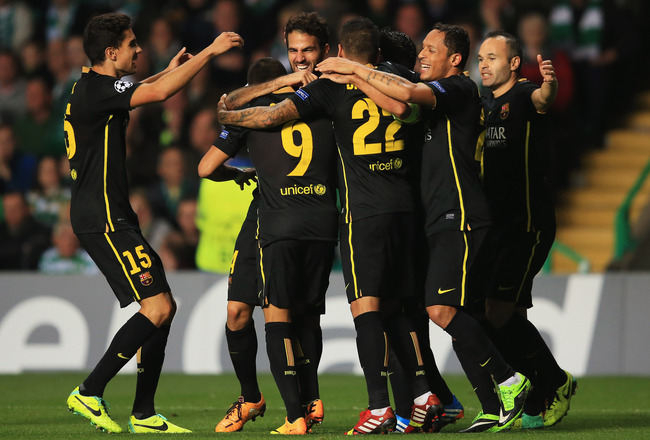 Richard Heathcote/Getty Images
Barcelona saw off Celtic on Tuesday in Champions League play by a score of 1-0. The Catalans were forced to play the match without Lionel Messi and the absence of their star player was evident throughout the match.
It may not have been a pretty match at Celtic Park, but La Blaugrana did what was needed to win and take all three points.
The Catalan giants now sit at the top of Group H having won both of their matches thus far and are edging closer to a likely first-place finish. But the match against Celtic did bring some things to light for both sides.
In this article we will take a look at six things we learned from Barcelona's victory and what they mean for both clubs.
As always feel free to have your say below in the comment section and note that all statistics are courtesy of WhoScored.com.
Marc Bartra Is Currently Barcelona's Best Defender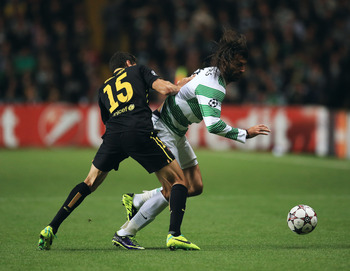 Richard Heathcote/Getty Images
Barcelona may be one of the biggest clubs in Europe but that has not kept the Catalans from struggling to defend over the past few seasons. However, there is hope for La Blaugrana.
Marc Bartra has had the luxury of starting in the last two matches for Barcelona and both times he has come out as arguably the man of the match. Not only is the 22-year-old putting in wonderful performances, he has been by far the best defender for Barcelona.
Against Celtic Bartra did not put a foot wrong. He completed 93 percent of his passes, won over 60 percent of his aerial duels and made six very important tackles in the final third.
To put it simply, Bartra was nearly perfect for Barcelona yet again.
Though only 22 years old, Bartra is quickly showing that he has the talent to be one of the best defenders around. Above all else he showed maturity and confidence at Celtic Park which will go a long way this season.
Bartra has yet again stated his case to be a starter at Barcelona and manager Tata Martino has to take notice.
Neymar's Versatility Is Outstanding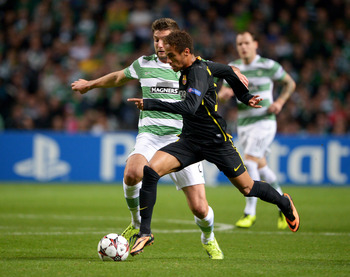 Jeff J Mitchell/Getty Images
With Lionel Messi unable to play against Celtic, Neymar was left with a heavy load to carry for Barcelona. The Brazilian was certainly up to the challenge and showed that he can do a bit of everything on the pitch.
Throughout the match there is no doubting that Neymar was the most dangerous player on the field. The 21-year-old won eight dribbles and had five shots forcing Celtic to defend in numbers when he had the ball at his feet.
But Neymar did more than merely attack the defense.
The Brazilian constantly tracked back to help out defensively and created several chances for his teammates. His linkup play with Andres Iniesta was beautiful throughout the match and he even played in the midfield late in the second half.
His ability to use space and get out wide on the wing created havoc for Celtic. But Neymar was also able to make trouble in the center of the pitch when cutting inside.
The 21-year-old was everywhere for Barcelona and showed just how well-rounded he is as a footballer. He might not have scored at Celtic Park, but he did everything else.
Fraser Forster Is More Than a Wall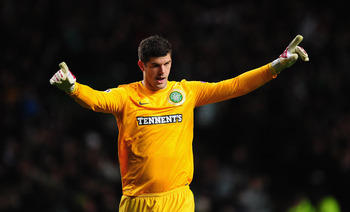 Stu Forster/Getty Images
Fraser Forster is a wall. At least that is what he is known as among those in Scotland.
The 25-year-old keeper may not be talked about much around Europe but he should be. Forster continues to come up with big performances on the grandest of stages and it time the world takes notice.
He may have allowed Barcelona to put a goal past him at Celtic Park but he was in incredible form throughout the match. He made four saves on the night, but two miraculous stops in the second half had Barcelona fans speechless.
The match against the Catalans marked the third straight game in which the keeper had come up big against Barcelona.
His continued exploits in the Champions League show that he could be considered one of the best keepers around and he is just entering the prime of his career.
Bigger European clubs may soon take notice of Forster and look to bid for him in the coming months and they would be wise to do so. Keep your eye on the wall, folks.
Barcelona's Dependence on Messi Is Not Completely Gone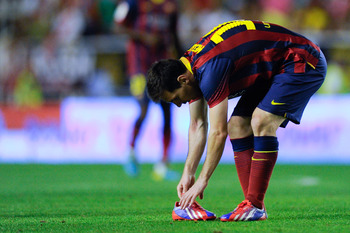 David Ramos/Getty Images
There is no hiding it. Last season Barcelona was not merely dependent on Messi, the Catalan club could barely play without the Argentine on the pitch.
This season that dependence has been addressed.
The arrival of Neymar has taken some of the pressure off of Messi and other Barcelona players have stepped up as well. Though the best player in the squad by far, Barcelona has seemed to be able to score without Messi being the one to put the ball in the back of the net every time.
However, the match against Celtic should serve as a reality check. The dependence on Messi may not be as strong, but it is still there.
For long stretches of the match Barcelona looked a bit lost. The passing was there as was the movement, but the final product appeared to be nonexistent.
Players like Neymar and Iniesta showed incredible ability at times but something was just missing.
Anytime you lose a player like Lionel Messi you are going to feel his absence. But many expected that Barcelona would be able to cope a bit better than they did against Celtic.
Tata Martino has to figure out how to play without Messi because what Barcelona did against Celtic will not cut it in Europe. Every Barcelona fan will be counting the days until Messi is back on the pitch.
Celtic Can Fight for Second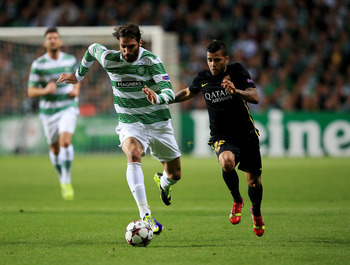 Richard Heathcote/Getty Images
Can Celtic fight to finish second in Group H? Absolutely.
Will Celtic actually progress to the next round of the Champions League? Probably not.
The Scottish club can never be counted out. They are known for their unwillingness to ever give up and always give opponents a tough test.
In Celtic's first match against AC Milan they fell by a score of 2-0 but arguably should have gotten more from the match. Against Barcelona they showed that they can stand up against bigger opponents and have showed that they cannot be written off.
Manager Neil Lennon knows how to have his team ready and has made every match against Celtic a real fight.
Barcelona is clear favorites to win Group H but there is no favorite to take second. AC Milan has showed that they are not the team they used to be as has Dutch side Ajax.
It is unlikely that Celtic will make it out of the group but they have showed that do have what it takes to prove the critics wrong. Don't count the Scots out just yet.
Barcelona Will Win the Group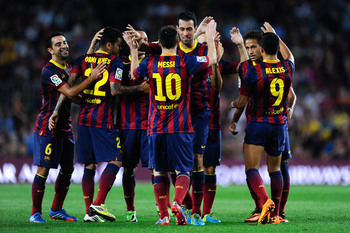 David Ramos/Getty Images
This may not seem like much of a lesson or prediction. An early look at Group H would have made anyone believe that Barcelona would finish first but recent matches have all but confirmed that to be the case.
The Catalans have been vastly superior to their group opponents despite a tough match against Celtic and it doesn't look like anyone will be able to topple the giants.
AC Milan has struggled to put together an impressive match and Ajax has already felt the force of La Blaugrana. Celtic had their chance to steal points at home but the 1-0 loss to Barcelona ended those hopes.
Anything can happen in football, especially in the Champions League. But at this point it looks as though Barcelona will have no competition to win the group.
Ajax, Milan and Celtic are all fighting for second place leaving the top spot solely occupied by Barcelona.
What did you learn from the match at Celtic Park? Who will escape Group H and make it to the next round? Leave your thoughts and comments below!
Tre' Atkinson. Follow me on Twitter for more discussions on the Champions League and all Spanish football!
Keep Reading

FC Barcelona: Like this team?