Maple Leafs vs. Canadiens: Live Score, Highlights and Analysis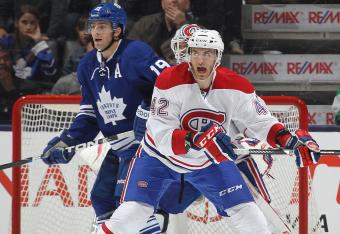 Claus Andersen/Getty Images
The Montreal Canadiens put on a grand party to celebrate the 100th anniversary of their franchise, but the Toronto Maple Leafs played spoilers on the opening night of the 2013-14 NHL season.
The Leafs emerged as the victors by a score of 4-3.
The game featured a little bit of everything that hockey has to offer—lots of speed and skill, but also plenty of fisticuffs and an ugly incident that sent one of the NHL's best-loved players to hospital on a stretcher.
After a marvellous ceremony to start the season, the action was fast-paced and wide-open in the first period. After 20 minutes, Montreal was up 2-1.
Tempers flared in the second as Montreal's new enforcer George Parros squared off against Colton Orr to avenge an earlier hit on Max Pacioretty that caused him to leave the game for a spell. Newly returned from an injury of his own, Toronto's Mark Fraser dropped the gloves against Travis Moen before the period was out. The Leafs also scored two pretty goals in the second—a stunning wrist shot from Dion Phaneuf and a dizzying shorthanded marker by Tyler Bozak—to take a 3-2 lead into the second intermission.
The score was still 3-2 early in the third when a chain reaction of fights set off the ugliness. After Jarred Tinordi and Carter Ashton squared off behind the net, Orr and Parros met up for a return bout. This time, Parros fell face first to the ice as the pair wrestled, out cold and bleeding from the chin.
The Princeton-educated tough guy was eventually stretchered off the ice as the festive mood evaporated inside Montreal's Bell Centre.
Mason Raymond's third-period marker during the funereal stretch of the game proved to be the winner for the Leafs. Lars Eller managed a late shorthanded tally for Montreal, but a last-minute flurry was not enough to draw even and force overtime.
The Toronto Maple Leafs win their first game of the season 4-3 over the Montreal Canadiens.
Final shots are 38-36 Toronto. Hockey Night in Canada names James Reimer as first star. He was under siege in the final minutes and endured his share of contract from Montreal throughout the game.
I wonder what Jonathan Bernier thinks about that?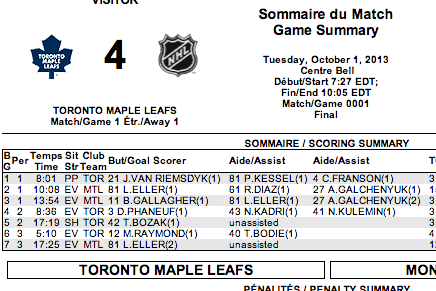 Here's your final scoring summary:
Leafs win 4-3 after a thrilling scramble at the end. What a nightmare it would've been if they collapsed again. But glory instead. #THNLive

— The Hockey News (@TheHockeyNews) October 2, 2013
Whew, that was close.
The Leafs hang on and win their first game of the season 4-3.
Will the Leafs re-live their nightmare from last year's playoffs too?
The Montreal net is empty and the Habs are pressing hard. It's a shooting gallery.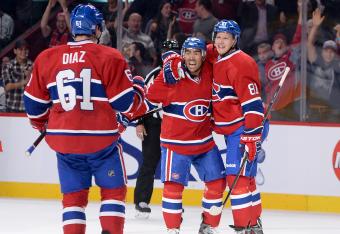 Goal!
That was unexpected.
The Leafs abandon their defensive shell on the power play, and Lars Eller capitalizes shorthanded.
It's 4-3 with just over two minutes to go.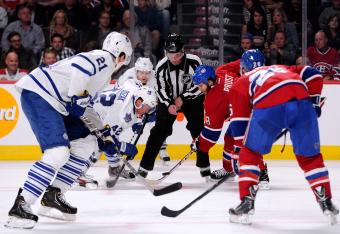 Nope—Prust is given the extra minor, for roughing. The Leafs go to another power play with four minutes to go in the third.
Update - George Parros was taken to hospital for further evaluation.

— Canadiens Montréal (@CanadiensMTL) October 2, 2013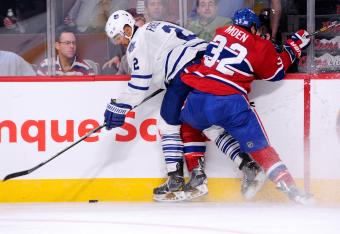 It's not over.
Fraser and Prust lock horns near the bench after Fraser took Prust into the boards behind the net.
Prust engaged Fraser as he was leaving the ice—and Cody Franson had already come on.
More trouble for Toronto, having too many skaters on the ice?
With a two-goal lead, Toronto has gone into a defense-first mode to protect their lead.
They're playing efficiently, which makes Montreal seem even more lackluster as the spectre of their teammate's lingers in the building.
Shots are now 34-33 Toronto in the midst of a long stretch of continuous action with no real chances.
The energy at the Bell Centre is reminiscent of last year's playoffs, when Lars Eller's scary injury totally altered the vibe of Montreal's playoff series against Ottawa.
This is a movie that Habs fans hoped was in the rearview mirror. Could the bad luck be picking up where it left off?
Been there during moments like that. Hard to play on after seeing ur bud lying like that on the ice. Hope George is OK. #hockeynight #Habs

— PJ Stock (@PJStockHNIC) October 2, 2013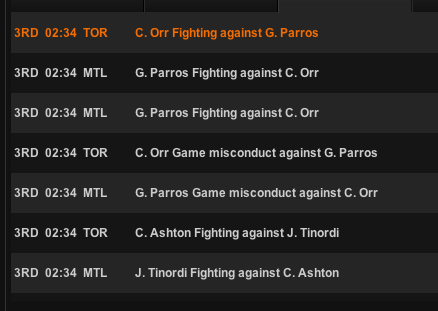 Here's the list of penalties from the Parros incident.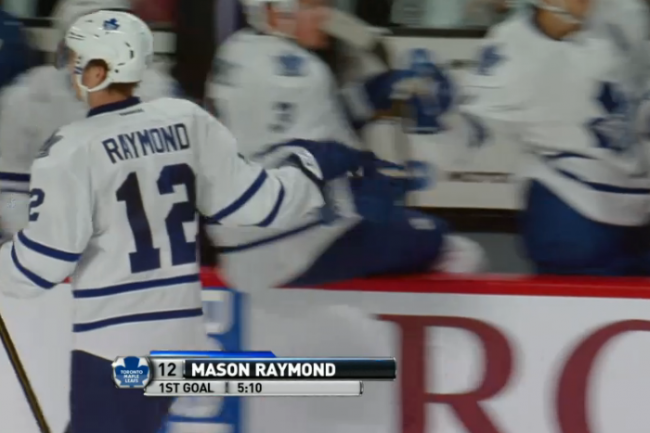 Goal!
Mason Raymond's pass attempt bounces right back to him off Raphael Diaz.
With no other option, he takes the shot—and scores.
Toronto 4 Montreal 2
In a related story, Carter Ashton is in the Leafs dressing room after getting HIS face punchisized for free by Jared Tinordi.

— Justin Bourne (@jtbourne) October 2, 2013
The game resumes now that Parros has been stretchered off to receive medical attention.
The celebratory mood is noticeably dampened.
.@GeorgeParros is the nicest guy and he told us he was so excited about playing in Montreal. This sucks.

— Jay Onrait (@JayOnrait) October 2, 2013
I feel sick to my stomach right now. Had a long chat wih Parros yesterday...a very bright and humourous guy. Hate to see anyone get hurt.

— David Amber (@DavidAmber) October 2, 2013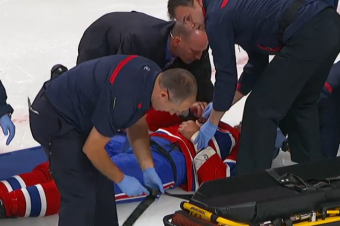 Parros was wrestling with Orr when he went down. It wasn't a punch -- it was the impact of the ice on his face.
Parros is conscious and is moving his arms, but he crumpled when he tried to stand up under his own steam, so the stretcher has been brought out.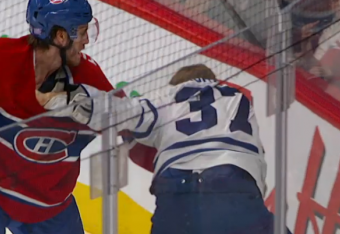 The third period is underway, and the rough stuff continues.
Jarred Tinordi and Carter Ashton have a go behind the net, then a secondary skirmish ensues.
George Parros hit his head on the ice when he went down and is in some real difficulty.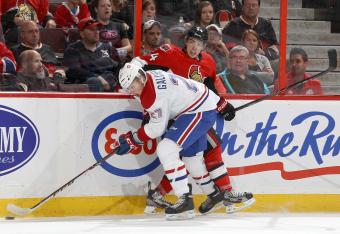 Despite his assist, Phil Kessel is a minus-2 on the night so far for the Leafs, as is Pacioretty for Montreal. Lars Eller and Alex Galchenyuk are each plus-2 for the Habs.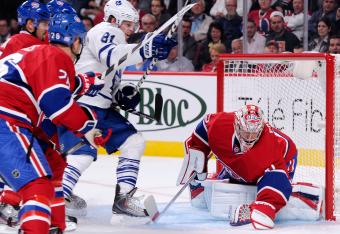 Shots are two periods are 30-27 in favor of Toronto. That would normally be a tally for a full game!
Shot leaders are Kessel and JVR for Toronto with four each, while Lars Eller has five.
Wow—a very vivid look back at Mark Fraser's injury from last year's playoff series against Boston.
Should he be fighting less than six months later?
Also, Mark Fraser fought, and Hockey Night in Canada mentioned his broken face. Here is a picture. (Warning: Scary): http://t.co/JkMtAur68h

— SeanFitz_Gerald (@SeanFitz_Gerald) October 2, 2013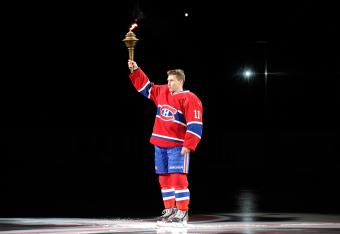 Here's a look at Montreal's opening torch ceremony.
This article is
What is the duplicate article?
Why is this article offensive?
Where is this article plagiarized from?
Why is this article poorly edited?