If He Stayed with Oregon, Would Johnny Manziel Have Beaten out Marcus Mariota?
Use your ← → (arrow) keys to browse more stories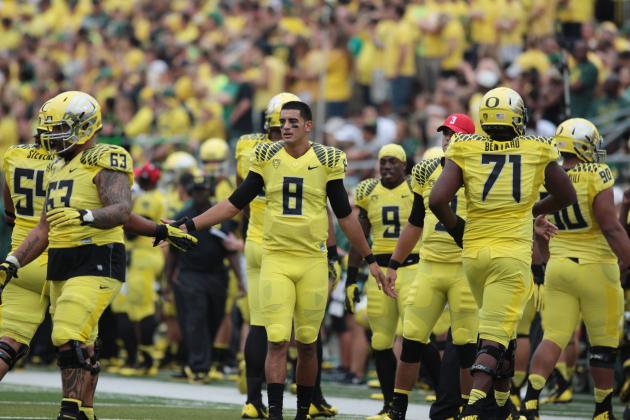 Scott Olmos-USA TODAY Sports
The Ducks once had both Marcus Mariota (8) and Johnny Manziel verbally committed as a part of their 2011 recruiting class.
The 2011 recruiting class gave the Oregon Ducks running back De'Anthony Thomas, offensive linemen Tyler Johnstone and Jake Fisher, tight end Colt Lyerla and cornerback Ifo Ekpre-Olomu.
All of them became stars for the Ducks but it is one of the lowest rated players from the class who stands above the rest.
Oregon quarterback Marcus Mariota has been so good for the Ducks that the argument can be made that the reigning Heisman Trophy winner might have been an anonymous backup if he stuck to his original commitment during the recruiting process.
Recruiting is clearly an inexact science and there is no better proof than the month of June in 2010. During a three week stretch in June the Ducks gained commitments from three different quarterbacks.

Oregon fans were thrilled when quarterback Jerrard Randall committed to the Ducks out of the state of Florida. According to the 247Sports.com Composite Rating, Randall was ranked as the number eight dual-threat quarterback in the class of 2011. Randall, who eventually signed with LSU, was rated as the 126th player overall in the 2011 ESPN 150.

The Duck faithful were brimming with so much excitement from the news of Randall's commitment that they hardly noticed when two other quarterbacks committed just a couple weeks later.
The first was a kid by the name of Johnny Manziel. As an unheralded prospect from the state of Texas, most people ignored his verbal commitment to the Ducks.
They had never heard of him and none of the major schools closer to home had offered him. In the end Manziel was too good to go unnoticed and eventually an in-state school reeled him in.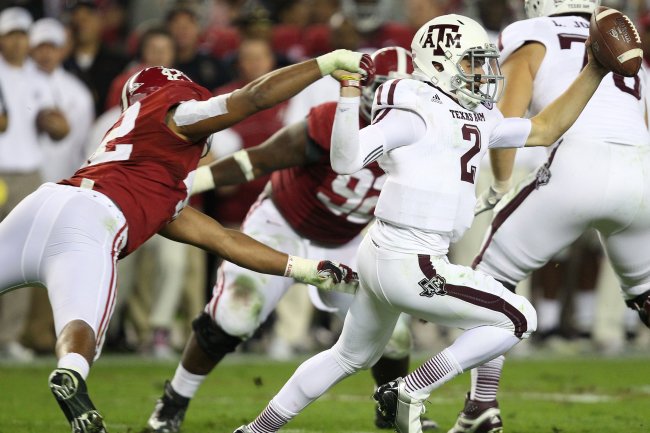 Mike Zarrilli/Getty Images
Manziel ranked as the
13th best dual-threat QB in 2011
by the 247Sports.com Composite Rankings.
ESPN.com
ranked the reigning Heisman Trophy winner as the
39th best pocket passer
.
Manziel wasn't as highly thought of as Randall was and came out of nowhere for Oregon fans. Regardless, they were thrilled to snag another commitment.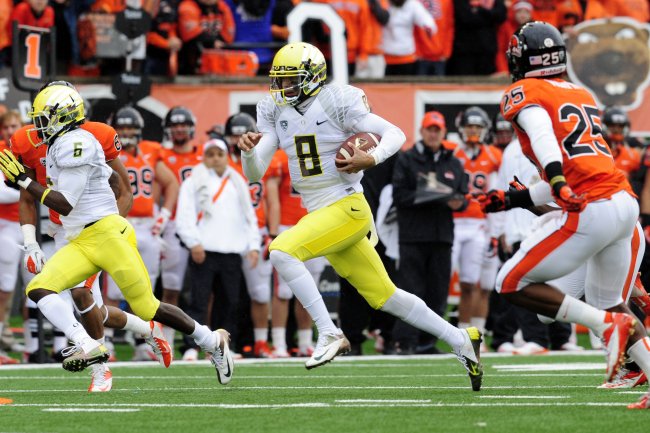 Steve Dykes/Getty Images
The last of the trio to commit was a skinny kid from Hawaii that hadn't even started a high school game when he committed to the Ducks.
Marcus Mariota
was ranked as the
19th best quarterback by the 247sports.com Composite Rating
and just the
123rd best by ESPN.com.
On the heels of Randall and Manziel, his commitment had people outside of the Oregon program thinking that he would wash out and never make an impact with the Ducks. After all, big things were coming to Eugene once Randall stepped on campus, right?
As it turned out, Randall was unable to be admitted into the university and Manziel opted to flip his commitment after being offered by Texas A&M.

Fans panicked. Those inside the program didn't blink.

The Oregon coaches felt like Mariota was the best of the bunch. Former Oregon head coach Chip Kelly could hardly contain himself when discussing Mariota during his redshirt season in 2011.
Mariota was the steal of the class and yet none of Oregon's diehard fan base cared much when he committed. They care now and they wouldn't change a thing. Neither would the Oregon coaching staff.
Not long after becoming the head coach in Eugene, Mark Helfrich told the Sporting News that the Ducks got the better end of things when Mariota was the one that stuck around and signed with the Ducks.
"We had Johnny and Marcus both committed," Helfrich says, "and we ended up with the taller, faster, better-looking guy."
Helfrich was only half-joking when he said it but it has become obvious that the first two attributes are true. The third is up for debate among the those who care about how their quarterback looks during his Sociology 101 class.
Call it coach speak all you want, but it is clear that Helfrich believes in what he told Dan Patrick on his radio show before the season. In this youtube.com video of Mark Helfrich's interview with Dan Patrick, cut from "The Dan Patrick Show" on the Audience Network, Helfrich made his feelings very clear.
"We wouldn't trade Marcus for the world," Helfrich said. "Marcus is the backbone of our team. A great guy, a great leader and a guy that year were (recruiting) longer. You get to know different guys in recruiting. I'd known Marcus a little bit better at that point."
Mark Helfrich, who recruited Manziel and Mariota, says he wouldn't replace Marcus Mariota with anyone.
What would it be like if Manziel had honored his verbal commitment to the Ducks and joined Mariota in Eugene?
The most likely scenario is that Bryan Bennett, the former Oregon quarterback who was beaten out by Mariota, would have never seen the field. After likely keeping the redshirt on both Manziel and Mariota, the two would have battled it out for the starting job once Darron Thomas left the program.
Manziel set the college football world on fire with a breathtaking display of athleticism and improvisational skills en route to becoming the first freshman to ever take home the Heisman Trophy.
Despite everything Manziel has done, trying to find anyone in Eugene that wishes things would have worked out differently would prove to be a waste of time.
2012 Passing Numbers for Manziel and Mariota

| | | | | | | | | |
| --- | --- | --- | --- | --- | --- | --- | --- | --- |
| 2012 | Total Plays | Comp | Att | Comp. % | Yards | Yds/Att | TD | INT |
| Manziel | 635 | 295 | 434 | 68 | 3,706 | 8.5 | 26 | 9 |
| Mariota | 442 | 230 | 336 | 68.5 | 2,677 | 8 | 32 | 6 |
| Difference | Manziel +193 | Manziel + 65 | Manziel +98 | Mariota +.5 | Manziel 1,029 | Manziel +.5 | Mariota +6 | Mariota -3 |
http://www.cfbstats.com/
Where Manziel separated himself from the Oregon star is with his astronomical rushing statistics. Manziel had more freedom to pull it down and run than Mariota did and his numbers reflect as much.
The table below tells the story with Manziel having the better numbers in all but one category.
Mariota had a higher average in yards per rush. Given another 95 carries at just over seven yards per carry, Mariota would have rushed for a total of 1,425 yards.
2012 Rushing Statistics for Manziel and Mariota

| | | | | | |
| --- | --- | --- | --- | --- | --- |
| 2012 | Att | Yards | Yds/Att | TD | Att/Game |
| Manziel | 201 | 1410 | 7.01 | 21 | 15.46 |
| Mariota | 106 | 752 | 7.09 | 5 | 8.15 |
| Difference | Manziel +95 | Manziel +658 | Mariota +.08 | Manziel +16 | Manziel +7.31 |
http://www.cfbstats.com/
Marcus Mariota
has handled himself just fine through the first 17 games of his college career.
Manziel's numbers from 2012 would be impressive in any conference and stand out even more in the SEC. When the numbers are broken down the case for Mariota can be very easily made.

The SEC lost a ton of defensive talent to the NFL after the 2012 season but this season has proven that SEC defenses become much less daunting when they have to face off against legitimate quarterbacks.

Manziel played the into the fourth quarter in nine of A&M's 2012 schedule. Manziel was pulled from the game by the end of the third quarter in four of those games, including the South Carolina State game in which he rested the entire second half.
Mariota vs Manziel Total Plays

| | | | |
| --- | --- | --- | --- |
| 2012 | Team Offensive Plays | Total Pass/Rush Att | % of Plays Participated in |
| Manziel | 1.025 | 635 | 61.9 |
| Mariota | 1,059 | 442 | 41.7 |
http://www.cfbstats.com/2012/
Mariota didn't see the field during the fourth quarter in four of Oregon's games. He didn't see the field after halftime in three of those. He was out after one drive in the second quarter of the Colorado game. Even when he was on the field in the second-half, the Ducks were usually so far out in front that he wasn't asked to do anything but run the clock.
The numbers are fairly similar in terms of how deep into the game both quarterbacks played, but the number of plays where they either threw a pass or ran it themselves, is where you see the big difference. Manziel participated in 635 of A&M's 1,025 offensive plays. Mariota participated in just 442 of Oregon's 1,059 offensive plays.
It is unbelievable to me that Marcus Mariota has only played 4 complete games his entire career with a 17-1 record. #GoDucks

— Sam Hassan (@SamHassan10) October 2, 2013
Had Mariota played the same number of snaps that Manziel did, his numbers would have been much more comparable. Not that Mariota's numbers are anything to scoff at, but statistics tell the story for most casual fans.
Mark Helfrich is no casual fan. He might have been saying it tongue-in-cheek when basically admitting that he would take Mariota over Manziel, but the truth is he wouldn't change a thing about his current situation even if he could.
Despite not having the numbers to match Manziel, Mariota is just as highly thought of by many football experts around the country. ESPN commentator Matt Millen went even further than that as quoted in this article by Rich Seiber at FootballNation.com
Ted Miller, ESPN.com's Pac-12 Blogger had this to say when comparing Mariota and Manziel.
"If you're asking me which player I'd rather have, I'd say Mariota. Without a pause. Mariota is a better passer," Miller wrote in his mailbag after the 2012 regular season. "Mariota barely played in the second half of games this year, and certainly didn't need to throw much when he did see a third quarter. If Oregon had played a lot of close games, Mariota's numbers would have been better."
Part of it comes down to personality and part of it comes to commanding the most versatile and dynamic offense in the country. Manziel is clearly more of a gunslinger when comparing the two quarterbacks as he makes more highlight plays that have people hitting the rewind button.
As you can see in this video, Manziel has the rare ability to turn a broken play into something special in the blink of an eye.
Mariota has the ability to create jaw-dropping plays out of nothing but he isn't required to do so very often due to the plethora of weapons around him.
The 6'4" sophomore has the keys to the powerful Oregon offense and his job is more of a distributor than a playmaker. Mariota would surely have better numbers and more highlight plays if he played for a team without the talent of Oregon.
Looking beyond the statistics is important when trying to determine which of the two star quarterbacks would be the one leading the Ducks had Manziel stuck with the Ducks. As the leader of a team, the personality and demeanor of the quarterback is key to mesh with the overall personality of the team.
The personality of Mark Helfrich seems to align perfectly with Mariota. Much like his star quarterback is when compared to Manziel, Helfrich is more low key than his predecessor Chip Kelly.

With all the drama surrounding Manziel it is easy for people to look down on the former Oregon commit.
The truth is that the majority of the things that he has been associated with were either harmless or exaggerated. Once he straps on his helmet for practice or on game day, Manziel has done little to perpetuate the negative attention thrown his way.

Whether or not Manziel is guilty of violating NCAA rules or being too immature to handle to rush of media attention, the threat of a controversy remains. The biggest problem anyone has with Marcus Mariota is that he isn't loud enough and keeps to himself too much.
His quiet personality is hardly a problem and it makes him the ideal fit for Mark Helfrich and the Ducks.

Manziel will have to fight off Marcus Mariota if he has plans on repeating as the Heisman Trophy winner.
It would be foolish to suggest that anyone within the Oregon program would be disappointed had Manziel decided to stick with his commitment to the Ducks.
Having two players who will likely be neck and neck for the 2013 Heisman Trophy on the same team is a problem no one would mind dealing with.
That being said, it would be difficult to find anyone within the Oregon program that would change the way it worked out. The same goes for the fine folks at Texas A&M. There is no way they would pass up the media attention, the respect, the revenue or the success they have enjoyed as a result of Johnny Manziel being an Aggie.

It appears to have worked out as well as it could have for both programs. Manziel has rejuvenated the Texas A&M program with his flashy style and record-breaking numbers.
With the weapons the Ducks have at every position on the field, Marcus Mariota is the perfect fit to captain the Oregon ship. He has the ability to make any play imaginable with his arm and his legs. He breaks off at least one big run almost every game and makes the game look easy.
Having a quarterback that takes the stress out of the game with his calm persona might be the most important thing for a head coach. That is exactly what the Ducks have with Marcus Mariota as the leader of the team.

Mark Helfrich wouldn't have it any other way.