South Carolina Gamecocks vs. Kentucky Wildcats: Complete Game Preview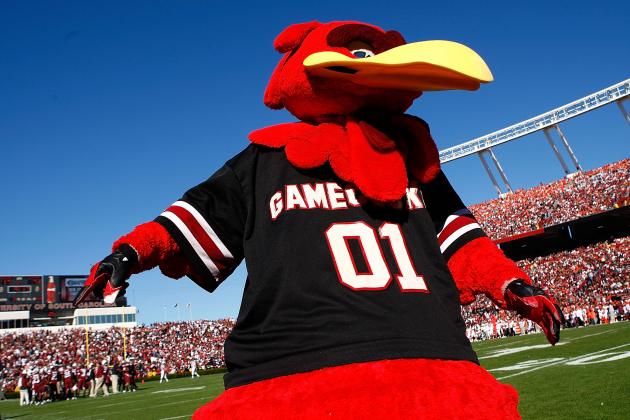 Scott Halleran/Getty Images
Cocky will get to strut his stuff in front of what is expected to be a sellout crowd on Saturday when South Carolina takes on Kentucky.
South Carolina and Kentucky play Saturday in what should amount to little more than a scrimmage for the Gamecocks.
A good scrimmage is exactly what South Carolina needs.
The Gamecocks have plenty of problems to iron out, primarily on defense and special teams, before embarking on a three-game road stand that will take them to Arkansas, Tennessee and Missouri.
As for the Wildcats under first-year coach Mark Stoops, an upset on the road is probably a little much to ask for.
For that matter, Kentucky probably needs a good scrimmage more than the Gamecocks.
Who: Kentucky (1-3, 0-1 SEC) at South Carolina (3-1, 1-1 SEC)
When: 7:30 p.m.
Where: Williams-Brice Stadium, Columbia, S.C.
Watch: FSN
Series history: South Carolina leads 16-7-1
Begin Slideshow

»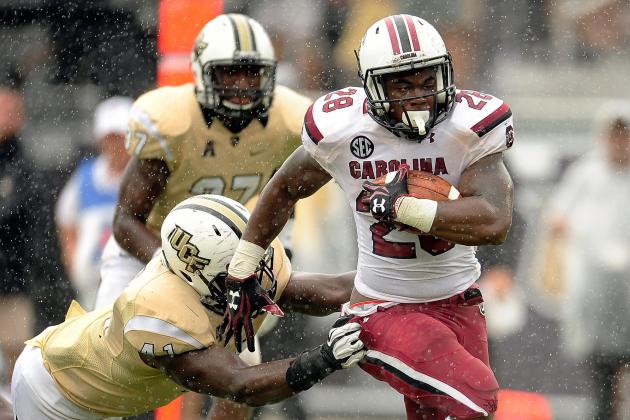 Stacy Revere/Getty Images
South Carolina running back Mike Davis (right) has been the Gamecocks' most consistent offensive threat.
Victory for South Carolina should be as simple as handing the ball to tailback Mike Davis and watching him go to work behind the Gamecocks' big, experienced offensive line.
Davis leads the SEC in rushing, averaging 127 yards per game. Only LSU's Jeremy Hill, who has seven, has rushed for more touchdowns than Davis (six).
Kentucky ranks 13th in the 14-team SEC in rushing defense, allowing 200.8 yards per game.
South Carolina's defense should be able to handle a Kentucky offense that is last in the SEC in scoring (21.8 points per game).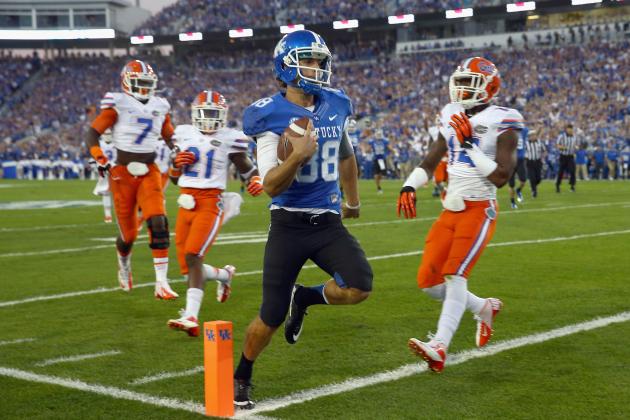 Andy Lyons/Getty Images
A little trickery, like Joe Mansour's 28-yard touchdown run off of a fake field goal against Florida, would help the Wildcats' upset chances against South Carolina.
Kentucky's best shot at upsetting South Carolina will come from forcing turnovers and outplaying the Gamecocks on special teams.
Unfortunately for the Wildcats, they haven't been very good in either area so far. Kentucky has recovered three fumbles and has one interception through four games, and nothing much stands out on special teams.
A few well-executed trick plays would help also, like the fake field goal in which place-kicker Joe Mansour scored on a 25-yard run against Florida.
In short, a Kentucky upset will rely on the Gamecocks giving the Wildcats plenty of help.
It's not unprecedented.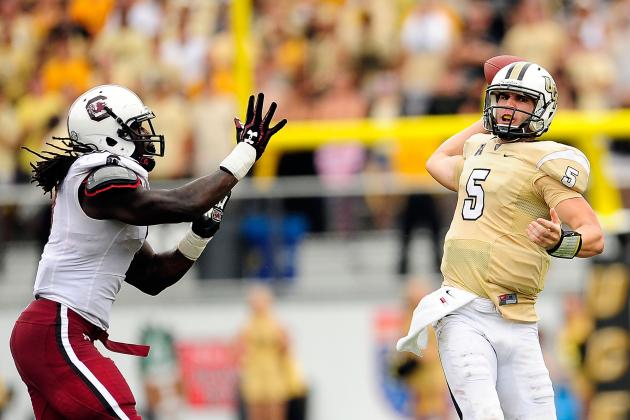 Stacy Revere/Getty Images
Jadeveon Clowney (left) closes in on UCF quarterback Blake Bortles.
South Carolina defensive end Jadeveon Clowney is a player to watch for the Gamecocks every week.
Although incredibly over-hyped to begin the season, Clowney remains a force that opposing teams must find a way to deal with.
South Carolina's secondary had a horrible game last week against UCF, but Vic Hampton is one of the best cover corners in the SEC.
Offensively, wide receiver Bruce Ellington and tailback Mike Davis are the proven playmakers to keep an eye on.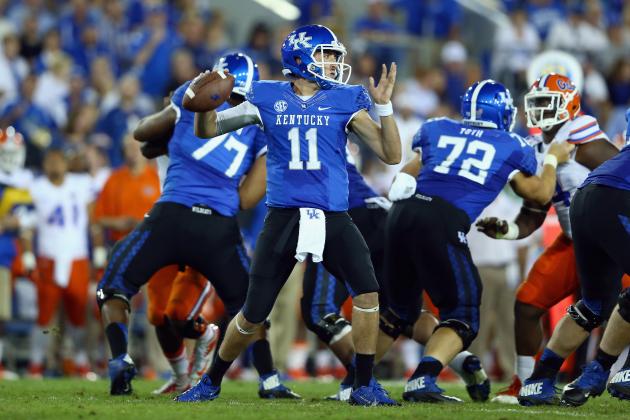 Andy Lyons/Getty Images
Kentucky quarterback Maxwell Smith (No. 11) needs a big game if the Wildcats are going to upset the Gamecocks.
Quarterbacks Maxwell Smith and Jalen Whitlow have split time at quarterback for the Wildcats this season.
Smith is the more accomplished passer, which suggests he may get more playing time against a South Carolina team that has been vulnerable against the pass through the first four games.
Junior college transfer Javess Blue is the team's leading receiver with 18 receptions for 213 yards.
Kicker Joe Mansour has made all six field goals he has attempted this season.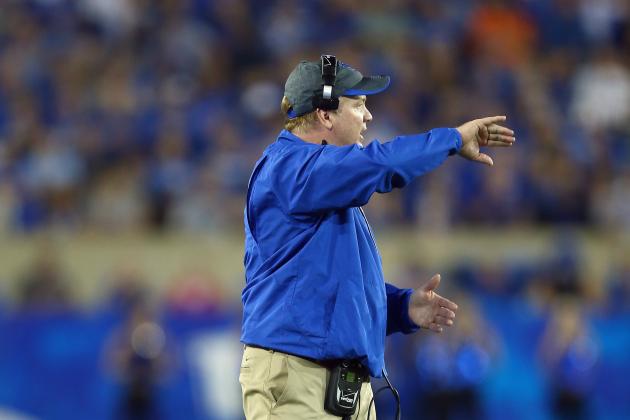 Andy Lyons/Getty Images
First-year Kentucky coach Mark Stoops knows the Wildcats will have their hands full on Saturday at South Carolina.
Kentucky coach Mark Stoops is obviously concerned about stopping South Carolina's running game. "If you can't stop power running teams in this league, you have zero chance to win," Stoops said Tuesday at his weekly press conference, available online.
Meanwhile, South Carolina coach Steve Spurrier said Tuesday at his weekly press conference that quarterback Connor Shaw had recovered enough from his sprained shoulder to practice on Monday. A decision will be made Thursday whether he or Dylan Thompson will start.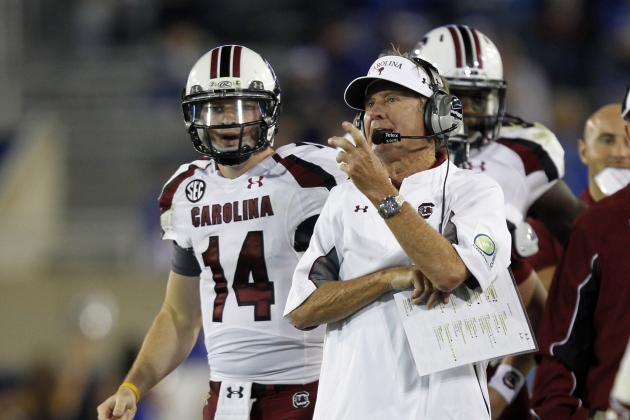 John Sommers II/Getty Images
South Carolina coach Steve Spurrier (shown here on the sideline during last year's game with Kentucky) knows the Gamecocks can't afford to take anyone lightly.
Even if South Carolina comes out playing sloppy, which is a distinct possibility, it's almost impossible to construct a scenario in which the Gamecocks lose to the Wildcats.
South Carolina should be able to line up and run over the Wildcats.
Kentucky wins only if the Wildcats take a huge step forward on offense and the Gamecocks give them plenty of help.
Prediction: South Carolina 35, Kentucky 17
Unless otherwise indicated, all quotes obtained firsthand.