The 2013 NFL regular season is 25 percent complete, and the New York Giants still haven't won a game. So prepare to become depressed as we break down some of the most interesting and important Giants-related statistics from the first four weeks.
85: That's how many more points the Giants have given up than they've scored. It's the second-worst points differentiall in the league, ahead of only the incredibly bad Jaguars. It's also the worst total in team history through the first four games of a season. Since the 1970 merger, only 12 teams have been outscored by a larger margin in that same span.
Worst first quarters this century

| | | | |
| --- | --- | --- | --- |
| | Year | Record | Point dif. |
| Washington Redskins | 2001 | 0-4 | -110 |
| St. Louis Rams | 2008 | 0-4 | -104 |
| Jacksonville Jaguars | 2013 | 0-4 | -98 |
| Cincinnati Bengals | 2002 | 0-4 | -96 |
| New York Giants | 2013 | 0-4 | -85 |
Pro Football Reference
8.8
: That's the average quality of the opponents the Giants have played, based on the
Simple Ratings System utilized by Pro Football Reference
. The number itself might not mean a lot on the surface, but all that matters is that it's the highest in the league. The
Cowboys
and
Panthers
are only 1-4 in games against other opponents, but the
Broncos
and
Chiefs
are a combined 6-0. Four of their next five games are against the
Eagles
(twice),
Vikings
and
Raiders
, so it gets a little easier.
16: That's the number of turnovers the Giants have committed this season, which is the highest total in the league. It's also the highest turnover total this century over the first four weeks of a season. In 2012, five teams committed 16 or fewer turnovers over the course of the entire season.
Most turnovers this century, first four games

| | | | |
| --- | --- | --- | --- |
| Team | Year | Turnovers | Record |
| New York Giants | 2013 | 16 | 0-4 |
| Kansas City Chiefs | 2012 | 15 | 1-3 |
| Minnesota Vikings | 2002 | 15 | 0-4 |
Pro Football Reference
57.8
: That's how many rushing yards the Giants are averaging per game, which ranks 30th in the NFL. They've been behind constantly, which explains that number a bit, but they've also run the ball a league-low 70 times. Still, they're averaging just 3.3 yards per carry and their top rusher,
David Wilson
, has been out-run by five quarterbacks.
4.5: That's the number of plays the Giants are running per drive, which is the lowest in the league. Even Jacksonville's offensive drives are lasting a little longer.
Minus-9: That's the Giants' turnover margin, which is the second-lowest mark in franchise history. The Giants, Jets and Steelers are the only teams in the league that are below minus-4 in this area right now.
23: That's the percentage of third downs the Giants have converted on offense this season, which ranks dead-last in the NFL. Since 2005, that number has never been below 35 percent.
50: That's the percentage of third downs the Giants have had converted against them this season, which also ranks dead-last in the NFL. Since 2005, that number's never been above 43 percent.
Giants on third down

| | | |
| --- | --- | --- |
| | Offense (rank) | Defense (rank) |
| 2012 | 41% (11th) | 42% (30th) |
| 2013 | 23% (32nd) | 50% (32nd) |
NFL.com
69.1 and 56.3
: That's Eli Manning's passer rating and completion percentage, and both numbers rank in the bottom-six in the league, respectively. That rating is his lowest since his 2004 rookie campaign. He also leads the league with nine interceptions and has been sacked more times than all but two other quarterbacks. A list of qualifying quarterbacks with lower ratings than Manning: Chad Henne, Christian Ponder, Geno Smith, Brandon Weeden, Josh Freeman and Blaine Gabbert.
65.3: That's Manning's accuracy percentage, according to Pro Football Focus (subscription required). That's a revised rate—it takes dropped passes, spikes and throwaways into account—and it's a formula that has determined that only Josh Freeman (now benched) has been less accurate than Manning this season.
Where Eli Manning ranks

| | | | | |
| --- | --- | --- | --- | --- |
| | Comp. % | INT | Rating | Accuracy % |
| 2012 | 17th | 24th | 14th | 22nd |
| 2013 | 29th | 34th | 28th | 31st |
Pro Football Reference/Focus
4
: That's the number of sacks the Giants have recorded this season, which is tied for last in the league. They also have the lowest sack percentage in football. They averaged 3.0 sacks per game two years ago, 2.1 sacks per game last year and are now averaging 1.0 sacks per game one month into the 2013 campaign. The pass rush just doesn't exist.
34: That's the yard-line opposing teams are starting on against the Giants, which gives New York's defense the shortest average field in the league to defend.
1,700: That's the number of yards Victor Cruz is on pace to compile in 2013, which would be a career high. Yes, this is a positive stat. Cruz is also on pace to eclipse the 100-catch plateau while catching 16 touchdown passes. He's having a remarkable season.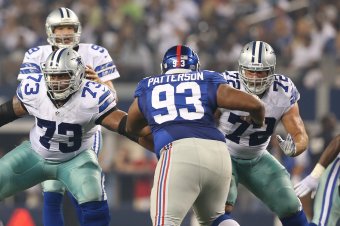 Matthew Emmons-USA TODAY Sports
3.9: That's how many yards per attempt the Giants have surrendered on the ground, which ranks above the league average. PFF grades have the Giants defense rated second in the league, and Mike Patterson leads all NFL defensive tackles with a stop percentage of 14.8. How 'bout that; two happy statistical nuggets in a row!
0: That's the number of times the Giants have stopped an opposing team on third-and-2 or shorter this season, according to Football Outsiders. That 100 percent power-run conversion rate for their opponents (an average team is between 50 and 60 percent in this category) makes you think twice about patting this D on the back.
44: That's the total number of pressures Will Beatty and Justin Pugh have surrendered this season, according to PFF, which is more than any other starting offensive tackle duo in the NFL. Pugh was supposed to take some time to get acclimated, but Beatty is making big bucks now and has given up four sacks while taking four penalties. Unsurprisingly, the Giants have surrendered a league-high 74 pressures in total.
Most pressures allowed, tackle duos

| | | | |
| --- | --- | --- | --- |
| Tackle duo | Team | Pressures | Sacks |
| Beatty/Pugh | New York Giants | 44 | 6 |
| Holmes/Baker | Atlanta Falcons | 41 | 3 |
| Adams/Gilbert | Pittsburgh Steelers | 37 | 7 |
| Mills/Bushrod | Chicago Bears | 36 | 1 |
| Peters/Johnson | Philadelphia Eagles | 34 | 5 |
| Winston/Brown | Arizona Cardinals | 34 | 8 |
Pro Football Focus
2.6
: That's how many adjusted line yards the Giants are averaging, per
Football Outsiders
, which is dead last in the league. On third or fourth down with two yards or less to go, the running game has converted only 20 percent of the time, and they've been stopped at or behind the line of scrimmage on 34 percent of their runs. Both of those rates rank 32nd in football. Interestingly, the New York running game is ranked closer to the middle of the pack in terms of second-level and open-field yards, which really indicates that the line deserves the majority of the blame here.
11: That's the total number of quarterback pressures Jason Pierre-Paul has generated this season, which works out to 2.8 per game. He averaged 3.4 pressures per game in each of the last two years. JPP has just one sack in his last 11 games. And don't blame it solely on his bad back, because seven of those games took place in 2012. PFF ranks him, Justin Tuck and Mathias Kiwanuka in the bottom 10 among 4-3 defensive ends in pass-rushing productivity.
69.6: That's the passer rating opposing quarterbacks have posted on throws against Prince Amukamara, according to PFF. As a result, he grades out as the seventh-best cornerback in the league. In his third season, Amukamara has really flourished. He struggled against Peyton Manning and the Broncos (who doesn't?), but he was lights-out against Kansas City this past Sunday.
*Unless stated otherwise, stats courtesy of Pro Football Reference and NFL.com.