Why It's so Hard to Repeat in Major League Baseball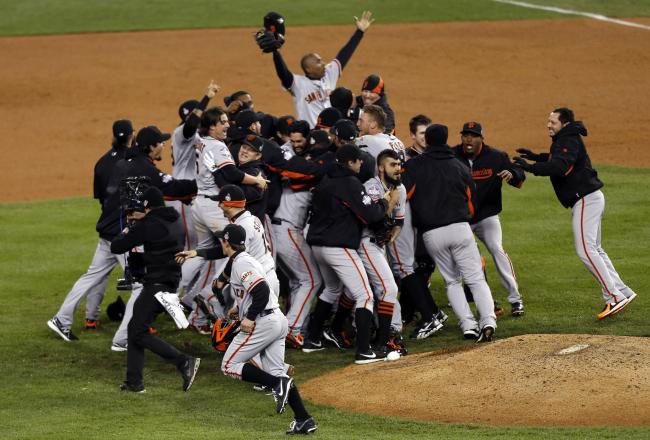 The San Francisco Giants won it all last October, but they won't have a chance to repeat his time around.
Rick Osentoski-USA TODAY Sports
If only it were as easy as following instructions on the back of a shampoo bottle: Rinse. Repeat.
Alas, even the San Francisco Giants, a team that won it all twice in three years, in 2010 and 2012—and whose one-time best pitcher used to let his bouncing, flowing locks fall to shoulder length—won't get the opportunity to be back-to-back World Series winners after finishing 10 games under .500.
Like the Giants, some clubs have managed to take titles in a short span in recent years, including the Boston Red Sox in 2004 and 2007, and the St. Louis Cardinals in 2006 and then again fives years later in 2011. But with San Francisco out of October this time around, this much is certain: Major League Baseball will remain sans a repeat champion since the New York Yankees won three straight from 1998 to 2000.
Obviously, winning one World Series isn't easy, so it goes without saying that winning two in two years is only that much more challenging. But if you're wondering why this has come to be—why the repeat has been rinsed down the drain—here are a few reasons.
Against the Odds
Everybody hates math, except when it's simple. Like this case. In baseball, there are 30 teams and even with the addition of the second wild card spot last year, only 10 clubs get to play in the postseason. That means only one out of every three—or 33 percent for you arithmetic wizards out there—has a shot to win it all every year.
That is the fewest number of teams that make the playoffs among the four major professional sports, which might be part of the reason why the NBA has had four repeat instances and the NFL has had one occasion of following up, since the last time MLB has. (NHL's last, by the way, was the Detroit Red Wings in 1997 and 1998.)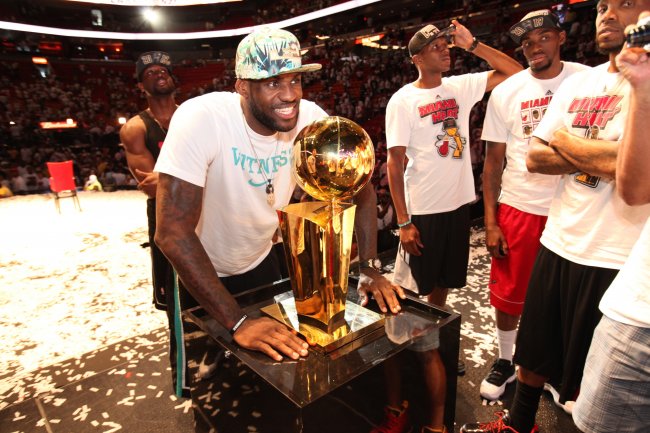 David Alvarez/Getty Images
But the math works the other way, too, as pointed out by Alex Remington at FanGraphs:
The more the [MLB] playoffs expand, the greater the likelihood that the best team in baseball will not win the World Series. Nowadays, fully one-third of the teams in baseball go to the playoffs, compared to one-eighth in the pre-division era, and one-seventh as recently as 1992.
In other words, even if one club had made the postseason every year from 1993 to 2012, they would have seen their chances of lifting the trophy drop as the playoff field grew from four to eight to the current 10 teams.
Costly Contracts Mean Smaller Windows
It's no secret that baseball players' contracts have been getting bigger and bigger. Consider: In 1998—the first year of the Yankees' three straight championships—the highest payroll was about $70 million and the median figure was about $40 million. Today? Those numbers are about $230 million and $90 million.
In only 15 years, the top payroll has more than tripled, while the median payroll has more than doubled.
Yes, because of the booming business of baseball, teams can afford to pay more to fill out 25-man rosters. But the cost of individual player contracts also have risen dramatically, to the point where it has become harder and harder for most clubs to hang onto more than a few of their very best players beyond their first handful of seasons (during which salaries are cost-controlled to an extent).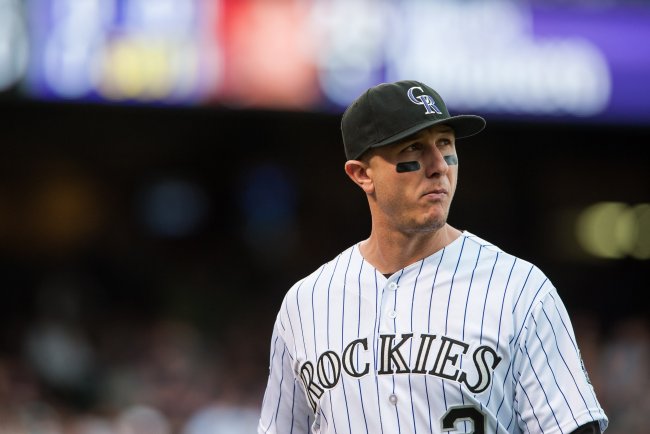 Dustin Bradford/Getty Images
While it has become popular to lock up young stars long-term, it's still easier said than done, and for the vast majority of teams, having one or two such deals go bad can set a franchise back for years. All in all, the window of opportunity to keep star-caliber players together is rather small.
Smarts and Sabermetrics
While it may not be the primary reason behind the increasing difficulty of attempting to repeat, the fact that the game has gotten smarter as a whole has certainly played a role.
This isn't meant as a slight to baseball folks from 10 or 20 years ago, because in many ways, it wasn't their fault that they didn't—or couldn't—know any better at the time. With the advances in new-age technology and the implementation of by-the-numbers research in addition to the old-school scouting approach, executives, managers and coaches are better informed on all levels and in all aspects of the sport, from evaluation to preparation to financial application.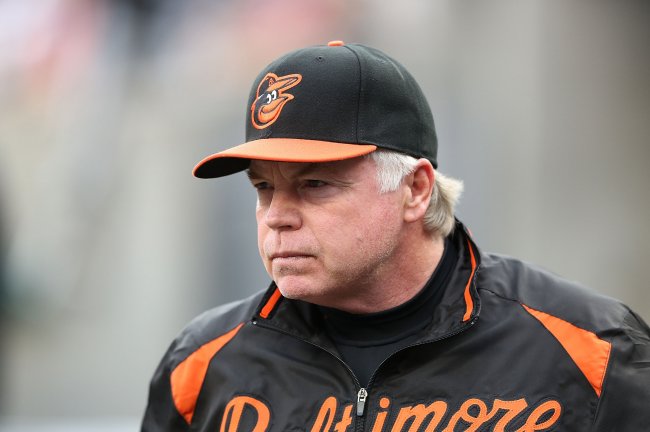 Leon Halip/Getty Images
Whether it's using video to study an opposing pitcher or having sabermetrically-inclined statistical analysts concoct the most efficient and productive lineup or better understanding how much money a free agent is worth, front offices everywhere are smarter. That leaves less of a chance that one team can uncover and then exploit an inefficiency without other clubs noticing or catching on quickly.
It also, for the most part, has resulted in better in-season and even in-game managing (i.e., matchups), which has served to bunch teams closer together rather than separate them in the standings.
It's a Crapshoot
Oakland Athletics general manager Billy Beane famously said the following in Michael Lewis' groundbreaking book Moneyball: "My job is to get us to the playoffs. What happens after that is f------ luck."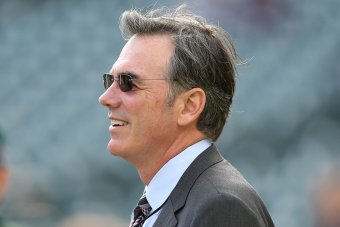 Leon Halip/Getty Images
He's not entirely wrong.
Perhaps the biggest reason why it's so difficult for teams to win two or more World Series in a row is that the postseason is an entirely different animal from the regular season.
A baseball season, as we all know, is 162 games in which the best teams more often than not will eventually rise to the top by August and September. But then October rolls around, and these teams that were built for the long haul and constructed to withstand the day-in, day-out grind are faced with a one-game playoff play-in contest, a best-of-five series and a pair of best-of-sevens.
At the time of year when the games matter most—October—teams have to shift gears to an entirely different approach than the one that is used from April through September. The focus in baseball's six-month regular season often revolves around working with a large enough sample size to where the numbers become meaningful. But once the playoffs start, no sample size is too small—because anything can happen on any pitch.
Like, say, lefty-swinging Shin-Soo Choo of the Cincinnati Reds hitting just his third home run off a lefty pitcher in two seasons—and first since June 30, 2012—during Tuesday's win-or-go-home wild card game against the Pittsburgh Pirates.
As Will Leitch writes for Sports On Earth:
That baseball's postseason is a "gauntlet of randomness"has long been understood, but we don't appreciate it enough. The postseason is something different than the regular season entirely; it is not all that different, really, from ending a tied soccer match with penalty kicks. The playoffs are baseball-like, but they're not quite baseball. They're CliffsNotes baseball. It is impossible to determine who the better team is when they are playing a seven-game series. It's difficult to tell who the better team is after 162 games. Seven games is nothing.
Randomness makes for fun, excitement and drama, which the MLB postseason has in spades. One thing randomness doesn't make for? Repetition.
Maybe that's why the team that wins the World Series always ends up spraying champagne: They're just trying to rinse and repeat.
This article is
What is the duplicate article?
Why is this article offensive?
Where is this article plagiarized from?
Why is this article poorly edited?