Air Force vs. Navy Will Not Be Cancelled Due to Government Shutdown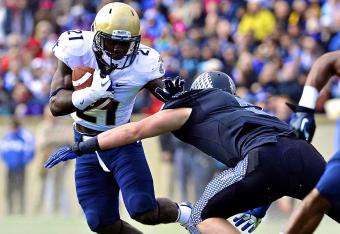 Navy's defense of the prestigious Commander-in-Chief's Trophy may have to be put on hold this season, as the government shutdown has jeopardized the Midshipmen's college football clash against Air Force on Saturday.
The sold-out game is scheduled to be played in Annapolis, Md., at 11:30 a.m. ET, with CBS providing the national telecast. Postponement was a threat, according to Thomas O'Toole of USA Today and Alex Jackson and Bill Wagner of CapitalGazette.com.
According to the Navy Twitter account on Wednesday, the Secretary of Defense will allow the game to be played.
UPDATE: Wednesday, Oct. 2
From Navy Athletics Twitter account:
#NavyFootball game on Saturday against Air Force is a GO. Kickoff 11:30 AM on CBS. No word on the rest of the sports this weekend.

— Navy Athletics (@NavyAthletics) October 3, 2013
ESPN's Sportcenter feed confirms Army vs Boston College will be played as scheduled as well:
Air Force-Navy & Army-Boston College games officially approved by Secretary of Defense, will be played Saturday. (via ESPN & Media reports)

— SportsCenter (@SportsCenter) October 3, 2013
UPDATE: Wednesday, Oct. 2
From Capital Gazette Communications reporter Bill Wagner:
I am hearing from numerous sources that Navy athletics is moving forward with various elements of its game-day operations.

— Bill Wagner (@BWagner_CapGaz) October 3, 2013
UPDATE: Wednesday, Oct. 2
ESPN's Brett McMurphy provided more details on the status of the game:
"The games (Air Force at Navy, Army at Boston College) have been approved to be played by everyone at the service academies, even the lawyers," the source told McMurphy. "Everyone is in. All the boxes are checked, just waiting for approval by the Secretary of Defense, who has final say, which would make it official."

A Pentagon spokesman, Army Col. Steve Warren, said Tuesday that the decision was being reviewed by lawyers to determine whether the funds used for such activities are congressionally appropriated.

All schools involved had said that a decision would be made by noon Thursday.
UPDATE: Wednesday, Oct. 2
For a brief moment, it looked as if Navy and Air Force would play their game as scheduled, as the Naval Academy posted on Twitter that the matchup was back on.
Gene Wang of The Washington Post quickly reported that this was not the case:
Just told this is inaccurate. Stay tuned. RT @NavalAcademy: We'll see you at Navy-Marine Corps Stadium this Saturday at 1130 or on CBS

— Gene Wang (@gene_wang) October 2, 2013
Not long after, the Naval Academy said no decision has been made about this week and pulled the original posts from their feed:
ALL - No decision has been made regarding the Navy-AFA Football game. We are investigating the source of previous tweets. CDR John Schofield

— Naval Academy (@NavalAcademy) October 2, 2013
We apologize for any confusion on this account regarding the Navy-AFA football game. There is no decision. Previous tweets were erroneous.

— Naval Academy (@NavalAcademy) October 2, 2013
Original Text
Jackson followed with an updated timetable for such a decision:
UPDATE: DOD has suspended intercollegiate athletics comps. during #governmentshutdown. Official decision on Navy-Air Force game Thursday

— Alex Jackson (@thealexjackson) October 1, 2013
Brett McMurphy of ESPN also pointed out that all travel for intercollegiate athletics at Air Force has been canceled:
At this time, travel for all intercollegiate athletics for Air Force is cancelled including Navy game Saturday

— Brett McMurphy (@McMurphyESPN) October 1, 2013
With all travel cancelled, United Airlines took to their Twitter account to offer to fly the Air Force to the game:
We hate cancellations, so we're offering to fly @AF_Academy to this year's Air Force-Navy game. Retweet if you agree. http://t.co/h4WMvRgN9n

— United (@united) October 2, 2013
CBS is set to broadcast the game and released a statement to Dan Wolken of USA Today about their coverage plans:
Statement from CBS spox: "We're prepared to cover AFA vs Navy if it's played. We're working on alternate programming in the event it's not."

— Dan Wolken (@DanWolken) October 1, 2013
Congress' failure to pass a spending plan for the new fiscal year has essentially caused all government-related operations to cease, according to CNN's Holly Yan.
Upper-class Air Force cadets are military personnel and may be subject to travel restrictions under the shutdown, per Jackson and Wagner.
John Taylor of College Football Talk also ponders if the impact of this situation will reach beyond this isolated game:
One thing that isn't clear, and what we're attempting to clarify, is whether Army and Navy upperclassmen fall into the same category as the upper-class cadets at the Air Force Academy. If so, the shutdown could impact a handful of those games in the next month: Army at Boston College this Saturday; Army at Temple Oct. 19; Navy at Duke Oct. 12; and Navy at Navy at Toledo Oct. 19.

Additionally, Army is scheduled to travel to Air Force Nov. 2.
Air Force associate athletic director Troy Garnhart called the cancellation of Saturday's Air Force vs. Navy game "a possibility," although an official decision has yet to be made.
Brent Briggerman of the Colorado Springs Gazette reports there's an effort in motion to use non-government funds to ensure Saturday's game is played:
A military source said there's about a "50/50 chance" that the game will be played with conference fees, conference TV money and ticket revenue making up for a lack of government funding. If that falls through and the government remains shut down by 10 a.m. Thursday, the game will be cancelled or postponed.
That decision obviously has a lot to do with the Capitol Hill chaos that is currently plaguing the nation. Congress has to reach a resolution eventually, but the Republicans' opposition to Obamacare and the Democrats' refusal to budge means that there is a stalemate, according to Yan.
Air Force has already been affected by the shutdown, as it canceled today's scheduled press conference, according to Paul Myerberg of USA Today.
Due to the government shutdown, Air Force has canceled today's press conference with Troy Calhoun and selected players.

— Paul Myerberg (@PaulMyerberg) October 1, 2013
If Congress is unable to sort out its issues in the coming days, Air Force and Navy athletic officials may have no choice but to postpone a series that Air Force currently leads 27-18.
The 1-4 Falcons would have an uphill climb on their hands against the 2-1 Midshipmen, but service academy football fans are excited about the game regardl
This article is
What is the duplicate article?
Why is this article offensive?
Where is this article plagiarized from?
Why is this article poorly edited?