Which Undefeated Team Is NFL's Best?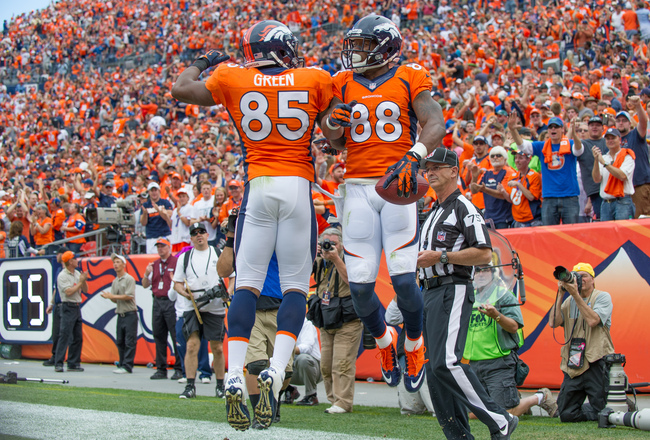 Dustin Bradford/Getty Images
The Denver Broncos have been the most dominant of the unbeatens to start the 2013 NFL season, but are they the undisputed best when all five are ranked position-by-position?
Due to the importance of quarterbacks, they will be awarded points on a different scale than the other positions:
First Place: 10 points
Second Place: Seven points
Third Place: Five points
Fourth Place: Three points
Fifth Place: One point
All other positions will be awarded points on the following scale:
First Place: Seven points
Second Place: Five points
Third Place: Three points
Fourth Place: One point
Fifth Place: Zero points
Let's find out which undefeated NFL team is best a quarter of the way through the season.
Quarterbacks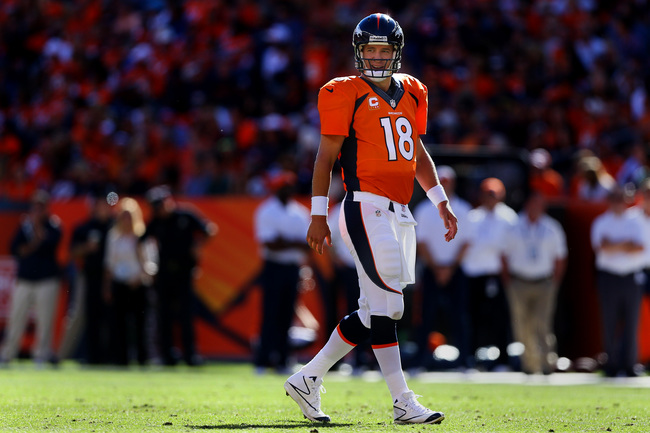 Justin Edmonds/Getty Images
1. Peyton Manning, Denver Broncos (10 points)
Have you watched Peyton Manning this season? The 37-year-old quarterback has been flawless in the first four games with 16 touchdowns and ZERO interceptions on 156 attempts. Oh, and he's completing 75 percent of those attempts. Not to mention, according to Pro Football Focus (subscription required), his wide receivers, running backs and tight ends have dropped 14 of his throws. He's the NFL MVP right now, and it's really not even that close.
2. Drew Brees, New Orleans Saints (Seven points)
While Manning has rightfully received all the notoriety during the season's opening month, all Drew Brees has done is throw for 1,434 yards with 10 touchdowns and four interceptions at a completion rate of nearly 67 percent. His latest masterpiece was a 30-of-39, 413-yard, four-touchdown, no-pick thrashing of the Miami Dolphins on Monday Night Football. With Sean Payton calling plays from that ridiculously large play sheet, Brees is back in a big way.
3. Tom Brady, New England Patriots (Five points)
Funny how this works, isn't it? Three of the league's four best quarterbacks have their teams 4-0 to start the year. Imagine that. Tom Brady worked through some major kinks in early September, but he's just now beginning to hit his stride with a new cast of pass-catching characters. Over 1,000 yards with seven touchdowns and two interceptions in four games isn't too shabby.
4. Russell Wilson, Seattle Seahawks (Three points)
Russell Wilson hasn't shredded the defenses he's faced thus far, but he exudes leadership far beyond his years. And although it's impossible to quantify, it's been integral to the Seahawks' 4-0 start.
Down 20-3 at the half in Houston Sunday, Wilson led a ferocious comeback that included a 14-play, 75-yard touchdown drive that brought his team within one score in the fourth quarter. His defense played tremendously in the second half against the Texans, but Wilson's decision-making and elusiveness outside the pocket were huge in victory.
5. Alex Smith, Kansas City Chiefs (One point)
The fact that Alex Smith is the lowest-ranked quarterback here is a testament to how good the four above him were in September. While he hasn't made many "wow" plays, he's executed Andy Reid's offense with decent efficiency and has limited mistakes. Like he did in San Francisco with the 49ers, Smith is using his smarts and erring on the side of caution when placed in any precarious situations, as he understands how strong his defense is.
Running Backs
1. Seattle Seahawks (Seven points)
We were lucky enough to witness another legitimate "Beast Mode" run by Marshawn Lynch in Seattle's Week 4 win over Houston. He's only averaging 3.9 yards per carry but is doing a lot with mediocre blocking in front of him. Robert Turbin has been a reliable backup, and we could see more of youngsters Christine Michael and Spencer Ware in the near future.
2. Kansas City Chiefs (Five points)
Not far behind are the Kansas City Chiefs with their thunder and lightning duo of Jamaal Charles and Knile Davis. The former has set the bar so high in terms of efficiency, his 4.1 YPC is considered somewhat of a disappointment. If those two get going, K.C. could have the best running back tandem of the remaining unbeaten teams.
3. New Orleans Saints (Three points)
Mark Ingram has continued his underwhelming ways, but Pierre Thomas and, especially, Darren Sproles are exquisite fits in the New Orleans Saints' screen-heavy offense. Sproles went bonkers against the Miami Dolphins Monday, with 142 total yards and two scores on only 11 touches. He's absolutely dynamic with the football in his hands.
4. New England Patriots (One point)
The New England Patriots are a bit shorthanded at running back with Shane Vereen out, but Stevan Ridley's backups, Brandon Bolden and LeGarrette Blount, played major roles in New England's most recent win. The two combined for 81 yards and one touchdown on 15 carries against the Falcons. When Rob Gronkowski returns, the Pats' running game could take off.
5. Denver Broncos (Zero points)
With the way Peyton Manning has played thus far, do the Denver Broncos really need a running game? Eh, kind of. Knowshon Moreno leads the team with an impressive 5.2 YPC, and Ronnie Hillman has gained 120 yards on his 25 carries. Montee Ball hasn't been as effective as some thought he'd be, but if he gets hot in rock-paper-scissors, he could find the end zone for the first time in his NFL career soon enough.
Wide Receivers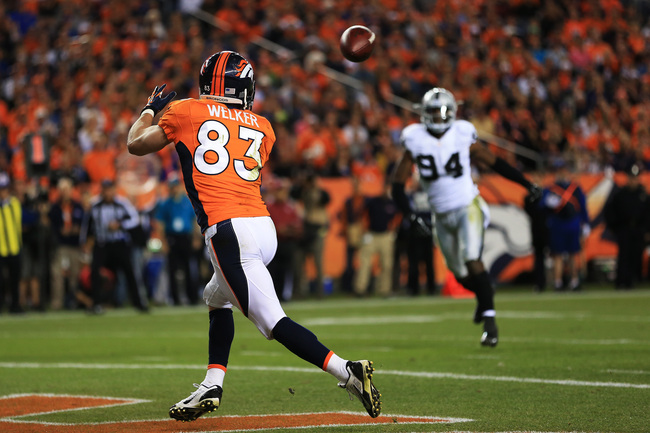 Doug Pensinger/Getty Images
1. Denver Broncos (Seven points)
Demaryius Thomas is the best receiver available here, a scary speed-size combination who's already caught 29 passes for 393 yards on the year. Wes Welker is playing like, um, Wes Welker, and Eric Decker has improved after a shaky opening game. The Broncos apologize in advance for what they'll do to your secondary.
2. New Orleans Saints (Five points)
Marques Colston is the elder statesman of the New Orleans receiving corps and remains one of most reliable and underrated wideouts in football. Though sneaky slot guy Lance Moore has dealt with injury, rookie Kenny Stills has been an encouraging fill-in. Add Robert Meachem, who apparently needs a Fleur-de-lis on his helmet to make an impact, and New Orleans has quite the unheralded but productive receiving corps.
3. Kansas City Chiefs (Three points)
Dwayne Bowe leads the way here, but he is struggling mightily (148 yards, two TDs), and don't overlook Donnie Avery. Remember when he was the first wideout selected in the 2008 draft and everyone was like—"Donnie who?" While he didn't live up to his draft position with the Rams, he's become a chain-moving slot receiver in Andy Reid's offense.
4. Seattle Seahawks (One point)
The talent is there, it's just that the Seattle Seahawks wideouts haven't played up to their potential yet. Sidney Rice is still nursing a knee injury, while Golden Tate and Doug Baldwin have been unspectacular, but not disappointing.
5. New England Patriots (Zero points)
Kenbrell Thompkins had his coming-out party against the Atlanta Falcons with six catches for 127 yards and a touchdown. He and Tom Brady are starting to establish a rapport that very well may lead to a great deal of production in the coming months. Outside of Thompkins, Julian Edelman has admirably stood in for the injured Danny Amendola, but Aaron Dobson was dinged in Week 4.
Tight Ends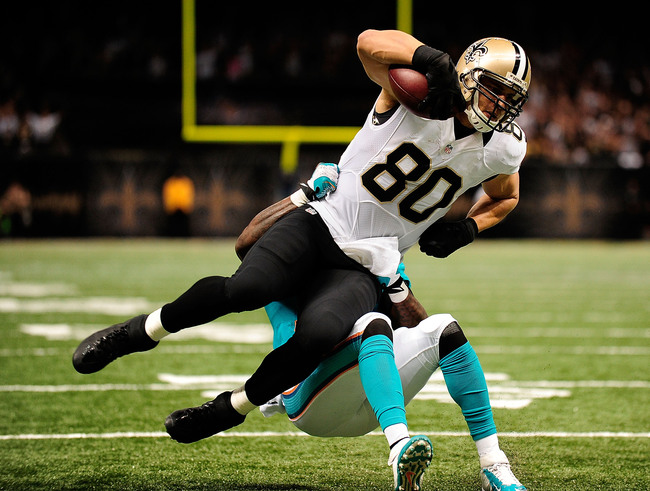 Stacy Revere/Getty Images
1. New Orleans Saints (Seven points)
Jimmy Graham is the finest tight end in football—a seam-stretching freak of an athlete who simply can't be covered by one defender and is capable of coming down with the football in traffic.
Also, Benjamin Watson is probably one of the best backup TEs in the NFL.
The end.
2. Denver Broncos (Five points)
Julius Thomas, another converted basketball player (like Graham), creates mismatches all over the field. Jacob Tamme is a nice security blanket for Peyton Manning but hasn't gotten many opportunities in 2013.
3. New England Patriots (Three points)
With Rob Gronkowski back, the Patriots are No. 2 on this list. And with his return (possibly) looming, they get the No. 3 spot right now. Zach Sudfeld has been a flop after an impressive preseason—he's yet to register a catch—and the rest of the tight ends don't pose much of a threat at all.
4. Seattle Seahawks (One point)
Zach Miller is Seattle's primary tight end and has caught eight passes for two touchdowns on the season. Luke Willson has made five grabs for 76 yards. In short, the Seahawks tight ends haven't done much.
5. Kansas City Chiefs (Zero points)
Sean McGrath has snagged 11 passes for 126 yards a touchdown this year. Anthony Fasano has four receptions for 34 yards. Like Seattle, not much here.
Offensive Tackles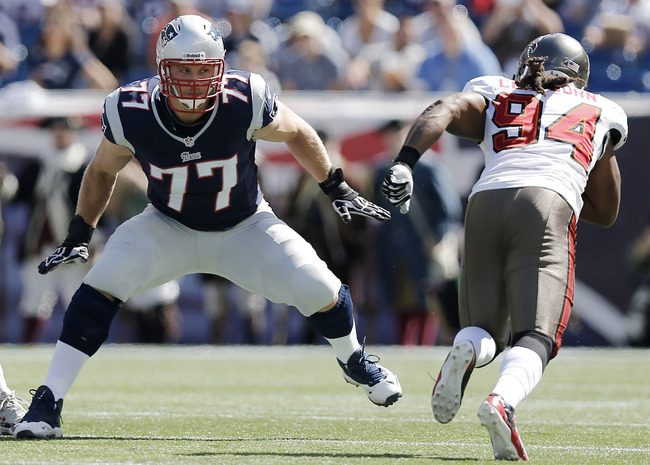 Winslow Townson/Getty Images
1. New England Patriots (Seven points)
Both Nate Solder and Sebastian Vollmer have enjoyed strong starts to the 2013 campaign. According to Pro Football Focus (subscription required), neither Patriots tackle has allowed a sack this season. Solder and Vollmer thrive in the run game as well.
2. New Orleans Saints (Five points)
While left tackle Charles Brown has been average at best for the Saints, Zach Strief has flourished on the other side of the line with Sean Payton back in charge. Per PFF, he's allowed one sack in 183 pass-blocking snaps.
3. Denver Broncos (Three points)
When the Denver Broncos lost Ryan Clady for the year, an overall drop-off was naturally expected. His replacement, Chris Clark, has only allowed one sack in 78 pass-blocking snaps and has been decent in the run as well. The 6'7", 330-pound mammoth that is Orlando Franklin has pass protected well.
4. Kansas City Chiefs (One point)
As usual, Branden Albert has been solid protecting his quarterback's blind side. No. 1 overall pick Eric Fisher, on the other hand, has struggled mightily. The nasty streak he showed at Central Michigan that made him the No. 1 overall selection in the draft has vanished.
5. Seattle Seahawks (Zero points)
The Seattle Seahawks could use Russell Okung right about now. Paul McQuistan has been a liability at left tackle, while Michael Bowie and Breno Giacomini haven't been much better during their time at right.
Interior Offensive Line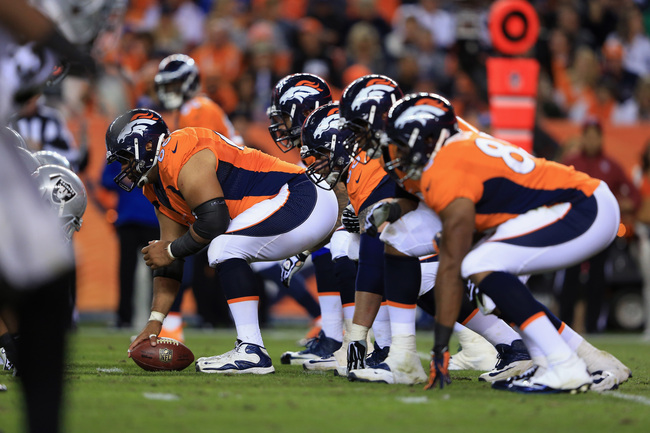 Doug Pensinger/Getty Images
1. Denver Broncos (Seven points)
The offseason signing of longtime San Diego Charger Louis Vasquez has paid huge dividends for the Denver Broncos through four games. He's been dominant at left guard. Manny Ramirez has starred at center. Overall, the interior of the Broncos offensive line is about as sound as it gets.
2. New England Patriots (Five points)
Logan Mankins remains a wrecking ball at left guard and Dan Connolly has been far better blocking for the run than he's been when asked to protect Tom Brady. The sore thumb of the group has been Ryan Wendell. Still, Mankins' presence boosts the unit as a whole.
3. New Orleans Saints (Three points)
According to Pro Football Focus (subscription required), Jahri Evans hasn't gotten off to an effective start this season. However, Ben Grubbs has been sound at left guard, outside of getting absolutely steamrolled by Jared Odrick on Monday Night Football.
4. Kansas City Chiefs (One point)
Jon Asamoah has turned out to be a consistent right guard, and the same goes for left guard Jeff Allen. Center Rodney Hudson has been the worst performer of the Kansas City Chiefs interior offensive linemen. Nonetheless, a respectable group.
5. Seattle Seahawks (Zero points)
J.R. Sweezy and James Carpenter have seen better days at their guard spots, and the typically solid Max Unger is fighting through an arm injury. It's been tough sledding for Seattle's offensive front.
Edge-Rushers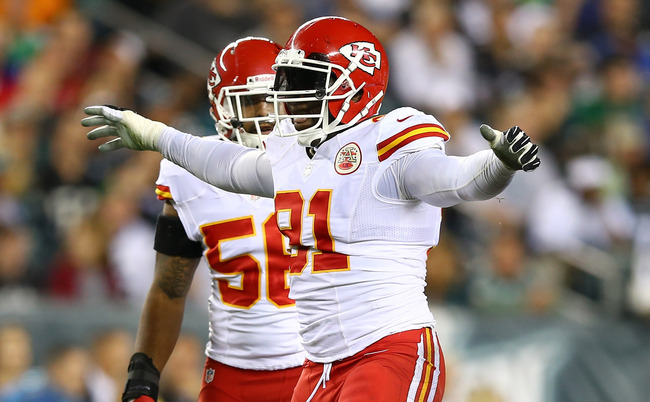 Elsa/Getty Images
1. Kansas City Chiefs (Seven points)
Tamba Hali and Justin Houston have been the most formidable pass-rushing duo in the NFL this year. They've combined for 11.5 sacks in four games. That's good.
2. New Orleans Saints (Five points)
Despite losing Victor Butler for the year before the season, the New Orleans Saints are bringing the heat from the defensive perimeter under Rob Ryan. Cam Jordan has registered four sacks and, according to Pro Football Focus (subscription required), the 23 total pressures he's created are tied with J.J. Watt for the most at his position.
Beyond Jordan's explosion, Junior Galette has chipped in with three sacks of his own.
3. Seattle Seahawks (Three points)
As Chris Clemons gets fully acclimated to the Seattle Seahawks defensive scheme and Bruce Irvin returns from suspension, Pete Carroll's team will likely have one of the better all-around edge-rushing units in the league. Free-agent acquisitions Michael Bennett and Cliff Avril have been great to start the year.
4. Denver Broncos (One point)
Robert Ayers and Shaun Phillips have created havoc off the edge in the absence of Von Miller. Ayers has 3.5 sacks and Phillips has 3.0 quarterback takedowns. When Miller returns, look out, NFL.
5. New England Patriots (Zero points)
Chandler Jones is quietly emerging as one of the most well-rounded 4-3 defensive ends in football. He has three sacks on the season and is becoming a stout run defender. Rob Ninkovich doesn't have elite physical tools but is one of the smarter edge-rushers in the game today.
Defensive Tackles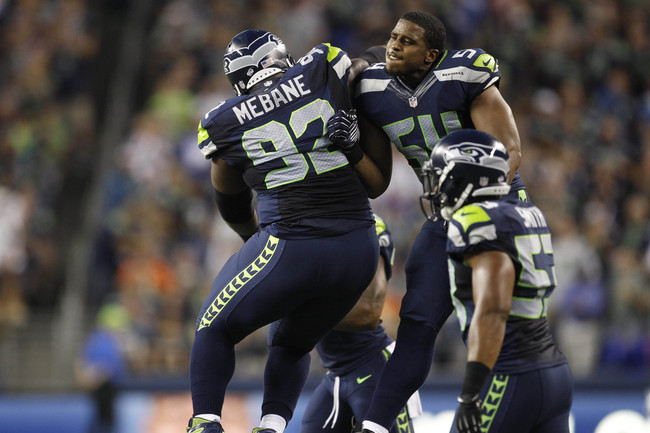 Joe Nicholson-USA TODAY Sports
1. Seattle Seahawks (Seven points)
Offensive lines simply cannot handle the size and athleticism of the Seattle Seahawks defensive tackles. The 6'1'', 310-pound Brandon Mebane is disrupting many plays in the backfield and, although he's mainly played defensive end in Seattle's scheme, the 6'5'', 328-pound Red Bryant is controlling the line of scrimmage. Don't forget Clinton McDonald, either.
2. Kansas City Chiefs (Five points)
Dontari Poe has quickly removed the bust label and played out of his mind in the first four outings. He's commanding double-teams and pushing the pocket more frequently than ever before. By season's end, the Kansas City Chiefs may have the NFL's best nose tackle.
3. New Orleans Saints (Three points)
Taken in the third round of the 2013 draft, larger-than-life interior defensive lineman John Jenkins has been remarkable early in his professional career. At 6'3'' and 360 pounds, he's immovable on the inside and is deceptive athletic.
4. Denver Broncos (One point)
Terrance Knighton has been a quality pickup for the Denver Broncos, and former fifth-round pick Malik Jackson is coming into his own on the interior.
5. New England Patriots (Zero points)
With Vince Wilfork done for the year, the New England Patriots will move forward with Joe Vellano and Chris Jones at defensive tackle next to Tommy Kelly unless they add a free agent. The middle of the Patriots defensive front is now rather vulnerable without Wilfork.
Inside Linebackers and 4-3 Outside Linebackers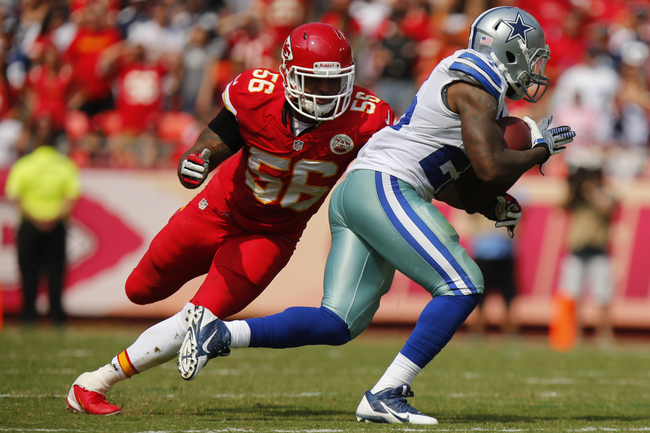 Kyle Rivas/Getty Images
1. Kansas City Chiefs (Seven points)
Derrick Johnson is a stud middle linebacker, and he's getting fantastic complementary play from fellow inside 'backer Akeem Jordan. Both have have benefited significantly from playing behind Dontari Poe.
2. Seattle Seahawks (Five points)
Bobby Wagner deservedly garnered some Defensive Rookie of the Year consideration last season, and he's picked up in 2013 where he left off. Malcolm Smith is currently Pro Football Focus' (subscription required) highest-rated 4-3 outside linebacker and K.J. Wright remains one of the better coverage linebackers in the NFC.
3. New England Patriots (Three points)
The New England Patriots have Brandon Spikes, Dont'a Hightower and Jerod Mayo in their linebacking corps, and Spikes has been the best of the three to start the year in limited action. Hightower is improving in coverage, and Mayo is still acclimating to his outside linebacker spot.
4. Denver Broncos (One point)
Wesley Woodyard is all over the field for the Denver Broncos, as expected. Danny Trevathan has been fine on the outside; he'd just like to have back the interception he had against the Baltimore Ravens that should have gone for six.
5. New Orleans Saints (Zero points)
Curtis Lofton and David Hawthorne have been good, but not great on the inside. Then again, the absence of Jonathan Vilma hurts this unit as a whole.
Cornerbacks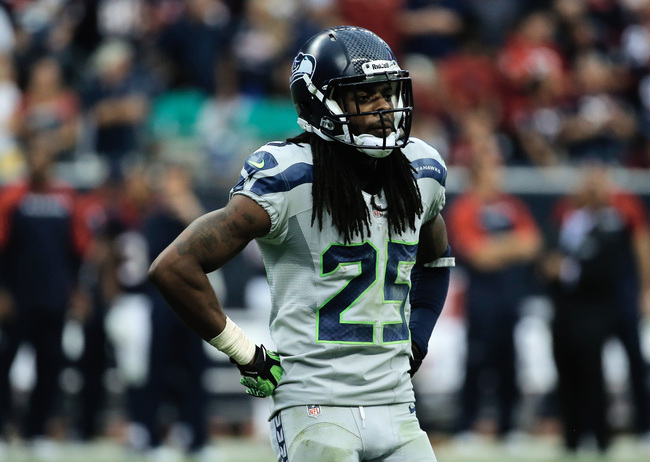 Scott Halleran/Getty Images
1. Seattle Seahawks (Seven points)
Duh. The Seattle Seahawks secondary is super stingy, led by—who else?—the eccentric and outspoken Richard Sherman. With Brandon Browner back, have fun throwing on the Seahawks defensive backfield this season.
2. New England Patriots (Five points)
Aqib Talib is fresh off a dominant performance against Julio Jones and has proven to be well worth the fourth-round pick the New England Patriots surrendered to get him from the Tampa Bay Buccaneers a season ago. Kyle Arrington and Alfonzo Dennard have left a little to be desired but haven't been major liabilities.
3. New Orleans Saints (Three points)
Jabari Greer and Keenan Lewis aren't premier cornerbacks, but they're smart and are always around the football. With the way the New Orleans Saints defensive line is playing, Greer and Lewis should be in for respectable seasons at the very least.
4. Denver Broncos (One point)
Chris Harris isn't a household name, but he's proven to be one of the league's more underrated defensive backs over the past year. Dominique Rodgers-Cromartie has revitalized his career in Denver after a dramatically underwhelming stint in Philadelphia with the Eagles.
5. Kansas City Chiefs (Zero points)
Sean Smith has been worth the money for the Kansas City Chiefs thus far, but somewhat surprisingly, Brandon Flowers and Dunta Robinson haven't played up to their typical level. When Flowers gets back on track, the Chiefs will boast one of the better secondaries in the AFC.
Safeties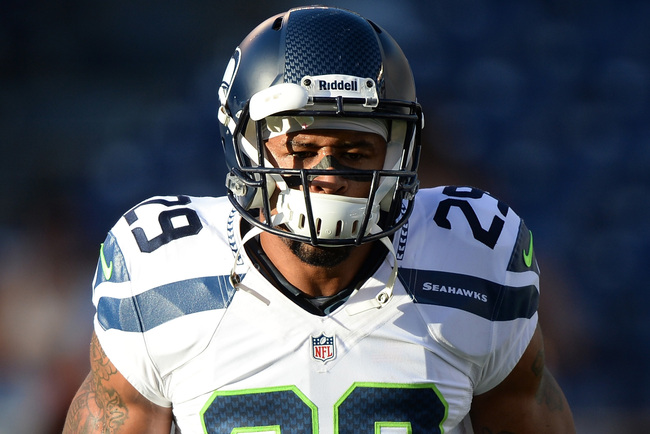 Harry How/Getty Images
1. Seattle Seahawks (Seven points)
Earl Thomas and Kam Chancellor epitomize what it means to be a complementary safety tandem in today's NFL. Thomas is the ball-hacking free safety while Chancellor thrives against the run as a hybrid strong safety turned linebacker.
2. Kansas City Chiefs (Five points)
Eric Berry is quickly emerging as one of the most versatile safeties in football. If Quintin Demps and Kendrick Lewis continue the consistent play they've shown early in the season, the Chiefs will have the best safety grouping in their conference.
3. New England Patriots (Three points)
Devin McCourty has found a home at safety on the back end of the New England Patriots secondary. Steve Gregory doesn't flash often, but he's rarely caught out of position. Together, McCourty and Gregory are a solid duo.
4. Denver Broncos (One point)
Rahim Moore and Duke Ihenacho have been mediocre through the first month of the season. We are still waiting for them to really be tested in a tight game, though.
5. New Orleans Saints (Zero points)
While Kenny Vaccaro has brought some much-needed life to the New Orleans Saints safety collection, the rookie has committed a few penalties. Roman Harper, Malcolm Jenkins and Rafael Bush have been average.
Special Teams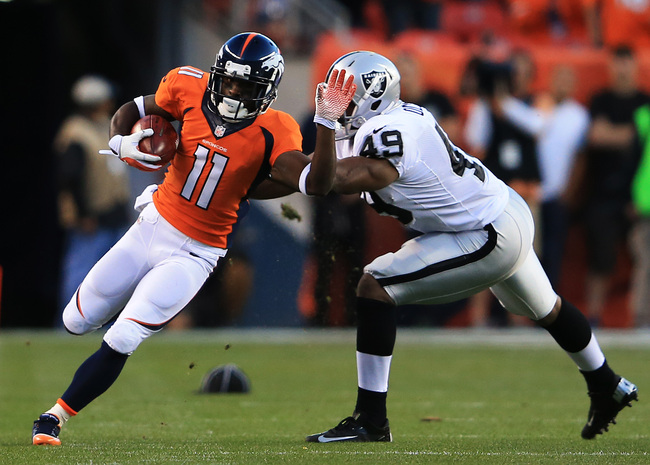 Doug Pensinger/Getty Images
1. Denver Broncos (Seven points)
Thanks to the electric Trindon Holliday, the Denver Broncos get the top spot in the special teams department. Matt Prater has yet to miss a field goal, though he hasn't had to kick many.
2. Seattle Seahawks (Five points)
Golden Tate has yet to bust a punt return for a touchdown, but he's averaged 12.3 yards per return. Steven Hauschka is 8-of-8 on field goals for the year, and Jon Ryan is averaging 43.5 net yards per punt.
3. Kansas City Chiefs (Three points)
Dexter McCluster had a dazzling punt return touchdown against the New York Giants in Week 4 that boosted his return average to 15.4. Kicker Ryan Succop is 6-of-8 on the season, and Dustin Colquitt has had 20 of his punts land inside the 20.
4. New England Patriots (One point)
Julian Edelman is just behind Tate with a 12.1-yard punt return average, and Steven Gostkowski is 11-of-12 on field goals. Ryan Allen, who took over after Zoltan Mesko was released, will carry a net-yard average of 40.1 into Week 5.
5. New Orleans Saints (Zero points)
With Darren Sproles, the New Orleans Saints will always have a threatening special teams unit. Thomas Morestead has dropped seven punts inside the 20, and Garrett Hartley has made eight of his 10 field goal attempts.
The Verdict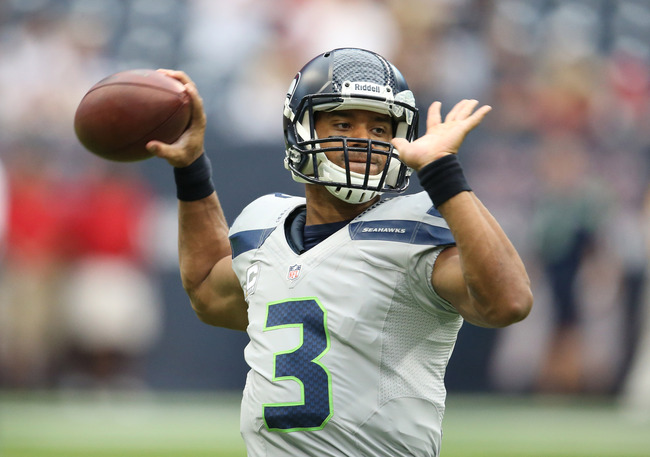 Matthew Emmons-USA TODAY Sports
Totals:
1. Seattle Seahawks: 46 points
2. Denver Broncos: 44 points
3. New Orleans Saints: 41 points
4. Kansas City Chiefs: 38 points
5. New England Patriots: 33 points
Based on this positional ranking and point system, the Seattle Seahawks are the best undefeated team in the NFL.
Agree?
Keep Reading