Fantasy Football Week 5: Carson Palmer and Players to Dump from All Rosters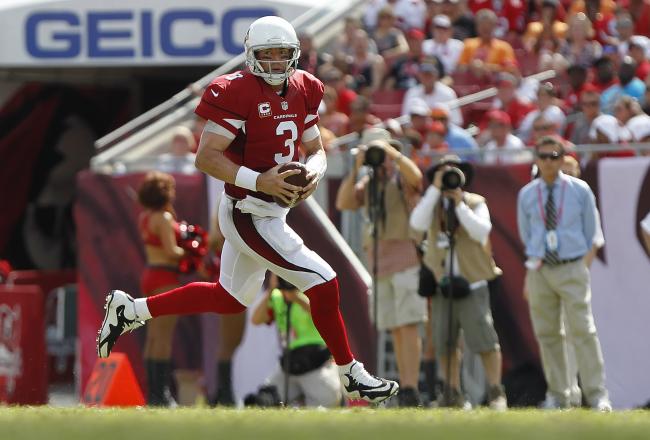 Kim Klement-USA TODAY Sports
Much of the battle in fantasy football for owners is of the add or drop variety, and owners who know when to cut loose their favorite players personally added via a draft in exchange for quality talent rise to the top of leagues.
Rather than run through players worth adding via waiver wire or trade, we will examine players worth dropping outright from rosters in an effort to make life easier on owners weighing the underrated task carefully.
Whether it's mediocre production, the emergence of another player or some other factor contributing to the ineffectiveness of the following guys, they should be dropped outright as soon as possible in order to strengthen the depth of a given roster.
Enjoy.
David Wilson, RB, New York Giants
This one will stir up some controversy, but it's simply time to move on from David Wilson.
Wilson has been the ultimate fake football bust this year and justifying his space on any roster is becoming more and more difficult.
Things got off to a rocky start for Wilson in Week 1 as he fumbled twice against the Dallas Cowboys. Since then Wilson has been in coach Tom Coughlin's dog house despite the team performing laughably bad and accumulating an 0-4 record.
Wilson has carried the ball just 38 times this year for 130 yards, meaning he's only on pace for 520 rushing yards. Even worse, Wilson comes off the field on third down and does not play in two-minute drill scenarios.
There's something to be said for Wilson's stunning potential, but he clearly is not the every-down threat owners thought he'd turn out to be. With New York struggling and Coughlin refusing to use Wilson, it's time to use his roster spot on someone with a higher ceiling.
Eddie Royal, WR, San Diego Chargers
Through the first three weeks of the season, San Diego's sixth-year receiver Eddie Royal was the flavor of the month as he caught five touchdown passes.
Now would be the time to abandon ship.
Which player is most worthy of the drop?
In the past two weeks Royal has fallen off the fantasy radar entirely, catching just five passes for 76 yards as quarterback Philip Rivers began to look elsewhere for his production through the air.
Part of the issue for Royal is the presence of Vincent Brown, who caught seven passes in Week 4. Rookie Keenan Allen is also coming on as an option as he caught five passes in Week 4.
It's often stressed, but Royal is the perfect example—fantasy production by way of touchdowns is a horrific thing to rely on in any league. Royal's time in the spotlight is over.
Carson Palmer, QB, Arizona Cardinals
There was plenty to like about Carson Palmer from a fake football perspective entering the season. After all, Palmer threw for over 4,000 yards in 2012 on a miserable Oakland Raiders squad before joining up with Larry Fitzgerald and Arizona this offseason.
So far the experiment in the desert has been a failure. Palmer is on pace for over 4,000 yards once more, but through one month of action he has tossed four touchdowns to six interceptions and is only completing 57 percent of his passes.
At the age of 33, Palmer needs time to get rid of the football and the offensive line simply won't allow it. Palmer has been under constant pressure and has been sacked 10 times already in four contests.
Quarterback is simply too deep for owners to keep Palmer at this point. Even high-ceiling rookies such as Buffalo's EJ Manuel offer more given the right matchup.
The fantasy stars appeared to align when Palmer chose Arizona this offseason, but he has no help from his line and clearly has little left in the tank. Right now is the perfect time to dump Palmer in exchange for an option with a higher ceiling.
Follow B/R's Chris Roling on Twitter for more news and analysis @Chris_Roling
This article is
What is the duplicate article?
Why is this article offensive?
Where is this article plagiarized from?
Why is this article poorly edited?