Can Everton and Liverpool Claim Premier League Upper Hand on Manchester Clubs?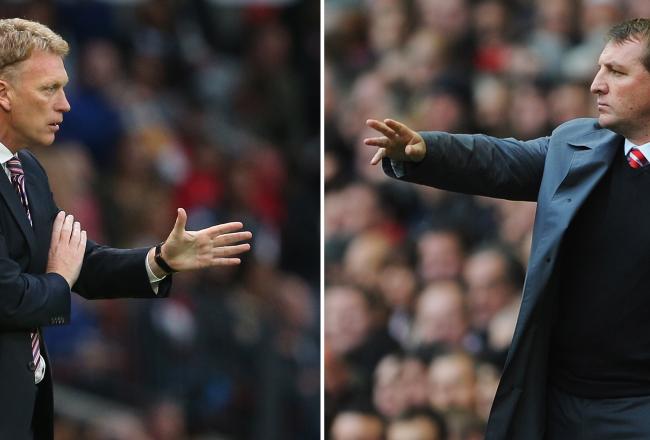 Getty Images/Getty Images
It's been all change at either end of the East Lancs over the last two seasons, with the four big clubs occupying Liverpool and Manchester all changing their manager in the past 15 months.
Brendan Rodgers is slightly ahead of his counterparts at Anfield, but Roberto Martinez at Everton, David Moyes at Manchester United and Manuel Pellegrini at Manchester City are all still in the first three months at their new respective clubs.
It's a season of rebuilding and strengthening for some, challenging for trophies for others, but with the early-season results from all four quarters of the North-West, is the Premier League witnessing the beginnings of the rebirth of Merseyside as the dominant football force ahead of Manchester?
Rodgers at Liverpool
Rodgers arrived from Swansea City in the summer of 2012 and wasted little time in attempting to make Liverpool a more free-flowing, game-controlling outfit. It worked, to an extent, although it took the best part of half a season for results to show that.
Three transfer windows down the line, Rodgers has brought in a dozen permanent signings and a handful of loans as he bids to make the Reds competitive at the top of the Premier League once more, following four years in a row finishing from 6th to 8th position.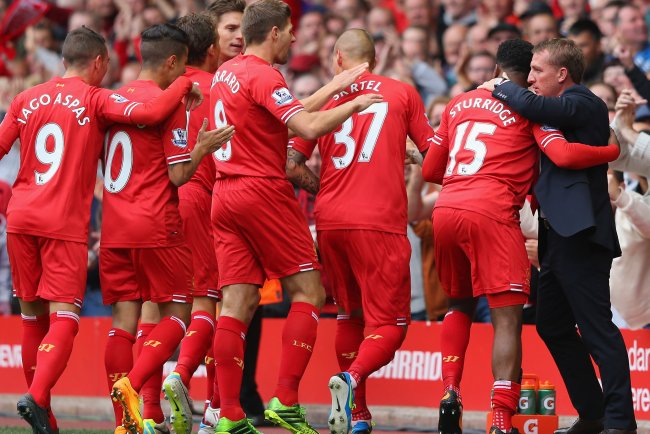 Alex Livesey/Getty Images
There have certainly been signs of improvement and progression from the Reds, but the questions which remain are over whether that improvement is coming quickly enough, and whether Rodgers has the capacity to take the Reds where they have not featured since late 2009: the Champions League.
The start of 2013-14 bodes well for the challenges which lie ahead, having already topped the fledgling league table.
They now sit in second place after six games.
If the Reds finish in the top four this year, Rodgers will have proven a lot of people wrong. Can he do it in that time frame though?
Martinez at Everton
Having only just started in his new job and with a clutch of signings made late in the transfer window, it's very early to be judging how well, or otherwise, Martinez will fare this season.
Everton look quicker and more creative in attack early on, and the Spaniard has shown previously he is perhaps more tactically flexible than Everton have been in the past, but again he is not without his detractors.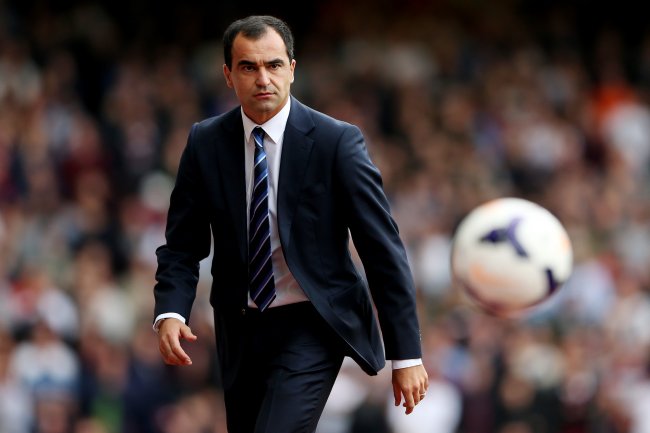 Scott Heavey/Getty Images
While plenty lauded his job done at Wigan Athletic, which ended with an FA Cup triumph, many others point to the fact he did in the end see them relegated.
A season of solidification, finishing in the top seven or so, should be seen as an excellent debut campaign—but after a great start which sees Everton as the only remaining unbeaten top-flight side, do they have loftier expectations already?
Moyes at United
Having won many admirers in the game for his decade-long stint at Everton, Moyes was chosen for the hardest job in football this summer: replacing Alex Ferguson at Manchester United.
A difficult start in terms of results will not have given Moyes the boost he would have wanted, especially with defeats to Liverpool and Man City coming in quick succession.
But successes in the Champions League and then against the Reds in the Capital One Cup are at least signs that more can be expected.
Fans won't worry too much just yet about the league position, but a lack of summer activity might well be causing a few more concerns.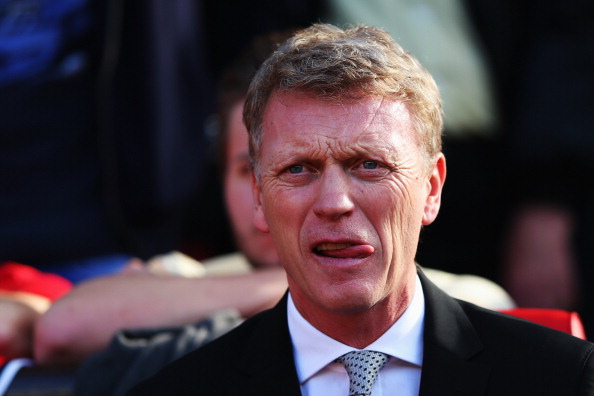 Alex Livesey/Getty Images
United, as the reigning Premier League champions, have expectations to uphold of nothing less than first place.
It's a huge task for Moyes to keep hold of silverware while subtly changing the team to suit his own plans, and it's unlikely he'll be held accountable if they fail to do so at the first attempt. But still, initial thoughts are that he needs quite a bit more time to get to grips with the job.
United trail City by three points, Everton by five and Liverpool by six. It's early yet, so no need to panic, but the Scottish manager knows much work lies ahead.
Can City be Stopped?
City almost don't mind who their manager is; they are going to spend money to improve the side where needed regardless, and they expect to win trophies as a result. There is no long-term plan to have the same man in charge, rather an expectancy to change hands every five or six years to maintain the fresh challenge.
Manuel Pellegrini has overseen several new arrivals this summer as City bid to improve on last season's second-place finish, while a better Champions League campaign is also a priority.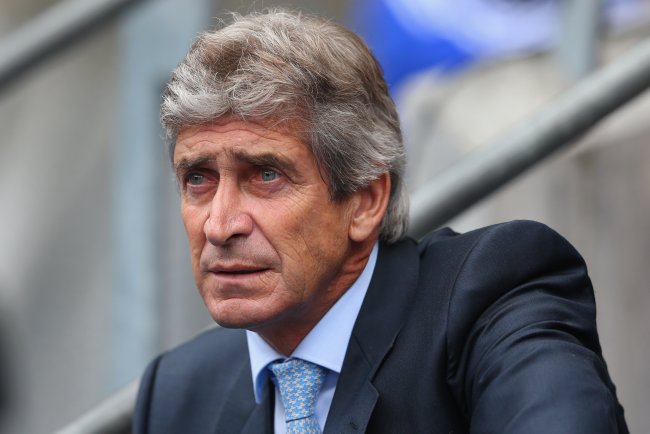 Alex Livesey/Getty Images
The manager may take a spell to get used to life in the Premier League, with defeats to Cardiff and Aston Villa already suffered, but the quality and quantity of players at his disposal almost guarantees a high finish in the league.
They have the strongest squad with depth and ability to challenge for the title—which doesn't necessarily mean they're going to win it of course—but are also trying to mould a new group of first-team starters together on the run, which brings its own problems.
Remembering the 80s
From 1976 until 1990, Liverpool—and, for a spell, Everton—were two of the best sides in the country, and indeed in the entire Continent.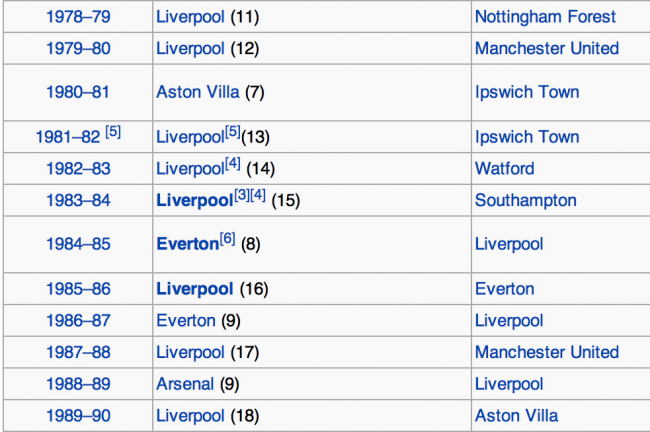 In those 15 seasons, the Reds were crowned champions of England on 10 occasions, with Everton winning another two titles. Arsenal, Aston Villa and Nottingham Forest were the only other clubs to win the old First Division, with the Merseyside clubs also finishing as runners up five times between them.
During that period, Manchester United finished second twice, and City achieved the same once. That was the sum total of Manchester's ability to challenge Merseyside for Premier League dominance, but it was to all change with the advent of the Premier League.
United's Dominance and Fergie's End
United, of course, won the very first Premier League title in 1993 and have so far claimed 13 titles.
City have dipped in and out of the top flight during that time, sinking as far down the chain as the third tier of English football before bouncing back up, but the purchase of the club by the current owners changed the game entirely.
Years of lavish spending have made City a genuine power in the European game now, even if their Champions League adventures so far haven't shown as much.
They won the FA Cup in 2011, their first trophy in decades, and followed it up with the Premier League itself a year later.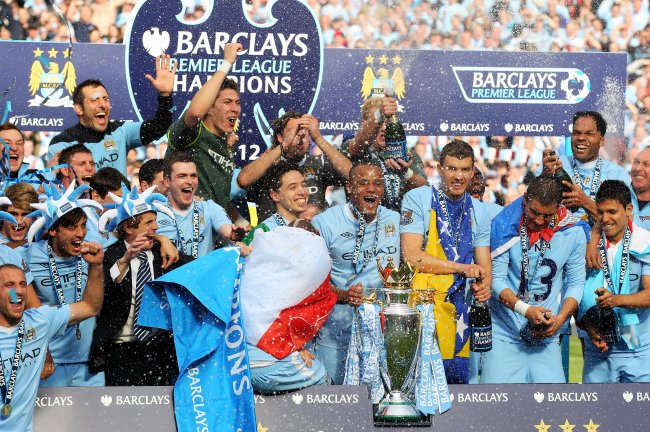 Alex Livesey/Getty Images
United's title last year, their 20th English league championship all told, merely saw the Manchester clubs swap places in positions one and two; Merseyside has very definitely taken a back seat in the past 20 years, with only Liverpool managing a pair of intermittent runner-up finishes.
Everton's highest placing in the Premier League era is fourth, achieved just once.
Merseyside's Approach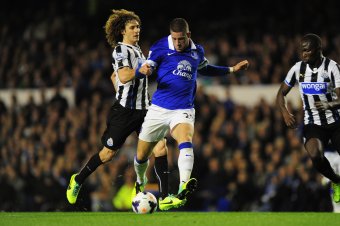 Stu Forster/Getty Images
To combat United and City, Liverpool and Everton have chosen strategies based on long-term planning, continued growth of the first team through funds provided largely by sales and from trying to recruit and nurture young talent.
The continuity provided to Everton by 10 years of David Moyes resulted in a rock-solid side where everybody knew their job, and were Premier League survival was guaranteed. So, however, proved to be an absence of trophies.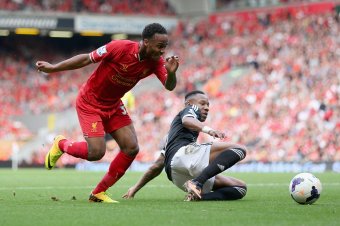 Clive Brunskill/Getty Images
Liverpool have worked through managers far quicker over the past five years than at any point in their history, but the work initially put in place by Rafael Benitez has borne plenty of home-grown fruit over the past couple of seasons.
Add in mangers who have tactical imagination and a positive outlook on the game, and it is there that both Merseyside clubs hope they will level the playing field in the absence of mega funds to spend in the transfer market.
Forget the Stadium Share
Increasing revenue off the field is an area Liverpool have been looking at almost ceaselessly since the current owners were in place, and they have made huge strides in that regard. Everton seem a little more incapable of matching that at present and are still lacking investment from outside sources.
A new stadium has been on the cards for both clubs for a number of years now, but with Liverpool set to redevelop Anfield if all goes according to the latest plans, then the oft-raised question of a shared, purpose-built, new stadium for both clubs of the city of Liverpool can finally be put to bed.
And rightly so.
2013-14
So to this season.
Struggles for Manchester United aside in the opening weeks, there would be few football fans who would be willing to bet that both Merseyside clubs could finish above either Manchester club, let alone both of them.
However, as many clubs have found before them, City's foreign boss getting his first taste of Premier League action might just take a little longer to settle in than anticipated.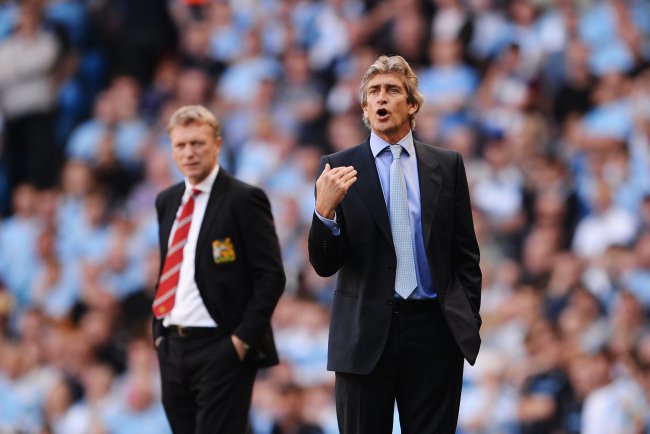 Michael Regan/Getty Images
It still isn't quite a remedy for the Reds and Blues led by Rodgers and Martinez to overtake those of Moyes and Pellegrini, but it does give hope for the chase and for the future.
The league, of course, is not merely between Liverpool and Manchester, with three London clubs in particular keen to have their say, but England's top flight has historically been dominated by either Liverpool or United for long periods of time.
And so it will be again...though not this season.
For 13-14, Everton will be beyond delighted with a top-six finish, while Liverpool will feel the same about the top four. Neither are clear cut or anything close to guarantees, but United and City would feel rightly distraught at finishing anything lower than third.
And Beyond...
So much depends on signings, it's impossible to look beyond the next few months with anything approaching insight.
Which duo will win more Premier League points combined in 2013-14?
Rodgers and Martinez build their football philosophies around having the ball the majority of the game, but neither have yet revealed their true hand in preferred base tactical shape or exactly what they can achieve with these two bigger sides.
While both of these managers are expected to build, improve and eventually fight for titles which haven't been seen for years, Moyes' predicament is rather more immediate and apparent: he has to keep hold of, or regain, titles which are already United's, or have been recently.
The pressure is perhaps similar in all four cases, with City's being largely based on the support of the board of directors and the flow of money from the owners.
As the Anzhi Makhachkala and Malaga cases have shown, the danger comes when interest is lost.
Who is the better manager?
Can Liverpool and Everton overhaul Manchester United and Manchester City?
It's almost inevitable that they will.
The real question is whether it happens in the next three years or so, with all the current bosses in place, or whether we're talking a decade or more into the future.
Moyes, Rodgers, Pellegrini, Martinez.
Each with their own ideas, their own pressures, their own beliefs and their own demands.
Merseyside clubs will certainly feel, in the main, that they are on the way up. Manchester doesn't have to go up, though, they're already there. The trick is in remaining in place.
If current form holds true for all four, the next few months will provide a hugely interesting sub-plot to an already exciting Premier League season.
This article is
What is the duplicate article?
Why is this article offensive?
Where is this article plagiarized from?
Why is this article poorly edited?