How the Minnesota Twins Can Win Under Manager Ron Gardenhire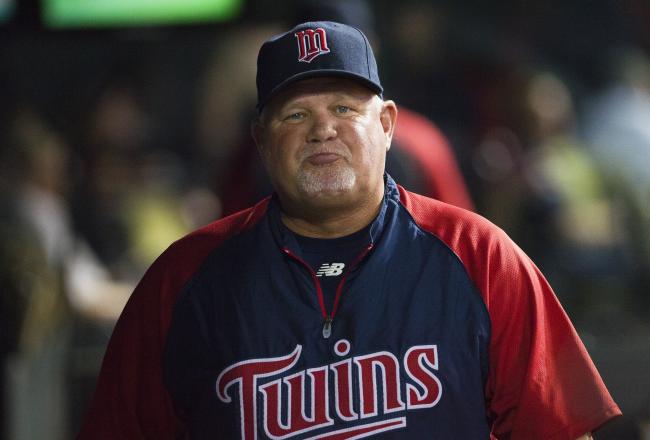 Gardenhire got a two-year extension on Monday, but management needs to do more than that to turn this team's fortune around.
Jason Miller/Getty Images
General manager Terry Ryan and the Minnesota Twins made the right move by giving manager Ron Gardenhire, a six-time division winner, a two-year contract extension. They need to do more than that to win, however, and they have to get things going next year in order for him to manage a winning team in 2015.
Gardenhire's entire coaching staff will return as well, causing some irate fans to call the Twins a "country club" organization, especially after three 90-loss seasons. While the name Minnesota Twins Baseball Club implies that it is, well, a club—in fact, it just comes out and says it—there is some legitimate concern to be had.
How will the team implement new ideas? Has Gardenhire, 55, lost touch with the younger players? Is this going to lead to complacency?
All are legitimate questions, but at the same time, young players need a familiar voice. And, Gardenhire has won with talent before, so why would they make a change with Byron Buxton and Miguel Sano on the way up and plenty of young talent already in the big leagues?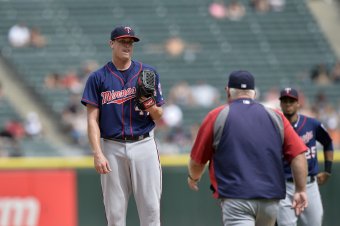 Brian Kersey/Getty Images
It will do Josmil Pinto, Aaron Hicks, Kyle Gibson and Co. no good to hear instructions from a different voice every year. They need somebody who is a proven winner, and Gardenhire, who ended the season two victories shy of 1,000 career wins, is exactly that.
In addition, the teams that sit at the bottom of the league every year tend to have a rotating cast of managers. While some may argue that a lack of job security keeps a coaching staff on its toes and allows a team to search for someone who can turn their club into a winner, it also can lead to confusion in terms of internal communication and cause a team to lose its identity.
The Twins are a homegrown team and always will be. They draft and develop talent, a sound strategy for a small-market team without any major televisions deal, and are loyal to the people who are a part of their organization almost to a fault. Hitting coach Tom Brunansky, first base coach Scott Ullger and bench/catching coach Terry Steinbach all played for the Twins at one point in their career. Gardenhire was a minor league manager and a third base coach before taking over as manager.
As I mentioned earlier, he has had success with the Twins before, and most of the team's issues the past three seasons have been a result of a lack of talent on the field rather than the decisions he has made with it.
"This season, I don't think it matters who was managing," says Joe Mauer, who has never played under another manager at the big-league level and signed a blockbuster deal right before all hell broke loose.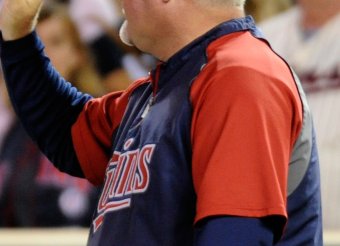 Hannah Foslien/Getty Images
"Gardy is a great manager, he's managed some great teams here, he's a great leader and I hope to see him back here. I've said all along, he's the reason why we've won here, he's a great manager and it's not his fault."
It's not just mainstays like Mauer who are saying that either. Brian Dozier, 26, has only spent two years in the big leagues and had a breakout season at second this year after struggling as a shortstop as a rookie. He was just as supportive of Gardenhire.
"I respect Gardy more than anybody in this clubhouse," he says. "He's been around for a long time and knows how things work as far as winning baseball games. I wouldn't want to play for anybody else."
Things won't turn around just because Gardenhire has been retained. Minnesota needs to improve starting pitchers.
"Three straight years of steady losing creates more urgency than two straight years," writes Twins Daily blogger Nick Nelson. "The fan base is growing more and more apathetic and season ticket sales are declining as the new-stadium grace period wears off."
They've got to land a marquee pitcher either in free agency or via trade and get guys like Trevor Plouffe, Chris Parmelee and Oswaldo Arcia hitting on a regular basis and to cut down on strikeouts in general.
The Twins Need to Spend on Pitching
There are some quality arms in the Twins farm system. Alex Meyer and Trevor May, acquired via trade last winter, are supposed to join the rotation in the near future, but neither of them got out of Double-A last year, and J.O. Berrios and Kohl Stewart are too young to make an impact next season.
In my book, that means that there are only a handful of viable candidates for a rotation spot next year. Kevin Correia is in for sure. Scott Diamond will probably join him, based off of his performance in 2012. Andrew Albers will be considered so long as he locates the ball, but he also pitches very slowly.
Samuel Deduno will be considered, but his mercurial pitching style, which consists of a wonky fastball that tails either left or right at whim, makes him difficult to rely upon as a regular starter—especially at the top of the rotation.
Vance Worley will get another shot because he's young (26) and the team traded Ben Revere for him. He finished the year with an ERA above 7.00, however, and did not join the team in September even though he was the Opening Day starter.
Gibson will also get a shot and should improve a year after Tommy John surgery.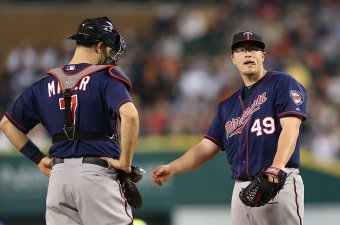 Leon Halip/Getty Images
Anthony Swarzak pitched well this season and should get a look, but he appears to be destined for the long relief. Liam Hendriks struck out eight batters in his last appearance, but it came in relief of Pedro Hernandez, and he too may be placed in what is already a solid bullpen.
Hernandez, Cole De Vries and P.J. Walters all appear to have played themselves out of a starting role in the major leagues, meaning that, as it stands, the rotation looks something like this: Correia, Diamond, Albers, Gibson and either Worley, Deduno, Swarzak or Hendriks.
Where's the ace in that mix?
Going International Is the Best Bet
The Twins have three options to acquire a top-of-the-line pitcher: trade, free agency or international signing.
If Minnesota wants to trade for an elite pitcher, they would have to package prospects not named Byron Buxton or Miguel Sano (think Eddie Rosario now that Dozier has taken over at second) for a pitcher.
This scenario should be a last resort. The Kansas City Royals got swindled in their trade for James Shields and are now on the outside of the playoff bubble looking in, while Wil Myers is playing for a better Tampa Bay Rays club.
Free agency may seem like a sweet deal, but gone are the days where a team can go out and buy top talent every year (just ask the New York Yankees!).
Teams are holding on to their best players for the most part. Three of the biggest signings in recent history have been Andrew McCutchen (Pittsburgh), Joey Votto (Cincinnati) and Justin Verlander (Detroit). Years ago, those small-market franchises would have likely opted to allow those players to sign with teams that have bigger television contracts, but the times have changed.
There is no reason to grossly overpay a pitcher just because he is the best player available. It makes more sense to go international, where successful teams like the Oakland A's (Yoenis Cespedes), Los Angeles Dodgers (Yasiel Puig) and Texas Rangers (Yu Darvish) have found supplemental talent for their ballclubs.
Two options for the Twins are Tomohiro Anraku and Masahiro Tanaka, who were recently profiled in ESPN The Magazine and Sports on Earth. Both players come with risk, of course. Anraku is notorious for throwing an absurd amount of pitching and, as the Twins learned with Tsuyoshi Nishioka, success in Japan doesn't always translate to Major League Baseball.
Still, it's worth a shot. It's hard to trade for talent, and as baseball has become more balanced, more teams are hanging on to their best prospects.
Taxpayers in Minnesota built the Twins a new ballpark. Now it's time for the team to reward them by getting high-end starting pitching.
Minnesota Has to Get the Bats Going
Hannah Foslien/Getty Images
Even with Morneau playing for the Pirates and Mauer on the DL with a concussion, the Twins had plenty of talent in their lineup in September. At the very least, a lot of these players had potential.
Brian Dozier and Josmil Pinto were the most productive players this season. One played a full year, however, and one was a late-season call-up.
Dozier, who was pilloried after his performance last season and dug himself a hole in May (.190/.227/.286), hit .244/.312/.414 with 18 home runs, 33 doubles and four triples in 147 games, establishing himself as a major leaguer this year.
Pinto, who was virtually unknown before he was called up in September, hit .342/.398/.963 with five doubles and four home runs but only played in 21 games. He has been compared to Chris Parmelee, a 2006 first-rounder who hit .355/.443/.592 with six doubles and four home runs in 21 games right out of Double-A two years ago but only hit .228/.309/.354 with eight home runs and 13 doubles this year.
Those numbers are almost exactly the same as Trevor Plouffe's as a 25-year-old. Drafted two years before Parmelee, Plouffe hit .238/.305/.392 with 18 doubles, one triple and eight home runs in 2011, the year Parmelee got called up, and then hit .235/.301/.455 with 19 doubles, a triple and 24 home runs the next year.
Plouffe regressed this season, however, making contact more often (.254/.309/.392) but hitting for less power (22 doubles, a triple and 14 home runs). He has been inconsistent but shown enough power to keep his bat in the lineup. Strangely, he hit for average against lefties (.300/.371/.455) but hit home runs against righties (12).
General manager Terry Ryan hesitated to draw a comparison between Pinto and Parmelee. "They are two different players," he says. "We weren't fooled on Parmelee, and we're not going to be fooled on Pinto."
Pinto could allow Mauer to move to first base, but his defense needs to catch up with his bat. Parmelee is actually better compared to Plouffe, making them both question marks heading into next season.
Given that the team used first-round picks on both players, they should continue to get at-bats and should be part of the future in Minnesota.
Hicks is another Southern Californian who was taken in the first round. Drafted in 2008, he tore through the minors and was called up directly from Double-A after Ben Revere and Denard Span were traded last winter. He played well in the field, but the Opening Day center fielder and leadoff man hit .192/.259/.338 with 11 doubles, three triples and eight home runs in 81 games before being sent down on August 1.
Torii Hunter struggled in his first year with the Twins but later became part of the team that won three division titles from 2002-04. Like Plouffe and Parmelee, Hicks needs to take a step forward next year as well.
Like Hicks, Oswaldo Arcia was a big-time prospect who the team called up early on who had mixed results. He showed he can hit the ball a long ways but also strikes out frequently and had so much trouble with off-speed stuff that he was sent down to the minors mid-season. He finished the year .251/.304/.430 with 17 doubles, two triples and 14 home runs but also struck out 117 times in 97 games.
The strikeout issue was prevalent this season. Minnesota batters were fanned 1,430 times this year, which is the third-most strikeouts a team has had all time. There were 66 games in which an opposing pitcher struck out 10 or more batters.
It was ugly.
This has to change if Minnesota is going to be successful, putting a lot of pressure on hitting coach Tom Brunansky, who was retained in the offseason. There is too much talent on the team, even sans Buxton and Sano, to be striking out this frequently.
These bats need to get going.
Finally, Bring Back Morneau and Pelfrey
Ronald Martinez/Getty Images
Minnesota had angry fans with torches and pitchforks lined up outside Target Field when they re-signed Gardenhire after three losing seasons. They wanted to burn the thing down: Out with Gardy, trade Plouffe and Parmelee while they have some value and release all the pitchers. They wanted the Twins to go out and sign any warm body with a hefty price tag.
If this were to happen, obviously it didn't, they would see a giant street sign next to the skyway between the A Lot and the park that says "Twins Way." It is not simply the name of the street below, but also the manner in which business is conducted in the Twins organization.
They are local, homegrown and loyal to their guys.
Hiring Gardenhire was the right move. He's won before and will do it again when he gets enough talent on the field. Guys like Plouffe, Parmelee and Hicks need to improve. The Twins may have whiffed on Nishioka, but Arcia and Pinto worked out just fine, and signing a big-time pitcher from overseas is a must at this point—no cold feet with international signings.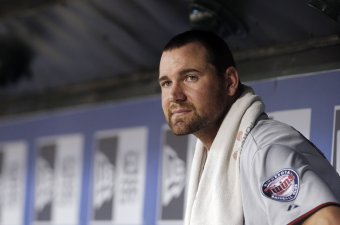 Brandon Wade/Getty Images
They need Mauer healthy, and he needs his trusty partner in Morneau. Not that Morneau left the Twins on a hot streak, but he's a much-needed veteran presence in the clubhouse. Additionally, as I wrote earlier, Pelfrey should have a nice comeback season a year removed from Tommy John and wants to remain in Minnesota.
The Twins should get a hometown discount on both players.
The Twins need to get back to respectability before Gardenhire's contract is up, and by signing Morneau, Pelfrey and a superstar pitcher, they are showing that they are confident they can do that. My guess is that Gardenhire wants to do what Tom Kelly did after a miserable stretch from 1993-2000: hand off a winning team to his predecessor.
And this time, in a much nicer ballpark.
All quotes were obtained first-hand.
All advanced stats per baseball-reference.com.
Tom Schreier covers Minnesota sports for Bleacher Report and is a contributor to Yahoo! Sports.
This article is
What is the duplicate article?
Why is this article offensive?
Where is this article plagiarized from?
Why is this article poorly edited?

Minnesota Twins: Like this team?