The New Orleans Saints used a methodical offense and timely defense to dismantle the Miami Dolphins in a battle of unbeatens on Monday night, coasting to an impressive 38-17 rout at the Mercedes-Benz Superdome in New Orleans, LA.
The Saints hand the Dolphins their first loss of the season and move to 4-0! Sproles had 2 TDs and 114 yds receiving pic.twitter.com/Hio5MkMzJL

— Bleacher Report (@BleacherReport) October 1, 2013
Offensively, it was simply another rendition of what we've come to expect from the Saints on a weekly basis: An unstoppable aerial attack led by Drew Brees.
The veteran quarterback completed 30-of-39 throws for 413 yards, four touchdowns and zero interceptions. As ESPN Stats and Info pointed out, he was able to tie a record set by, well, him:
Drew Brees: 9th straight game throwing for at least 300 yards, tying the longest streak in NFL history (previously done by Brees 2011-2012)

— ESPN Stats & Info (@ESPNStatsInfo) October 1, 2013
Although Brees spread the ball out to eight different receivers, his favorite target on the night was undoubtedly Darren Sproles.
With Mark Ingram inactive, the explosive pass-catching specialist received a majority of the touches out of the backfield. He hauled in Brees' first pass of the game and took it for 48 yards, racking up seven catches, 114 yards and two total scores on the night.
As ESPN's Monday Night Football Twitter feed noted, he was doing most of his damage after the catch, running away from the Dolphins over-matched linebackers all night:
Of Sproles' 114 receiving yards, 95 of them have come after the catch. (Via @ESPNStatsInfo)

— ESPN Monday Night (@ESPNMondayNight) October 1, 2013
But Brees knows the value of sharing. He also found rookie Kenny Stills four times for 38 yards, Marques Colston seven times for 96 yards and Jimmy Graham four times for 100 yards.
Two of Graham's receptions went for touchdowns—and on one of them he was able to show off his post moves:
On the other side of the ball, the Dolphins were able to move the ball, but inconsistently, racking up 331 total yards.
Ryan Tannehill completed 22-of-35 throws for 249 yards and Lamar Miller tallied 62 yards and a touchdown on just 11 carries.
However, Tannehill had two first-half turnovers that the Saints turned into 14 points, and that forced Miami to play from behind and become one-dimensional. ESPN's Damien Woody summed up what that meant:
This is what happens when a team makes you one-dimensional......Hunting season!

— Damien Woody (@damienwoody) October 1, 2013
The Saints took down the second-year quarterback four times in the second half and outscored the Dolphins 17-7 over the final two quarters, turning a close first-half into a sure-fire blowout.
How far will the Saints go this year?
With Sean Payton back at the helm, the Saints are already over half-way to their 2012 win total (seven). As long as Rob Ryan's aggressive defensive scheme can continue to force turnovers like it did on Monday, Brees and his bevy of offensive weapons will have no trouble taking this team into the postseason.
On the other side of things, the 3-1 Dolphins are still clearly a team on the rise, but they need to start protecting Tannehill better and limiting mistakes—especially on the road against a good team.
Player Grades
Drew Brees, QB, Saints: A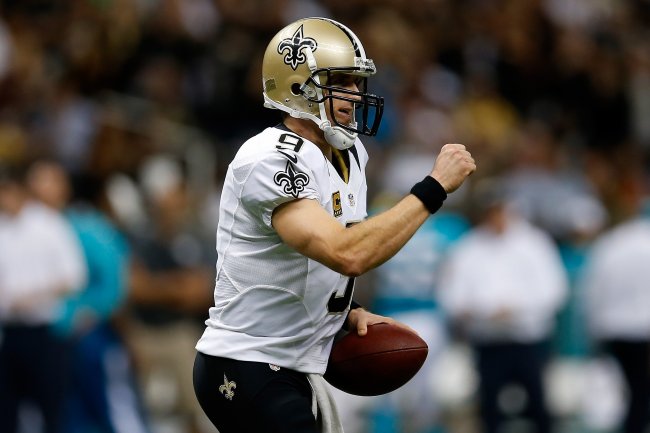 Chris Graythen/Getty Images
Surgical.
That's the only way to describe Brees' effort from Monday night. His yardage total was helped a little bit by Sproles' YAC numbers, but overall, he made countless beautiful throws, spread the ball around and had the Dolphins on their heels all night.
Oh, and he was able to pick apart the defense despite the Saints tallying just 68 rushing yards on 24 carries.
Ryan Tannehill, QB, Dolphins: C+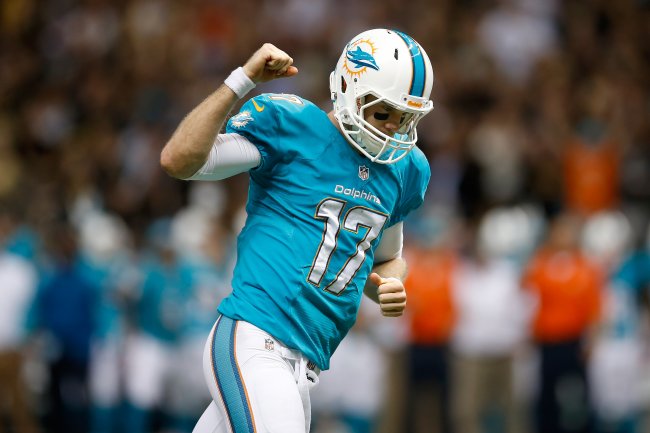 Chris Graythen/Getty Images
The knee-jerk reaction might be to blame Tannehill because of his four turnovers (three interceptions, one fumble), although two of them came late with the game out of reach.
While he needs to avoid those mistakes (the fumble was especially careless), the second-year quarterback played a better game than it appears on the surface.
He completed 62.8 percent of his throws, averaged 7.1 yards per attempt and could have put up even better numbers if not for a couple of drops from Mike Wallace. He also made numerous plays with his legs, tallying 48 yards on four carries.
While it certainly wasn't perfect, it wasn't a bad performance for a guy who was consistently pressured and has been sacked more than anyone else in the NFL this season.
Darren Sproles, RB, Saints: A-
Tonight's #GrudenGrinder is Darren Sproles for his superior speed and yards after contact! --> pic.twitter.com/RYqhnS6xNN

— ESPN Monday Night (@ESPNMondayNight) October 1, 2013
Sproles managed to surpass 100 yards and find the end zone twice. And that was just in the first half.
The Saints staff deserves credit for finding ways to gets Sproles into mismatches, but that's why he's so valuable. The Dolphins didn't have an answer for his speed, agility and versatility.
CBS Sports' Pete Prisco put it simply:
Darren Sproles is the right kind of back for the modern game

— Pete Prisco (@PriscoCBS) October 1, 2013
We'll knock Sproles down to an A- for his late fumble (which was meaningless), but it was his first in a Saints uniform, so it's certainly not something to worry about.
Dolphins Offensive Line: C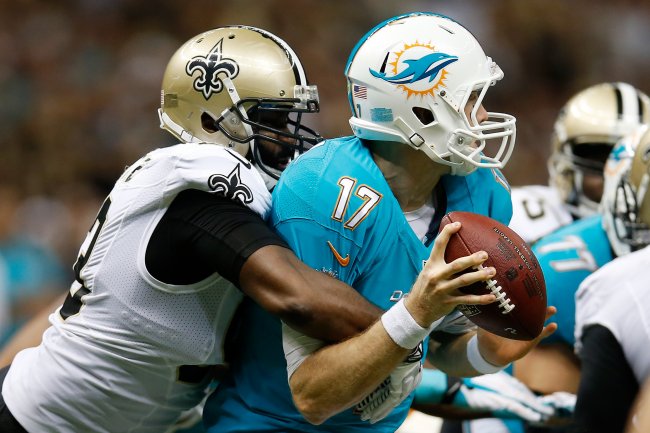 Chris Graythen/Getty Images
In the run game, the Dolphins offensive line was effective. They opened up big running lanes for Lamar Miller, who looked terrific and ran extremely hard. If the game didn't get out of hand, the Dolphins would have carved up a lot of yardage on the ground.
However, the O-line struggled in short-yardage situations and in pass protection, allowing the Saints to tally four sacks and 10 QB hits on 39 drop backs.
What's Next

The undefeated Saints face a difficult road stretch, as they travel to play the Chicago Bears and New England Patriots in the next two weeks.
The 3-1 Dolphins, meanwhile, head back home for nearly a month, as they host the Baltimore Ravens and Buffalo Bills with a bye week in between.