David Price got over his Texas demons and Evan Longoria was a triple short of the cycle, as the Tampa Bay Rays became the 10th and final member of the 2013 MLB postseason on Monday night, defeating the Rangers 5-2 in Arlington, Tex.
Price, battling the capacity Rangers Ballpark crowd as much as the Texas hitters, threw all nine innings in an excellent outing. He gave up only two runs over seven hits, striking out four batters and allowing Tampa Bay to forgo using its shaky middle relievers.
He wanted to be on the mound tonight...and @DAVIDprice14 never left the mound tonight. Complete game victory for DP: pic.twitter.com/bQzOEjmC93

— Tampa Bay Rays (@RaysBaseball) October 1, 2013
Multiple times, its seemed like Price would be coming out of the game only for manager Joe Maddon to show faith in his ace.
The eighth inning was a particular surprise. A natural fit to face left-handed Leonys Martin, Price set him down as Joel Peralta readied in the bullpen. With Peralta warmed up and seemingly starting his jog to the mound, Maddon and pitching coach Jim Hickey had a long conversation at the top of the dugout.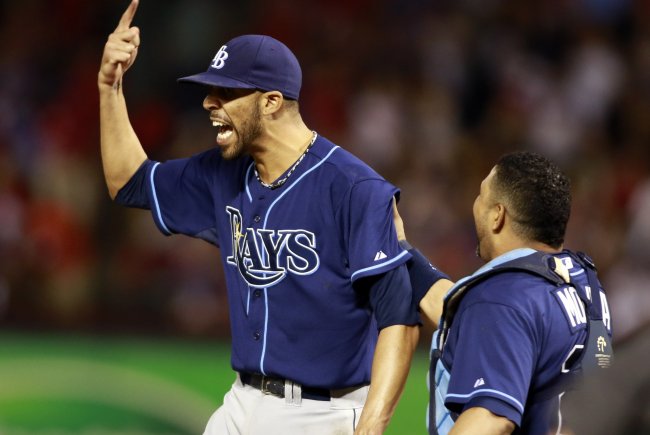 Tim Heitman-USA TODAY Sports
Price stayed in the game.
He allowed a double down the line to Ian Kinsler, but worked himself out of a jam by making a beautiful glove flip on an Elvis Andrus bunt and forcing a weak ground out from Alex Rios. He then shut down the heart of Texas' order 1-2-3 in the ninth to start the celebration.
The win was a long time coming for Price. In eight career starts against Texas prior to Monday night, the Rays ace had a 1-4 record with a 5.98 ERA. The 2012 Cy Young Award winner has an uncertain future with the Rays following this season, but, it seemed Price had no interest in finding out what was coming next.
"That's what I'm talking about," yells David Price. And he's absolutely right. Nine tremendous innings from one of the game's best starters.

— Jeff Passan (@JeffPassan) October 1, 2013
It was only right Price's excellent performance was matched by Longoria, Tampa Bay's other star player. The 27-year-old third baseman went 3-for-4 on Monday night, driving in two runs and adding a pair of runs scored to help provide Price with the majority of his run support.
Longoria hit a single in the first to move over two runners, setting up the Rays' first run, then hit a two-run homer in the third and followed that up with a double in the sixth to nearly hit for the cycle. He hit the home run off of Martin Perez, the 22-year-old lefty tasked with the start in his team's biggest game of the season.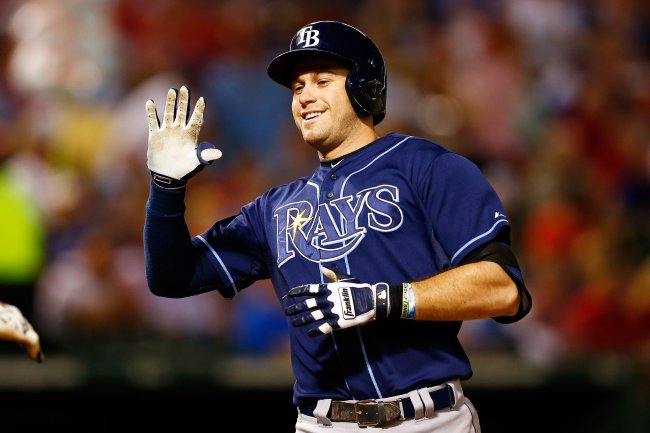 Tom Pennington/Getty Images
Perez, despite not having his best stuff, stayed solid and got a loud ovation after being pulled from the game in the sixth inning. He left after allowing three earned runs over four hits and two walks in 5.1 innings of work. The loss drops his record to 10-6 on the season, his first full MLB campaign.
Delmon Young drove in the first run charged to Perez, which Longoria help set up, with a sacrifice fly in the top of the first inning. Young was also involved in a controversial play during the game, when umpires missed a trapped catch from Martin that would have scored a run for the Rays.
In the end, though, the missed call didn't matter. The Rays are moving on, knocking out a Texas team that had won seven straight games coming into Monday night.
Ronald Martinez/Getty Images
For the Rangers, they will likely always look back at the beginning of September and wonder what could have been. Holding a one-game lead over the Oakland Athletics in the AL West and a 6.5-game cushion in the Wild Card race on Sept. 1, Texas looked like a lock for the postseason. Then it lost 12 of its first 14 games to begin the month, dropping out of the division race and needing that winning streak to finish out the 162-game slate to come back.
That 163rd contest proved to be the final nail in the coffin.
Although exuberant in their celebration, the Rays' happiness will be short-lived. They will hop on a flight to Cleveland later on Tuesday in preparation for their one-game Wild Card playoff against the Indians on Wednesday night. Alex Cobb will get the start. Danny Salazar will start for the Indians.
Player Grades
Tampa Bay Rays

| | |
| --- | --- |
| Hitters | Grade |
| D Jennings CF | B |
| Sam Fuld (Sub) | A- |
| W Myers RF | B- |
| Kevin Kiermaier (Sub) | C |
| B Zobrist 2B | B |
| E Longoria 3B | A |
| D Young DH | B |
| S Rodriguez LF | D |
| D DeJesus (Sub) | B |
| J Loney 1B | C+ |
| Y Escobar SS | B |
| J Molina C | C+ |
| Pitchers | Grade |
| David Price | A |
Texas Rangers

| | |
| --- | --- |
| Hitters | Grade |
| I Kinsler 2B | B+ |
| E Andrus SS | B |
| A Rios RF | B |
| A Beltre 3B | B- |
| A Pierzynski C | D |
| N Cruz DH | D- |
| M Moreland 1B | C+ |
| C Gentry LF | C+ |
| L Martin CF | B- |
| Pitchers | Grade |
| Martin Perez SP | C+ |
| Alexi Ogando RP | D- |
| Jason Frasor RP | B- |
| Joakim Soria RP | B |
| Neal Cotts RP | B |
| Tanner Scheppers RP | C |
Player of the Game: Evan Longoria (3B, Tampa Bay Rays)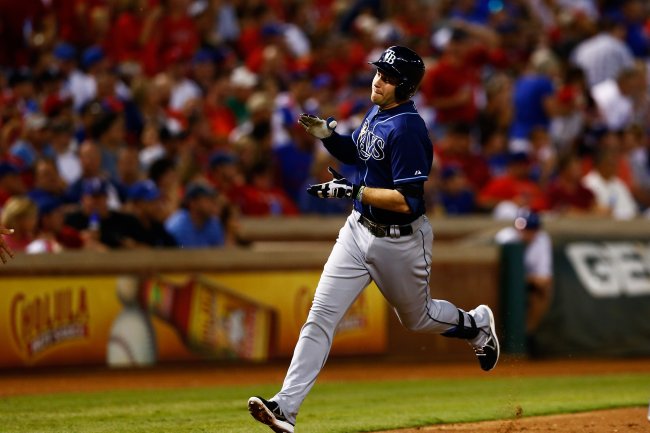 Tom Pennington/Getty Images
Longoria has long been one of the players more beloved by the statistical community than common fans. He's hit 30 home runs three times, gone over 100 RBI just twice and has a career average of .274. Those are solid numbers for a career, just nothing special for a culture that grew up on the Sammy Sosas and Barry Bondses of the world.
Meanwhile, Longoria is a yearly fixture on the top-10 WAR lists. He's a brilliant third baseman, a solid enough base runner and a good hitter, yet he flies a bit under the radar due to the beloved counting stats.
That is, until there's a big moment for his team. It was Longoria who famously belted a walk-off home run (and two home runs total) to take the Rays to the 2011 playoffs in a win over the New York Yankees. And it was Longoria again Monday night, coming a triple away from the cycle and belting a two-run home run in the third inning to open up a 3-0 lead that Texas could never recover from.
Price was the warrior, going all nine innings when his team needed it the most. Longoria, like he is many nights, was the Rays' best player. If you want to give them co-POTG honors, it's fair. But I'll take Longoria here.
Follow Tyler Conway on Twitter: