Josh Freeman Responds to Report of His Status in NFL's Substance-Abuse Program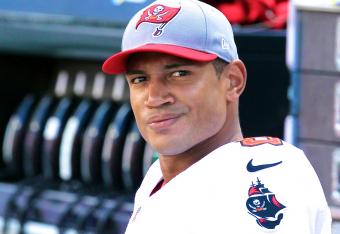 Just hours after it was reported Josh Freeman was in the NFL's drug program, the Tampa Bay Buccaneers quarterback did his best to clear things up.
For the uninitiated, ESPN's Chris Mortensen reported Monday afternoon that Freeman was a "stage one participant" in the program. That didn't mean he was in danger of a suspension, but that he was granted permission for a prescription drug and would have to undergo random testing as a result.
Freeman obviously took offense to that information being made public, as he released an official statement shortly after Mortensen's report to set the record straight.
The NFLPA is now investigating the incident.
UPDATE: Wednesday, Oct. 2
Pro Football Talk's Curtis Crabtree supplies Donald Penn's perspective on Freeman's situation:
"It's just real tough. I feel bad for Josh being put in this situation," Penn said. "You know, the stuff that came out yesterday (regarding Freeman's status in the league's substance-abuse program) and stuff like that, it's like they're really trying to bring him down and Josh is a great guy. Josh is a very humble spirit. He's a very good guy. He's a very good person and he really cares about him teammates and cares about his team."

Penn said Freeman has handled the issues like a pro and "hasn't said one negative thing" about the situation to his teammates.

"I really do feel bad for Josh with all this stuff that's going on," Penn said. "You can't put the blame on Josh. There's 11 men on the field when we play. It's not just the quarterback."
UPDATE: Tuesday, Oct. 1
From the Associated Press (via Fox Sports):
The NFL Players Association wants to determine if the Tampa Bay Buccaneers leaked information about quarterback Josh Freeman being in the NFL's substance abuse program.

NFLPA executive director DeMaurice Smith said Tuesday, ''We are sufficiently concerned about what we've heard to begin an investigation.''
Original Text
Here's what he had to say, via Pro Football Talk's Mike Florio:
Let me be very clear. I have NEVER tested positive for any illegal drugs or related substances. Further, I have agreed to take, and have PASSED 46 NFL-regulated drug tests over the last year and a half.

Since the confidentiality of my medical status has been publicly violated, I am choosing to address this matter so that grossly erroneous assumptions about me do not persist. Like millions of Americans, I have ADHD and I have been prescribed and permitted to take medication to treat this condition for the entirety of my NFL career. Well over a year ago, I took a different medication for the same condition (Ritalin rather than Adderall), and to assure everyone that the error was a one-time mistake, I agreed to be voluntarily tested in the "NFL Program". Since that time, I have taken and passed all 46 drug tests I've been given, which test for every drug and banned substance imaginable. I agreed to allow such testing to be done at my workplace (team facility) because I spend all of my time there and I have nothing whatsoever to hide or be embarrassed about.

Unfortunately, it appears that some people who may have noticed the testing at my workplace have made hurtful and incorrect assumptions and chosen to disseminate inaccurate and very disturbing information. It is a shame that when times have gotten tough, people have chosen to attack the character of others, rather than supporting each other. I remain dedicated and focused to being the best quarterback I can be and to help a team win a championship.
Those criticizing Freeman after Mortensen's report likely just glanced at it, saw "drug program" and jumped to conclusions. But the fact Freeman "voluntarily" entered the program and has passed an absurd 46 random tests should clear his name, as it appears the polarizing quarterback has nothing to hide and has done nothing wrong.
Still, as NFL.com's Jason La Canfora pointed out, the situation between Freeman and the Bucs organization is irreparable at this juncture:
This is beyond personal now between the Bucs and Freeman. They need to terminate this relationship ASAP

— Jason La Canfora (@JasonLaCanfora) October 1, 2013
The confidentiality of Freeman's medical status was violated, and it wouldn't be shocking if he and the NFL Players Association take action as this situation gets even uglier.
NFL.com's Judy Battista summed it up:
The desire to bury Josh Freeman is greater than the desire to protect whatever small trade value he has? This is really messed up.

— Judy Battista (@judybattista) October 1, 2013
Of course, Jeff Darlington of NFL.com pointed out the possibility that it wasn't Tampa Bay who leaked his medical information:
Why are so many people concluding that the Bucs are leaking the Freeman info? Why would hurting his reputation help them in any way at all?

— Jeff Darlington (@JeffDarlington) October 1, 2013
After a nightmare start to the 2013 season (45.7 completion percentage, two touchdowns, three interceptions, three losses), head coach Greg Schiano benched Freeman in favor of rookie quarterback Mike Glennon.
According to NFL insider Jay Glazer, Freeman already sought a trade before this entire debacle. Now, that desire has only multiplied.
Freeman doesn't have much (if any) trade value, but it's evident that severing ties is really the only option at this point.
This article is
What is the duplicate article?
Why is this article offensive?
Where is this article plagiarized from?
Why is this article poorly edited?