Can Chicago Bulls Keep Luol Deng as Part of Long-Term Future?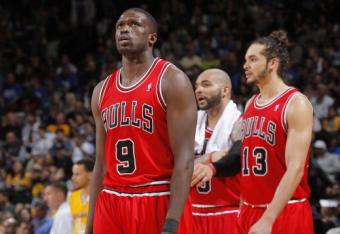 Rocky Widner/Getty Images
Luol Deng could very well be playing his last season as a member of the Chicago Bulls.
To be clear, nothing has been confirmed by the team's front office or Deng's representation; however, the fact that the two-time All-Star has made it known that he will test the free agent market next summer makes his exit a very possible outcome.
This is not a forgone conclusion; the Bulls still have an opportunity to come up with an offer attractive enough to keep their longest tenured member.
Depending on their priorities for the long-term future, though, it could be in the Bulls' best interest to either trade Deng while he still has value or let him walk to create cap space.
As unthinkable as some outcomes may be, there is good reason for the front office to consider every possibility as the one that could be best for team.
So, should Chicago let Deng go? Should they make an earnest effort to keep him?
Let's look at the arguments for both.
Retaining Luol Deng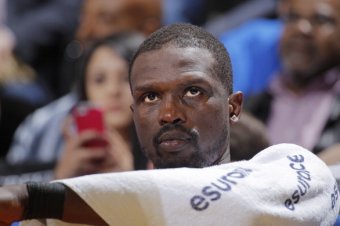 Rocky Widner/Getty Images
The biggest reason for keeping Deng, outside of his versatile skill set, is continuity.
Along with him, the current Bulls core of Derrick Rose, Joakim Noah and Carlos Boozer have produced two No. 1 playoff seeds and an appearance in the Eastern Conference Finals.
Allowing this core group of players to stay intact helps insure that the team's success does not wane.
That would be easier said than done.
Making Deng an offer while keeping all of the aforementioned teammates leaves Chicago strapped for cash.
With his salary coming off of the books, the Bulls still have a guaranteed $60 million on the payroll next year.
Unless Deng is willing to sign for considerably less than what he is currently making, that number could easily reach or exceed $70 million.
To give them more fiscal flexibility, someone would have to be amnestied, and playing the pure numbers game, Boozer's salary would be the most beneficial to cut.
The Bulls would have to use newly created cap space to replenish the talent lost by letting the power forward go.
With this scenario, the team is able to keep a very versatile player who gives them their best defensive option for the league's elite small forwards.
The team retains a great second/third scoring option and a wonderful mentor for younger players like Jimmy Butler and Tony Snell.
Keeping Deng in Chicago is beneficial for both the immediate and long-term future of the franchise.
Letting Luol Deng Go
There are two ways Deng's exit from Chicago can be facilitated: via trade or inaction once his contract expires
Both scenarios have their benefits.
By trading Deng, the most obvious benefit is that the team gets talent in exchange for letting talent go.
A player swap also allows the Bulls to get creative if they are looking to upgrade.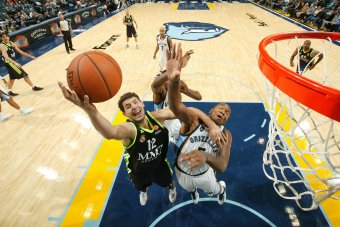 Joe Murphy/Getty Images
Chicago still holds two very alluring trade package pieces in the Charlotte Bobcats protected first-round pick and the draft rights to Spanish league standout Nikola Mirotic.
The Bulls could use any combination of those assets to bring in a player or players than can continue to contribute to the success of this ball club.
Actually, it would be very likely that the team would have to offer more in a trade for Deng.
He may be a talented player, but he's hardly the caliber of player for whom a team would risk a one-year rental.
By letting Deng walk, the Bulls get immediate cap relief to join the free agency fray that could include the likes of LeBron James (again), Danny Granger, Rudy Gay and Carmelo Anthony.
Chicago has pursued big-name talent in the past but come up short.
Management could try again and hope they get lucky; however, they should certainly have an alternate plan in case they are spurned again.
How To Proceed
It is in Chicago's best interest to let Deng walk because it is quite possible that the 2014 summer market will attach a value to him that the team cannot afford.
Aggrey Sam of CSNChicago.com made a very compelling argument about how the possibility of most or all of the marquee small forwards not changing teams could make Deng highly coveted.
How should the Chicago Bulls handle Luol Deng's pending free agency?
In a situation similar to the Omer Asik fiasco, the Bulls could find themselves in a position where they are not willing to cough up the kind of cash it would take to prevent their guy from leaving.
Also, there are younger players on the roster that will need financial attention.
Jimmy Butler and Marquis Teague both have team options for 2014-15 that the team is sure to pick up.
Following their usual modus operandi, management may also attempt to extend them before their deals expire.
Re-signing Deng and extending Butler and Teague would make an already tight money situation even tighter.
Seeking a trade should not be ignored, but it should only be done if the deal is absolutely beneficial to the team's success on the financial and talent sides.
A trade package that would have to include Mirotic and/or the protected pick may be mortgaging too much of the future if the right player or players are not being offered.
The most beneficial scenario would be to let Deng go, amnesty Boozer and use the ample cap room that is left to retool with younger talent that can keep the Bulls' prosperity on track for many years to come.
Gar Forman and John Paxson will have the money to both negotiate a buyout with Real Madrid for their highly touted European prospect and pursue free agent talent stateside.
Forman has already said that 2014 would be the earliest the team could genuinely pursue Mirotic; well, there would not be a better time to make good on that claim.
Deng would be very missed, but his repertoire would eventually be replaced by Butler's.
He'll also get one last big payday, and deservedly so.
The offensive production of Boozer could actually be forgotten once fans see Mirotic hit from around the perimeter, handle the ball and step back to shoot the three.
Letting Deng go is the best scenario for producing the most winners and minimizing the losers.
So fans better enjoy the ride and hope it goes the distance.
There could be a big shake up in Second City once it is all over.
This article is
What is the duplicate article?
Why is this article offensive?
Where is this article plagiarized from?
Why is this article poorly edited?

Chicago Bulls: Like this team?