When the Dallas Mavericks take the floor for the first time this year you might think you're watching the wrong team.
The front office added to the roster six notable players, all of whom make a legitimate impact on the team. Not many other teams made that kind of noise during the offseason, and that's what helps makes following the Mavs during training camp so exciting.
Dirk Nowitzki finally has some new life and energy in what was an aging lineup, and that's exciting not only for him but also the Mavs' entire franchise.
In case you missed it, here's a quick breakdown of the players the Mavs acquired this offseason—Jose Calderon (PG), Monta Ellis (SG), Devin Harris (PG), Wayne Ellington (SG), DeJaun Blair (C) and Samuel Dalembert (C).
The Mavs honestly picked up an entire new team and watching them develop and build chemistry throughout the preseason and training camp is the biggest storyline to keep an eye on.
By the look of the media-day photos featuring the Mavs new talent it looks like gelling together isn't going to be difficult for them to do off the court. Let's just hope it translates to success on the hardwood.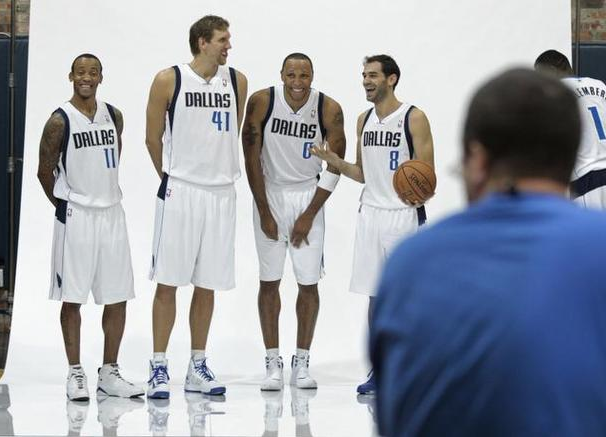 Monta Ellis is, well, Monta Ellis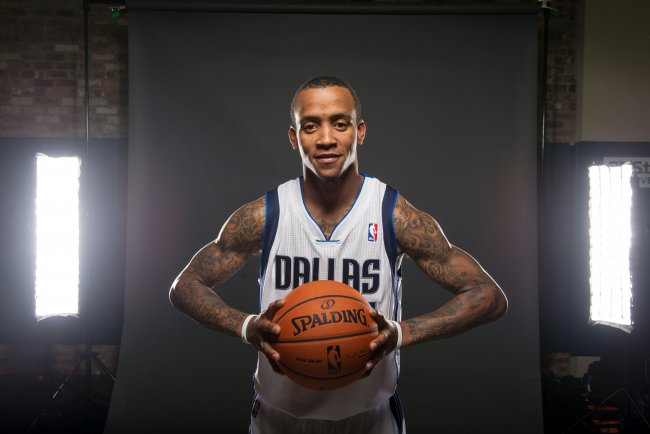 Jerome Miron-USA TODAY Sports
Signing Monta Ellis was without a doubt the biggest acquisition for the Mavs this offseason.
According to Dirk Nowitzki he's the most explosive scorer he's ever played with.
Dirk: "I think I've never played with a guy as explosive as Monta."

— Earl K. Sneed (@EarlKSneed) September 30, 2013
Right now that probably seems like a great thing for Dirk, that is assuming Ellis goes to a dictionary and finally learns what efficiency is. In his own head, though, Ellis doesn't think he's the kind of player who takes bad shots.
Monta: "There's a lot of guys that take a lot of bad shots in this league. A LOT OF GUYS. ... I'm going to play Monta basketball."

— Earl K. Sneed (@EarlKSneed) September 30, 2013
He may want to watch some of his own tape just to verify that, but hey, this year could be the year he decides to show serious discipline on the offensive end of the court.
One thing is for sure and that is there won't be a shortage of excitement on the floor and in the locker room this season thanks to Ellis.
Mavs Are Playoff Bound Says Monta Ellis
Monta: "We're going to prove a lot of people wrong and we're going to get back to the Dallas Mavericks making some noise in the playoffs."

— Earl K. Sneed (@EarlKSneed) September 30, 2013
Well here's the first postseason guarantee of the year, and not shockingly it comes from Mr. Ellis.
While there's certainly excitement about the talent the Mavs acquired, there should also be a bit of caution.
The players the Mavs acquired aren't necessarily "winners." Sure they are good players, but a bunch of them—DeJaun Blair being the exception, because of the team success he experienced with the San Antonio Spurs—haven't had much experience being a part of a winning team.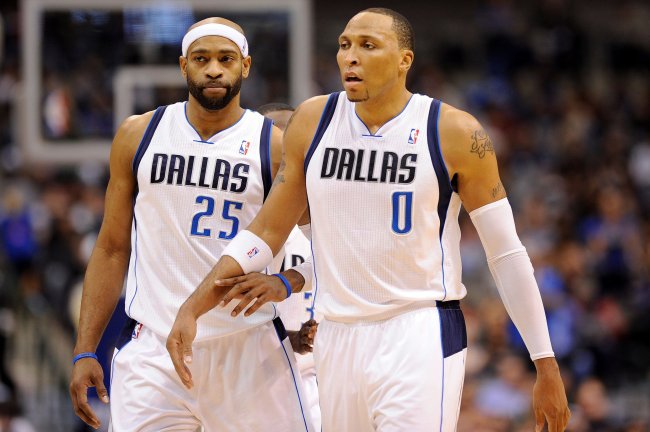 USA TODAY Sports
The good news, though, is that all of these new additions get to play with one of the league's most lethal offensive players in Nowitzki and with veteran talent like Shawn Marion and Vince Carter.
It will certainly be an interesting year for the Mavs. To say that it will certainly be a playoff year though is a different story. I like Ellis' confidence in his new team, and the good news for him is that a postseason promise this early can be easily forgotten throughout the season.
Dirk Nowitzki feels good, fired up - ESPN (blog) http://t.co/JeeHE4j9xr

— Dal Mavericks new (@DalMavericksnew) September 30, 2013
Dirk Nowitzki is Fired Up for the Season
After finishing last season at .500, Nowitzki was able to shave his gross beard. Hopefully last season's disappointments fell to the floor along with the facial clippings.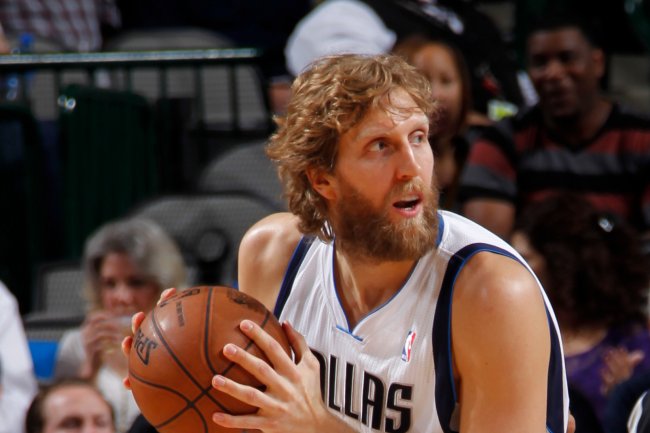 Glenn James/Getty Images
If Dirk ever needs motivation to help the Mavs reach the playoffs this year, he just needs to be reminded that last year he missed the postseason for the first time in more than a decade. Yep, that should keep him motivated.
Dirk: "We shouldn't be losing seven overtime games in a row. Not with this team. Not with the playmakers we have."

— Earl K. Sneed (@EarlKSneed) September 30, 2013
All Nowitzki really needs to do this season is play with the same level of enthusiasm as he put into this stellar commercial.
In all honesty, Nowitzki is 35 years old, and his best days in the NBA are in his rear-view mirror. This season may be one of his last legitimate shots at a title—at least as a member of the Mavs.
Let's hope his fired-upness lasts the entire season.
Takeaways from Mavs' Media Day
The biggest takeaway from the Mavs' media day is that we don't know very much about this team.
With all the new talent on the roster, there's no telling just how good or how bad the new-look Mavs will be.
My gut tells me that they will be good enough to make Monta Ellis' postseason promise come true. That's assuming Ellis can play well with others and share the ball, and they can get some solid production up front from Samuel Dalembert and DeJaun Blair.
Jury picked for Mark Cuban's insider-trading trial http://t.co/SOosDzCGDC

— ESPNDallas (@ESPNDallas) October 1, 2013
While the topic wasn't addressed during media day, Mark Cuban's trial for alleged insider training casts an uncertainty over the franchise. The legal proceedings won't necessarily impact the on-the-court product the
Mavs
put out, but the trial could have an impact on the focus and structure of the organization.
Honestly, it could be a positive thing to have Cuban's microscopic focus on something other than the basketball operations, but we won't know anything for sure until his insider-trading trial plays out.
Carlisle: "The truth is [Ellis] is going to have the ball a lot in his hands as a playmaker." Expect Ellis to be more than just a scorer.

— Earl K. Sneed (@EarlKSneed) September 30, 2013
Media Day Wrap Up
It's a "hurry up and wait" mentality right now for Mavs fans, and that's what media day reminded everyone.
The most exciting part of training camp for the Mavs will be seeing how their depth chart takes shape. The odds are that Calderon will be the starting PG and Ellis will start at the shooting guard position.
Monta says he has to "get back to running the floor and being a one-man fast break."

— Earl K. Sneed (@EarlKSneed) September 30, 2013
That would make for an interesting backcourt combination, and one that on paper would seem to work. The only problem is that Ellis is deadliest when he has the ball and is creating offense for himself, which decreases Calderon's value a little bit as a true point guard for the Mavs.
Calderon: "We've got all the pieces to be a really good basketball team. Hopefully we can get that chemistry down."

— Earl K. Sneed (@EarlKSneed) September 30, 2013
I'm sure the Mavs will try out a few different rotations to see which one maximizes all of the talent on their roster. That's what preseasons are for, right?