Miami Dolphins vs. New Orleans Saints: Live Score, Highlights and Analysis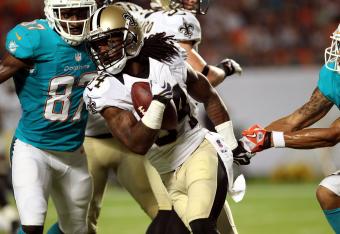 Marc Serota/Getty Images
In what was hailed as a battle between two possible contending teams, the New Orleans Saints laid waste to the Miami Dolphins in rather emphatic fashion. With a 38-17 victory, the Saints made a statement on national television—while running their record to a perfect 4-0.
This is the type of game that Saints fans were clamoring for. Both units (offense and defense) were operating extremely effectively, while executing at a high-level.
As a team the Saints dictated where the action went, similar to a great prize fighter.
It's hard to really pinpoint a negative in a win like this, but I feel the Saints can be even better!
Looking forward, wins over the Chicago Bears and New England Patriots (the next two opponents) would almost solidify this team as a Super Bowl contender.
Sure is a complete turnaround from last season's debacle!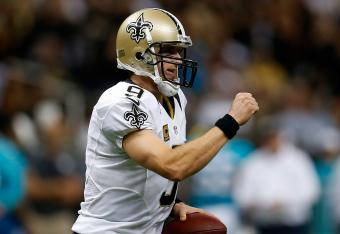 Finally it's over. Not a good showing by the Dolphins, but it may lend credence to just how great the Saints are.
Final Score: Dolphins 17, Saints 38
Another interception caused by that ferocious rush of the Saints. Junior Galette providing honors. Will Herring with the turnover.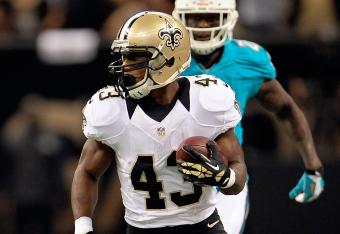 Strange and rare fumble by Darren Sproles as he was looking to score on a big gainer. I guess you can't expect perfection all the time....
The Saints have perfect execution in the pass game. I can see why they won't commit to run. But with that said, a team like Seattle could have success against the pass. Then what would the Saints do? Things that make you go hmmmm
Well nevermind. Wallace and Tannehill can't connect as Tannehill throws another interception off of a deflected pass by Rafael Bush.
The Dolphins are a good team with some good pieces. They need to finish strong and work on execution.
The Saints drive stalls out but ends with points off a Hartley field goal.
Dolphins 17, Saints 38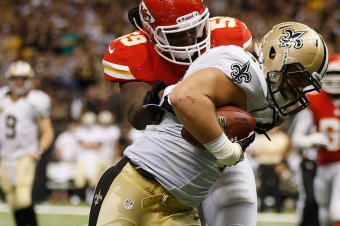 Chris Graythen/Getty Images
8:00 remaining in the fourth quarter
Even FB Jed Collins gets a screen pass! I probably can't even find a pic of him to post! This is great stuff.
Khiry Robinson has excellent patience and vision. The comparison to Chris Ivory is very real.
Time to grind this one away. It's time t take the offense to the nightclub. Grind time!
#Dolphins score, TD from Tannehill to Charles Clay behind Chris Carr. #Saints lead 35-17 early 4th quarter.

— Mike Triplett (@MikeTriplett) October 1, 2013
13:48 remaining in the third quarter
The Dolphins answer back with a nice drive of their own. Capped off by a TD catch by H-back Charles Clay.
Dolphins 17, Saints 35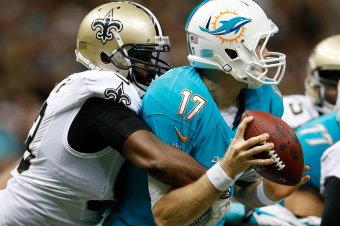 Chris Graythen/Getty Images
The Dolphins need to go to their uptempo package now. This will put major pressure on their offensive line. So far the Saints are winning the battle in the trenches.
2:15 remaining in the third quarter
Field Goal missed by Hartley.
Score still:
Dolphins 10, Saints 35
I'd like to see the Saints get one more score and then run for an entire quarter. They need to fix their run dilemma quickly.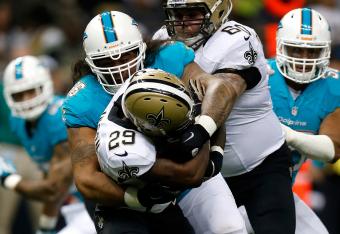 Khiry Robinson back in the game. Might be clean up time...
5:55 remaining in the third quarter
The Saints D forces another punt. This is a statement being made on national TV
Brees has thrown for 300-plus yards for the 9th straight game, tying his @NFL record for most consecutive 300-yd games #MIAvsNO

— New Orleans Saints (@Saints) October 1, 2013
Wow...
Saints linebackers Martez Wilson and Junior Galette with sacks within plays of each other! Followed by the cleanup sack by Cam Jordan!
All the best rushers getting sacks!
8:12 remaining in the third quarter
Dolphins 10, Saints 35
That's 6 TDs for Graham through the first 4 games of the season...so far #MIAvsNO

— New Orleans Saints (@Saints) October 1, 2013
8:20 remaining in third quarter
Sluggo seam to Jimmy Graham! Bombs away!!
43-yard TD by Jimmy Graham.
The Dolphins are unraveling. It's time to panic Dolphins fans.
Dolphins punt. Saints have the ball at the MIA 43-yd line. Saints lead 28-10 with 8:20 left in the 3rd #MIAvsNO

— New Orleans Saints (@Saints) October 1, 2013
More.
SACKED! On 3rd & 9 at the MIA 21-yd line Junior Galette (@JuniorG93) sacks Tannehill for a 12-yd loss! #MIAvsNO

— New Orleans Saints (@Saints) October 1, 2013
The Saints force a three-and-out capped off by a sack by Junior Galette. He reminds me of Dwight Freeney so much. What a great player!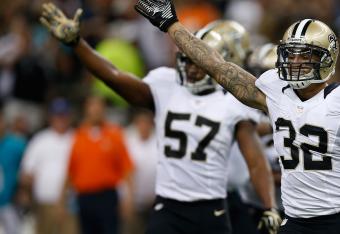 The Saints continue to fly to the ball on defense. It's a beautiful thing to watch.
The Dolphins don't necessarily have to panic. But they can if they want to!
This article is
What is the duplicate article?
Why is this article offensive?
Where is this article plagiarized from?
Why is this article poorly edited?