SEC Football 2013 Week 6 Simulation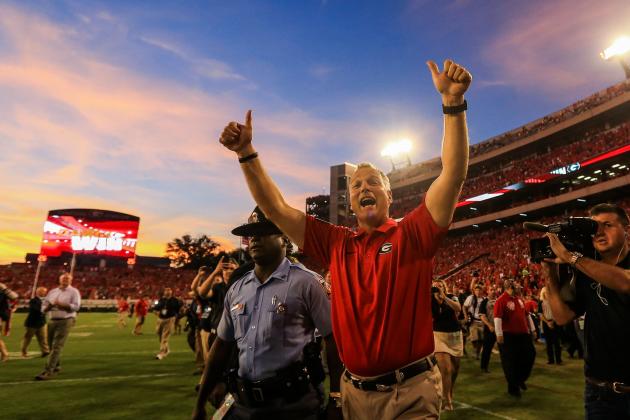 Daniel Shirey-USA TODAY Sports

Okay, so were were a tad late last week. Like, post-after-midnight-because-I-needed-to-get-picks-up kinda bad.
In a monumental comeback, the computer has regained the lead against the spread, as I fell below even for the first time this season. Both of us had a perfect 8-0 week overall, bringing my six-game lead to 44-6, good for 88 percent. Pretty damned good.
LSU and Georgia knocked each others' teeth out as we expected, and the only remaining undefeated true threat for the SEC to win the title rests in Tuscaloosa.
Let's see how this week's slate of games might go and if I can regain the lead against the spread.
---
| | | |
| --- | --- | --- |
| | This Week | Overall |
| EA Straight-Up | 8-0 | 38-12 |
| Me Straight-Up | 8-0 | 44-6 |
| | | |
| EA vs. Spread | 4-4 | 25-25 |
| Me vs. Spread | 2-6 | 24-26 |
Begin Slideshow

»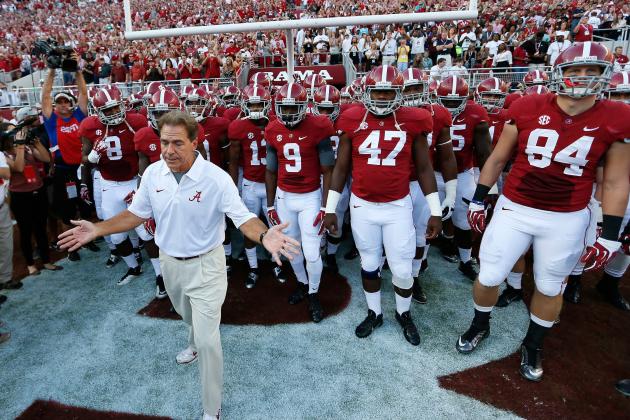 Kevin C. Cox/Getty Images

Oh god.
Match, meet fire. Log, meet buzzsaw. Insert other comparisons as you wish.
Georgia State has lost to Samford, Chattanooga, West Virginia, and Jacksonville State by a combined 78 points. This isn't going to be pretty, folks.
In this one, the Panthers actually manage to get downfield close enough for a 30-yard field goal to take a 3-0 lead. Five passing touchdowns from McCarron later, Georgia State's on a bus back home.
Alabama's offense has shown some pretty impressive stuff so far, and this is no exception. 'Bama racks up 604 yards on the back of McCarron's 20-of-28, 299-yard game and allows just 123 in return.
Both Drake and Yeldon surpass the century mark, with Yeldon's 126 leading the game. DeAndrew White brings in four passes for 132 yards. Insert more ridiculous stats here.
This will be the softest, sweetest cupcake any SEC team will enjoy all season. I don't think, though, that Saban's trench-like mindset will be willing to conquer the 56-point spread.
---
EA PICKS: Alabama to win, Georgia State (+56)
MY PICKS: Alabama to win, Georgia State (+56)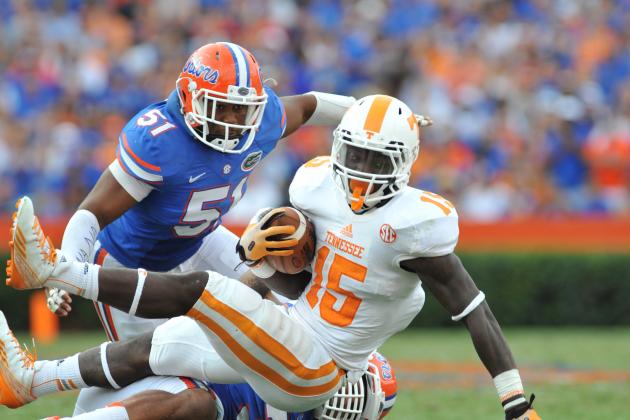 Al Messerschmidt/Getty Images

After laying an egg in Gainesville and edging past South Alabama by a touchdown, the computer calls a Vols upset in Knoxville against what most would consider the second or third best squad in the conference.
Murray passes for a couple of touchdowns, both to Lynch, in the first quarter and the game appears to be going as expected. The Vols respond with a 70-yard march of its own, a three-and-out, and a couple of big passes to score 21 straight in the second. Georgia scores less than a minute before halftime to tie the score at 21.
Defense dominates the third quarter and offense the fourth. Each team trades two touchdowns in the last stanza, with a 23-yard kick from Palardy with 17 seconds left sealing the deal for Tennessee.
The biggest weakness for the Bulldogs was the -4 turnover margin on five fumbles, which led to the upset despite outgaining UT by over 200 yards.
Worley has been mediocre this season, but the computer has predicted a bit worse than that. He's 13-of-30 in this one for 149 yards and a touchdown. Murray is outstanding as usual, completing 21-of-36 passes for 384 yards and three scores.
Two of Georgia's fumbles belong to Marshall, who will have a big role in this one with Gurley out, who manages 46 yards on nine attempts.
The Vols have been pretty tough to understand this season, and the QB spot has a lot to do with that. I don't see the upset, with UGA having such a complete team.
---
EA PICKS: Tennessee to win, Tennessee (+10.5)
MY PICKS: Georgia to win, Tennessee (+10.5)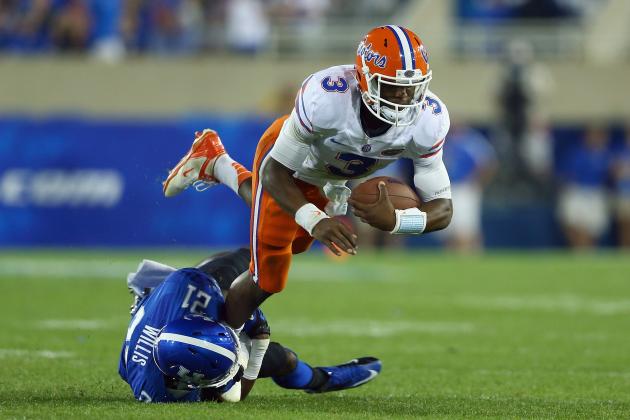 Andy Lyons/Getty Images

The Gators defense has, by far, lived up to expectations. Allowing more than 100 yards less than any other SEC team, Florida's had to rely on its defense to compensate for mediocre (and sometimes humorous) offense.
Florida's defense isn't exactly spectacular to begin the game, as a couple of Arkansas field goals combine with a nine-yard rushing touchdown from Williams to give the 'Backs a 13-10 lead at halftime.
Muschomp—I mean Muschamp (why hasn't someone thought of this before?)—ignites his team during the break and the Gators score 21-straight points and allow none the rest of the game.
Arkansas is held to 235 yards and gives up the ball three times. Two of those are interceptions off of Allen, who hits on just 12-of-30 passes for 132 yards. That's good for a QB rating of 63.6. Yep.
Driskel is a little bit better, though he won't actually play in this one due to injury, completing 17-of-32 passes for three touchdowns, two interceptions and 224 yards.
More so than most teams, the turnover war will be the most vital aspect of Florida's game. The Gators struggle to score and can't keep the ball, but can force turnovers and hold on defense. This one will be closer than it should be, given the talent difference and location.
---
EA PICKS: Florida to win, Florida (-10.5)
MY PICKS: Florida to win, Florida (-10.5)
Kevin C. Cox/Getty Images

The computer is all about some upsets this weekend. LSU's offense looks as potent as ever, and while Mississippi State's defense has surprised, the Bulldogs are in the midst of a quarterback battle and haven't been able to overcome the little things.
Is this the game where it all comes together?
The computer calls Russell on the start for MSU, who sends the first drive of the game into the end zone and puts the 'Dawgs up 7-0. After another big drive in the second quarter and after a couple of field goals, State holds a 17-3 halftime advantage.
Russell comes back out in the third and, realizing Mississippi State was actually winning for once, refused to submit and throws a pick-six which is taken back 15 yards by Martin. Despite a 41-yard passing touchdown from Mettenberger in the fourth, the Bulldogs squeak by on a field goal to hold onto the upset.
State holds the Tigers to 270 yards of offense and forces three turnovers, as the computer predicts that defense will conquer offense in this one. Russell goes 14-of-26 for 239 yards, two touchdowns and the interception, and Mettenberger is worse at 10-of-26 for 164 yards and a score. For those wondering, Prescott is just 3-of-8 with 19 yards and a pick, rushing for five yards on three carries.
Perkins runs all over LSU for 121 yards, tight end Malcolm Johnson has a breakout game with 130 yards receiving, and Preston Smith has a monster game with 15 tackles, nine of those for a loss, and 3.5 sacks.
I'll be the first to point out that Mississippi State is misunderstood. The Bulldogs lost their starting quarterback and running back against Oklahoma State after dominating the first quarter, and the offense unsurprisingly took a step back. MSU was one prevent defense away from a win in Auburn and absolutely dismantled a solid Troy squad.
I don't think, though, MSU has what it takes to derail LSU's national championship aspirations. This should be a fun game to watch either way.
---
EA PICKS: Mississippi State to win, Mississippi State (+9.5)
MY PICKS: LSU to win, Mississippi State (+9.5)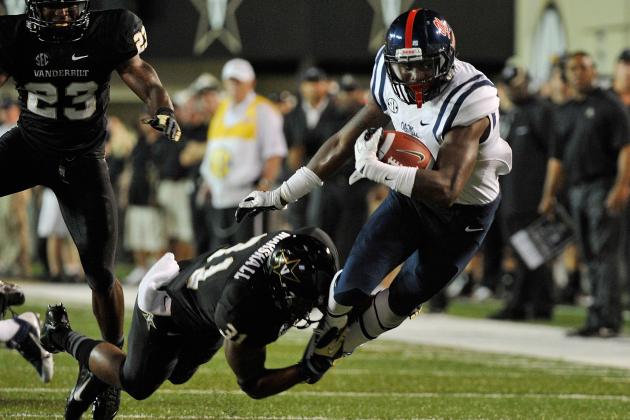 Frederick Breedon/Getty Images

This is a surprisingly important game for both teams. Auburn is off to a great start, challenging LSU two weeks ago and well on its way to rebounding from last season. Ole Miss opened many eyes before dropping a zero against Alabama this past weekend and needs to prove itself as legitimate.
This one has the Rebels proving their point, with Ole Miss up 21-3 with 8:50 left in the third quarter and cruising to the victory.
The computer is still fixated on Wallace being the starting Tiger quarterback, and he goes 17-of-38 for 237 yards and no touchdowns in this one. Perhaps that's why he's not the starting quarterback.
Bo Wallace hit 20-of-38 passes for Ole Miss, good for 221 yards and two scores with an interception. Walton has been a backup choice for Freeze, but gets 20 carries in this one and hits triple-digit yardage with a touchdown.
Similar to Mississippi State, I see Auburn as underrated, talented and well-coached. I think the computer is missing the mark and I'm calling the War Eagle win.
---
EA PICKS: Ole Miss to win, Ole Miss (-2.5)
MY PICKS: Auburn to win, Auburn (+2.5)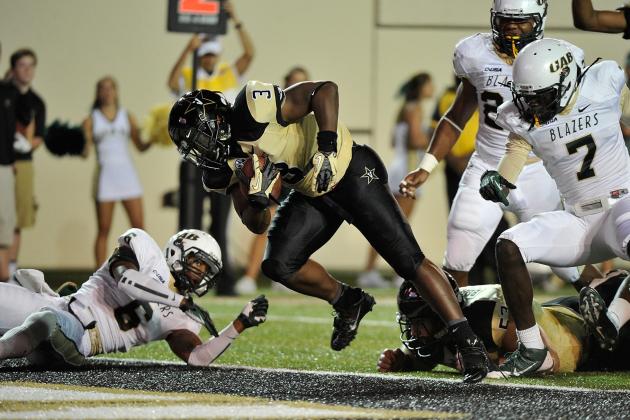 Frederick Breedon/Getty Images

Whoa, offense.
Missouri is surprisingly 4-0, with an admittedly soft schedule, and Vanderbilt is trying to prove it's the SEC East contender many thought it could be.
The second quarter is the only quarter in which Vandy does not score at least 14 points and, despite being down 28-21 at halftime, easily pulls away in the second half after allowing just one touchdown in the second half.
Carta-Samuels completes 22-of-39 passes for 311 yards and five touchdowns. He does, however, nearly match his entire season's worth of interceptions with four in this game alone.
Missouri's Franklin, in the real world, is completing 67.6 percent of his passes and has been about as talented as most expected. In this one, he's just 12-of-29 for 105 yards and two scores.
I like EA's choice of this being a high-scoring game, and I also like the pick of Vandy to win.
---
EA PICKS: Vanderbilt to win, Vanderbilt (-2)
MY PICKS: Vanderbilt to win, Vanderbilt (-2)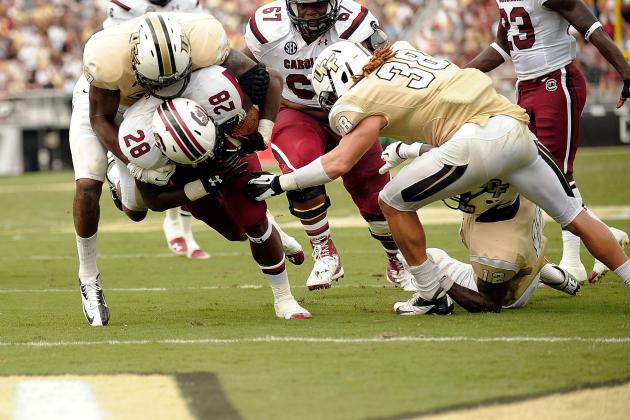 Stacy Revere/Getty Images

Fourteen garbage points against backups from the Wildcats make this one seem respectable when it was anything but.
South Carolina allows just 230 yards, a lot less without those two late-game drives by UK, and forces two turnovers.
Connor Shaw gets most of the snaps, as he has been, and goes 17-of-31 with 251 yards and four touchdowns. Melvin Smith has one of the worst performances of any SEC quarterback this season, going 14-of-42 passing for 182 yards, a touchdown, and two interceptions.
This one shouldn't be close.
---
EA PICKS: South Carolina to win, Kentucky (+21)
MY PICKS: South Carolina to win, South Carolina (-21)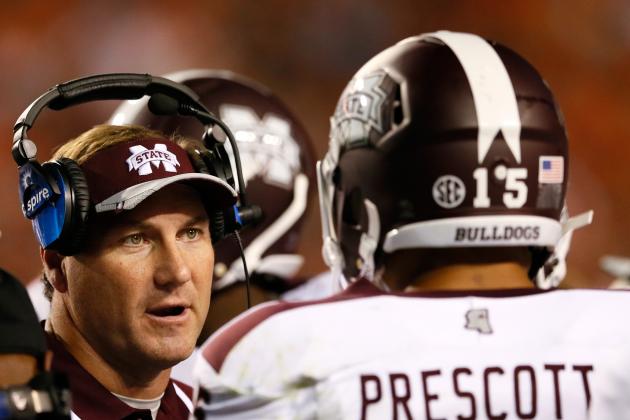 Kevin C. Cox/Getty Images

There are a lot of opportunities this weekend for some decently competent teams to upset some of the league's top-tier behemoths.
Tennessee has the capability to keep up with Georgia, Mississippi State has shown potential and has a home date against LSU and the Ole Miss/Auburn game is a vital one for both teams' seasons.
Follow me on Twitter at @SEC_Nerd to see my reactions to what goes down. And in the mean time, brace yourselves for college basketball by checking out Blue Ribbon College Yearbook. It's getting close.