NFL Power Rankings Week 5: Where Every Team Stands Prior to This Week's Games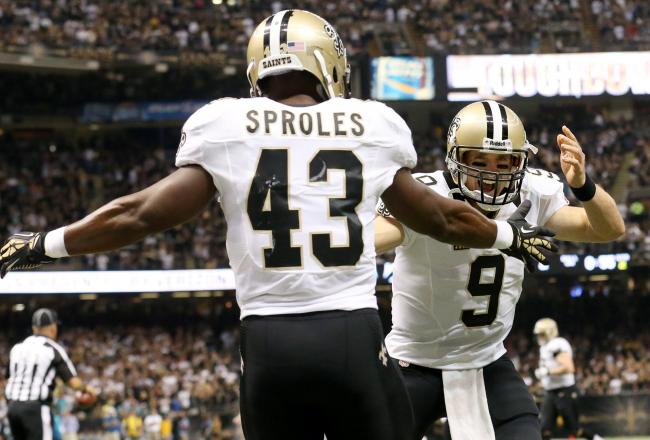 Crystal LoGiudice-USA TODAY Spor
With a quarter of the 2013 NFL season down for 30 of the league's 32 teams, it's safe to say we're finally getting a feel on how the campaign is starting to unfold.
September has long been National Overreaction Month when it comes to the NFL. Fans quickly jump to conclusions after Week 1, backpedal quickly to reverse course by Week 2, and by the time October hits, most of the inanity and insanity has been quelled.
I say most because, well, this is the NFL we're talking about. It's a league based on a 16-game sample, which creates inherently flawed results compared to each of the three other major sports. We can eradicate our preseason assumptions only so much at this point. We have enough of a sample to know which teams are truly wretched and which ones are truly great, but that murky middle still has to be sorted out.
So when doing things like power ranking the teams, it's important that we take care and make sure to not overreact. To look at each team's schedule and determine not just whether it won or lost, but to whom and why that happened.
It's only then we can properly start to parse what's been a pretty damn good quarter-season. With that in mind, let's check around the league and break down where every team stands heading into Week 5.
1. Denver Broncos (4-0)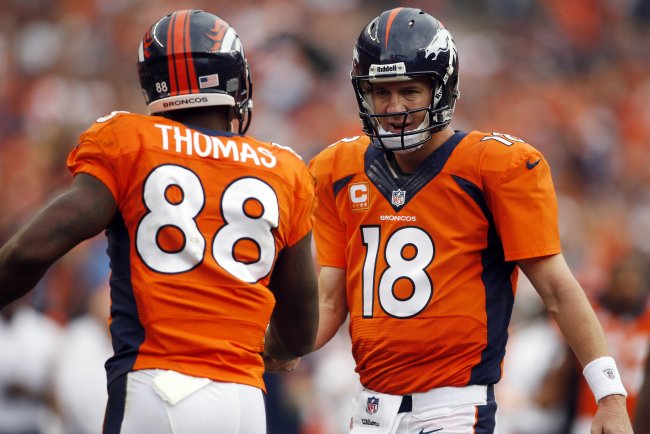 Chris Humphreys-USA TODAY Sports
As if there were any questions about which way this was heading. I described the Broncos as "Decepticons" before their Sunday afternoon contest with the Philadelphia Eagles.
I'd like to use this platform to apologize to Denver's players and coaching staff. Peyton Manning's offense makes the aerial attack of the Decepticons look frankly primitive. You go ahead and take Starscream, Frenzy and Blackout. I'll take Demaryius Thomas, Eric Decker and Wes Welker. We'll see who comes out on top.

OK, we went a little nerdy there. Sorry about that. Let's just say the Broncos are off to a historically great start. Actually, according to the Z-Score numbers crunched by Grantland's Bill Barnwell, Denver's 179 points through the first four weeks represent the greatest offensive start in NFL history.

So...good luck this week, Dallas.
2. Seattle Seahawks (4-0)
Look, the Seahawks are a great team. No one can deny that. They're unquestionably talented on both sides of the ball and run a scheme offensively that usually helps hide some deficiencies on that side (particularly injuries to the offensive line and receiving corps).
But the road woes continue to be a real thing. Seattle needed fourth-quarter heroics from Russell Wilson to take down the Panthers in Week 1, and then it needed a ghastly pick-six from Matt Schaub to complete its comeback in Houston on Sunday. Pete Carroll's bunch has won its two road games by a combined score of 35-27; it's won its two home tilts 74-20.
The entire NFC West sitting at least two games behind through four weeks is a good start, but the regular season matters to the Seahawks more than perhaps any other team in football. We've just got to keep that in mind before the anointment ceremony.
3. New Orleans Saints (4-0)
The Saints were a preseason darling for positive regression in large part to Sean Payton's return to the sideline. Payton has definitely helped, but it's a risky decision that the Saints coach made that's really spurring this renaissance: the hiring of Rob Ryan as defensive coordinator.
New Orleans, after setting the record for most yards allowed in a single season in 2012, has allowed no more than 17 points in a single game this season. The secondary has been among the best units in football, thanks in no small part to the ratcheted-up pressure caused by Ryan's scheme.
Drew Brees and his offense were always going to be fine. Many of Brees' ghastly mistakes last season came when he was trying to atone for the missteps of his defense. If Ryan's success on that side of the ball isn't an anomaly, the Seahawks could have a challenger for their NFC crown.
4. New England Patriots (4-0)
These Patriots are far from the near-bastions of perfection we've become accustomed to. The receiving corps is still a major concern. No one at this point knows when Rob Gronkowski or Danny Amendola will be back. Stevan Ridley, well, that one year was nice.
All of these concerns, and yet the Patriots are still 4-0. They're still going to win the AFC East, still going to host at least one playoff game. Bovada still has them as the third favorite to win the Super Bowl.
Still, the loss of defensive tackle Vince Wilfork will be yet another critical blow. The Patriots stalwart went down Sunday night with a torn Achilles and will obviously miss the rest of the season. Much of what New England does on defense relies on Wilfork's versatility and consistency to make it go. With the Patriots relying on their defense more than any other point in the past half-decade, losing Wilfork might be the thing that finally pushes this injury-riddled bunch to mediocrity.
Until that happens, though, Bill Belichick still has a top-five squad.
5. San Francisco 49ers (2-2)
Admittedly, the 49ers' ranking is still somewhat based on preseason assumptions. I had San Francisco as the best team in the NFC West after running the numbers before the opening week and would probably retract that statement if given the chance.
But the proliferation of doom and gloom has been a little overdone. San Francisco lost to the best home football team on the planet (Seattle) and an Indianapolis Colts team that might be better than all the regressionists (of which I am one) want to admit. The 49ers lost in embarrassing fashion to both, but we all should be mature enough to know that the NFL is essentially bottle-episode television every week; the carry-over is rather minimal.
All it will take is one win over the Houston Texans to get people back on the bandwagon. And, hopefully, to realize they never should have left in the first place.
6. Kansas City Chiefs (4-0)
Jamie Squire/Getty Images
I'd like to say the Chiefs were the biggest surprise of any NFL team, but I'd be lying. We all saw this coming to a certain extent. Kansas City had six Pro Bowlers, replaced arguably the NFL's worst coach with an above-average one and arguably the NFL's worst quarterback tandem with an above-average signal-caller.
This team had all the makings of a "breakout" team, and we're seeing the fruits of that labor this season. The Chiefs are 4-0 thanks in large part to their brilliant secondary, which has held opponents to 188.8 yards per game through the air and allowed opposing quarterbacks just a 63.6 quarterback rating thus far.
Still, let's pump the brakes on calling this club a Super Bowl contender. Kansas City has played one of the easiest schedules in football thus far, taking on three of the four NFC East teams (a terrible division) and the league's worst team in Jacksonville. Things don't get all that hard other than the home-and-home remaining with the Broncos, but let's just see how sustainable this run is over a longer sample.
7. Green Bay Packers (1-2)
Don't ask me why, but I'm still on board. The Packers were off this week, time one can only hope they spent fixing whatever could ail this team down the stretch of games.
Green Bay is two fourth quarters away from being 3-0. You could look at that one of two ways. Either you enjoy headache-inducing narratives and want to call Aaron Rodgers' "clutch" gene into consideration (though Rodgers' 5-17 record in games separated by four points or fewer are concerning), or you could take a positive spin on things and note that the Packers were one possession away from beating two playoff teams.
For now, I'm going with the former.
8. Detroit Lions (3-1)
Well, what do you know? A year after losing nine games by one possession, the Lions are 2-1 in said contests this season, with the two wins coming in each of the past two weeks. No team was going to be that bad in nail-biters two years in a row, and Detroit is winning by following a formula that should feel familiar by now.
Matthew Stafford is throwing for over 300 yards per game. Calvin Johnson is responsible for many of those yards. As are Joique Bell and Reggie Bush, the latter of whom is being used better than he has his entire career. With Bush seemingly back to full strength after missing a good part of two games with a knee injury, the former Heisman winner had 173 all-purpose yards on 22 touches last week.
As long as he's healthy and the Lions continue pressuring the quarterback with Ndamukong Suh and Nick Fairley, it's hard to find too many reasons why this team can't compete for a playoff spot.
9. Chicago Bears (3-1)
Do yourself a favor, Bears fans: calm down. I realize this is more difficult than it sounds, being fans of a franchise nearly three decades removed from a Lombardi Trophy.
But you all should be used to the Jay Cutler game by now. This is his fifth season with the club. And, invariably, somewhere along the line in each of those seasons, Cutler has a performance that makes said fans want to give the Sweet Chin Music to their televisions.
Sunday's loss to Detroit was a classic Cutler game. He threw inexplicable interceptions, forced balls into tight coverages and got absolutely pummeled by the Lions defensive line. These character traits weren't just going to disappear because Marc Trestman is in Chicago rather than Lovie Smith.
This team is still 3-1, still competing for the NFC North crown. Take a breath.
10. Miami Dolphins (3-1)
Anyone feel like selling their Ryan Tannehill stock they bought during the first three weeks of the season? If so, I know where you can find a buyer.
Tannehill certainly looked flustered facing the Saints defense combined with a Superdome crowd, but let's take it for what it was: a bad game. The Dolphins and their quarterback are going to be just fine.
11. Indianapolis Colts (3-1)
The Trent Richardson trade remains semi-baffling, but that's ultimately irrelevant to what's been a change in narrative for these Colts. Indianapolis came into the season pegged as everyone's favorite regression team, and for good reason. It had a negative point differential, won a majority of its games by one possession and went out and dumped a truckload of money on mediocre free agents.
A quarter of the way into the season, these Colts have begun proving their doubters wrong. Outside of Week 1's win over the Raiders, where they followed last season's blueprint to a T, Indianapolis has been rock-solid. We know now that a loss to the Dolphins isn't to be derided, and two dominating wins over San Francisco and Jacksonville the past two weeks have both exposed what this team can look like at its peak.
The next three weeks will be a litmus test, though. The Colts host the Seahawks and Denver before their Week 8 bye, with a trip to San Diego sandwiched in the middle of those two contests. So while Chuck Pagano and Andrew Luck currently deserve praise, let's avoid calling off the regression dogs for now.
12. Atlanta Falcons (1-3)
Let's start off with the obvious: The Falcons are not as bad as their 1-3 record. Nowhere close. They've lost one-possession games to three likely playoff teams, two of which came on the road. Matt Ryan is still damn good, as are Tony Gonzalez and Roddy White. With their next four games being relative cupcakes—the hardest one being a trip to Carolina on Nov. 3—it's likely the Falcons are 5-3 by the time they take on Seattle in Week 10.
Well, yeah. But still.
Atlanta has gotten nothing from its running game this season. Steven Jackson is hurt, and Jacquizz Rodgers pretty obviously can't handle every-down-back status. Mike Smith is slowly stalking Andy Reid's corner for the mantle of best worst coach in the NFL, with his conservative 4th-and-1 call inside New England's 10-yard line on Sunday night arguably costing the team a chance to tie.
In other words, very little has chanced since last season except the record.
13. Houston Texans (2-2)
Yes, Schaub's throw was inexplicable. Yes, Houston didn't score a point in the second half. Yes, Texans fans who burned Schaub's jersey probably deserve the worst-possible experience for the remainder of their fandom.
Houston was still one possession away from beating the best team in the NFC. It still dominated the game for the first three quarters, making Russell Wilson look as bad as he ever has. J.J. Watt, last I checked, is still a one-man wrecking crew. And the Texans are still just one game out in the AFC South.
14. Cincinnati Bengals (2-2)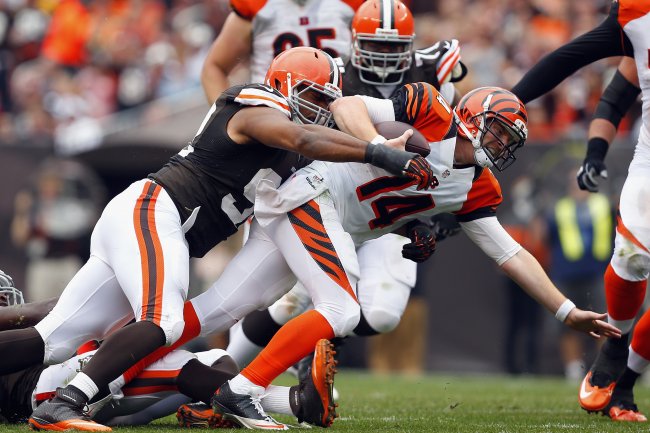 Matt Sullivan/Getty Images
In many ways, the Bengals are an embryonic version of Houston. They have a quarterback in Andy Dalton who folks think is good enough to lead you to water, just not good enough to make you drink it. They have an incredibly talented wide receiver in A.J. Green, whose non-diva demeanor is refreshing in the same way as Andre Johnson's.
There's even the dominant defensive lineman in Geno Atkins. Cincinnati has all the makings of another 10-6 season, followed by another loss early in the playoffs, as everyone wonders when or if this team will make the next step.
Invariably, the brunt of the criticism will fall on Dalton, which is both totally fair and patently unfair at the same time. I'm not sure quite what the answer is here. Just do me a solid, Bengals fans, and don't go burning any jerseys.
K?
15. San Diego Chargers (2-2)
Welcome to the Philip Rivers redemption season. Are you excited? The first four weeks of 2013 have seen Rivers wake up from his post-Norv slumber and come out looking like it was 2011 all over again. Rivers is one yard away from averaging 300 per week, has 11 touchdowns against only two picks and has been sacked just six times.
If it weren't for this fella named Peyton Manning, Rivers would have the highest quarterback rating in the NFL.
So, pray tell, what's going wrong then? (*Cranes neck at defense*)
16. Dallas Cowboys (2-2)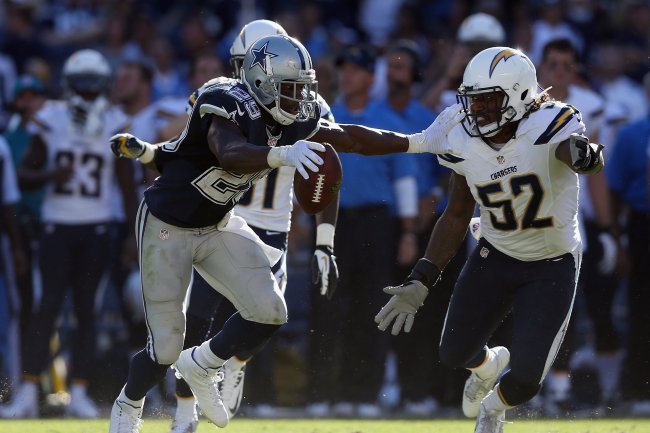 Jeff Gross/Getty Images
Despite being a team that's only .500 and spearheading the worst division in football, there are quite a few positives right now in Dallas. For one, the Cowboys are 2-2 and have a one-game lead over the worst division in football. So there's that.
Looking elsewhere, you can see plenty of other positive signs. Tony Romo has been super efficient if unspectacular, completing 72.4 percent of his balls and throwing only one interception through his first 152 pass attempts. He's struggled to make downfield plays or even attempt the throws this season, but Bill Callahan's conservatism has fit Romo well so far.
DeMarco Murray has also been a pleasant surprise. The oft-injured back is getting a ton of touches and doing well with them, averaging nearly five yards per carry and doing more work as a receiver out of the backfield than ever.
Still, the typical Cowboys concerns remain. Their secondary continues to struggle, their "best" win of the season was over a bad Rams team, and they failed to score the entire second half in last week's loss to San Diego.
17. Baltimore Ravens (2-2)
There's frankly not much to like about the Ravens. Outside of a one-game return to form against Houston, Baltimore has verged on putridity in its other three games. The Ravens were the first victims of the Denver Wrecking Crew, scraped by the pre-Hoyer Browns and had an inexplicably bad performance in Buffalo last week.
Through the first quarter of the season, $120.6-million-man Joe Flacco is setting career lows across the board. He's completing just 57.4 percent of his passes, has a QBR of 35.7 and hasn't even found much downfield magic. Ray Rice looks far closer to 36 than 26 this season, dealing with a hip injury and being ineffective when he's been in the lineup.
There's enough talent here to have a bit of faith in the Ravens picking up their play going forward. But this has been a team far worse than its 2-2 record.
18. Tennessee Titans (3-1)
This one is simple, folks: The Titans would be pushing for top-10 status had Jake Locker not gone down on Sunday. Although the news was better than initially expected, Locker will miss at least the next month after suffering a scary hip injury in this past week's win over the Jets, per Jim Wyatt of USA Today.
That means it's Ryan Fitzpatrick time in Nashville. I'm familiar with Ryan Fitzpatrick's work. Spoiler alert: This isn't a good thing for the Titans.
19. Carolina Panthers (1-2)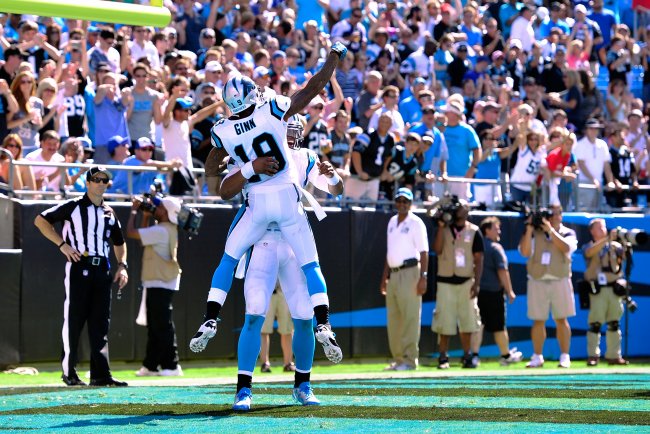 Grant Halverson/Getty Images
The Panthers are two possessions away from being 3-0. They're also one fortuitous schedule bounce—playing a tailspinning Giants team in Week 3—away from being 0-3. So it's hard to know which side of the NFL paradigm this team belongs on.
That goes straight down the line. Cam Newton isn't making plays as a passer this season, though it's not without trying. He's thrown 17 passes that have traveled more than 20 yards through the air this season, which puts him among the highest frequency rates in the league. The problem, however, is that his favorite target (Steve Smith) is starting to look a whole lot like a 34-year-old receiver. With no other reliable options, Newton has been subjected to the horror of trying to make Ted Ginn a usable NFL receiver.
Good luck.
With Ron Rivera still standing No. 1 in the "Worst Coaches in the NFL" power poll, it's likely that Carolina is still a coaching house-cleaning and acquisition of a true No. 1 receiver away from making a playoff push. The Panthers will, however, continue to come infuriatingly close to winning most weeks.
20. Buffalo Bills (2-2)
The Bills are a surprisingly frisky team like some predicted in the preseason. Each of their four games this season have been one-possession outcomes, with three of them being separated by a field goal or less. If their reputation among fans wasn't of this sad-sack franchise that hasn't been relevant since the Jim Kelly years, they could be construed as must-watch television every Sunday.
It just hasn't happened the way anyone expected. C.J. Spiller, expected to break out in 2013, has become your league's most-hated first-round fantasy pick. Instead, it's been the now-injured Fred Jackson who has averaged five yards per carry and been a solid flex play.
EJ Manuel has kept Buffalo in games by managing games and avoiding rookie mistakes. The defense? Yeah. It's still as big of an eyesore as it was a year ago.
And yet every week this team is competitive. I'll let you know if I ever totally figure out how or whether it's actually sustainable.
21. Minnesota Vikings (1-3)
Getting a win over the Steelers doesn't exactly carry the cache that it used to, but I saw some things I liked from Minnesota on Sunday. Particularly—and I cannot believe that I'm still saying this and that hell isn't frozen over—the presence of Matt Cassel.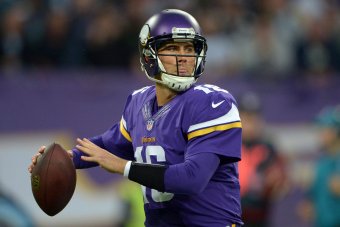 Kirby Lee-USA TODAY Sports
Or, rather, the presence of Cassel and absence of Christian Ponder. It's amazing how much an offense can open up when a team upgrades to sheer below-averageness rather than unwatchability at quarterback. For the first time all season, a team had to respect the Vikings passing game juuust enough for its safeties to not be able to take that extra step toward the box.
Adrian Peterson, as you could expect, responded in kind. We all know that Cassel isn't good enough to lead a playoff team or anything. But could he push the Vikings back toward the 7-9 area rather than 4-12? It's at least feasible.
22. Cleveland Browns (2-2)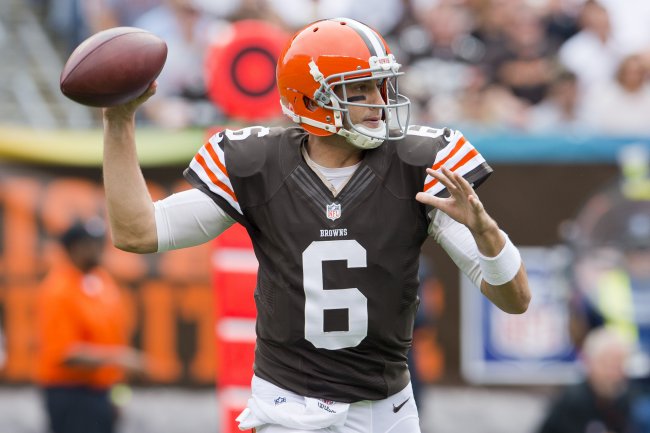 Jason Miller/Getty Images
Much has been made of the Browns' switch to Brian Hoyer under center. Hoyer has been a massive upgrade over Brandon Weeden, who lost his job due to injury and may never start another NFL game again for all we know.
But let's be real here. Cleveland's sudden relevancy in the AFC North is credit to its great defense. The Browns rank third in the league in yardage allowed, ranking inside the top 10 against the run and pass. They've allowed only two touchdown passes in four games, and allowed a long gain on the ground of 14 yards.
These are particularly laudatory statistics, but this unit has been menacing almost no matter where you look on the stat sheet or on film. Cleveland is probably one elite cornerback alongside Joe Haden away from challenging Seattle for the NFL's top defense.
I'm not a Richardson fan, and no one is a Weeden fan. Maybe we were a bit too harsh on Mike Lombardi and Co. a couple weeks ago, no?
23. New York Jets (2-2)
So Geno Smith wasn't very good on Sunday. Nor has he been all that good in any game since Week 1. Cool. I'd just like to know what the Jets are supposed to do to change that.
Bench Smith? For whom, exactly? Brady Quinn or Matt Simms? Mark Sanchez, bum shoulder and all, would be a better option than either of those two.
There's a school of thought that says you bench Smith merely to preserve his confidence before it's too late. So...having your head coach give up on you four games into your first season is somehow better than giving it a go every week and learning on the job?
We all knew this was going to be a process. The hand-wringing about Geno Smith, turnover machine, is all predicated on the Jets defense being even better than expected. But if the Jets aren't making the playoffs—and they sure as hell are not—let's just allow this situation to play out and avoid piling on an overmatched kid who's doing his best.
24. Washington Redskins (1-3)
Ezra Shaw/Getty Images
Heading into their bye week, much of the discussion in the nation's capital surrounds quarterback Robert Griffin III—specifically, whether we'll ever see RGIII take over a game through the air and ground the way he did during his magical rookie season.
And the answer, of course, is I have no idea. Mike and Kyle Shanahan have obviously made a real effort to keep Griffin's running to a minimum. His 72 rushing yards through the first quarter of 2012 either match or are less than his total during six games last season. Griffin's lowest rushing total over any four-game stretch last year was 139. And one of those contests included his first game back after his initial knee injury.
This isn't the same RGIII, and thus not the same Redskins offense. Oh, and their defense is putrid, last week's win against Oakland notwithstanding.
It's only by the grace of the NFC East that Washington has any hope heading into the bye week.
25. Philadelphia Eagles (1-3)
The Eagles, an overnight Twitter darling after their Week 1 takedown of the Redskins, are now 1-3. So here are some free #HOTSPORTSTAKE ideas about the Eagles:
Sure, Chip Kelly's Offense is Fun, But Can It Win?
Are the Sports Gods Punishing Chip Kelly for Leaving Oregon Amid an NCAA Scandal?
Hey Chip, There's Another Side of the Ball, Too
Not Even Michael Vick Can Battle Through Chip's Schtick
Something Stupid About Riley Cooper
You all are welcome.
26. Arizona Cardinals (2-2)
Although Larry Fitzgerald likely cries nightly tears of joy about no longer catching passes from Ryan Lindley, the Carson Palmer experience hasn't been much better. Palmer is completing a career-low 57.2 percent of his passes and has only connected with Fitzgerald on short and intermediate routes. The former All-Pro's longest reception of the year is 26 yards, and he's only averaging a half-yard per catch more than he was during the Lindley era.
Arizona is 2-2, though, thanks to a very solid defense. Tyrann Mathieu and Patrick Peterson give the Cardinals two tough, young defensive backs to build with long into the future. They're also getting excellent play from the front seven, which is allowing opposing teams to average just three yards per carry thus far.
The lack of talent and increased schedule difficulty will catch up with the Cardinals; they're just not one of the five worst teams in football like I thought they'd be.
27. New York Giants (0-4)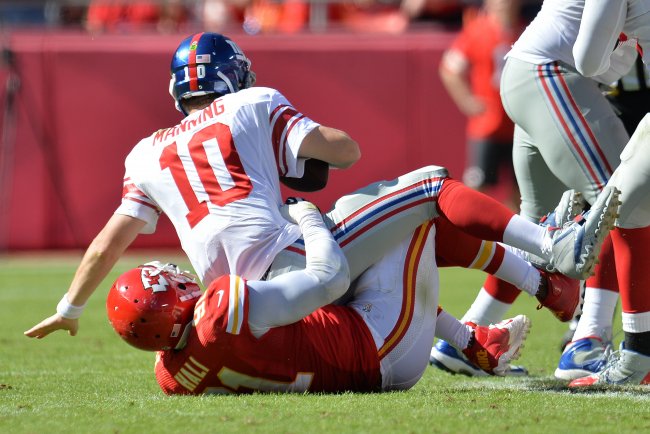 Peter Aiken/Getty Images
The Giants can't actually be this bad, right? Did they just catch wind of the government shutdown and misinterpret its meaning?
I'm not quite sure. The overall talent on this team just doesn't remotely match the results. Eli Manning has been so dreadful that his only contemporary in the turnover department is an overmatched rookie who was at least two years away from being ready to start (Geno Smith). Manning has thrown nine picks, seven of which came in the first two weeks.
Yet, somehow, it almost feels like he's been worse in New York's blowout losses to Carolina and Kansas City. The team's once-vaunted pass rush is also a mess, producing only four sacks in as many weeks.
It's an easy excuse, but one has to wonder whether a coaching change is necessary. Tom Coughlin is only two years removed from his second Super Bowl win, but he's also a decade deep with the Giants. Maybe the situation has just run its course.
Then again, don't be surprised if the Giants suddenly spring back to life and rip off four straight wins before their bye. With two against Philly and one against Minnesota, only a trip to Chicago stands in the way of that being a plausible outcome.
28. St. Louis Rams (1-3)
Methinks this should be the season the reputation of Jeff Fisher as an elite NFL coach finally starts showing the cracks it always should have. For years, folks have shoveled Fisher down fans' throats as being up there with the Bill Cowhers and Tony Dungys of their time.
The reality was Fisher was a bastion of inertia. He led the Titans/Oilers franchise to seven seasons with a 7-9 or 8-8 record. In 16 full seasons with the club, he had six winning seasons. With so many changes in cast, perhaps we should have recognized Fisher for who he is—a half-decent head football coach who gets puffed up simply because he wasn't fired.
In St. Louis, we're starting to see that much. The Rams certainly aren't the most talented bunch in the league offensively—OK, they're one of the three or four worst teams on that side—but that doesn't excuse the putrid defensive performance. There is real talent on defense in St. Louis. Cortland Finnegan and Janoris Jenkins are both above-average corners. Same for Alec Ogletree and James Laurinaitis at the linebacker spots. We've seen how good Chris Long can be over these past two seasons.
And, yet, the Rams are 25th in total defense and are giving up 30 points per game.
29. Pittsburgh Steelers (0-4)
Although there is some level of vindication for me being down on the Steelers heading into the season, no one expected this. Pittsburgh is 0-4 for the first time since 1968. That's two years before the AFL-NFL merger. The Steelers played in something called the Century Division back then. There were eight teams in the Eastern Conference.
Mike Tomlin? Dude was still four years away from being birthed. Times are a'changing across the NFL.
30. Oakland Raiders (1-3)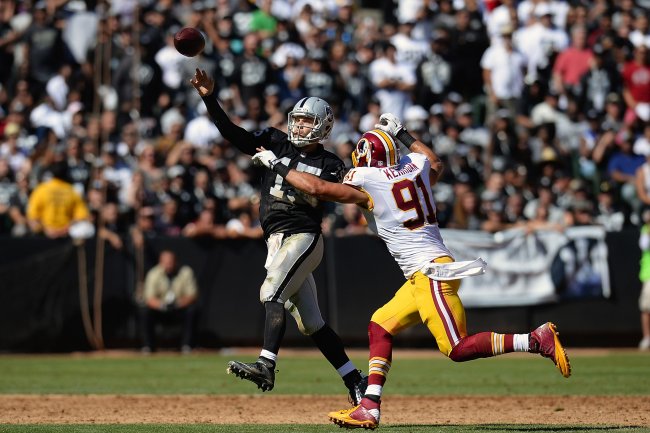 Thearon W. Henderson/Getty Images
OK, I think we have a pretty good idea why Matt Flynn keeps losing starting jobs now. Although Flynn's counting stats (21-of-32 passing for 227 yards and a touchdown against an interception) weren't bad, it's performances like his that prove box-score scouting faulty.
Flynn took seven sacks. He looked tentative in the pocket and continually dumped down for gains that weren't even close to the first-down marker. ESPN's QBR scored him a 6.1 on a scale of 100.
While Terrelle Pryor will retake the starting job, and he's done a nice job of injecting some life into the team, that's all it is. Some life. Oakland was expected to be and is one of the worst teams in football. Having Pryor on the roster at least makes it watchable.
If anything, one week of Matt Flynn should be enough to make fans appreciate the former Ohio State standout despite his flaws.
31. Tampa Bay Buccaneers (0-4)
I'm not exactly sure what's going on with the Buccaneers, but I know I need to take a shower after reading every story coming out of Tampa Bay at the moment. The whole Josh Freeman fiasco, covered by Bleacher Report's Michael Schottey here, gets more disgusting by the moment.
Greg Schiano, well, I don't want to get fired. Let's just put it this way: You thought the Lane Kiffin Schadenfreude was bad. Just wait until Bucs players have a chance to really speak their mind on Schiano when he's inevitably shown the door about the same time as his embattled quarterback.
None of this is going to end well.
32. Jacksonville Jaguars (0-4)
Heh. I'm sorry, Jacksonville. I have nothing. Umm...Cecil Shorts is good? And so is Teddy Bridgewater. So there's that.
Follow Tyler Conway on Twitter:
This article is
What is the duplicate article?
Why is this article offensive?
Where is this article plagiarized from?
Why is this article poorly edited?