Los Angeles Clippers Media Day 2013: Takeways and Interview Highlights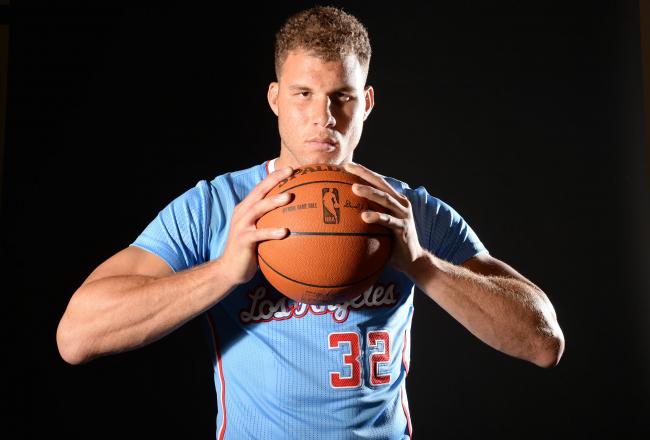 NBA Photos/Getty Images
The Los Angeles Clippers have the highest preseason expectations in the history of their franchise heading into the 2013-14 NBA season.
After a franchise-record 56 wins last year, the Clips went out and acquired J.J. Redick, Jared Dudley, Byron Mullens and Antawn Jamison, among others. But their big pull wasn't necessarily someone who will don red, white, and blue. Instead, he'll be sporting a suit and tie on the bench.
The acquisition of former Celtics' coach Doc Rivers changes the culture of a franchise whose reputation says it never would've given a coach a $7 million a year salary. But organizational culture can develop, and with that, so can an organization's standards. When that happens, changes in preseason expectations aren't be far behind.
Managing expectations
2012-13 was the best regular season in Clippers' history, but expectations for this year are even higher. Doc Rivers, though, says that's hardly an issue heading into the season.
"I've always thought that I would rather be with a group that has high expectations than a group that doesn't." - Doc Rivers

— Dan

Woike

(@DanWoikeSports) September 30, 2013
Clippers coach Doc Rivers said that an NBA championship is only realistic for "some" and he believes they are one of those few contenders.

— Marc J. Spears (@SpearsNBAYahoo) September 30, 2013
The changing of the guard in L.A. isn't just about on-court play. There is a clear culture change.
Lakers were not mentioned at Clippers presser until the very last player - Jamison - Clippers have been stepping out of that shadow

— Eric Pincus (@EricPincus) September 30, 2013
Jamal Crawford knows this is the closest the Clippers franchise has ever come to a championship-or-bust season. Maybe that's why he decided to play never-ending games over the summer.
Jamal Crawford said he played two-on-two games to 250 over the summer.

—

Jovan

Buha

(@jovanbuha) September 30, 2013
New uniforms
The Clippers unveiled their new baby blue, sleeved uniformed at media day. Needless to say, there was mixed reaction.
The Clippers new powder blue unis feature nautical flags on the shorts... Nice graphical touch and a hat tip to the 'Clippers' name

— Steve

Perrin

(@clippersteve) September 30, 2013
New Clippers sleeved jerseys take me back to my days covering preps -- Conjuring images of girls hoops uniforms at the vocational schools.

— Albert

Breer

(@AlbertBreer) September 30, 2013
The Clippers' sleeved alternate unis. They look like a 1970s baseball team. pic.twitter.com/FWOIzCwdRe

— J.A.

Adande

(@jadande) September 30, 2013
Even more similes!
Clippers New Blue Uniforms Look Like Lousiana Tech Lady Techsters Throwbacks... http://t.co/Gp1x5JSAPc

—

JerseyChaser

(@jerseychaser) September 30, 2013
No one made any comparisons to the San Diego Chargers' baby blue jerseys, but the inter-gender comps just kept coming.
The @NBA & @adidasHoops got the @LAClippers looking like the 1983 Louisianna Tech women's team. Congrats. pic.twitter.com/OMyQWmNA8D

— @KGTrashTalk (@KGTrashTalk) September 30, 2013
Monday's fashion show didn't end with the new jerseys. DeAndre Jordan had to get in on the action while he could.
Kicks news: DeAndre Jordan will be wearing Nike's this season.

— Dan

Woike

(@DanWoikeSports) September 30, 2013
Doc Rivers is going to make changes to the Clippers' substitution rotations
DeAndre Jordan not playing in fourth quarters was a major theme from last season. Jordan averaged only 5.0 minutes per fourth quarter last year and played in the final period of regulation in only 30 of the Clippers' 82 games, according to NBA.com. But that was Vinny Del Negro's decision. Rivers, meanwhile, has other plans.
Doc Rivers: "A lot of times DJ or Blake were not on the floor in the fourth quarters. We want to have them on the floor as much as we can."

— Andrew Han (@andrewthehan) September 30, 2013
Crunch-time strategy was a common theme in the media day pressers.
Matt Barnes said he doesn't care if he starts or comes off the bench, but he wants to play the last 3 or 4 minutes of the game.

—

Jovan

Buha

(@jovanbuha) September 30, 2013
Lineups are going to be different with a new coach and a new roster, and Rivers seems pretty excited about those prospective moves.
Doc Rivers says this Clippers team is the most versatile team he's ever coached in terms of lineup options.

—

Jovan

Buha

(@jovanbuha) September 30, 2013
Doc on @deandrejordan "I'm looking at (dj) as an All-Defensive team player... I'm putting a lot on his plate."

— Los Angeles Clippers (@

LAClippers

) September 30, 2013
Blake Griffin and Chris Paul both posted career-low minutes per game totals last year. It seems like this year is going to be a bit different.
Doc on CP3: I'm going to let em roll... I'm not going to play him 45 minutes but... Implication that he was underutilizdd last year

— Steve

Perrin

(@clippersteve) September 30, 2013
Takeaways
The Clippers are going to have sleeved jerseys. Aren't those all too pervasive in today's NBA? Either way, the baby blue would look good on any team that could end up flirting with a 60-win season.
Doc Rivers was the big star of Clippers' media day, clearly putting the focus on defense all the way. The rest of the Clippers did the same.
DeAndre Jordan noted he spent the summer working on his defense. Blake Griffin did the same (while also talking about how he needs to become more of a playmaker). The Clippers seemed in sync, and if that carries over onto the court, it will be an improvement on a team that was, at times, discombobulated last year.
Wrapping Up
The Clippers are going to be a different team this year and it looks like that will be for the better.
The Clips lost so many games down the stretch last season because of strange lineups and fluky plays. At media day, Doc Rivers specifically noted he wanted to shore up the three-point defense, which was 26th in the NBA last season. As Rivers talked about the Clips' porous three-point defense, it almost seemed like he was silently cursing the names of Dion Waiters and Toney Douglas, who each had their own three-point shows against L.A. last year.
If Rivers can utilize Jordan like he so confidently says he can, the Clippers' defense is going to take on a new form in the upcoming season.
"I want to stay big at the end of games, so [DeAndre] will be on the floor a lot," Rivers explained, right before he declared that Jordan could be a candidate for Defensive Player of the Year if all goes right.
Remember that even though complex offenses could exploit last year's Clippers' defense, that was still a D that ranked eighth in the NBA in defensive efficiency, according to basketball-reference.com. The tools could be there for the Clippers to defend.
For now, the defense is less about personnel and more about system. The Clippers had some of that personnel last year (Matt Barnes, DeAndre Jordan, Blake Griffin, Eric Bledsoe, Chris Paul and Lamar Odom could all contribute in some way or another on the defensive end), but they didn't hone that group. The team lacked discipline.
This year's team looks like it will have the discipline that was so missed last season. Rivers brings a different philosophy and it's one that has a long history of working well.
This article is
What is the duplicate article?
Why is this article offensive?
Where is this article plagiarized from?
Why is this article poorly edited?

Los Angeles Clippers: Like this team?