The San Antonio Spurs are eager for the beginning of the season to arrive, and media day was the team's final duty before training camp opens at the Air Force Academy.
Unsurprisingly, the biggest question was what the Spurs' collective mindset is a few months after the gut-wrenching loss during the 2013 NBA Finals.
Though the team is preparing for the 2013-14 season-opener on October 30, a certain member of the big three gave some great news about next year.
From his reaction concerning the finals to his current health to his hairstyle, third-year small forward Kawhi Leonard was certainly the most quotable player of the day.
Ultimately, there was plenty of noteworthy material that emerged from media day in San Antonio.
Moving Past the NBA Finals Heartbreak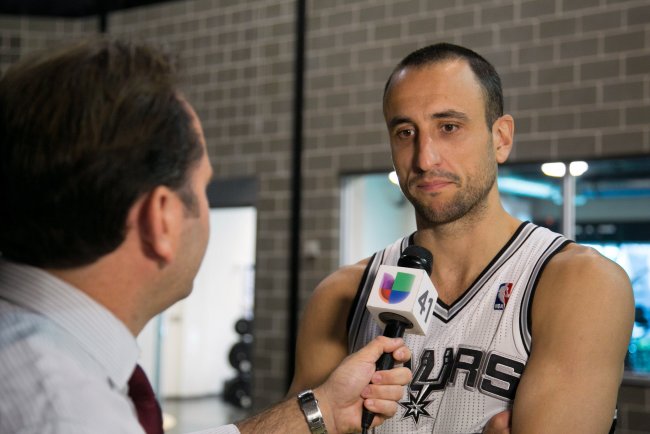 Soobum Im-USA TODAY Sports
"It just plain hurts," Manu Ginobili said of the Spurs' loss to the Miami Heat in the finals, according to Joe Reinagel of KENS5.com.
A handful of San Antonio players addressed the question of how each of them were responding individually, and there were varied responses.
Jeff McDonald of the San Antonio Express-News notes Tim Duncan needed some time to move on, but he is in a better "mental state" and "does not think about it every day."
Shockingly to some, head coach Gregg Popovich said he is still trying to get over it.
Pop - Suffice to say I've thought about it every day. Maybe it will go away. It hasn't yet. Its time to go over it.

— Dan McCarney (@danmccarneysaen) September 30, 2013
Kawhi Leonard, on the other hand, took a different—slightly bolder—approach and said that he has simply moved on.
Most Spurs spoke today about their varying degrees of angst after Finals, but not Kawhi: "Didn't think about it too much. We lost."

— Dan McCarney (@danmccarneysaen) September 30, 2013
Finally, shooting guard Danny Green said he couldn't escape questions about his Game 6 and 7 performances during his offseason travels—even in the Pacific Rim.
The Spurs will always have lingering memories of how close they were to winning an NBA title, but the team has a great chance to redeem themselves this season.
Kawhi Leonard is Healthy...And the Next Best Thing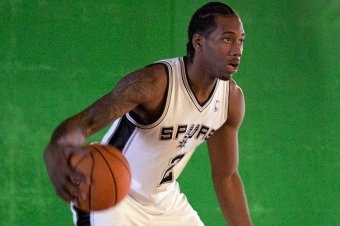 Soobum Im-USA TODAY Sports
After knee tendinitis nagged the San Diego State product throughout the 2012-13 campaign, according to Dan McCarney of the San Antonio Express-News, Leonard said he is completely healthy for the upcoming season.
This, of course, is great news for the Spurs, because Leonard is such a versatile and talented player on both ends of the court and in multiple facets of offense and defense.
Additionally, Popovich said Leonard is the next player in line to be a star for the San Antonio organization.
Pop on Leonard: "Kawhi is the new Parker-Ginobili-Duncan kind of guy. He's going to take over as the star of the show as time goes on."

— Jeff McDonald (@JMcDonald_SAEN) September 30, 2013
Leonard will be looking to continue his fantastic defensive work, but he is fully capable of taking on a larger offensive role, too.
During the finals, the small forward certainly showed signs that he could become one of the more well-rounded players in the league, locking down LeBron James, scoring 14.6 points and grabbing 11.1 rebounds per game.
Oh, and in case you were wondering, per Leonard on the Spurs' Twitter account, he will not be cutting his hair. May you have a more restful day knowing that.
Tony Parker Will Likely Take Next Summer Off
Tony Parker—San Antonio's most important player—said he owes it to the Spurs to take one offseason easier.
Parker said its 95 percent he will skip the worlds next summer. "I owe it to Pop, RC for being so supportive of me playing for France."

— Dan McCarney (@danmccarneysaen) September 30, 2013
Popovich's squad is more likely to win when Parker efficiently runs the point, and the 2013 NBA Finals proved it.
During three wins, Parker averaged 17.7 points on 64.9 percent shooting, dished 6.3 assists and committed 1.7 turnovers. Throughout four losses, however, Parker tallied 15.3 points on 32.2 percent shooting along with 6.5 assists and 2.8 turnovers per game.
Parker said playing for France during the offseason—and winning the EuroBasket title—was therapeutic for him.
Parker said playing for France -- and winning -- helped him get over NBA Finals. "It was good therapy to think about something else."

— Jeff McDonald (@JMcDonald_SAEN) September 30, 2013
But by likely not playing for his home country next summer, Parker is preparing for a larger leadership role in the future. This is not to say Tim Duncan will retiring following the 2013-14 campaign, but wondering how much longer the Big Fundamental dons the silver and black remains to be a logical, yet thoroughly confusing question.
Plus, the extra wear on Parker's body will be avoided for at least one offseason, and the Spurs' point guard will be well-rested for yet another future NBA season.
Takeaways from Media Day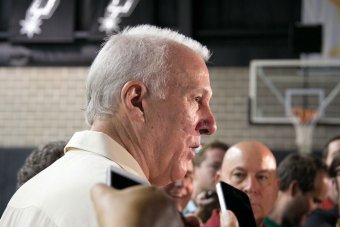 Soobum Im-USA TODAY Sports
It has certainly been hard for the players to move past the heartbreaking end to the finals, but the Spurs are doing their best.
Expectations for Kawhi Leonard are slowly growing, and Popovich is fully supportive of the third-year player's potential both now and in the future.
The Spurs' front office recognized the lack of depth at the small forward position and addressed it by adding Sam Young and Corey Maggette to the training camp roster. Even if neither player is eventually signed, San Antonio has a couple more options behind its blossoming young talent in Leonard.
Lastly, Tony Parker is committed to the Spurs—and the Spurs alone—for the next two seasons.
Does that mean he is preparing for the 2014-15 campaign to be Duncan's final season and one last hurrah for the duo? Maybe, maybe not. Regardless, Parker is the key to San Antonio's winning machine, and avoiding additional rust on its important component is crucial.
Wrapping Up
Manu Ginobili best defined what the Spurs will do with the bitter memories of the finals.
.@manuginobili on Spurs getting over Finals loss: 'We're going to have to get over it and use it as fuel.'

— Mike Monroe (@Monroe_SA) September 30, 2013
San Antonio will use its collective heartbreak as motivation to make another deep playoff run, and the team will need it against a much-improved Western Conference.
Training camp has now arrived, preseason games are quickly approaching and the Spurs have less than a month before the official road to redemption tips off.
More Duncan, on leftover hurt from Game 6/7 in Miami: "We're gonna let it fester for a while."

— Jeff McDonald (@JMcDonald_SAEN) September 30, 2013
And motivated, they are.