MMA September Stock Report
Tom Szczerbowski-USA TODAY Sport
We kick off October by taking a look back at September, assessing which mixed martial artists sprung their careers forward, and who suffered a fall-back. Sensational pun aside, we'll examine who performed beyond expectations, and who failed to meet them.
We are not concerned with heavy favorites who won easily against lesser competition, or fighters who failed to pull off a monumental upset. We are here to see whose reputation is now different from what it was to begin September.
The following list details the climbs and slides of 19 fighters. There are no doubt more than that who climbed or slid, and if you think you spot an omission, toss it into the comments.
Andrei Arlovski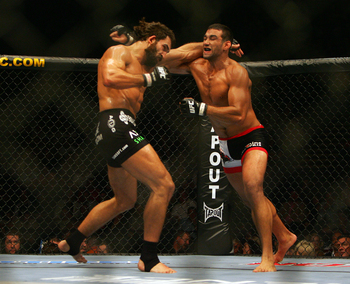 Gary M. Prior/Getty Images
Stock: Up
Any time you beat a hard-hitter like Mike Kyle after being written off as a glass-jawed washout, the moral victory is explicit.
While Arlovski's stock by no means jumped up into anything resembling elite status, the win he netted this September at WSOF 5 at least keeps him afloat.
Actually, he is now 5-1 over his last six.
See? Still...kind of relevant.
Renan Barao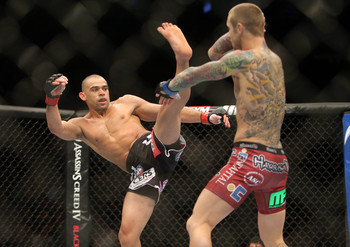 Tom Szczerbowski-USA TODAY Sport
Stock: Up
It's not often you can boost your stock by winning a fight everyone expects you to win, but we make exceptions for spinning back-kick-to-the-face knockouts in these parts.
Barao is steadily moving beyond UFC champion, emerging as a legitimate pound-for-pound player. He keeps passing all his tests with flying colors, and his win over Eddie Wineland at UFC 165 was just his latest triumph.
Heading into September, we already knew Barao was good. Now we know he's better than what we thought. It's a pattern that is becoming very repetitive.
Francis Carmont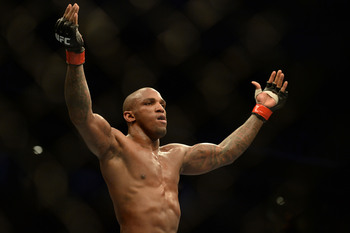 Kyle Terada-USA TODAY Sports
Stock: Up
Carmont moved to 6-0 in the UFC this September, schooling Costa Philippou for 15 minutes at UFC 165.
While the victorious result marked an ongoing trend, the dominant, albeit not thrilling manner in which he dismantled Philippou, was quite fresh. Prior to the bout, the Frenchman was riding back-to-back controversial decision wins and had all but shed his prospect stripes.
While the win doesn't cement his place as a future contender, it at very least brings him back into the picture.
Jussier da Silva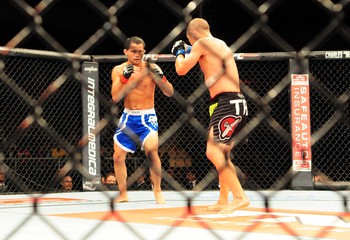 Jason da Silva-USA TODAY Sports
Stock: Down
Listen, nobody expected da Silva to beat Benavidez at UFC Fight Night 28, but a quick knockout is never good for your career.
In three UFC fights, da Silva has one victory and has been badly outclassed twice. He still has time to right the ship, but it is looking very much like the Brazilian, once thought to be a title player at flyweight, will settle for gatekeeper status after all.
Mitch Gagnon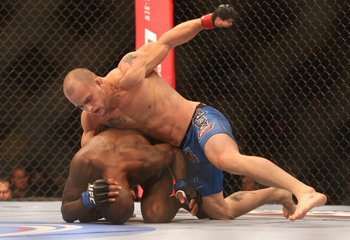 Tom Szczerbowski-USA TODAY Sports
Stock: Up
Gagnon's UFC 165 fight with Dustin Kimura looked like a showcase outing for the Hawaiian, but defending his home turf in Toronto, Gagnon made short work of his foe.
With the win, Gagnon moved to 2-1 as a UFC fighter, scoring his second first-round submission win. Consider that his sole loss within the promotion came as a result of tiring out in his first ever UFC bout, and Gagnon just became something of a bantamweight darkhorse.
Rolles Gracie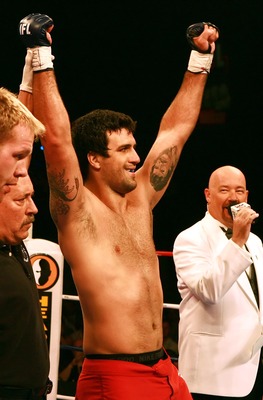 Doug Benc/Getty Images
Stock: Down
Remember when Rolles brought the fabled Gracie bloodlines back to the Octagon in February 2010? You probably don't, and if you do, you probably remember it for all the wrong reasons.
After taking Joey Beltran to grappling class for a couple minutes, Gracie gassed and became a near-immobile lump that just waited for obvious outcome—a Beltran TKO—to take its course.
The UFC instantly released Gracie, and he then compiled five straight wins. His nice little post-UFC run came to an end earlier this month, however, when he suffered another knockout loss at WSOF 5.
Alexander Gustafsson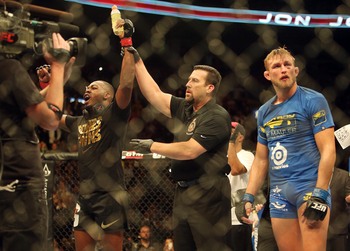 Tom Szczerbowski-USA TODAY Sport
Stock: Up
He failed to do the impossible—though many believe he actually did the impossible—losing to Jon Jones at UFC 165, but it was by far the best performance any Jones opponent has ever put forth.
Despite the loss, Gustafsson's stock skyrocketed, and he is now considered by most to be the clear-cut No. 2 light heavyweight on the planet.
Even losses can be career-defining in a positive way, and Gustafsson's September showing was most certainly that.
Piotr Hallmann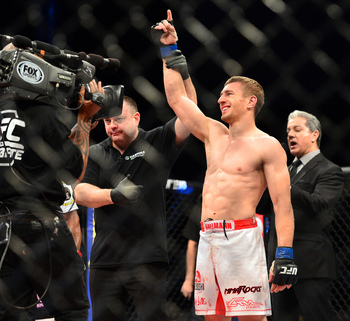 Jason Silva-USA TODAY Sports
Stock: Up
Hallmann went to Brazil as a sacrificial lamb. He was brought in to fight a crowd-favorite destined for big things. He was supposed to lose.
He went back home as a sexy new pick to make waves in the UFC's lightweight division. What a difference a kimura makes, am I right?
Hallmann more launched his brand than raised his stock. If anyone burst onto the MMA scene in September, it was him.
Pat Healy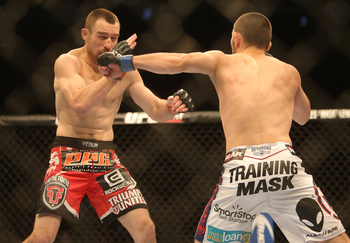 Tom Szczerbowski-USA TODAY Sport
Stock: Down
Healy impressed a lot of people when he stopped Jim Miller back in April, but his September loss to Khabib Nurmagomedov took nearly all the wind out of his sails.
It's not that he lost the fight—Nurmagomedov was the favorite—it's how he lost it. Grinding battles of attrition are what Healy lives for, so it is troublesome when he loses one.
"Bam Bam" remains a talented lightweight competitor, but the belief that he may be a title contender looks like it will be short-lived. Unless he proves otherwise next time out, it appears he'll fall into the gatekeeper position initially reserved for him upon re-entrance to the UFC.
Jon Jones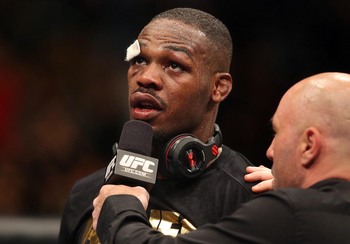 But at least he's wearing headphones?
Tom Szczerbowski-USA TODAY Sport
Stock: Down
Yes, Jones put another title defense under his belt. No, this inclusion is not a dig at the judging from Jones vs. Gustafsson.
So then how does a champion who defends his title lose face? Well, in the case of Jones, he went from a larger than life, undefeated—nay, undefeatable—god among men, to just another fighter.
When I say Jones is "just another fighter," it's hyperbole because he is arguably the best fighter in the world. The point is, the mysterious aura is gone. We saw him struggle, we saw him unsure, we saw him nearly lose.
Now we can realistically imagine him losing. I don't know about you, but I struggled to imagine that in August.
Georgi Karakhanyan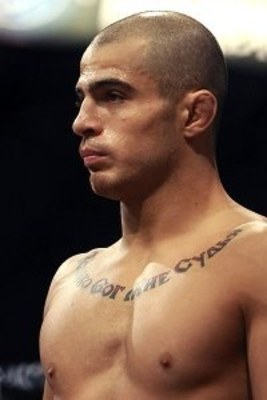 Photo by sherdog.com
Stock: Up
Karakhanyan won his eighth straight fight this September, solidifying himself as one of the top featherweights outside the UFC. His only losses have come to Joe Warren and Patricio Freire, and if his recent performances are any indication, he may be ready to take another shot at a member of the 145-pound elite.
The WSOF 5 win over Waylon Lowe is by no means career defining, but it keeps Karakhanyan's momentum going, and keeps him positioned as an up-and-comer.
2014 is his real chance to break through, but September 2013 was undeniably a good month.
Douglas Lima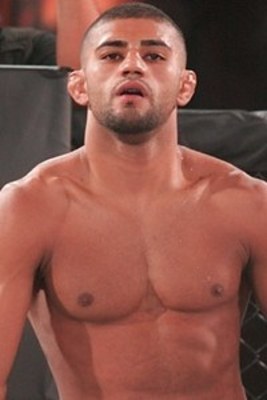 Photo by sherdog.com
Stock: Up
September's head-kick finish of Ben Saunders was Lima's fourth straight knockout win. It was also his sixth knockout win in seven fights.
While the Bellator welterweight roster leaves something to be desired, it does have some solid competitors, so it isn't like Lima is crushing cans.
Where Lima goes from here is up in the air, but with his Bellator 100 win in tow, the options are all attractive.
Diego Nunes
Bruce Kluckhohn-USA TODAY Sports
Stock: Down
I was a bit surprised when the UFC cut Nunes after his January loss to Nik Lentz. No, the Brazilian didn't have anything near a spotless record inside the Octagon, but he'd faced a lot of tough opponents and given most of them a challenge, if not a loss.
After coming to terms with the roster move, I expected Nunes to get on a roll against softer competition, and maybe win his way back into the Octagon.
As it turns out, softer competition was not in the cards, and Nunes was immediately put up against Patricio Freire.
Expecting Nunes to win the fight seems a bit much, but after seeing him give other top fighters a run for their money, expecting a competitive affair seemed reasonable.
That's what makes the 1:19 knockout he suffered such a downer.
Khabib Nurmagomedov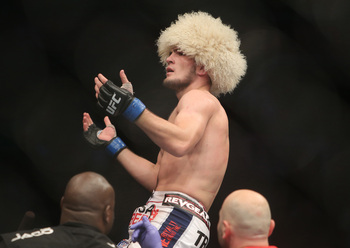 Tom Szczerbowski-USA TODAY Sport
Stock: Up
He asked for a title shot after beating Pat Healy. He probably isn't ready for that just yet, but his performance was convincing enough to suggest the day isn't far off.
Nurmagomedov seems to improve with every fight and is quickly becoming a true contender in the crowded 155-pound division.
Yushin Okami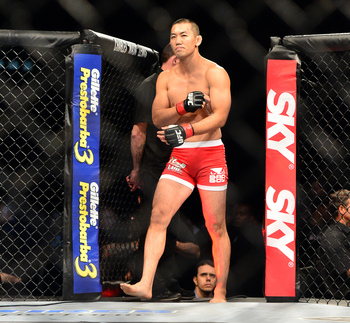 Jason Silva-USA TODAY Sports
Stock: Down
Okami has been a UFC mainstay since 2006 and was a top middleweight contender for a large part of that time. Now he's been cut loose from the promotion and will have to navigate uncharted territory, at least for awhile.
It's very possible the Japanese star finds his way back to the Octagon, but his recent knockout loss to Ronaldo Souza shows that he has to figure out how to hold out against pressure if he wants to make such a return meaningful.
Ronaldo Souza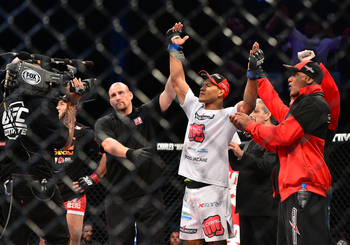 Jason Silva-USA TODAY Sports
Stock: Up
While Yushin Okami's stock hit the floor after Souza floored him, the Brazilian hit a new peak of relevance. He moved to 2-0 as a UFC fighter this September, stopping a stalwart foe in the first round for the second straight time.
He hasn't made himself the middleweight division's No. 1 contender just yet, but he's put himself in the fray. If he can roll last month's win into another, he should challenge for UFC gold in 2014.
Francisco Trinaldo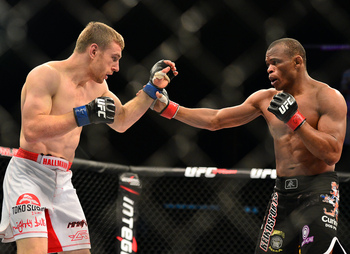 Jason Silva-USA TODAY Sports
Stock: Down
His matchup with Piotr Hallmann looked like a gimme, and whether he took it lightly or Hallmann is simply the better fighter doesn't matter.
What does matter is that Trinaldo is now 3-2 in the UFC, and that record has not come against top-flight competition. At 35, it just may be that the Brazilian never eclipses his current station in the sport.
Unless he beats the odds, I'm thinking this September might be the wall his career crashed into.
Ronda Rousey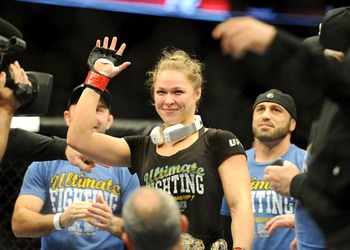 But at least she has headphones?
Jayne Kamin-Oncea-USA TODAY Sports
Stock: Down
What you see on The Ultimate Fighter is only a reflection of reality, despite the "Reality TV" genre that defines the show. Still, reputations have been made and broken for coaches and contestants in the past, and it is hardly surprising that a polarizing character like Rousey has got people's blood flowing.
While TUF coaching is not cut and dry like winning a fight or losing a fight, it can still move one's stock up or down. In taking the temperature of the MMA community on this one, it seems like most fans are either tired of Rousey's antics or worried over her mental stability.
In-Octagon performance trumps external behavior, but both impact reputation. From what I gather, Rousey's external behavior this September has dropped her stock in the eyes of many fans, if not as a fighter, then as an icon.
Eddie Wineland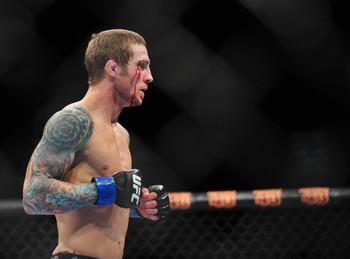 Gary A. Vasquez-USA TODAY Sports
Stock: Down
Heading into his UFC 165 showdown with Renan Barao, a lot of people were saying, "don't sleep on Wineland."
He was a marked underdog in the bout, but a live underdog, and most people seemed to think Wineland would put up more of a battle than he did.
It wasn't just being stopped in highlight style that hurts Wineland's stock, but the fact that he was beaten soundly for more than a round at his own game, then stopped in highlight style is a substantially damaging aspect.
Keep Reading