5 Biggest Positives from Liverpool's Season So Far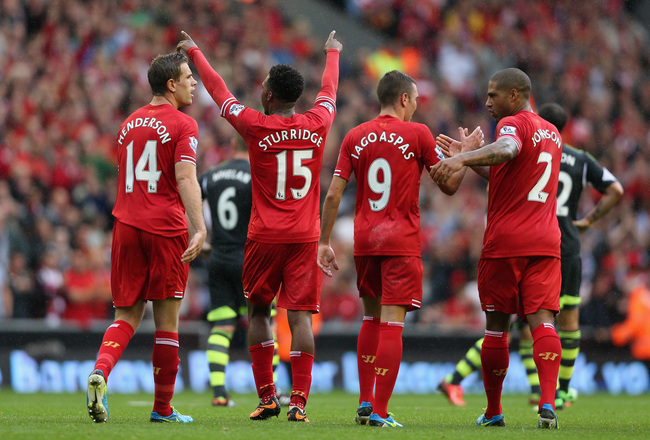 Jordan Henderson, Iago Aspas and Glen Johnson celebrate Daniel Sturridge's goal for Liverpool on the opening day of the season against Stoke.
Clive Brunskill/Getty Images
There's a lot to smile about if you're a Liverpool fan right now: second in the league and, at times, playing some very entertaining football.
The summer signings are starting to become real players in the squad and giving those who had felt they had cemented a first-team place last season a much-needed kick up the back side.
It's been a start to the season with plenty of talking points and plenty of surprises.
After three defeats in their opening set of fixtures last time round, would any Liverpool fan have predicted that, come October 2013, the Reds would have been top for more weeks of the season than any other team?
But what is it that's making Liverpool click this year? What are the key factors in the Reds' positive start to the new campaign?
Here we bring five big positives from Liverpool's season so far.
1. Daniel Sturridge Is Still a Goalscoring Machine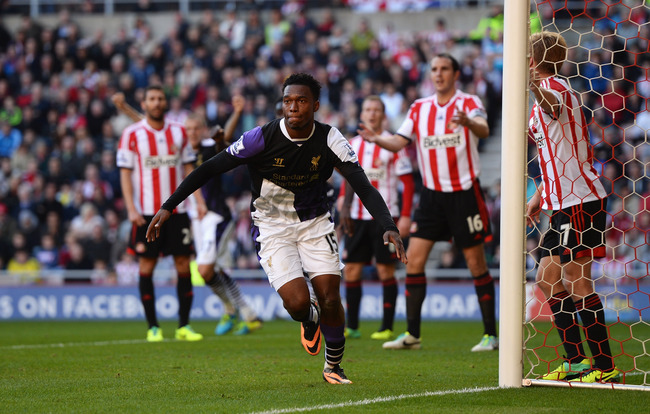 Daniel Sturridge has now scored 18 goals in his first 24 appearances for Liverpool.
Gareth Copley/Getty Images
There's a famous phrase that's often uttered by fans to new signings: "You have to earn the shirt."
Daniel Sturridge's blistering start to his career at Liverpool in the second half of last season came at the perfect time for both him and Liverpool Football Club.
In Brendan Rodgers, Sturridge found a manager who had faith in him, would give him games and would revolve the team around his prowess in front of goal.
Sturridge's form wasn't just a one-season wonder. He has continued to put the goals away this campaign, scoring six in just eight competitive appearances.
There were also signs on Sunday against Sunderland of a great partnership in the making with Luis Suarez, as he set up both of the Uruguayan's goals.
In Sturridge, Liverpool have a passionate striker, willing to play in a variety of roles, who is on target to score at least 20 goals a season and help push the Reds in the right direction.
2. Liverpool Finally Have Depth in the Squad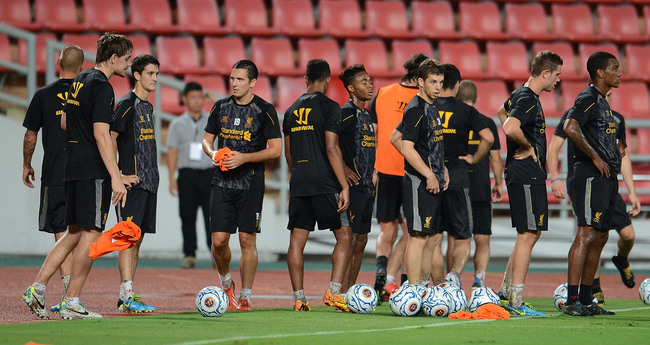 Liverpool squad in pre-season training earlier this summer.
Thananuwat Srirasant/Getty Images
Liverpool's successful start to the season hasn't come without obstacles.
Injuries to Glen Johnson, Philippe Coutinho, Aly Cissokho, Joe Allen and Daniel Agger to name but a few—as well as Luis Suarez's suspension for the first six games of the campaign—meant the Reds had to find another way.
As Brendan Rodgers continues to build his squad with each transfer window, he is building a comprehensive list of options to help fill gaping holes left by first-team players when injuries and suspensions hit.
In defence, Liverpool now have a range of strong, experienced and versatile defenders to play in a variety of positions and roles, all with a desire to fight for their place.
The absence of Daniel Agger would have previously been seen as a nightmare for Liverpool, but it has allowed the likes of Kolo Toure, Martin Skrtel, Mamadou Sakho and Martin Kelly to prove themselves to Rodgers.
And we haven't even seen a glimpse of Tiago Ilori yet.
In attack, Philippe Coutinho's injury looked to have taken the spark from the gap between midfield and attack, but the return of Luis Suarez, added to the signings of Victor Moses, Iago Aspas and Luis Alberto, give the Reds a plethora of alternatives.
As well as providing cover for each other, every player is earning the right to play and keep their place in the team. Liverpool are starting to be spoilt for choice.
3. Simon Mignolet Is Filling Pepe Reina's Boots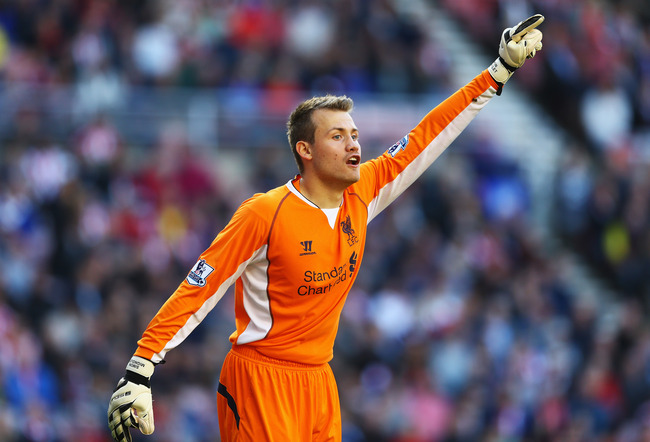 Simon Mignolet has looked comfortable since replacing Pepe Reina in Liverpool's goal this season.
Matthew Lewis/Getty Images
Many were puzzled when Belgian goalkeeper Simon Mignolet was brought in during the summer to, according to Brendan Rodgers, provide strong competition for Pepe Reina.
That bluff didn't last long as Reina was shipped off to Napoli on loan for the season before he inevitably joins Barcelona next summer.
Mignolet has come in and commanded the Liverpool defence. He possesses all the attributes of an exciting and outstanding world-class goalkeeper.
His penalty save from Jon Walters on the opening day of the season against Stoke at Anfield made him an instant hero on the Kop.
Whilst his distribution needs work, the former Sunderland man has produced some outstanding and athletic saves to keep goals out this season.
4. Brendan Rodgers' Pragmatic Approach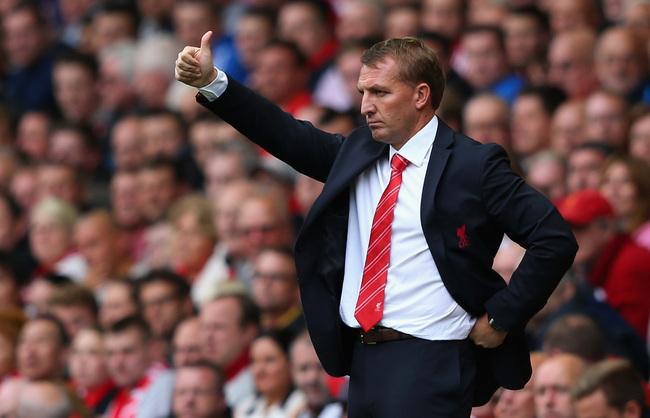 Brendan Rodgers hasn't been afraid to change things round when plan A fails at Liverpool this season.
Alex Livesey/Getty Images
Brendan Rodgers is not afraid to admit he's wrong.
Liverpool have seen some stubborn managers grace the sidelines on the Main Stand in recent times. But Rodgers has a range of ideas up his sleeve—he doesn't insist on "his" way or the highway.
Rodgers is a dynamic tactician. He analyses every performance with a calm and progressive nature and adjusts accordingly, instead of sticking to a singular football philosophy.
As Liverpool's football continues to evolve under Rodgers, there is a movement away from the idea of "tiki-taka"—the Barcelona-inspired style of play with which he was labelled on his arrival from Swansea in 2012.
5. Anfield's Doom and Gloom Has Been Lifted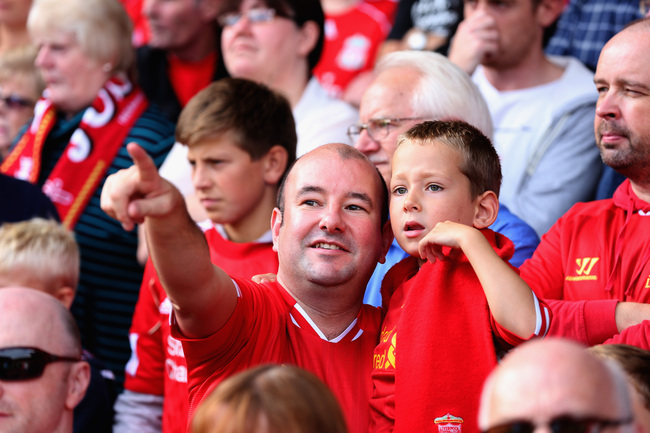 Liverpool fans have been in good spirits this season, and Anfield seems a brighter place.
Clive Brunskill/Getty Images
The results on the pitch, the spending of money in the transfer window, a manager who talks the talk, the getting ever closer to justice for the 96; there's a golden sky appearing over Anfield these days.
And it's showing in the crowd at home and away games. Atmosphere has improved and there are more smiles in discussions ringing around the pubs of Walton Breck Road.
Liverpool fans are seeing progress on the pitch—and so far this season at a surprisingly quick rate.
It can only do good for the team in games to come: an ever-uniting crowd impressed by what they see.
There'll be glory 'round the fields of Anfield Road.
Keep Reading

Liverpool: Like this team?