Michigan State Needs to Settle Quarterback Rotation for Sake of Players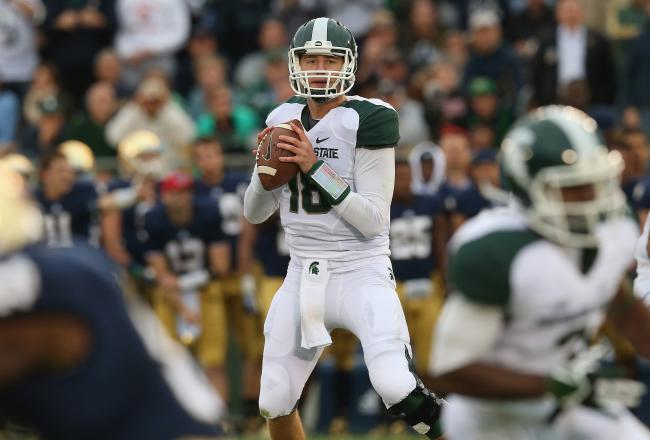 Jonathan Daniel/Getty Images
Michigan State pulled one of the most puzzling moves of the past few years in the closing moments of its loss to rival Notre Dame two weeks ago—pulling its starting quarterback in favor of an ice-cold backup.
Connor Cook, the guy who took every offensive snap up until the final possession of the Notre Dame game, wasn't on the field as MSU looked to drive and score a game-winning touchdown. Instead, Andrew Maxwell, the guy who started two games to open the season, came in after not playing a single snap the entire game and the results were an epic fail.
So, why did the change happen?
Head coach Mark Dantonio said after the game that it was all about "changing the pace," and according to Joe Rexrode of the Detroit Free Press, Cook said that he wished the coach had shown more faith in him.
Two things became clear following that unwise decision and the comments following the game—the constant rotation is unfair to the guys involved in the battle, and MSU players as a whole need to know who they will be lining up with on a weekly basis.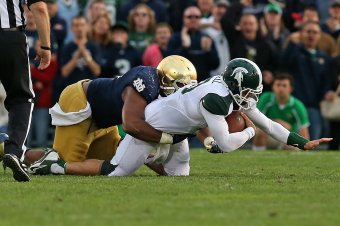 Jonathan Daniel/Getty Images
Otherwise this season could get real ugly on offense real fast in the Big Ten' especially with games against Michigan, Nebraska, and Northwestern on back-to-back-to-back weekends to open up November.
Losing the locker room has to be a concern for Dantonio, especially given the public comments of Cook after the loss. Those types of comments from a usually controlled media presence indicate a bubbling frustration over what is happening with the position—not only for those involved, but for the rest of the team as well.
However, the move in the Irish game was just the latest in a long line of puzzling and irksome decision-making by the Spartans coaching staff regarding their quarterback situation.
First came the supposed two-man battle between Maxwell and Cook at the start of training camp, which then became a four-man battle with freshmen Tyler O'Connor and Damion Terry entering the mix.
Yet, on opening day it was Maxwell starting once again. However, it didn't last long, as he struggled out of the gate and Cook came in to relieve him.
Week 2 saw Maxwell start once again, only to show even worse than Week 1—going just 4-of-9 for 40 yards. That meant more Cook and finally a shot for O'Connor. However, things didn't get much better regardless of who was in there on a rotating basis, as the team finished the game just 12-of-24 passing for 94 yards and no touchdowns.
So far, that would be three different quarterbacks in the mix. Following that awful performance by the group as a whole in Week 2, Terry, the true freshman, was spoken about by Dantonio as a guy they were going to test and see if he was ready (h/t MLive.com):
Because he is a true freshman, what we really don't want to do is take the redshirt off of a freshman and then not play him the rest of the season. I don't think that's right to do to a young man, so that's why we have to be very careful with this. But I do think we need to explore this opportunity.

I do think, based on Damion's performance in the summer in the one practice, his performance as of late, he deserves an opportunity to show what he can do in practice.
Apparently, that is the only thing Dantonio has been settled on all season, as Terry has yet to take a snap in a game.
Who Should be Michigan State's Starting Quarterback Going Forward?
Perhaps the biggest indications that nothing is settled comes from the fact that the coaching staff hasn't even been able to settle on who the No. 2 quarterback has been on a given week.
Cook, O'Connor and now Maxwell have all taken on that role to date.
Add that to some questionable usage of all the quarterbacks and you have to wonder how much longer the musical chairs can continue before this whole situation spirals out of control in East Lansing.
Michigan State had a bye this past week and hopefully as a team it found answers to the quarterback questions they've had all season long. It appears that this team will be Cook's to lead—for now, and that may be the best piece of news this team has heard all season long.
The Spartans may finally have a guy they can completely get behind and the staff may have had enough time to realize that playing musical quarterbacks was hurting not only the quarterbacks, but the rest of the team as well.
Now the real test will come if Cook struggles at times going forward. Will the coaching staff learn from the past or will they repeat the mistakes they've made?
Only time will tell, but for the sake of everyone involved the constant fluctuation at quarterback has to stop sooner than later.
Andy Coppens is the Big Ten Lead Writer for Bleacher Report. Check him out on Twitter for more coverage of all things B1G.
This article is
What is the duplicate article?
Why is this article offensive?
Where is this article plagiarized from?
Why is this article poorly edited?

Michigan State Football: Like this team?