Josh Freeman Released by Tampa Bay Buccaneers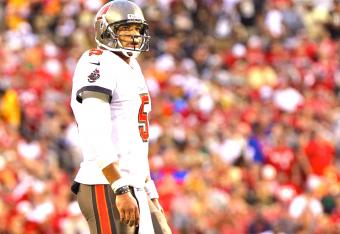 The Tampa Bay Buccaneers released quarterback Josh Freeman on Thursday, bringing closure to a rift between the organization and its fallen franchise signal-caller.
Adam Schefter of ESPN broke the news, as Freeman had the final year of his rookie contract cut short:
Filed to ESPN: Bucs have released QB Josh Freeman. Bucs tried to trade him but couldn't.

— Adam Schefter (@AdamSchefter) October 3, 2013
The team later confirmed the move, via Rick Stroud of the Tampa Bay Times:
BREAKING: GM Mark Dominik confirmed today that Freeman is being released.

— Rick Stroud (@NFLSTROUD) October 3, 2013
UPDATE: Friday, Oct. 4
From Rick Stroud of The Tampa Bay Times:
QB Josh Freeman said to be receiving heavy interest and reviewing several options. Injuries could also play a factor moving forward.

— Rick Stroud (@NFLSTROUD) October 4, 2013
95.7 Radio in Oakland and Raiders Tribune both added fuel to the possibility that Oakland might be one of the teams interested:
Dennis Allen on whether or not the Raiders are interested in Josh Freeman: "Ah, I don't know." #Raiders

— Raiders Tribune (@RaidersTribune) October 3, 2013
We just recieved this text from Josh Freeman: "Raider Nation is great. I've worked with Greg Olson & he is a great coordinator."

— 95.7 The GAME (@957thegame) October 3, 2013
UPDATE: Thursday, Oct. 3
From NFL Network's Ian Rapoport:
Bucs did consider suspending Josh Freeman for conduct detrimental. In the end, that fight wasn't deemed worth it. They wanted to be done

— Ian Rapoport (@RapSheet) October 3, 2013
UPDATE: Thursday, Oct. 3
From NFL Network's Ian Rapoport:
#Bucs QB Josh Freeman received a $5.95M payment from the Bucs when they cut him. #Consolationprize

— Ian Rapoport (@RapSheet) October 3, 2013
Dominik later issued a statement on the team website:
We made the decision today to release Josh Freeman. We appreciate his efforts over the past five seasons, but we felt this was in the best interests of both Josh and the Buccaneers.
Stroud also reported the amount of Freeman's contract the Bucs are on the hook for:
The Bucs will be responsible for paying Freeman the remainder of his salary, roughly $6.25-million.

— Rick Stroud (@NFLSTROUD) October 3, 2013
Despite the money Tampa Bay still owes Freeman, the move defuses a situation that was getting uglier by the day between the promising young QB and the organization.
According to NFL insider Jay Glazer, the Bucs contacted every NFL team about a possible trade before reaching this decision:
Team actually had contact with every team about trading him and couldn't find any takers so they finally released him

— Jay Glazer (@JayGlazer) October 3, 2013
Mike Freeman of Bleacher Report confirmed that report, saying that the circumstances around Freeman led to the lack of a trade market:
One GM, who spoke to the Bucs, said no team was ever going to trade for Freeman "because everyone knew he was getting cut."

— mike freeman (@mikefreemanNFL) October 3, 2013
Once there were no takers, Freeman's camp reportedly pushed hard for his release, according to Ira Kaufman of The Tampa Tribune:
Freeman's camp applied great pressure on the Bucs in recent weeks to accommodate his release. Never seen a barrage of leaks to this degree

— Ira Kaufman (@IKaufmanTBO) October 3, 2013
Moving forward, there should be concerns about Freeman given the way he handled the end of his tenure in Tampa Bay.
NFL Network's Ian Rapoport reported that Freeman missed more than one team meeting leading up to Week 4's loss to the Arizona Cardinals, in which the Bucs deactivated Freeman.
Rookie third-round pick Mike Glennon started the game at Raymond James Stadium and didn't fare much better than Freeman has this year. In his NFL debut, Glennon averaged only 4.5 yards per attempt on 43 passes and threw one touchdown to go with two interceptions.
Before the defeat that dropped Tampa Bay to 0-4, Glazer reported that Freeman wanted to be moved as soon as possible, whether it was in a trade or by way of release, per Ross Jones of FoxSports.com:
His time there is over. I spoke to Josh this morning and he's already asked for a trade and Josh told me also, if they don't want to do that, he wants his release. He just knows that he and [Greg Schiano] are not going to be able to come back and have a happy marriage. He says it's just better for everybody that I just move on so I'm not a distraction.
Head coach Greg Schiano and Freeman evidently could not coexist, with Freeman even watching the game against Arizona from a suite rather than from the Bucs' sidelines. Schiano called it a mutual decision, but Freeman's agent Erik Burkhardt disputed that claim:
The agent for Josh Freeman said Greg Schiano's claim that it was a 'mutual decision,' the QB watch from a suite Sun was a 'Lie. Obviously.'

— Rick Stroud (@NFLSTROUD) September 29, 2013
It was also reported this week by Jim Trotter of Sports Illustrated that Freeman had been fined twice this month for conduct detrimental to the team.
It has been a horrendous 2013 campaign for Freeman, as he's completed only 45.7 percent of his passes on 6.1 yards per attempt with two touchdowns, three picks and a passer rating of 59.3.
Even before the significant games began, Freeman m
This article is
What is the duplicate article?
Why is this article offensive?
Where is this article plagiarized from?
Why is this article poorly edited?