ALDS 2013: Step-by-Step Guide for the Tigers to Win the Series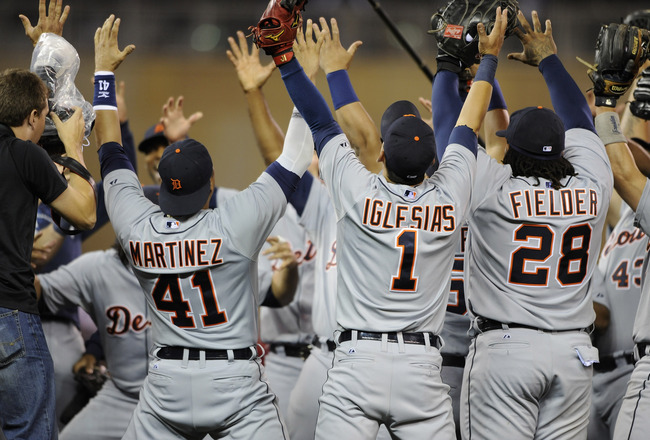 Hannah Foslien/Getty Images
On Friday night, the Detroit Tigers and Oakland Athletics open their American League Division Series rematch.
The Tigers and A's took each other to brink last postseason, battling each other in a five-game series that kept both fan bases on the edge of their seats.
The Tigers got the best of the A's last year, but this year, the A's will look for revenge.
Detroit went 3-4 against the A's this season and come into the series having been swept by the Miami Marlins.
The A's, on the other hand, come in winners of seven of their last 10 games and enter the series with a lot of confidence.
The Tigers will start Max Scherzer (21-3) to oppose Bartolo Colon (18-6), and they will hope to put the A's confidence to bed early.
Here is the step-by-step guide for the Tigers to defeat the Athletics:
Score Runs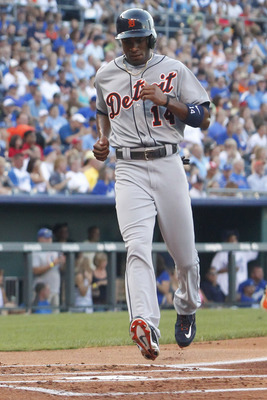 Kyle Rivas/Getty Images
Sounds simple, right?
Well, the Tigers didn't do a whole lot of that in their final regular season series against the lowly Miami Marlins.
It's true that the Tigers weren't playing with their No. 1 lineup against the Marlins, but Detroit only managed to score three runs in a three-game series against a Marlins team that lost 100 games this season.
Some people are freaking out about the lack of production, while others are merely brushing it aside.
The Tigers were second in the AL this season in runs scored (4.91 per game), first in average (.283) and second in both on-base percentage (.346) and slugging (.434).
But those numbers are slightly inflated considering that the Tigers had 17 blowout games where they scored at least 10 runs. Conversely, the Tigers laid an egg several times this season, getting shut out 11 times.
The Tigers also decreased their run output from their season average of almost five runs per game to just 3.73 runs per contest in the month of September.
Often this season, it's been feast or famine for Detroit.
The Tigers can't afford to have offensive inconsistency this postseason, especially considering the fact that they're playing an Oakland A's team that finished with an average 4.73 runs per game this season, which was good for two spots behind Detroit in the AL.
Miguel Cabrera Performs, at Minimum, 75 Percent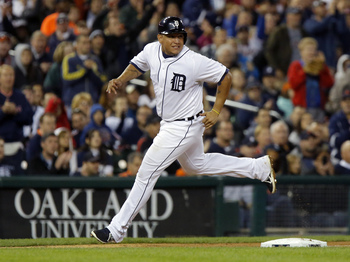 Duane Burleson/Getty Images
Miguel Cabrera at 75 percent is better than most baseball players on the planet at 100 percent.
But the Tigers can't afford for him to be playing much more banged up than that.
After batting .358 with 43 home runs and 130 RBI through the first five months of the season, Cabrera has been hobbled with various injuries that apparently won't go away without at least a month or two of rest.
Cabrera missed 14 games this season, the most time he's spent out of the lineup since his rookie season in 2003. Furthermore, when he was in the lineup in September, he wasn't the same Cabrera that Tigers fans know and love.
In September, the reigning MVP and Triple Crown-winner batted .278 with one home run and seven RBI in 21 games.
He hit only one double in 72 at-bats and went station-to-station on the base paths because of limited—to put it nicely—mobility.
In this series, the Tigers don't need their third baseman to be vintage Cabrera, but glimpses of the defending Triple Crown-winner and back-to-back-to-back batting champion would be nice.
Justin Verlander Returns to Form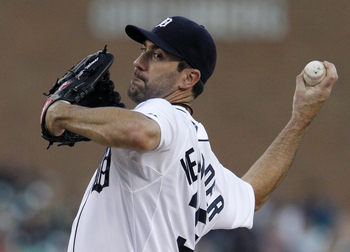 Duane Burleson/Getty Images
It's no secret that Justin Verlander simply wasn't himself this season.
After going 41-13 over the past two seasons, Verlander had a dysmal 13-12 record this season while posting a 3.46 ERA, his worst since 2008.
But despite his poor performance this season, Verlander's reputation has earned him the benefit of the doubt.
He won the AL MVP and Cy Young Award in 2011 and finished second in Cy Young voting last season. He'll revert back to his old ways when the lights shine the brightest, right?
History, and a gut feeling say "yes."
Verlander gets the ball in Game 2 and will face a raucous Oakland crowd, but moments like this have helped make Verlander what he is.
He's 3-0 all-time in ALDS starts with a 2.67 ERA. He's also still Justin Verlander.
However, he still needs to step up.
Bullpen Stays Firm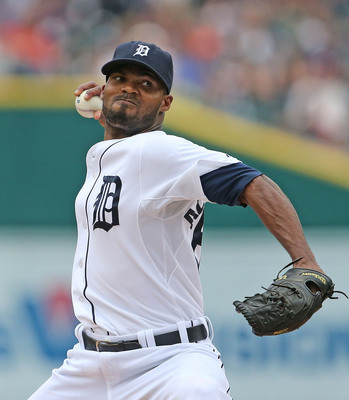 Leon Halip/Getty Images
For most of the season, Detroit had one of the worst bullpens in the AL.
But as of late, most of the Tigers' relievers found a groove, were well managed and helped the team nail down the AL Central title.
The back end of the bullpen—not counting the Jose Valverde fiasco—has been outstanding for Detroit this season. Joaquin Benoit took over as closer and earned 24 saves, a 4-1 record and a team-best 2.01 ERA.
He's been helped by the setups from new addition Jose Veras and second-year stud Drew Smyly, who boast 3.20 and 2.37 ERA's, respectively.
The Tigers will get added help from normal starter Rick Porcello, who will work from the bullpen for the second consecutive postseason.
However, the key for the Tigers will be Al Alburquerque, who allowed just one hit in 8.2 shutout innings in his final nine outings of the season.
He had a tough start to the season, getting to demoted to Triple-A Toledo, but when Alburquerque has his stuff going, he can be very difficult to both right-handed and left-handed hitters.
So with relievers like Phil Coke and Bruce Rondon out for the series, Alburquerque will be need to step up big in the Tigers bullpen.
Unexpected Hero Emerges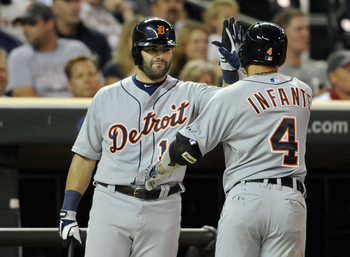 Hannah Foslien/Getty Images
It doesn't have to be Alex Avila—who, based upon his September resurgence, could be the hero for the Tigers in the postseason—but someone not named Cabrera, Fielder or Martinez needs to step up and make their presence felt in this series.
The top of the Tigers lineup has carried this team for the entire season, but even the big guys need help every now and then.
Avila finally broke out of his season-long slump in September, posting a .343 average with a .430 on-base percentage, two home runs and eight RBI.
He's someone who, after an abysmal year, could make up for all of his struggles with one or two big, run-producing games.
Another non-household name who has the ability to make an impact is Omar Infante.
Infante quietly hit .318 with 10 homers and 51 RBI this season, getting little recognition while being stationed in the bottom third of the order for the majority of the season.
The 11-year veteran did hit over .300 for the first time since 2010, though, the third time he has done so in his career. And after hitting .300 in the playoffs last year for the Tigers, he is capable of taking matters into his own hands.
Keep Reading

Detroit Tigers: Like this team?