NBA Live 14: Revealing the Best Aspects of Upcoming Video Game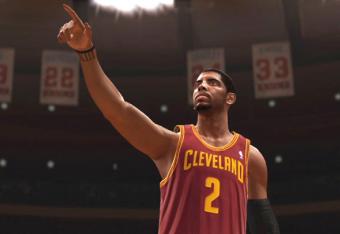 Via EASports.com

After a four-year absence, one of the top sports video game series will return with NBA Live 14 hitting stores on Nov. 19. While there is still time to get ready, fans should already get excited about the possibilities.
The upcoming game will give NBA 2K14 a run for its money as the premier professional basketball game on the market. At the very least, it will give fans an additional option, which will drive competition to get better in the coming years.
Still, NBA Live 14 is certain to be spectacular in its own right as it comes out for next-generation consoles PlayStation 4 and Xbox One. Here is a look at the best features for fans to look forward to.
Incredible Graphics
While this game has the advantage of coming out on the latest consoles, the animation is impressive in its own right. The video above showcases how realistic each player looks in the game, right down to facial expressions during the action.
Additionally, every aspect of the action is improved over what we have seen before, from stadiums to fans to uniforms. At this point, it is as close as we will get to watching an actual game on TV.
Matt Moore of CBS Sports had this to say about the animation:
The graphics are on the next-gen engines, so of course they look fantastic, even as Irving's facial expression doesn't move in-flight. They've focused a lot on the ball and dribbling physics, going so far as to bring in players to record their specific dribbling styles and having the ball using its own physics engine. The result is an animation process a lot closer to reality that anything before it.
As good as other games have been over the years, NBA Live 14 takes it to another level.
CourtQ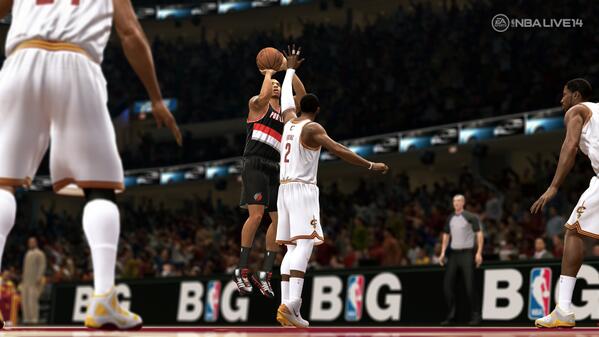 One of the first things people do when getting a new sports game is looking at the ratings and seeing how they match up with expectations. Everyone will have complaints, but there will be even more as the season goes on.
We saw last year in the NBA how stars like Paul George can seemingly come out of nowhere to have a big season. Fortunately, NBA Live has figured out a way to stay as up-to-date as possible when it comes to ratings.
According to EA Sports, the game utilizes CourtQ to get the most accurate representation of each player in the league:
Leveraging live Synergy Sports Technology data, NBA LIVE 14 is driven by over 70 player ratings, tendencies, and team stats updated after every NBA game, ensuring that your game is always in-sync with the real NBA.
This means that if for some reason Dwight Howard comes out in the first week and starts draining threes, it will be in your game before you know it.
Realistic Physics
This year's version is all about gameplay. The creators wanted to do whatever it took to make the game as close to the real thing as possible.
One of the big advancements is the real-life physics that can be seen throughout the game. The dribbling looks just like Kyrie Irving handling the ball in the NBA, while even screens create legitimate reactions from defenders.
When two players make contact with each other, you will see them come down in the way they are supposed to.
For fans looking for an experience as close to the NBA as possible, there is no question they should grab NBA Live 14.
Follow Rob Goldberg on Twitter for the latest breaking news and analysis.
This article is
What is the duplicate article?
Why is this article offensive?
Where is this article plagiarized from?
Why is this article poorly edited?