The New England Patriots' chemistry experiment was threatening to blow up in their face early in the season, but after a strong offensive showing on Sunday night against the Atlanta Falcons, it's beginning to look less like Potassium Chlorate meets gummy bear and more like the Meissner Effect.
Finally, some balance.
Patriots rookie wide receiver Kenbrell Thompkins would probably like to have a mulligan on his first two NFL games. In the past, a rookie like Thompkins may have been sent to the bench in favor of veteran pass-catchers, but the Patriots have resigned themselves to some growing pains this year, and it's beginning to pay off.
Kenbrell Thompkins' first four games

| | | | | | | |
| --- | --- | --- | --- | --- | --- | --- |
| Games | Targets | Catches | Yards | Y/R | TD | Drops |
| 1-2 | 20 | 6 | 89 | 14.8 | 0 | 1 |
| 3-4 | 18 | 9 | 168 | 18.7 | 3 | 3 |
NFL.com game books
Thompkins dominated the headlines in New England throughout training camp and the preseason, and although it was a slow start, he's starting to catch on.
Through two games, Thompkins had recorded just six receptions on 20 targets for 89 yards. In the past two games, Thompkins has hauled in nine of 18 targets for 168 yards, adding three touchdowns in the process.
Drops remain an issue, with Thompkins recording three in the past two games.
But finally, we are starting to see some of the physical prowess that the Patriots have lacked at receiver for years.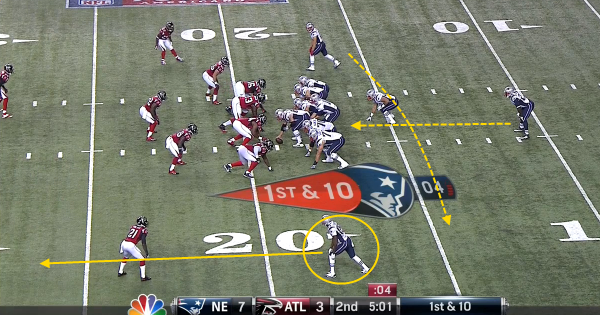 Plays like his 49-yard reception in the second quarter are exactly the kind of plays the Patriots were hoping to get from getting bigger at receiver.
All Thompkins did was run a go route, right through the secondary, winning a jump ball over safety William Moore, but the play was so much more than that.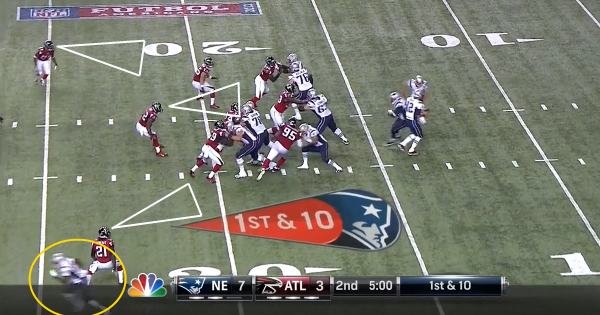 It was a phenomenal play-action fake from quarterback Tom Brady that drew the defense out of position.
It was also phenomenal blocking by the offensive line, which allowed enough time for the play to develop.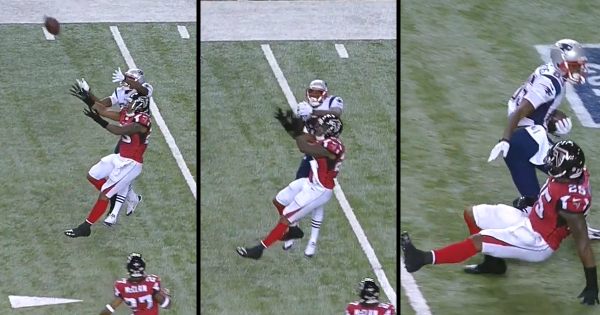 Tight end Rob Gronkowski provides a jump-ball threat when he's healthy, but we haven't seen a wide receiver capable of making plays like this since wide receiver Randy Moss donned the Flying Elvis from 2007-2010.
The Patriots are used to fielding a group of 5'10" receivers to run wild through the short and intermediate area, but now they have the kind of players that opponents have to respect on the perimeter and in the deep half.
Instead of a dink-and-dunk offense that continually takes 10 to 15 plays to score a touchdown, the Patriots want to be a quick-strike offense that forces defenses to respect the big play. In the first three weeks, the Patriots were far from that. Brady had earned just 6.3 YPA, which is also the lowest mark he's ever put up in a single season (2002).
His stat line against the Falcons—hitting 20 of 31 passes (64.5 percent) for 316 yards (10.2 YPA) and two touchdowns—is indicative of what this offense can look like with Thompkins performing at his best.
From here, though, the progress needs to be steady.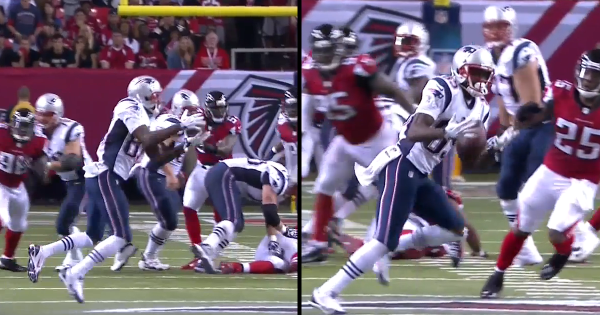 Every receiver drops passes, but the Patriots particularly can't afford him to drop easy ones like this wide-open slant in the fourth quarter.
There was no one in front of him, and only one person behind him, but Thompkins simply got ahead of himself, turning upfield and getting ready to absorb a hit while he was still corralling the pass.
Next play has to be your best - Kenbrell Thompkins after being asked abt his drop that was followed by a terrific TD catch #patriotstalk

— Michael Giardi (@MikeGiardi) September 30, 2013
Thompkins took the opportunity to provide what might be the Patriots' top highlight of the young 2013 season.
His fade route on the touchdown catch epitomizes what the Patriots believe Thompkins can provide to their offense: an outside-the-numbers threat that can test a defense vertically. Watching Thompkins track the ball, then finish with the leaping catch, was the culmination of months of practice, training camp and preseason games.
"[Thompkins] has had some night," said NBC analyst and former Bengals receiver Cris Collinsworth. "I mean, you think about the idea of a free agent coming in here and having this kind of impact on the New England Patriots, it's just remarkable. I'm proud of the way he's playing out here tonight."
Those who saw him in training camp weren't surprised by what they saw—in fact, it was exactly what he proved he was capable of doing.
The Patriots hit six pass plays of 20 yards or more against the Falcons, tied for the most in a single game since they put up nine such plays against the Dolphins in Week 1 of the 2011 season. Thompkins accounted for two of those explosive plays on Sunday night.
Even with an emerging Thompkins, the offense still has a long way to go.
Drive efficiency stats (NFL rank in parentheses)

| | | | | | | |
| --- | --- | --- | --- | --- | --- | --- |
| Year | Plays/drive | Points/drive | Yards/drive | 3rd % | Red zone % | Drive success rate |
| 2011 | 6.40 (3) | 2.79 (3) | 39.53 (2) | 45.9 (4) | 65.1 (4) | .775 (2) |
| 2012 | 6.76 (1) | 2.82 (1) | 39.27 (1) | 49.8 (1) | 67.5 (3) | .787 (1) |
| 2013 | 5.87 (11) | 1.51 (23) | 27.31 (23) | 41.8 (10) | 37.5 (29) | .622 (27) |
Football Outsiders; TeamRankings.com
The efficiency has been down, with the Patriots struggling to convert in key situations (third down and the red zone) up until last night.
It hasn't been the usual first-down juggernaut of years past, moving the ball four or five yards at a time all the way to the end zone.
Amendola can run routes from the outside and from the slot, but his primary strength is his ability to shake defenders on short and intermediate routes over the middle of the field. Once he returns, defenses will have to pick their poison between Amendola and Thompkins: will they load up over the middle to shut down Amendola, or will they try to limit the big plays from Thompkins down the field?
They can't double everyone, and unless Gronkowski's play takes a serious dip, he'll be drawing double-teams when he returns, as well.
If Thompkins continues to pose a deep threat to the opposing defense, they will have to put a safety on him over the top. That will force linebackers or cornerbacks into unfavorable matchups with Gronkowski, who is too quick to be covered by a linebacker and too big to be covered by a cornerback.
If defenses want to put two men on Gronkowski and Amendola, they can expect more big plays from Thompkins as a result.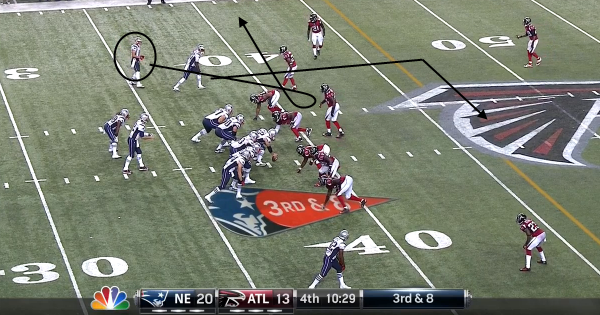 Julian Edelman has already been the benefactor of the Thompkins factor.
In the fourth quarter, the Patriots lined up with both Edelman and Thompkins out wide to the left, in a "stack formation" with Edelman lined up behind Thompkins. That allowed Edelman to get a free release while Thompkins ran a go route straight into the back of the Falcons secondary.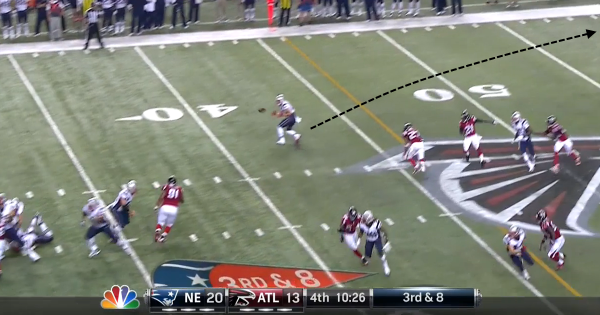 As a result of Thompkins' route, which cleared out the coverage, Edelman had all the space in the world to work with on a pivot route underneath. He caught the short pass and scampered down the sideline for a 44-yard gain.
Whether defenses opt to double Thompkins or the other threats remains to be seen.
Regardless, the eventual return of both Gronkowski and Amendola will round out the offense: they'll still have the explosive threat of Thompkins, as well as the threat of a death by a thousand papercuts as an efficient offense that can move the chains when they need to.
In the meantime, the Patriots have a new strength on offense which they haven't had in years. With all the pieces in place, this could be the most complete unit the Patriots have fielded in recent memory.
Erik Frenz is also a Patriots/AFC East writer for Boston.com. Unless otherwise noted, all quotes obtained firsthand or via team news releases.