The Biggest Training Camp Mysteries for the OKC Thunder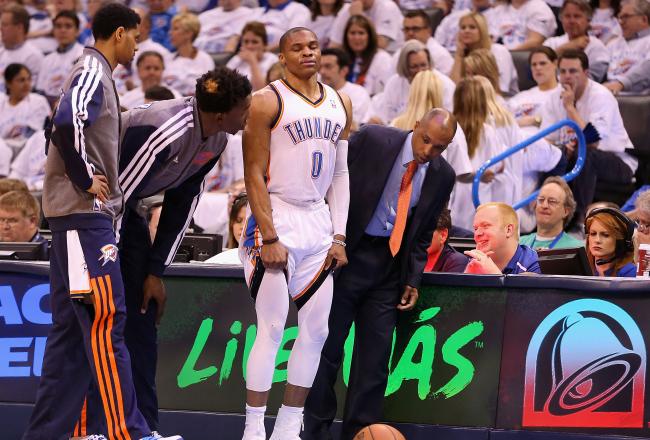 Russell Westbrook's recovery is the biggest mystery of training camp.
Christian Petersen/Getty Images
As the Oklahoma City Thunder officially begin their quest to win an NBA championship in the 2013-14 season, they are once again a favorite in the Western conference. What's new for the Thunder are the lingering questions that have some people questioning whether they have what it takes to make it back to the NBA Finals.
Training camp is the first step towards answering those questions, and here are the three biggest mysteries that will dictate whether Oklahoma City makes a playoff run.
Russell Westbrook's Return
Russell Westbrook is as important to the Oklahoma City Thunder as Kevin Durant. Durant is the better player, but Westbrook provides the intangibles that give the Thunder their swagger and confidence.
The team feeds off his energy, and even though they escaped the first round last year without him, they soon ran out of gas and bowed out in the second round.
If the Thunder are to have any chance in the playoffs, they need Westbrook to return as good as before (if not better).
Nobody, not even Westbrook, knows when he'll return to game action, according to Royce Young of ESPN.
Russell Westbrook says he's "not sure" if he'll be back for start of regular season.

— SportsCenter (@SportsCenter) September 27, 2013
The "when" isn't of supreme importance to the Thunder. The "how" is the bigger mystery.
How does he play? Is he the same relentless Russell Westbrook, or has the injury sapped some of his aggressiveness and bounce?
Even if he misses a month of action, Kevin Durant is great enough to allow the Thunder to escape with a winning record in the regular season. The scarier proposition for Oklahoma City is that Westbrook's injury has a lasting effect, in which case they'll be in trouble during the playoffs.
Without an established third scoring threat, Westbrook will need to improve his efficiency and ability to facilitate for others to ease the scoring burden on Durant. Coming off a season-ending injury, Westbrook will have to play his best basketball ever for the Thunder to be legitimate contenders.
Can Serge Ibaka Become the Third Wheel?
When the Thunder front office signed Serge Ibaka to a five-year contract extension, they may not have been explicitly choosing between Ibaka and James Harden at the time.
A year later, James Harden is forming his own superstar duo with Dwight Howard, and the Thunder did in fact choose between Ibaka and Harden. Now it's up to Ibaka to prove that it wasn't completely the wrong choice.
Without Kevin Martin, Oklahoma City doesn't have an established sixth man to provide a scoring punch off the bench. As a result, more responsibility on the offensive end must fall on the shoulders of Ibaka.
He averaged career highs of 13.2 points and 7.7 rebounds per game while shooting 57 percent from the floor. He was also the fifth-best mid-range shooter (10-23 feet) according to HoopData.com.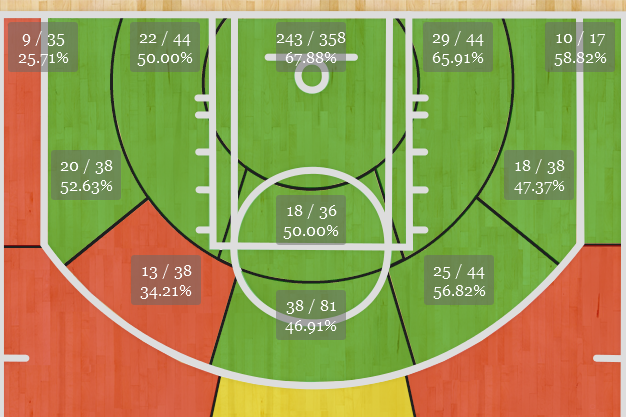 Despite an impressive year, he wilted under the pressure after Westbrook got injured in the playoffs. To his credit, he was playing against possibly the best frontcourt in basketball in Marc Gasol and Zach Randolph, but his offensive efficiency plummeted and the Thunder had no chance after that happened.
Ibaka will need to continue his development and take his game to new heights to truly become the third option for the Thunder offense. He also needs to be more assertive on the glass. With his size and athletic ability, there's no reason that he shouldn't be averaging a double-double.
It's a long season and there is plenty of room for growth during the year, but training camp will give the Thunder their first chance to assess whether Ibaka is truly ready for his increased responsibility.
The Development of Reggie Jackson and Jeremy Lamb
Some of the scoring void left by Kevin Martin will be filled by Ibaka, but the role of offensive spark plug off the bench will fall jointly to Reggie Jackson and Jeremy Lamb.
Will Jeremy Lamb be a regular contributor for the Oklahoma City Thunder this season?
Jackson played extremely well in Westbrook's stead, averaging 13.9 points, 4.9 rebounds and 3.6 assists with his extended minutes in the postseason. He showed poise taking over in such a challenging situation, and he was one of the few bright spots from their early playoff exit.
During the playoffs, he was playing with the starters. What is more important to the Thunder is whether he can play that well while leading their second unit.
The even bigger mystery is the play of Jeremy Lamb, a second-year shooting guard that they acquired in the James Harden trade.
Lamb split his rookie season between the rosters of the Thunder and their D-League affiliate, the Tulsa 66ers. His NBA experience is all of 147 minutes over 23 games, so the Thunder have to temper their expectations for him.
He played phenomenally over the summer, earning All-First Team honors at the Orlando Summer League, averaging 18.8 points per game.
Kevin Durant: "Jeremy Lamb has been looking great. You can really tell he's been working."

— Royce Young (@royceyoung) September 27, 2013
Lamb could provide the Thunder with perimeter shooting and athleticism off the bench, but training camp will give Oklahoma City its first look at whether he's ready to contribute right now.
This article is
What is the duplicate article?
Why is this article offensive?
Where is this article plagiarized from?
Why is this article poorly edited?

Oklahoma City Thunder: Like this team?