5 Burning Questions the Atlanta Falcons Still Must Answer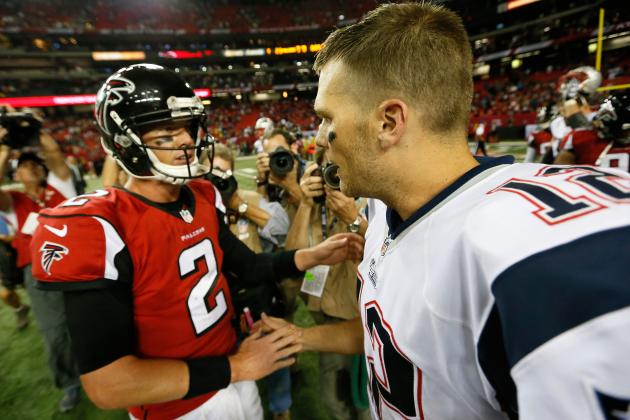 Kevin C. Cox/Getty Images
Can Ryan ever live up to his Brady-level potential?
The Atlanta Falcons are 1-3 and looking like a team that needs to get it together before they get left behind in the NFC South race. There are quite a few burning questions that the Falcons must answer if they want to get back to the playoffs. Here are what the biggest issues with the team are after a quarter of the season has been played.
Begin Slideshow

»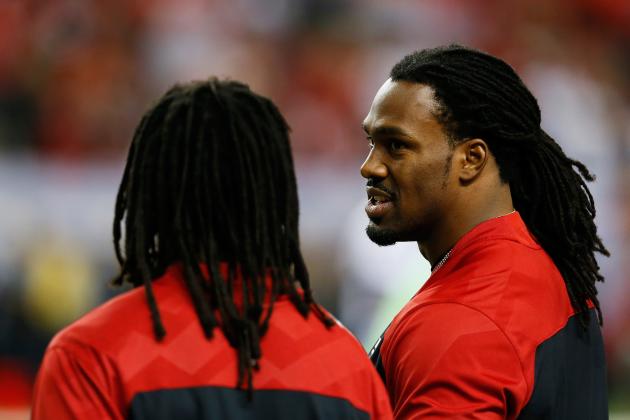 Kevin C. Cox/Getty Images
Asante Samuel and Steven Jackson could have made a huge difference
On offense, the Falcons have already lost starters at fullback and right tackle for the season with Bradie Ewing and Mike Johnson on injured reserve. They've also been fighting nagging injuries for Steven Jackson, Sam Baker and Roddy White—three more veteran starters.
On defense, Asante Samuel has only played in two games and only been an impact in one of them after playing a handful of plays against St. Louis. Akeem Dent and Paul Worrilow also exited the Sunday Night Football game with injuries.
In addition to that, the Falcons lost defensive end/linebacker Kroy Biermann for the season. He's a key component to the defense and a huge part of the scheme that Mike Nolan designed this year. With defensive captain Sean Weatherspoon missing half the season, the linebacker depth is going to be tested.
So with multiple starters and key players getting hurt, the Falcons have had to use some players as starters that they weren't expecting to. Jonathan Massaquoi and Joplo Bartu have seen a ton of snaps this year in relief of Weatherspoon and Biermann.
Also, Robert Alford has had to replace Samuel's presence on the field. On the bright side, they have all performed well and been able to step up when called upon. However, it would be nice to get back everyone healthy so that they can make a true run.
Sure, Jason Snelling and Jacquizz Rodgers can carry the load. Yet having a Pro Bowl running back in Jackson would make the offense run that much smoother. If the Falcons can get healthy, they could make a run towards a playoff berth again.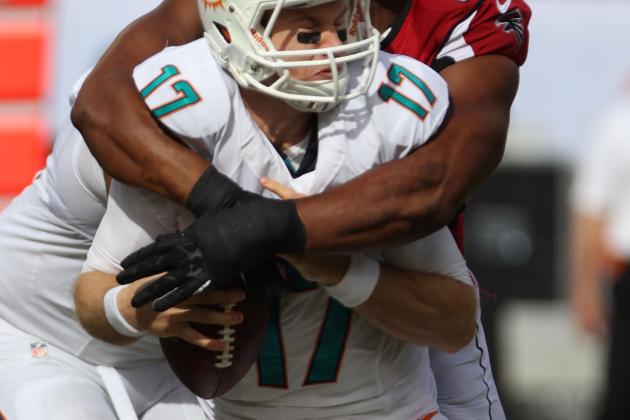 Marc Serota/Getty Images

An aggravation of many a Falcons fan is the lack of pass rush by the defense. But it's a true Achilles' heel to the success of any defense when there is no sustainable pass rush. The Falcons need to correct that. And it's not like they don't have the talent to do it.
Inside at defensive tackle, they have a pair of talented guys in Corey Peters and Jonathan Babineaux. They can also rotate in Peria Jerry as well as bigger defensive ends Malliciah Goodman and Cliff Matthews. They know how to create some havoc inside and also understand to take double teams on a blitz.
Outside at defensive end, the Falcons have a bunch of different guys who can fill many roles. They have Osi Umenyiora, Stansly Maponga and Jonathan Massaquoi who can stand up and rush or put their hand in the dirt. They also have Malliciah Goodman and Cliff Matthews who can line up at either tackle or end.
They will also have to rotate their defensive tackles and defensive ends much better than they currently do. By keeping these players fresh, they can throw out different personnel sets to confuse offensive protections. And some of the mixed sets would help create pressure due to said confusion.
At linebacker, Akeem Dent is a great blitzer but horrible in coverage. Joplo Bartu is the opposite: An average blitzer but great in coverage. Paul Worrilow and Sean Weatherspoon are jacks of all trades, but they need to get healthy. There isn't any other starting-caliber linebacker on the roster.
There's so many different ways that the linebackers could be used to blitz or cover. The only thing that the Falcons need to make sure they don't do is put a linebacker on the opponents' best wide receiver. Instead, blitz them. Have them cover the mid-tier zones. But having them cover deep will hurt pass rush.
In the secondary, Atlanta has a group of exceptional cornerback talent. It just hasn't been harnessed completely yet. Robert McClain showed the potential to be the best nickel cornerback in the NFL. Robert Alford and Desmond Trufant are the future at the position and Asante Samuel is the wily veteran.
Add in a pair of Pro Bowl-caliber safeties in Thomas DeCoud and William Moore, and there's question as to why they can't even blitz them sometimes. Atlanta needs to focus on more confusion within their defense. Don't let the offense know what you are doing and blitz at a higher rate.
A better pass rush is needed. And the only real issue that comes from focusing on a pass rush is the fact that coverage has to play up to par and you sometimes sacrifice the run fits. But the Falcons seem to understand their run fits right now.
What would a couple of stunts and blitzes do to change that? All that really matters right now is that the Falcons get after the passer. If they can create some pass rush, they will have less woes in the pass defense. The talent is there. They just need to use it better.
Dale Zanine-USA TODAY Sports

While the offense is the eighth best in the league in converting third downs, the defense is the second worst in the league at stopping them. The Falcons 49.1 percent opponent third down conversion rate is the worst it has been since Mike Smith took over the team in 2008.
This is something that has been a weakness every year for the Smith-coached Falcons. They don't seem to understand how to stop a team three times in a row. They also don't seem to have any sort of effectiveness in either play call or execution.
There's a fundamental problem here when a team has the same issues over and over again. The Falcons need to figure out if this is something embedded in their DNA or related to their injury and pass-rushing woes.
The Falcons need to figure out how to fix it. You can't win in the NFL if you keep allowing teams to continue their drives and keep the defense on the field. You can't win in the NFL if you are allowing teams to drive the ball down your throat at will.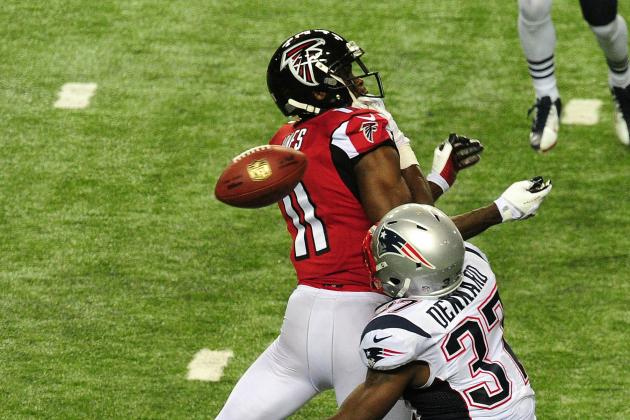 Scott Cunningham/Getty Images

The biggest issue with the Falcons right now is easily their failure to score in the red zone. They can move the ball well, as they are eighth in the league in both first downs and third down conversion percentage. But for whatever reason, once they get inside the 20-yard line of the opposing team, they can't score touchdowns.
The Falcons are one of the worst teams in the league in terms of red zone touchdown percentage. Through four games this season, the Falcons are scoring touchdowns only 38.89 percent of the time when they get inside of their opponent's 20-yard line according to TeamRankings.com.
That's pathetic.
Only Jacksonville, Arizona and New England have been worse in that department. You can't win games consistently if you can't score in the red zone. And the Falcons have no excuse with all of the weapons they have.
In the red zone, they have a plethora of options. From underneath routes with Harry Douglas, Jason Snelling, Jacquizz Rodgers and Steven Jackson to intermediate routes with Tony Gonzalez and Roddy White to end-zone fades with Julio Jones and Levine Toilolo, there's no reason the Falcons can't create some sort of points in the red zone.
Not to mention, they do have the option to run the ball. There's so many ways to score, and Atlanta definitely has the talent to be a top-tier red-zone team. There just seems to be a disconnect right now between the regular offense between the 20s and the red zone offense.
It could be execution. It could be scheme. But whatever it is, it needs to be fixed. And fast.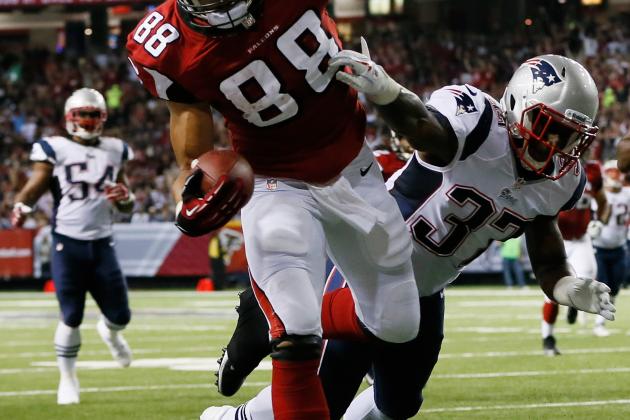 Kevin C. Cox/Getty Images

The biggest issue in the first four games of the season was what looked like a complete lack of heart. That or a NFC Championship-game hangover has caused the nasty taste in the Falcons' mouths. This fourth-quarter performance should have been the mouthwash.
They played with heart and fire. They looked like the 2012 team that would just never quit even if they were down. They had a confidence that they could fight back and win the game at the last second. And they finally scored in the red zone.
That heart and desire is what's needed to finish this season out properly. The Falcons have the talent to be the best team in the NFL. Sure, they are hurt, but they have the depth to perform at a high level regardless of injuries.
They have to have the heart to do so. Even if they just do enough to make the playoffs this year, that's all the last three champions did. Those champions won because they had the heart to do so. Atlanta needs to show some back bone.
In other words, this Falcons team finally rose up against the Patriots towards the end of the game. They need to play just a level above that for the rest of the season to be the championship-caliber team that they have the true potential to be.
All stats used are either from Pro Football Focus' Premium Stats (subscription required), ESPN, CFBStats or the NFL. All contract information is courtesy of Spotrac and Rotoworld.
Scott Carasik is a Featured Columnist for Bleacher Report. He covers the Atlanta Falcons, NFL and NFL draft. He also runs DraftFalcons.com.