Big Show Would Thrive As Stephanie McMahon's Corporate Ally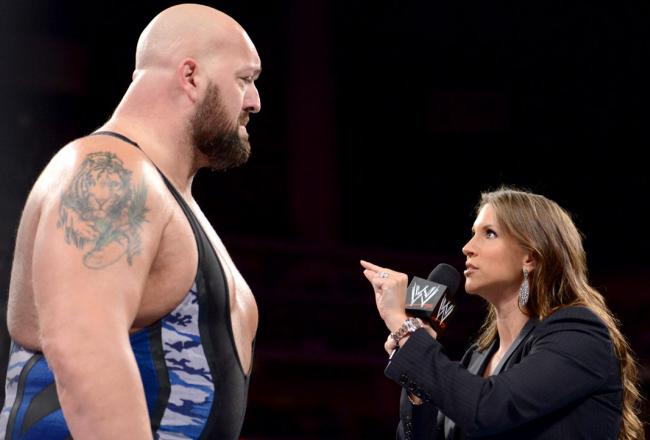 Photo Credit: WWE.com

Last Monday night on Raw, The Big Show balled up his fist and knocked out The Miz on orders from Stephanie McMahon.
In weeks past, the giant would have hesitated and cried over being forced into something he did not want to do. He would have been a big ball of emotions as he debated whether or not to do as he was told or risk no longer being able to provide for his family.
There was none of that as he stood over the unconscious carcass of the former WWE champion. Instead, he was emotionless as he exited the ring and made his way up the ramp.
As he left the arena that night, it became clear that the best role for the World's Largest Athlete was not as the man to finally shut Triple H up. Instead, he would used best as Stephanie McMahon's corporate ally.
Since returning to television, Stephanie has been deliciously wicked. Whereas Triple H toys with his enemies and has no problem affecting, or ending, a Superstar's career in the name of "what's best for business," Stephanie is the evil, vindictive boss who will talk down to and degrade talent in front of the entire world.
What better way to add to that character than by giving the Billion Dollar Princess her own personal giant to do her dirty work for her?
As a ruthlessly aggressive giant who puts aside personal feelings in favor of job security and large sums of money, Big Show could easily become the hottest heel in the industry. He could tear through the Superstars who stood up to management and came to the aid of Daniel Bryan a few weeks back and ensure they never make that mistake again.
A David vs. Goliath storyline in which he puts over Bryan as a world-beater and legitimate WWE champion would be beneficial for Bryan and would make the big man as relevant, if not more, than he has been in years.
Add to all of that the fact that an important bond between Big Show and Stephanie was already established a few weeks back when the latter revealed how much her larger friend had helped her earlier in her career, and you have an established backstory from which to grow the pairing.
The constant crying from Big Show has hurt him in the eyes of the fans. The first time he shed tears, it was easy to buy into the pure emotion of the moment. The second time was less effective but still worked.
The third? The fourth? The fifth? By the sixth time he bawled on live television, the aura surrounding the World's Largest Athlete had taken a significant shot.
An alliance with Stephanie and Triple H, in which he rediscovers his edge and does so as the hired heavy of corrupt management, would capitalize on Big Show's strengths and bring to an end the uncomfortable sight of a giant, capable of destroying anyone he wants, crying like a baby in front of the entire world.
For someone who has delivered some of his finest in-ring performances over the course of the last year, he deserves at least that much.
This article is
What is the duplicate article?
Why is this article offensive?
Where is this article plagiarized from?
Why is this article poorly edited?