Liga MX Results: Best Goals and Complete Results from Matchday 12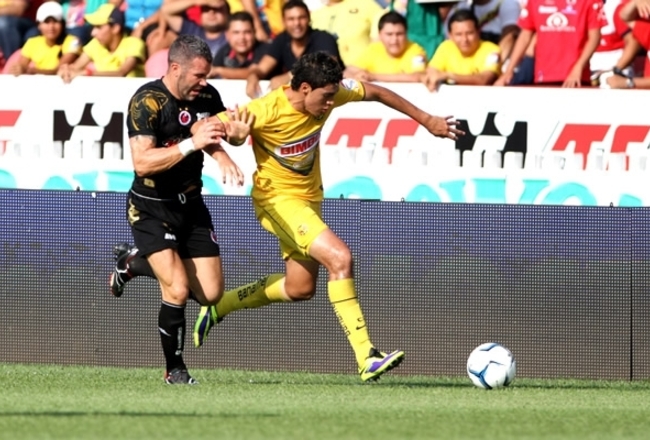 Photo: Mexsport.

After matchday 12 in the Liga MX, America are still atop the general table. Las Aguilas are unstoppable and lead the tournament by three points.
Atlante lost for the seventh time in the season, and relegation is closer than ever.
UNAM won for the first time in the tournament and did it at Estadio Tecnologico, the home of Monterrey.
Santos overcame a 1-0 deficit to defeat Morelia at Estadio Corona.
Cruz Azul, Chiapas and Puebla also secured wins on home soil.
Results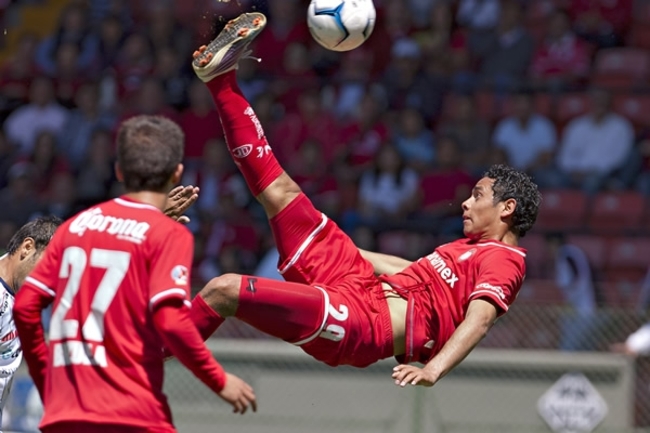 Photo: Mexsport.

Toluca performed like few teams have done this season. The Diablos Rojos received Atlante and humiliated them by a 7-1 score.
This result also set Toluca as the best offensive output of the tournament and Pablo Velazquez as the joint top scorer of the tournament, along with Angel Reyna.
America have two pending games, but still hold the tournament lead.
Marco Fabian saved Chivas from a defeat in the Guadalajara derby with a goal at the 85th minute.
Friday, September 27

Queretaro

2-2

Tigres

Santos

3-1

Morelia

Saturday, September 28

Cruz Azul

1-0

Leon

Veracruz

0-1

America

Monterrey

0-1

UNAM

Chiapas

2-1

Pachuca

Sunday, September 29

Puebla

2-0

Tijuana

Toluca

7-1

Atlante

Guadalajara

1-1

Atlas
5. Isaac Brizuela, Toluca
Brizuela carried the ball in style. El Conejito proved his dribbling skills and took advantage of Atlante's weak defense to score Toluca's fifth goal.
4. Rodolfo Salinas, Santos
Salinas tied the game for Santos at the ninth minute. The midfielder received the ball just outside the box, chested it and sent it straight to the corner of the goal.
It seems like an easy thing to do, but the technique and touch are superb.
3. Rubens Sambueza, America
Sambueza keeps converting free kicks in goals. In Matchday 11, the Argentinean scored in America's win over Chiapas.
A powerful right-foot shot and the right effect were enough to leave Edgar Hernandez without a chance and to give Las Aguilas a 1-0 win.
2. Diego De La Torre, Queretaro
In the first game of Matchday 12, Queretaro and Tigres drew to two goals. The first one of them, by Diego De La Torre, was a spectacular long-distance shot.
De La Torre received a cross outside the box and did not think twice to strike the ball powerfully; the result was amazing.
1. Raul Nava, Toluca
A bicycle kick is never easy, and making it inside the box, with three defenders behind, makes it almost impossible.
Nava took his shot at the 16th minute after a cross from Antonio Rios and gave Toluca its second goal of the afternoon.
General Table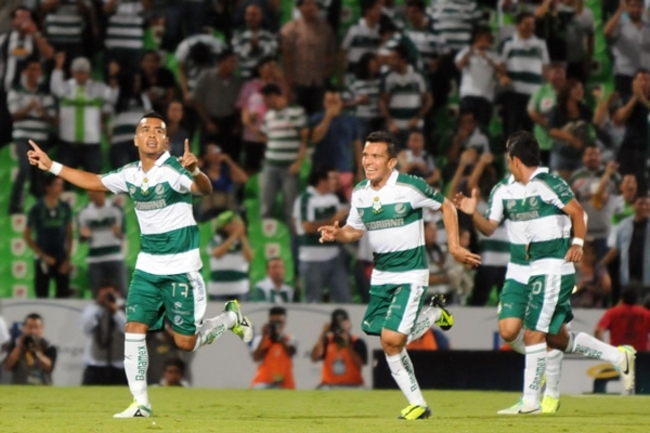 Photo: Mexsport.

With five matchdays to go, this is how the general table looks:
| | | | | | | | |
| --- | --- | --- | --- | --- | --- | --- | --- |
| POSITION | TEAM | PLAYED | W | D | L | GD | POINTS |
| 1 | America | 10 | 8 | 1 | 1 | 14 | 25 |
| 2 | Leon | 12 | 6 | 4 | 2 | 6 | 22 |
| 3 | Toluca | 12 | 5 | 5 | 2 | 15 | 20 |
| 4 | Santos | 11 | 5 | 5 | 1 | 7 | 20 |
| 5 | Morelia | 12 | 6 | 2 | 4 | 3 | 20 |
| 6 | Chiapas | 12 | 5 | 5 | 2 | 3 | 20 |
| 7 | Cruz Azul | 12 | 6 | 2 | 4 | 2 | 20 |
| 8 | Queretaro | 12 | 5 | 4 | 3 | 1 | 19 |
| 9 | Puebla | 12 | 3 | 6 | 3 | 1 | 15 |
| 10 | Tigres | 11 | 3 | 5 | 3 | 0 | 14 |
| 11 | Veracruz | 12 | 3 | 5 | 4 | -2 | 14 |
| 12 | Tijuana | 11 | 3 | 4 | 4 | 0 | 13 |
| 13 | Monterrey | 12 | 3 | 4 | 5 | -3 | 13 |
| 14 | Pachuca | 12 | 2 | 5 | 5 | -5 | 11 |
| 15 | Guadalajara | 11 | 1 | 5 | 5 | -8 | 8 |
| 16 | Atlas | 12 | 0 | 8 | 4 | -9 | 8 |
| 17 | UNAM | 12 | 1 | 5 | 6 | -11 | 8 |
| 18 | Atlante | 12 | 1 | 3 | 8 | -14 | 6 |
Keep Reading