Former Notre Dame starting quarterback Everett Golson had to have been in agony watching the grotesque scene unfold.
Less than two minutes into the first quarter of his former team's showdown with Oklahoma at Notre Dame Stadium, the Irish trailed by a seemingly insurmountable 14-0 score, thanks to two interceptions thrown by current starting quarterback Tommy Rees.
Banished from the university for an academic impropriety, Golson, the quarterback who led the Irish to an undefeated regular season a year ago, has since been relegated to training with quarterback guru George Whitfield in San Diego, while watching his former team clumsily stumble to a 3-2 mark to begin the 2013 season.
Notre Dame's eventual 35-21 loss to Oklahoma at Notre Dame Stadium Saturday afternoon was the most recent result in a string of disappointing outings Golson has been forced to watch from a distance.
And it may have been the most difficult for the embattled quarterback to digest.
Golson is no fool to the truth at hand either.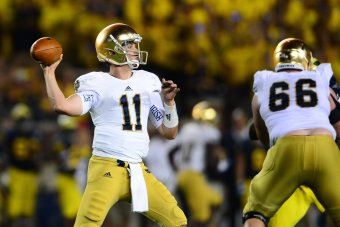 Andrew Weber-USA TODAY Sports
What his former teammate and current starting quarterback, Tommy Rees, lacks—mobility—is what has so mightily hindered the Irish offense this season.
That truth may not have been more apparent in any contest in which Rees has played in his career than Saturday's loss to Oklahoma.
The Sooners defense scripting its game plan around the common theme for defending Rees—loading the box and forcing him to beat you down the field as a passer—worked to perfection.
The senior quarterback completed just nine of 24 passing attempts for 104 yards, two touchdowns and three damning interceptions that sealed the fate of the game before it had a chance to truly begin.
The first of those interceptions arrived on the third play of the game.
On 3rd-and-7 from their own 28-yard line, the Irish lined up in an empty set, with the Sooners stacking the line of scrimmage, as expected, with Rees at quarterback.
With all five of the Irish's receivers in single coverage, Oklahoma defensive coordinator Mike Stoops knew he would be taking a risk, but did it ever pay off.
Oklahoma linebacker Eric Striker showed blitz off the left edge prior to the snap and penetrated the Irish backfield untouched on his way to crushing Rees mid-throw, resulting in a Corey Nelson interception return for a touchdown.
Had Golson not been expelled from Notre Dame and had he been on the field in place of Rees, the result of this specific play would have been drastically different.
Because of his ability to escape the pocket after reading through and disliking his progressions, Golson didn't force head coach Brian Kelly and offensive coordinator Chuck Martin to employ empty sets on obvious passing downs, which provided better protections.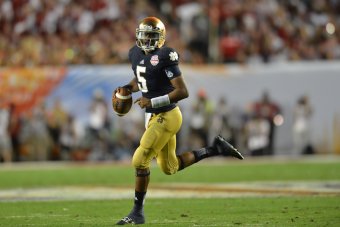 Steve Mitchell-USA TODAY Sports
Even if opposing linebackers defeated those protections up front and leaked into the backfield, Golson wasn't a sitting duck in the pocket, as Rees has been on countless occasions during his four seasons at Notre Dame.
Also lending to the argument of Notre Dame's odds of victory against Oklahoma increasing with Golson at quarterback is his decision-making.
As Notre Dame's starter in 11 of 13 games last season—Golson was suspended for the first series against Miami in Chicago and missed the BYU game with post-concussion symptoms—he threw just five interceptions.
And considering Rees' first two interceptions gift-wrapped Oklahoma's first two touchdowns Saturday—mind you, the Irish lost by 14 points—Golson's five errant throws a season ago look more than impressive.
While there's no guarantee Golson wouldn't have turned the ball over against Oklahoma had he been enrolled at Notre Dame, his propensity for doing so is much less common than that of Rees.
Would Notre Dame have beaten Oklahoma with Everett Golson at QB?
With his previously mentioned mobility, coupled with his ability to protect the football and make good decisions, Golson probably wouldn't have placed the Irish in such a deep hole so shockingly early against the Sooners.
Would the Irish have won with Golson?
That's a very likely possibility, and, either way, the game would have likely been decided on the final possession of the game.
That's an outcome Notre Dame fans would have certainly preferred, rather than Saturday's loss, thanks to Rees' mistakes, that served as a likely killer of the Irish's BCS dreams.