Julio Cesar Chavez Jr.'s Win Highlights Boxing's Continued Judging Problem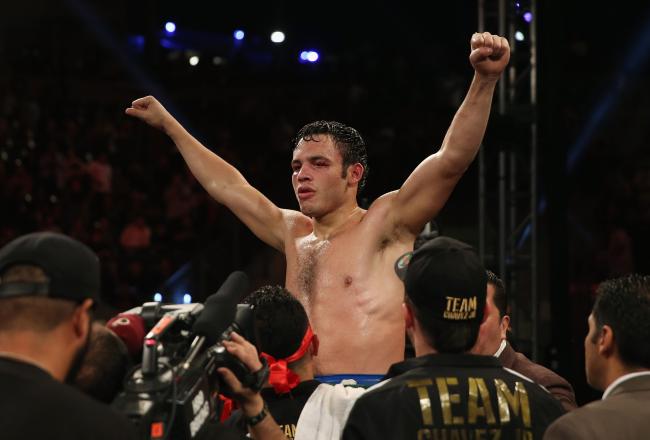 Jeff Gross/Getty Images
Two weeks ago, C.J. Ross became a household name in the worst possible way—she was the lone dissenting opinion on Floyd Mayweather's defeat of Saul "Canelo" Alvarez. On Saturday night, three new judges found out what it was like to be hated en masse by the boxing public.
Of course, I am referring to Julio Cesar Chavez Jr.'s controversial unanimous decision win over Bryan Vera in their 173-pound catchweight bout.
Judges Gwen Adair (98-92), Marty Denkin (97-93) and Carla Caiz (96-94) all scored the fight in favor of Chavez.
They may have been the only three.
Even the most casual boxing fan could have looked at the two fighters after Round 10 and seen who won the bout. Vera had thrown double the punches of Chavez, landed more power scores and pummeled his opponent's face. Chavez's face was swollen and cut, while Vera looked like he could have gone for a few more rounds.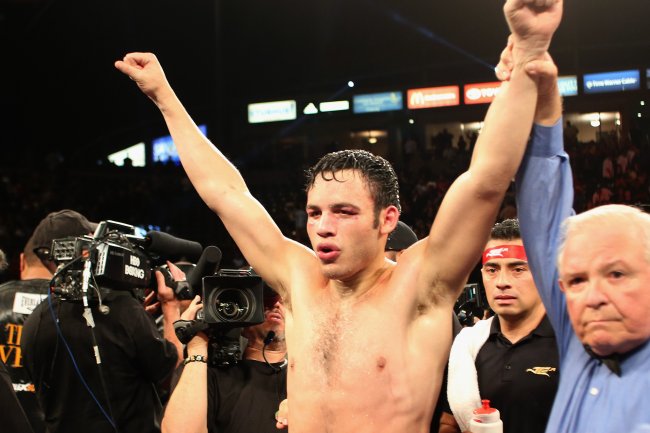 Jeff Gross/Getty Images
Upon the announcement of the decision, the crowd at the StubHub Center began angrily booing the judges.
Now, remember, this crowd was just about 95 percent in Chavez's favor throughout the bout. But boxing fans, being arguably the smartest about their sport on average, were enraged. It felt almost like Hulk Hogan joining the nWo all over again.
And it wasn't just the fans who disagreed with the decision. Yahoo! Sports' Kevin Iole scored the fight 96-94 in favor of Vera. The Associated Press did the same. Keep going down the line, and you'll find a similar story.
The judging in this fight was a travesty. An injustice. A horrible decision by people who should no longer be covering the sport.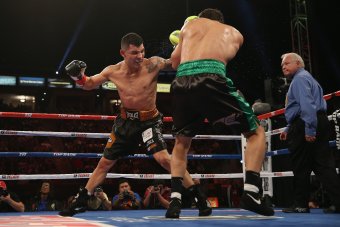 Jeff Gross/Getty Images
"Every one of these judges needs to retire," Ronnie Shields, Vera's trainer, told Mike Coppinger of USA Today. "It wasn't an easy fight for Bryan, but come on, Bryan won at least seven or eight rounds."
"This was the best performance of my career," Vera said, per Coppinger. "The weight was never an issue. The game plan was exactly what we did...I was never hurt during the fight."
In the micro sense, Chavez's win and Vera's loss are meaningless. They're ticks on the record book, sure, but everyone with two eyes and working brain cells will judge the fight in their own proper way.
But that begs the question: If even the most casual of fans can make "better" judgments on the sport, what in the hell are we paying these people for?
More than anything, the Chavez and Mayweather decisions represent the macro issue of there being a disconnect between those who supposedly know the sport best judging a boxing bout versus those who are within the sport or paid to cover it.
Jeff Gross/Getty Images
Purists would tell you that for as long as there has been boxing, there have been judging controversies. Those people would be right. Fixed fights, dirty judges and on-the-take trainers probably predate the damn boxing glove.
Remember, this is the same sport where Roy Jones Jr. once lost to Park Si-Hun; Chavez over Vera probably isn't anywhere near the top 100 worst boxing decisions in history.
I'm not accusing C.J. Ross or any of the three on the Chavez panel of being dirty. Far from it, actually.
I just think that Ross was bad at her job.
That's why she stepped away not too long after the Mayweather aftermath. I have no idea what fight Adair or Cruz were watching—their scorecards read like Chavez dominated Vera from start to finish—but I don't think either turned them in with malicious intent.
Just wild incompetence.
Here's the thing: We should be doing better than this now. The technology at the sport's disposal is far greater than it was in 1946, so what is the point in arbitrarily keeping the same rules as before? Why is the general rule, absent knockdowns, just to judge a fight on however the bloody hell you please?
It makes no sense. Boxing's judging system would be like a baseball umpire deciding whether a player was safe or out on the basis of how hard he ran to the bag. Or how hard he hit the ball.
Boxing's judging system has always been somewhat arbitrary. There are set rules—two points is a knockdown, three points is two knockdowns, etc.—but the remainder of the system is flawed because it lacks structure.
The fact that the sport is also governed by individual states is also baffling. The UFC, which has its own set of problems, can hardly ever be accused of total incompetence or corruption with who wins or loses a fight—mainly because everything is governed by one body.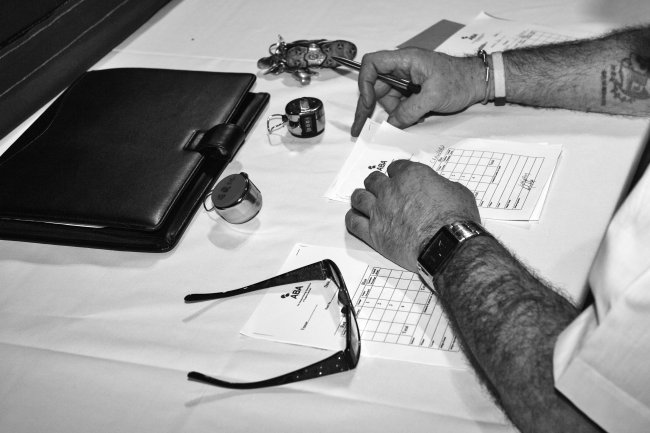 Mark Wieland/Getty Images
But complaining that a system is broken and not offering a solution is misguided.
There has been a ton of work put into developing an automated system for judging the sport, most notably by CSIRO and the Australian Institute of Sport. Their work is designed around ending corruption in amateur boxing, but I'm sure with the right motivation ($$$), we could get something pretty accurate.
The clear answer, though, is that there is no clear answer.
Going to a computerized algorithm seems perfectly reasonable, but then you get past the theoretical questions. Who designs the algorithm? What "codes" could possibly be put in place to properly judge a boxing match? How do we get all the eleventy-billion states and countries that are sanctioned to host boxing to adopt it? Are we bastardizing the sport by changing the entire landscape of how it's judged?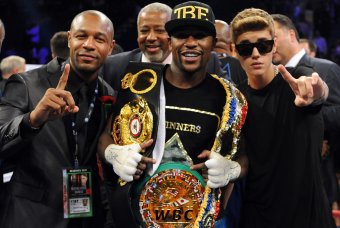 Jayne Kamin-Oncea-USA TODAY Spor
These are fair, valid criticisms. It's not like the computerized scoring systems we currently have in place are bastions of success. Right, BCS?
As long as there is a human element involved, the possibility for corruption or sheer incompetence remains. And since these sports involve human beings, I'd say we're going to have a tough time ridding ourselves of the problem.
The key to preventing pervasive nonsense throughout the sport is limiting its possibility. There need to be better, more defined rules on what constitutes a round "win." Four general criteria exist, but the definition within that domain remains confused. Judges are given autonomy to score fights and emphasize whichever of the four pillars they prefer—or ignore them altogether.
How should boxing be judged?
That's not fair to anyone, notably the fans and most definitely the fighters.
Over the course of nine innings, a baseball pitcher can figure out that an umpire calls outside pitches strikes and doesn't call them inside. How is a boxer supposed to know that C.J. Ross likes fighters to miss all of their punches and get peppered in the face with jabs if the scores aren't made public until the end of the fight?
Boxing judging is probably always going to be chaotic. It just needs to be structured chaos. Starting at the very bottom rung and going all the way to the top, people smarter than me have to find workable middle ground, clear, defined rules, and harsh penalties for those judges who don't abide by them.
If not, I don't have to pay $70 to watch fights decided by nonsensical means. I already have a cable bill. I'll just watch WWE. At least Vince McMahon doesn't try to hide the farce.
Follow Tyler Conway on Twitter:
This article is
What is the duplicate article?
Why is this article offensive?
Where is this article plagiarized from?
Why is this article poorly edited?